Tuesday, March 11, 2008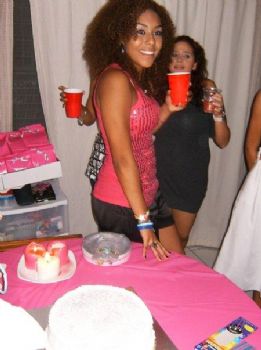 The picture above is of My niece Danielle on her 18th B-day Dec. 2007.

Okay so it's time to get more focused on weight loss. I did lose about 30 pounds, but let's face it, I was REALLY SICK, 6 weeks in the hospital, not the best way to lose it. Well, I'm sure a large portion of that was from the 21 fibriods they took out, so that is good!!!

So I'm looking towards motivation and goals. Intitially when I signed on to SP I wanted to get down to my goal weight of 130lbs by my 2008 b-day (July 26). In order for me to get there or close to it, I really need to step up as much as I can as I recop. from 2 surgeries. I hope I can do it, or get close.

So I think i'll work on loosing 13 lbs by the time I land in Puerto Rico this May 23rd for my only niece's high school graduation. It'll be really HOT out there, so it'll be a good time to buy a really pretty new dress for the occasion. I havn't seen her in 2 years so I pray that it's a blessed and great trip and reunion.

So this blog is for the 13 pound weight loss journey to Puerto Rico. Date: May 23, 2008, that's about 8 weeks. This gives me the 1-2 pound/week flexability! If I lose more GREAT!!! I want to focus more on losing and building my strength.

After I come back from PR I want to continue to lose the weight but also gain muscle as another focus. Why? Well, my goal to get down to 130 pounds by my b-day (which will be an additional 8 to 9 wks once I get back), also includes me wearing a BANGIN' bikini to the beach as I celebrate 34 yrs of life...we'll see how that goes! LOL

So, I'm FOCUSED as I begin this journey to Puerto Rico to see my niece graduate high school.
Today's Weight: 162 lbs
Today's Mood: Ready & Moving Forward...I'm Estactic!!!