Tuesday, October 21, 2008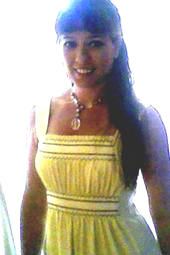 This is my daughter Angelina better known as Angel.You will hear her name from time to time as I see her more than other kids.She tries to come once a week and do some housework for me that I can't do. She is a big help.Her daughter Brianna also comes and helps out. I was allowed to see her myspace site yesterday.Only the photo's she had on it.This was one that I really liked.The focus etc isn't great but it is a very nice picture of her.
Ok Back to the real world.I am so tired of not sleeping well. Either I can't get to sleep or I wake up and can't go back to sleep.It isn't as often as it use to be but still frustrating. Some of it is a snoring husband,I don't have an extra bedroom so the only place I can go to sleep is recliner.I need to get some good ear plugs.
I am doing good keeping calories down.Some of foods I am eating do interfere with the coumidin I take.I get my blood tested today and we will probably have to increase it.Better to increase it for awhile and lose weight. And since the weight is coming off very well I am sure doc wants weight off.
It is another beautiful day out there.
I am very happy with the bookworm team as it is introducing me to books I would never know about .I have bought one and have 2 more on my list for hubby to buy. Which I am hoping by next week he will have to head to book store.
But all the teams are good as they all relate to me in someway.


PS Just got back from getting blood tested and it is still showing low so we are increasing the coumidin and will recheck in 2 weeks. If it is too low I can get blood clots and I don't want that. Better to take a little more of the medicine.