Thursday, October 16, 2008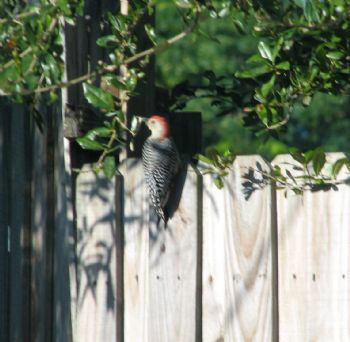 Had this visitor this morning.Focus isn't great as I was in hurry to get picture before he flew away. They are rare in back yard.They are usually out front.
Tired again today but know why.Did not sleep well last night.Woke up and couldn't get back to sleep. It happens sometimes.
I put a question on message boards yesterday about throwing away food to keep from eating it.There were close to 50 people responded on the different sites.Looks like a lot of us do throw it away. Better in the waste than on the waist.
Hubby is going to go practice bowling when he gets off work so we are having a do it yourself dinner.This way I get to eat stuff he doesn't care for.So it will be shrimp or clams me tonight. Not sure which or how I will fix it. Maybe I will use both someway.
My book "Woman in White" came that I ordered yesterday.I had read 8 chapters on the web so I had a head start. It is a thicker book than I was expecting .I usually read during the commercials at night so it may take awhile.Still reading Brisinger also.
Eliminated one of my teams and replaced it with the 100# team which is better suited to me.I am set now on teams. All are teams with like interests etc. If I see I can't do them all justice I may have to trim again.i don't work so I have time.When you add in the message boards it takes some time.
But support and knowing one is not alone in the struggle to lose weight is essential to success. As it truly is a struggle. Not just a daily struggle.A minute by minute struggle.