| | |
| --- | --- |
| | MOSTMOM1's Recent Blog Entries |



Saturday, October 22, 2011

If you read my last blog, you knew this vlog was coming. Thanks for cheering me on Thursday! I hooped while holding my iPhone and it was fun watching the messages come in, they really kept me going. So, THANK YOU!! And just so you know, today is Day 202.
(insert smiley face hooping emoticon here)






Thursday, October 20, 2011
Today is a DAY. An epic day. A monumental day. A stop traffic, jump out of your car, do a happy dance, then race away with the top down and the radio blaring Lady Gaga day. Today is Day 200 of my workout streak.

Whaaaaat?

Yup, you heard me--200 days. It started with ten minutes a day. It took me four or five tries to get past Day Four. Heck, I didn't even switch the goal tracker to keep track of daily workouts. I didn't think I'd get very far. But the ten minutes lured me in. I found it easier to do ten minutes than think of a reason not to do it. Then the ten turned to twenty, then thirty, some days forty-five or an hour. But the safety net is ten minutes. Whatever happens in my day, I know I have that to fall back on. I know that ten counts and every day is a new high score. That's what keeps my All or Nothing Girl from jumping back into the fray and causing me to fail. And it's no coincidence that today is Day 200 of my SparkPeople login streak. I log in and spin that wheel every day. Why? To win points? Nope. Because every day I log in, means I'm here and I'm doing this.

I wanted to mark this DAY in a special way, something that would help me celebrate and keep me motivated to go to Day 201. It needed to be something big, something epic. Other people run marathons. That's out for me, due to injury and a severe loathing for running. What, what, what could I do? And then, I thought of it. Have you guessed already? I'm going to attempt 200 consecutive minutes of hula hooping. Crazy? Probably. Can I do it? I have no idea. I'm not talking about 200 minutes without dropping the hoop. That's insane. I mean 200 minutes of any kind of hooping (waist, arms, minis), with bathroom breaks. That's 3 1/2 hours! This is my equivalent of a marathon. It's a cold and rainy day in Cincinnati, so I'm probably gonna be stuck hooping inside. That's like running a marathon on a treadmill...

I plan on starting this afternoon, at approximately 1:00 pm, EST. I'll film parts of it and edit it down to a short vlog later. If you want to follow me on Twitter (Mostmom1), I'll tweet the hoopla. I might Tout some of it too (mostellermom). I'm blatantly asking you to cheer me on, because if I can do 200 days, I can lose the next 30 pounds. If I can do 200 days, you can run that marathon, walk that 5K, push that stroller around the block, take that yoga class, pump that arm bike, youfillintheblank. If I can do 200 days, we can do anything.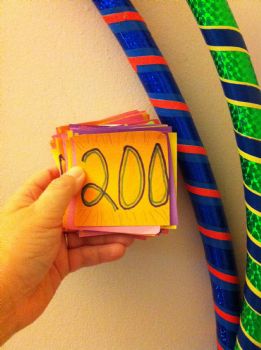 My stack of 200 Magical Post-It Notes






Sunday, October 16, 2011
This afternoon, I got to do something extra Sparky. I got to meet Chef Meg and Chef Stepfanie at a SparkPeople Cookbook signing! I tried not to be too much of a rabid fan--Okay, so I might have greeted them as SparkGoddesses, but come on--these are OUR SparkChefs we're talking about! They were super nice and approachable in person, just what you'd expect. It was fun seeing official SparkPeople in a grocery store.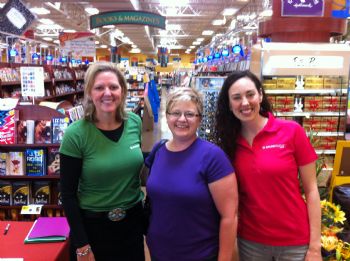 I told them I have high hopes for this cookbook. You see, I'm not super confident in the kitchen. I actually caught my favorite cookbook on fire, melting the cover and first couple of pages shut. This is what happens when you try and read Harry Potter while you're cooking. I find a few things I'm comfortable making and we eat them over and over. Boring. When I try to branch out, culinarily speaking, it's not very graceful. (See blog "R.I.P Mr. Butternut" from May 29.)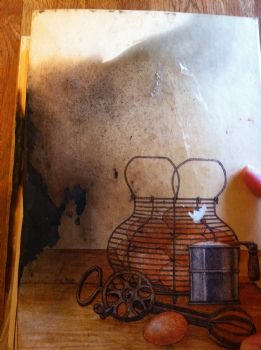 I kid you not...

So I told them I hoped the recipes weren't too difficult. I mean, these are decorated chefs; gourmet cooking is in their wheelhouse, not mine. But Chef Meg told me the book is designed like a cooking school. Each chapter teaches different basic cooking skills and totally preps you for making the recipes. And every single recipe was made from ingredients she found at her local Kroger grocery store. Forget about having to special order that Bolivian Rose Salt, hand harvested from the Andes Mountains. We'll be able to find everything we need on a regular shopping trip. This is a relief to me. I'm only in the first chapter, but I'm far enough along to know that Chef Meg's a busy mom. I seriously don't think she expects us to go all Julia Child and spend five hours making dinner. Both chefs said all the recipes are made from whole ingredients, nothing artificial. It's food geared towards filling you up and tasting good. That's a relief to me too, fake food is not my cuppa tea.

So, I have high hopes. I'm going to take my time reading and try to learn a better way, a Sparkier way, to cook. And I will NOT catch this cookbook on fire because looky here--they signed it!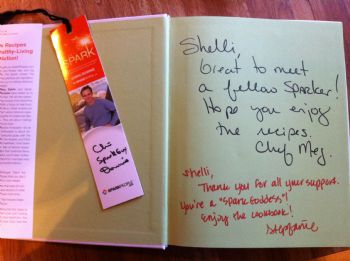 Thursday, October 13, 2011
Did you know that Nov. 11 is World Hoop Day? As part of the celebration, a hooper in Japan has created some choreography. Hoopers all over the world are learning it, taping themselves and sending her the footage. She's going to put it into one big hoopy video. We're doing it, how about you? We DOUBLE DOG DARE YOU!
spinmatsuri.com/2011/09/07/whd-dance
-2011/
Page with video, choreography notes and music
www.youtube.com/watch?v=r6o8OBdVyC0&
list=FLDLVNBK-Wh-84B654IJ5nKQ&index=9
Last year's awesome video. Check out the hooping surfer!!!






Monday, September 26, 2011
Armed with a hacksaw, irrigation tubing and some duct tape, we made our own mini hoops. Why? We wanted to learn some cool new mini tricks and thought it'd be fun to experiment. Plus, we thought it'd be cheaper if we learned how to make our own hoops. It worked out okay... We used stuff we found at the hardware store, but we found a place online that sells real hooping supplies at a discounted price (hoopsupplies.com). We'll probably try that next time. We're definitely not selling hoops, just wanna make our own.
We stuck in a little random hooping, flow wand (been practicing around the head and the loop moves), and we have two guest hoopers. :) Watch for them. (It's not Chubs and Pudding--this time, anyway...)
Hoop on, Brave Sparkers!!




First Page
1
2
3
4
5
6
7
8
9
10
11
12
13
14
15
16
17
18
19
20
21
22
23
24
25
26
27
28
29
30
31
32 33 34 35 36 37 38 39 40 Last Page

Get An Email Alert Each Time MOSTMOM1 Posts