| | |
| --- | --- |
| | MOSTMOM1's Recent Blog Entries |



Monday, September 26, 2011

Armed with a hacksaw, irrigation tubing and some duct tape, we made our own mini hoops. Why? We wanted to learn some cool new mini tricks and thought it'd be fun to experiment. Plus, we thought it'd be cheaper if we learned how to make our own hoops. It worked out okay... We used stuff we found at the hardware store, but we found a place online that sells real hooping supplies at a discounted price (hoopsupplies.com). We'll probably try that next time. We're definitely not selling hoops, just wanna make our own.

We stuck in a little random hooping, flow wand (been practicing around the head and the loop moves), and we have two guest hoopers. :) Watch for them. (It's not Chubs and Pudding--this time, anyway...)

Hoop on, Brave Sparkers!!








Tuesday, September 13, 2011
The cashier looks up as she scans the hack saw, metal file, and long, red wig. "You girls breaking someone outta prison?" she chuckles. I laugh. "Yeah, looks a little shady, doesn't it? We're just making hula hoops and our Dremel isn't working out." I'm thinking this will reassure her. I forget that not everyone lives in Hoopy SparkWorld. She gives me a long stare. I decide not to tell her that we're prone to buying wigs for no apparent reason. "Why would you make a hula hoop? she asks. "Why don't you just buy one?" We try to explain that we need special ones, because we do tricks and stuff. It just comes out sounding ridiculous. Suddenly, I'm acutely aware that I'm wearing a Spamalot shirt and Audrey's features Easter candy with 'Holla My Peeps' on it. I cut our explanation short with a laugh and a casual, "We're our own circus" comment. "I hear that," she tiredly replies. Then she scans the world's smallest liquid measuring cup and remarks at how cute it is. I haven't the heart to tell her that it's a replacement for the one Audrey lost, after mixing up her last batch of homemade blood, while prepping for a zombie movie. Some people just aren't ready for us...

We're filming our heroic attempt at making mini hoops-- in between school, rehearsals, and trips to the grocery store to buy hack saws. Holla, my hoopy peeps in Spamalot--we'll keep ya posted.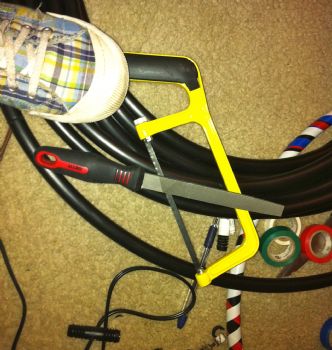 Saturday, September 10, 2011
Official number crunchy stats from the Summer 5% Challenge: I lost 5.1 pounds, which is 2.5%. I lost 1/2" from my waist, hips and neck (total 1 1/2" lost from the fat suit). If I poke a little, I can feel my rib cage and hip bones. Turns out I DO have a skeleton in there! Total loss, since SparkStart is 21.7 lbs., roughly 10%. Heck, I made it to ONEDERLAND! WOOHOO!!

Now, for my confession. The 5% Challenge is really a cover for my super secret challenge-- the one I'm REALLY participating in, the one my teammates don't know about. My super secret challenge is the See How Many Awesome, Amazing Woohoo Moments Shelli Can Have During the 5% Challenge.

I've discovered that the scale doesn't do the trick, when it comes to my motivation. Frankly, it's rather boring. Even when it's moving, it's just a little at a time. That's a slow-moving plot. If it were a movie, I wouldn't watch past the opening credits. I have a short attention span, I need more action than that. Thus, my woohoo challenge was born.

Here are some of my top woohoo moments that happened during this challenge:

I overcame my embarrassment and posted my first vlog!
I conquered the Float/Lift, Corkscrew, Revolving Door and VORTEX hoop moves!
I set a new PB on my elliptical interval workout, without calling 911!
I started learning the Flow Wand-major fun!
I started playing the cajon/box-I'm playing again this weekend!
I bought a domain name and took early launch steps with my own production company-Basketcase Media!
I'm already editing my first set of projects for a local artist!
I'm training to become Apple Pro Certified in my editing software!
I'm working towards my ultimate goal of designing backgrounds and mini movies for churches to use in contemporary worship services!
I don't have to hide anymore!!

The first and last woohoo moments are bookends for the biggest thing I learned during this challenge. I used to speak/perform for various groups, as long as I can recall. The heavier I got, the more I stayed behind the scenes. I'm comfortable with that, have absolutely no problem being there. I don't need to be in the spotlight or anything. But there's a difference between working and hiding behind the scenes. I found freedom when I sucked it up and posted that first vlog. It was just me having fun, playing, sharing a small victory. And know what? The world didn't end. I wasn't humiliated. Instead, the SparkWorld celebrated with me and encouraged me. I found that remarkably motivating. In fact, it led to the rest of the list. And it's leading to things I'm doing today and planning to do tomorrow. I learned there is freedom in putting yourself out there.

So Spark on, Brave Sparkers!!!!
(PS: I'm picking up the ukelele during the Fall Challenge. Maybe Chubs and Pudding will sing for us?)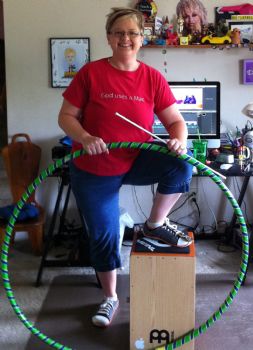 The Spoils of my Summer Challenge







Sunday, September 04, 2011
This was supposed to be a vlog about the Fall 5% Challenge, how awesome it is and why you should consider joining. Somehow, it was hacked by ninja guinea pigs and turned into something entirely different. I decided to go ahead and post it...
(Seriously though, take a look at the 5% Challenge Team.)
www.sparkpeople.com/mysp
ark/groups_individual.asp?
gid=52982






Tuesday, August 30, 2011
Yes, yes, yes!!!! I can finally do the VORTEX! After almost two years of trying (sadly, I'm not exaggerating), I discovered the secret--earmuffs. Plus, I learned it before the end of my Summer 5% Challenge. Goal met! Oh, and we added a new toy to our fab freak show. Wait 'til the end... Keep learning and trying new things! I love SparkPeople! :)



First Page
1
2
3
4
5
6
7
8
9
10
11
12
13
14
15
16
17
18
19
20
21
22
23
24
25
26
27
28
29
30
31
32
33
34 35 36 37 38 39 40 41 42 Last Page

Get An Email Alert Each Time MOSTMOM1 Posts