| | |
| --- | --- |
| | MOSTMOM1's Recent Blog Entries |



Monday, July 30, 2012

I'm still on vacation, so I can't really vlog much. But I jumped onto my bonus mom's laptop, to post this short clip. I just couldn't resist. Yes, the dude in the bucket hat is my husband. No, this isn't in slow motion. And yes, I happened to be in the right spot at the right time. One of the highlights of our family vacation, for sure. Enjoy.



PS: He's a good sport. He said he did this with style and grace. Lol






Sunday, July 22, 2012
Hooray, my elliptical has been restored! You'll have to check out the video to see what was causing all the fuss. Hee hee.
Whew, it's been a long time since I blogged. We've been working and playing hard for the last several weeks, so I haven't had as much time to blog and keep up with my SparkBuddies. You're probably out there doing the same thing, so I know you understand. I figure one of the big pieces of Spark is making your life an adventure and thatís hard to do if youíre stuck, sitting in front of a screen, right?
If I had to write a "What I Did Over the Summer" essay this fall, I'd want it to say, "Everything." Making my summer more active has made it doubly fun--hooping in the park, skating, glow stick swimming, Mini Golf Mountain; it's all been fun. Now we're getting ready to head out to Colorado for a small family reunion. I'm hoping to add hiking and tubing to the list--oh, and hooping in the mountains, of course. If I can get my SparkDad to do a vlog with me, I'll be tickled pink, or SparkOrange.
It's highly unlikely that I'll make my Wonder Woman goal by the time I go to Disney in August. But you know what? That's totally fine. I'm still hoping to hit the 50 lbs lost mark by the end of the summer. That'll make me a very happy camper. Sometimes, when I'm on my way to one goal, another one pops up. That's what's happened this summer. Working on the food/nutrition aspect of Spark and taming the Oompa Loompa sweet tooth has become my summer project. Meal planning and once a week shopping is becoming a habit. This is a MAJOR victory. I'm talking "sit on top of a convertible, ride down Main Street and throw bubblegum to bystanders while clowns launch confetti cannons" victory. Daily tracking has helped me tinker with my plan and see where I need to make changes. De-Wonkafying my summer Oompa Loompa mentality has also been a plus. Turns out a bowl of fresh fruit is way more satisfying than chewy sweetarts, but very hard to sneak into a movie theatre...
So, even though I've been a little quiet, I'm definitely Sparking. Today will be Day 476 of my exercise streak. I'm planning, tracking and staying active in my 5% challenge. The scale has moved in a friendlier direction. I just keep hammering this out, making it something that's totally livable for me. That's key for me, no extremes, just happily bouncing along.
Speaking of bouncing, did you check out our hippity hops in the vlog? Oh, I hope the HoopCam didn't make you queasy. Hubs gave me a GoPro camera for our 21st anniversary and I just HAD to stick it on a hoop. I thought it'd be fun to show you some of the footage from when I was playing around with it. And Gunner's special cam collar came yesterday, so he'll be able to film his own photobombing escapades now. When I said we needed our own camera crew, I wasn't necessarily thinking of the four-legged kind, but this'll work. Hope you're making your summer FUN!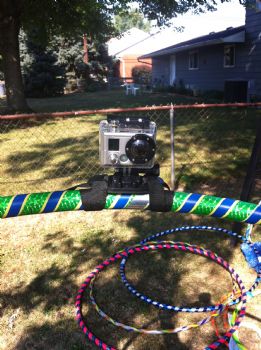 hOOpCAM






Thursday, July 05, 2012
Week Five of meal planning, cooking and tracking! If I spend any more time in the kitchen, I'm gonna sprout an apron, sensible pumps and a string of pearls. But I've discovered something odd in the last couple of weeks. I've been acting like an Oompa Loompa. One word: candy.

For the last two weeks, my sweet tooth has been in overdrive. Maybe itís a summertime fun thing, I donít know. What I do know is, Iím not an Oompa Loompa. I canít live on a chocolate river and eat sugar teacup flowers. Nope. No can do. If I end up at the high end, or over my calorie range lately, candy is the likely culprit. Itís perfectly fine for me to sprinkle a small amount of Heath toffee bits on top of my oatmeal in the morning. I have no problem with that. However, chugging them from a Dixie cup is not recommended. (Hypothetical situation, of course...) If I smuggle healthy, air-popped popcorn into this summerís latest blockbuster at the movie theatre, does that mean itís okay to inhale a vast amount of chewy sweet tarts? Methinks not.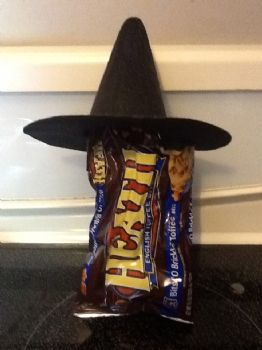 I didnít even notice it was wearing a witchís hat, until I took this pic. That explains so much...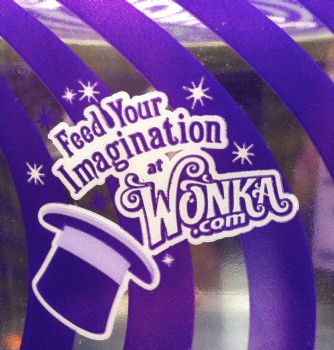 Mr. Wonka, sir, while I adore you and expect to find my own Golden Ticket any day now, I beg to differ. You are feeding more than my imagination. Kindly cease and desist.

So, to address this issue and nip it in the proverbial bud, I joined the four-week Tame Your Sweet Tooth Challenge. Iíll finish this up, right before I go to DisneyWorld. Thatís a good idea, right? Itís not like Iíd be tempted by sweets, there... Anyway, Iíll let you know how that goes.

In other news, Iím proud to say that Iím wearing out my elliptical. What an accomplishment! (The NordicTrack help desk dude said that was a very positive attitude for me to have. Heís not used to such Sparkiness.) The squeak turned into a chirp, then into a full-out shriek (the elliptical, not me, BIGGEEKDAD). And fear not, PICKIE98, Chubbs and Pudding are tucked away in their house of awesomeness, so we donít have guinea pigs stuck in the gears. Nope. NordicTrack thinks my bearings have lost their lubricant. Boy, if I had a nickel every time somebody said that... Theyíve ordered replacement parts and Marvin The Elliptical Wizard will be out to fix it in the next week or so.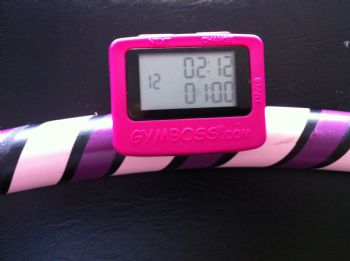 In the meantime, Iím going to continue with strength training and amp up the hooping. I started doing interval hooping, just for kicks. We do it sometimes in class, but I hadnít really done much of it at home. I program my interval timer and waist hoop normally for three minutes, then as fast as I can for one. Lather, rinse, repeat, until the back of my neck starts to sweat. It doesnít feel like as much of a workout as hoopdancing outside, but good golly, itís 100 degrees out there. The hoop and I would both melt. So, Iíll do what I can, how I can and when I can.

Spark on, brave Sparkers! Iím off to find some Fizzy Lifting Drinks.
JUST KIDDING!!
Iím really looking for Everlasting Gobstoppers...
NOT REALLY!


I am not an Oompa Loompa, I am not an Oompa Loompa.






Friday, June 29, 2012
Is it hot at your place?
Do your popsicles race,
To melt, drip, drip, drip
Down your furry, green face?
When that happens to us,
We know just what to do.
Grap a hoop, to the park
We hop, skip-a-roo.
Have a fun summer!
From Thing 1 and Thing 2
(and the unofficial Thing 45)
ps: Our guest star is Tyler, one of Audrey's best friends. I'd adopt him if his parents would let me, but they're rather attached. Plus, we'd never get anything done around here.






Tuesday, June 26, 2012
Look what Audrey got in the mail from one of our SparkBuddies--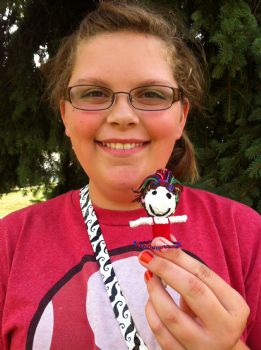 Two cute lil hoopers. (Note the mustache-themed strap that goes to the duct tape purse Audrey made. Clever girl.)

Some of you know that Audrey designed a hooper string doll for a contest. She came in second place. The top two vote getters were both 13 year olds, which we thought was pretty cool. Thereís still a slim chance that theyíll make her doll, someday. But, in the meantime, a super sweet SP Buddy made a doll, based on Audreyís design. Isnít she the cutest?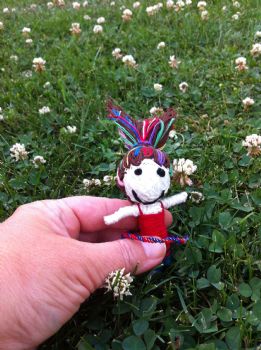 "Holly Hoops" See her little hoop? And ya gotta love the rainbow ponytail!

Thanks, THESUGARFAIRY!!! You totally made Audreyís week, mine too. SparkBuddies make the world a little bit smaller and a lot friendlier.

Speaking of buddies, I took Audrey and one of her best buds to the park yesterday and we shot a Seussical hoop video. I love teenagers whoíre still willing to do things like this. Of course, theyíre both in a production of Seussical this weekend, so you donít have to twist their arms too much to get them to ham it up. We had a blast. I hope to start editing tomorrow, so I can share our fun with yíall. They were playing around with the props after we finished and built this--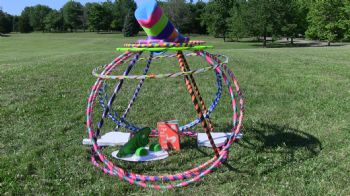 Seuss Approved Hoop Hut

Oh, and today is Day 450 of my exercise streak! I ran on the elliptical this morning and I have hoop class this evening. Itís going to be an interesting class. Weíre all supposed to bring any hand percussion instruments we have and weíre going to hoop and make music! Iím taking my cajon (the box drum you sit on and play--donít think I can hoop and drum at the same time...) some shakers and stuff. I love that my hoop instructor comes up with classes like this. You just never know whatís around the corner; thatís what makes it fun.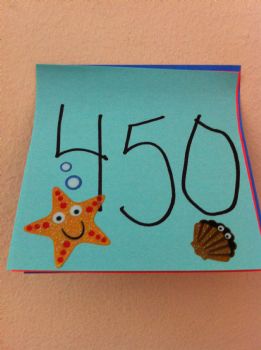 Spark ya later! (My SparkBuddy, Jodi sent me stickers for my post-its. Nice touch, don't you think?)



First Page
1
2
3
4
5
6
7
8
9
10
11
12
13
14
15
16
17
18
19
20 21 22 23 24 25 26 27 28 29 30 31 32 33 34 35 36 37 38 39 Last Page

Get An Email Alert Each Time MOSTMOM1 Posts