| | |
| --- | --- |
| | MOSTMOM1's Recent Blog Entries |



Sunday, April 01, 2012

(Posting this again, to see if it clears up the Godzilla audio-sync issue. Begone, SparkGremlin!)

I donít think Iíve had this much fun during spring, since I was a kid. SparkPeople must be the fountain of youth. And boy, do hoopers need spring! For the safety of our loved ones, pets, ceiling fans, light fixtures and various household items, we need to be hooping outdoors. One of my spring goals is to learn the 3 Beat Weave. Iíve been trying to wrap my head around it for a while now. Today, I had a mini breakthrough. One step closer...

(sorry for the wind noise, should've turned on the attenuator--my bad)





Sunday, April 01, 2012
UGH, DON'T WATCH THIS VLOG--WATCH THE ONE I REPOSTED. THIS ONE HAS GODZILLA AUDIO SYNC ISSUES. Drives the geek in me, crazy.
I donít think Iíve had this much fun during spring, since I was a kid. SparkPeople must be the fountain of youth. And boy, do hoopers need spring! For the safety of our loved ones, pets, ceiling fans, light fixtures and various household items, we need to be hooping outdoors. One of my spring goals is to learn the 3 Beat Weave. Iíve been trying to wrap my head around it for a while now. Today, I had a mini breakthrough. One step closer...
(sorry for the wind noise, should've turned on the attenuator-my bad)






Wednesday, March 28, 2012
Several months ago, one of my SparkBuddies, BARRONVC, challenged me to hoop on a BOSU ball. It's taken me this long to find the opportunity to do that. My hoop instructor is always doing new things in class and taking things to a different level. Tuesday night, most of the class time was spent hooping on BOSU balls. She snagged a few seconds of video, for proof. I wish I'd had her snag the hooping while kneeling on the ball, cause that was pretty cool. Anyway--CHALLENGE MET!
Sometime during the winter, another good SparkBuddy, REEBADABEEBOOS, sent me some YouTube videos of people hooping through obstacle courses and stuff. She planted the seed for a mini spring challenge of hooping around the block. Well, we did it and tried to film ourselves along the way. You might need a motion sickness bag. It's hard to hold a camera still while you're hooping; it really is. Believe it or not, I cut the jerkiest parts. At any rate, it took us about 18 minutes to make it around the block. Pretty slow going, but--CHALLENGE MET!
I'm going to bed, before anyone else comes up with another crazy idea.
PS: Today was Day 360 of my exercise streak. A good day for challenges!






Saturday, March 24, 2012
Today is my 45th birthday (yesterday, by the time I post this). Audrey and I wanted to tape a hooptacular dance number, but it wouldnít stop raining. We finally gave up on the rain going away, set up Audreyís Flip camcorder under an umbrella and hooped in the rain. What you see is unscripted, unchoreographed hooptacularness, with alternate endings. And that audio that sounds like static? Itís rain falling on the umbrella...
45--Iím loving that number. Itís right in the middle of so much possibility. The middle is often a fun place to be. You never know whatís coming next. Could be crisis or a storm. But, it could also be a joyful surprise. I like stumbling upon those. And ďDancing QueenĒ is my song! Guilty pleasure? Perhaps, but it makes me ridiculously happy EVERY time I hear it. Iím not sure why. I was nine when it debuted. Maybe I remember singing along with my cousins, using Loveís Baby Soft bottles as microphones. Maybe it reminds me of the flashmob I did with some of my besties. I donít know, but it has become my personal theme song. And Audrey loves it too--well, she loves the Mamma Mia soundtrack version, so thatís what we used. Dancing Queen, hoops, spectacular wigs, disco ball earrings and the worldís best daughter being silly with you? Best birthday, ever. Hoopy 45 to me, indeed. Iím a blessed gal.






Thursday, March 22, 2012
SparkPeople asked me to review some new plus-size activewear from adoraOm.com. I was happy to do it because-- A: The clothes are super cute. And B: Iím a hobbit. When I look at plus-size models, they all seem to be young, gorgeous, tall, statuesque women. They wear their weight well. I totally understand that; Iím sure thatís what sells. But I donít think Iíve ever seen a short, round, plus-size model. Nope. Not that I can recall. I come from a long line of short, sturdy women. Iíve learned to embrace that, to own my hobbitness. It has its perks too. Our round faces can help hide a couple extra years. But hobbits usually donít make it on the cover of Vogue, unless they happen to be standing next to a hot elf or something. So, I did this review for us, for the hobbitwomen of SparkPeople (we should have a team)--for the Shire!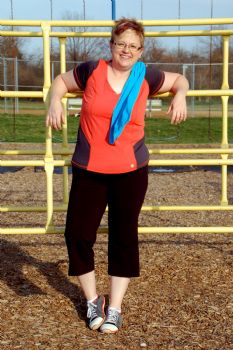 My Own Personal Disclaimer:
I did not get paid to review this stuff and Iím not trying to sell anything. These are just my own opinions. You know I like to share things that Iíve tried with yíall anyway. I always give you my honest opinion. And yes, this stuff is expensive--to me, anyway. Thatís why I gave it a thorough test before I reviewed it. Thorough as in, I worked out like crazy in these clothes, put them through the laundry a bunch of times and showed them to several of my friends. My husband says that you usually get what you pay for. In this case, I think he might be right. (Honestly, heís almost always right, but heís the nice kind of guy who doesnít lord it over you.) The quality and performance of this fabric is far superior to the usual t-shirt I wear. Thereís really no comparison. The fabric washes well and snaps right back into place. The pants keep you jiggle-free (trademark pending-lol). The mesh panels on the shirt really work--no sweaty shirt sticking to my back. The shirt stays put. I think this might be the only shirt in the world that has stayed put on me. Itís almost a Christmas miracle. Plus, the style and cut really did make me feel particularly superheroish. Thatís always a good thing. That said, I know I canít swing a closetful of this stuff. But I would like to save up and get another shirt (green, this time) for a BIG reward. I think itíd be cool to treat myself to something thatís going to prompt me to workout even more. Nice little self-hypnosis thing I have going here. Also, they have this super cool looking jacket with thumbholes. Thumbholes! I want it, just because of the thumbholes; think it would be very hobbit-chic in the Shire.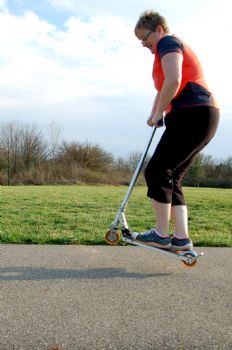 Hobbit Action Hero! More action heroes need scooters--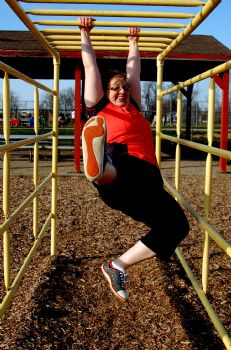 and monkey bars (I can do exactly two...)--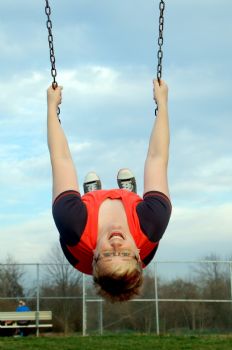 and swings.
Spark your day, no matter what youíre wearing!



First Page
1
2
3
4
5
6
7
8
9
10
11
12
13
14
15
16
17
18
19
20
21
22
23
24
25
26
27 28 29 30 31 32 33 34 35 36 37 38 39 40 41 42 Last Page

Get An Email Alert Each Time MOSTMOM1 Posts