| | |
| --- | --- |
| | MOSTMOM1's Recent Blog Entries |



Friday, January 13, 2012

I put a pot of beans on to cook, pushed the table aside in my tiny, messy kitchen and hooped to my new favorite song. Could be a sign of cabin fever... Winter is hard on hoopers.
The song is "Beans and Cornbread" by Louis Jordan & His Typmany Five. I don't own the rights to this fab song, but I wish I did.






Wednesday, January 11, 2012
You know that I love all things Spark. I do whatever I can to spread the Spark and support the site. But alas, there's one thing I can't do. I don't possess the geek powers to create emoticons. And that's too bad, because the magical IT SparkElves can't possibly have enough time or manpower to keep up with the ever-growing need and demand for the all-important emoticons.
Here are some emoticons I would design, if I possessed the necessary SparkGeek powers (and permissions). Keep in mind, my favorite emoticons are the little smiley face dudes, so that's what most of these are. (Ahem, clearing throat and tapping pointer on the giant SparkChart of Emoticons.)

Hula hoop- The fact that we're missing a hoop emoticon is shocking. The dude with the too big pants almost looks like he's hooping. So does the dude with both arms raised in victory. Close, so very close. I appreciate the hoop goodie; we just need the emoticon to go with it.
Ninja- Um, yes. Incredibly useful.
Superhero w/cape- For those of us using our powers for good and not evil.
Disco ball or smiley with sweet 'fro- We need something to represent "bow chicka bow wow" moments. This is important!
Airplane- For SparkPeeps going on fab trips. I keep thinking there is one, but I don't think so. Feel free to correct me, if I'm missing it. I miss some things, with these multi-focus lenses. You should see me bobbing my head up and down during a 3D movie.
Geek (smiley w/horn-rimmed glasses)- I adore all things geek and I don't think I'm the only one.
Viking (smiley w/Viking helmet and possibly braids)- Some will use this to represent the proverbial "fat lady." I choose to think of it as a SparkPeep on a victorious rampage through the gym or grocery store.
Wizard- Yes, I know the sleepy dude is wearing a wizard looking hat, but he's asleep! We need a wizard who's on top of things.
Smiley w/top hat- For the classy emoticon.
Doctor (smiley w/stethoscope)- For the SparkPeep who needs get well wishes.
Carmen Miranda (smiley with fruit hat)- For my Zumba SparkPeeps. Also can be used to encourage others to eat their freggies.
Bigfoot/Sasquatch- I have no idea if this is possible with a smiley face, but I think it would be entertaining to have Bigfoot sightings on SparkPeople.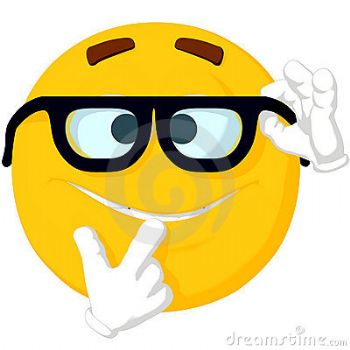 What kind of emoticon would you design?

PS: I should mention that I'm not complaining and I don't actually expect Spark to make any of these (except maybe a hooper...). They have far bigger fish to fry, er, I mean, steam or broil. I'm just using my imagination. I tend to do that from time to time.








Friday, January 06, 2012
If you've read any of my blogs or watched my vlogs, you know I get excited. It's my nature; I'm like a large puppy that way. SparkPeople has made it even worse by amping up my positive meter. Seriously, how many times a day can one woman woohoo? Anyway. I'll refrain from rattling on about how excited I am to be re-learning the ukelele (I'll save that for a vlog) and tell you two big things that have me buzzing right now.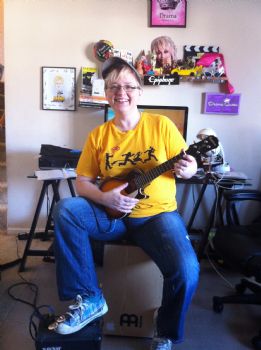 Rock the Uke!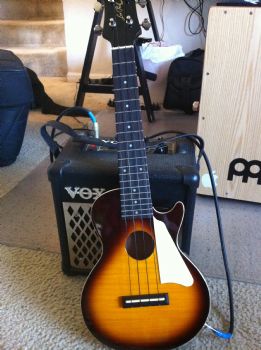 Have you ever seen a cooler ukelele?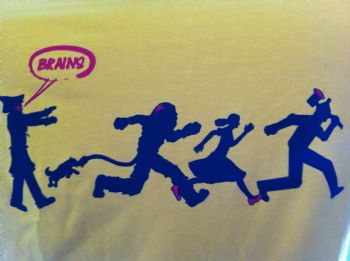 My new fav t-shirt.

Today is Day 278 in my exercise streak. Yes, I'm excited about that. I had a couple of touch and go days over the holidays, but it's all good. And trust me, I'm not going to exercise if it's dangerous or anything, okay? The touch and go days were very light, short sessions. I'm being smart. All or Nothing Girl is nowhere to be found. But I realized that I'm knocking on 300's door. I searched through the calendar to see when Day 300 falls. Holy cow, it's close! If all goes well, Day 300 will be January 28th, year of our Lord, 2012. So the question is, what should I do? 300 is a big deal to me. I feel like I have to mark the occasion somehow. I don't want to do another epic hoopathon like Day 200. It took me three days to recover from 200 consecutive minutes of hooping. LOL. So what, what should I do? I want to think of something, so I can, you know, get EXCITED about it. Hee hee. Thoughts? (Remember, no running, jumping or high-impact allowed--doc's orders.)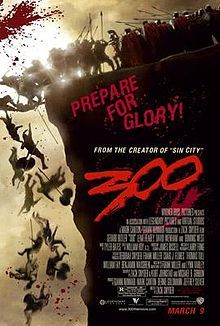 PREPARE FOR GLORY!

The other buzzy item is the new SparkTeam I started. I'm a SparkEvangelist. I carry my SparkCup everywhere, wear the bracelet, sport the tee, gift the books and talk about it all the time. What I've wished for, though, is for my SparkWorld and In-Person World to occasionally collide, in an organized fashion. I have a few, in-person SparkBuddies and I love that! I think it'd be so fun, though, to have a whole team of people you actually spend time with physically, a team you could go to the park with, stuff like that. So, I started a SparkTeam for members and friends at my church. We don't live close to any family, so our church family really is that for us on a daily basis. It's a fun and eclectic group of people. Who better to hang out with, encourage, etc? We're just getting started. It's going to take a while to get everyone plugged in. Remember how overwhelming the site can be at first? I recorded a screencast this morning, showing people around a little more. Hopefully, that will help. Can't wait to get Sparkin' with these folks!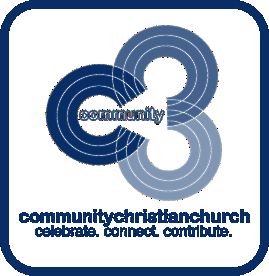 So, what are you excited about today?






Thursday, December 29, 2011
Sometimes streaking reminds me of the book, "How to Eat Fried Worms." Did you read that when you were a kid? These boys make a bet that one of them can't eat 15 worms in 15 days. Some of the boys do everything they can think of to make the kid lose the bet. One day, they take him to the ballpark, stuff him full of junk food, stay out late and have a good time, all in hopes that he'll forget to eat his worm that day. He almost does. That's been me and Christmas break.

It's rare when the four of us are on break together, so when we are, we really take advantage of it. We stay up late, sleep in, hang out with friends, go places, do stuff, avoid anything with "work" at the end and play, play, play. One of the days was cold and rainy, so no hooping outside. We ran around and played with friends. We were having so much fun goofing off, I completely forgot about exercise until the very end of the day. I was in the middle of a goshthishasbeenafunday contented sigh, when two words flashed in my mind--FRIED WORMS! I jumped on the elliptical and burned out a workout. Whew! I know I'm going to break my streak someday. I'm realistic. It can't go on forever. But I don't want to break it for something stupid, like forgetting. If I break it, I want it to be for something legit, like having to go to the hospital.

The next day I go to the hospital... At the risk of TMI, I wake up in the night with some, let's call them, "plumbing issues." Things are not pretty but I manage to get in to see the doc first the in the morning. She tells me, "Do not pass go, do not collect $200, get thee straight to the Emergency Room." Thankfully, they run some tests and find out things are not as bad as the doc feared. They fill me full of prescriptions and send me on my merry way. This, I think, is the right time to break my streak.

I'm surprised by the debate this sparks when I get home. We actually all sit around and discuss whether or not I should break my streak. This has become a Family Thing. I reason that I'm really not feeling that great, I'd like to rest and I'm perfectly happy with 268 being my high score. I examine myself, to see if this is true. I look for All Or Nothing Girl, lurking in the corners. She's nowhere to be found. I'm okay with breaking my streak. This is a legit reason. But Hubs says I should rest and wait until the end of the day to make my decision. He reminds me that I kept my streak going through the stomach bug two weeks ago. I think he's afraid that I'm going to mope around if I break my streak. I don't think I will, but I take his advice. I chug liquids, take meds and sleep all day.

At the end of the day, I'm feeling loads better. I think about the streak. I wonder if I should try ten short minutes on the elliptical. I search for All Or Nothing Girl. I DON'T want to do it for her. If I do it, I want it to be because I feel good enough to do it. She's still nowhere to be found. So, I cautiously step on the elliptical and do a slow and careful ten minutes. And then I stop, content with doing the bare minimum. Shaky Day 269. This morning, I poked my head into Audrey's room to ask her if she wanted oatmeal for breakfast. First words out of her mouth--"Did you do it? Did you break your streak?" She breathed a sigh of relief when I told her no. Somehow or another, I think my streak has turned into our streak...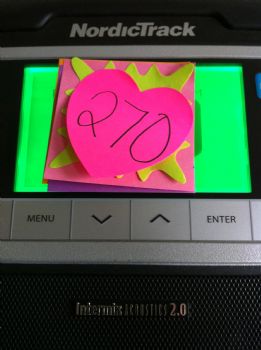 Today, by the skin of my teeth...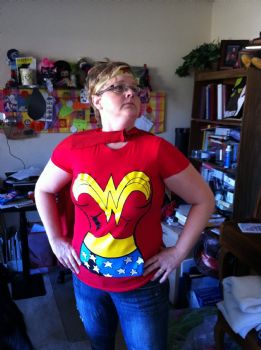 Creeping up on Wonder Woman. DH bought me THE shirt for Christmas. LOL. I can kinda rock it if I'm standing up, but when I sit down, it looks like I have a built-in utility belt. Just wait-- 20 lbs. from now...






Sunday, December 25, 2011
We got an LED hoop for Christmas and took it outside to play with it. It's so much FUN! I also wanted a chance to try out my new camcorder, which is all kinds of awesome. I'm a happy, grateful Sparker today.

Music by Alvin and the Chipmunks (of course)



First Page
1
2
3
4
5
6
7
8
9
10
11
12
13
14
15
16
17
18
19
20
21
22
23
24
25
26
27
28
29
30 31 32 33 34 35 36 37 38 39 40 41 42 Last Page

Get An Email Alert Each Time MOSTMOM1 Posts