| | |
| --- | --- |
| | MOSTMOM1's Recent Blog Entries |



Saturday, January 28, 2012
This is Sparta--I mean SparkPeople!!!! Today is THE day! Day 300 of my exercise streak and I'm excited. It's also the last day of my Winter 5% Challenge. Go A Team! I took suggestions from my SparkBuddies on how to celebrate and I have a pretty fun day planned. I'm gonna tape parts of it for a vlog, but I wanted to post something this morning.

So, what has happened in the last 300 days? Well, for starters, 34 pounds gone, a lot of inches too--three pants sizes. In fact, the fitted Spark tee I ordered to wear today got here and, whaddya know--it's too big. I'm happy and a little bummed (about the shirt, that is). Here's a before and today pic: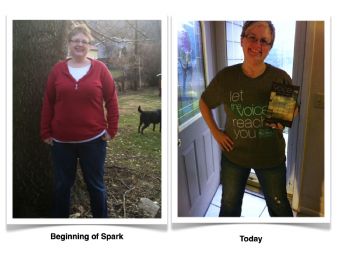 I wish I could show you a pic of my mind/attitude, because that change has been more dramatic than my waistline. I've blogged and blogged about All or Nothing Girl. I keep mentioning her because I know she/he exists for other people too. Every weight loss journey I've taken made me feel like I needed to jump in with both feet, work hardcore, with no mistakes. Eventually, I'd slip. I couldn't keep up with the intense exercise demands or perfect eating. I'd feel like I blew it, so I'd quit.

And then comes SparkGuy, with his "10 minutes is good" mantra. All or Nothing Girl scoffs at ten minutes. What could that possibly do? It's not long enough, or hard enough. It's too easy. She's right, except for the "not enough" part. It isn't long, it isn't hard and it IS easy. But here's what drives AON Girl crazy, making it impossible for her to hang around. It works. It does something to you. Ten leads to twenty, thirty, or more. But ten is your safety net, your cushion, in case you aren't up for anything else. And if you do it one day, you can keep it going for two, three, who knows how long?

Knowing that I didn't have to be perfect or hardcore all the time, gave me the freedom to gain the consistency I needed. As a result, I've been able to exercise without the gung-ho, weekend warrior injuries I used to get. I exercise safer and smarter, with lots of variety and differing levels of intensity. Yes, I had a couple of days in there when I didn't feel so great. There were a few times I thought I'd break my streak and that would've been okay. I just would've had a new high score. But I'd wait until the end of the day and see if I was at least up for an easy walk on the elliptical. Trust me, my husband would stop me from exercising, if he thought it was a bad idea. He's protective of me and the streak at the same time.

Even better, AON Girl has disappeared from every other part of my life too. If it's okay to slip, to set the bar slightly above my head, rather than sky-high--well then, I can try practically anything. Chances are, the world won't stop spinning if I make a mistake. And if I don't try, how will I ever know? How will I know what my little media production company can do, if I don't try to make a go of it? How will I know if I can spin fire? (me fire hooping makes my husband extremely nervous) How will I know if I can play an electric ukelele? How will I know if I can write a one-woman show? How will I know if I can lead a team of in-person SparkBuddies? I want to find out, even if it's an epic fail.

I wish you were here to celebrate with me today; some of you will be. You've cheered me on, some from Day One. In a way, that makes it Day 300 for all of us. Spark on, Brave Sparkers! (and check back later for the vlog)




PS: I shrunk the shirt up a little, so I'm wearing it anyway. :)






Tuesday, January 17, 2012
I'd like to roll out the red carpet and stage a parade for all my SparkBuddies. So wherever you are, sit up nice and tall, look side to side and give your best parade float wave. Blow kisses with both hands, pick confetti out of your hair, throw sugar-free bubble gum. Why? Because you are Sparktacular!

I don't say it enough, but thank you, thank you, thank you for all your support on this site. I appreciate every comment, goodie, SparkMail, like and woohoo. Seriously, thank you. I don't always get a chance to reply to every comment and question. I doubt any of us are able to keep up with all the awesome communication here. If I could reply psychically, I'd be set! But please know that I appreciate you.

This community has done worlds of good for me. You guys have given me the courage to live back out in the open, instead of hiding backstage or behind a camera. You've allowed me to do crazy things like hula hoop in a pink motorcycle helmet and dress guinea pigs up in grass skirts. And nobody here has called me a freak--crazy, yes, but always in a nice way. You've inspired me to reach for Wonder Woman goals, while hurling All or Nothing Girl completely out of my orbit. You've cheered me on in my slow and methodical race. (Day 300 is coming up, y'all.) You've helped put the Spark back in my step and a mischievous glint back in my eye (although hubs might not thank you for the latter). Not only that, you've welcomed my daughter with open arms and encouraged her to be herself. We're odd little ducks. Remember how hard it was, being a square peg in Junior High? You've helped give her confidence to keep being herself and for that, I doubly thank you.

This community is the biggest reason that I try to spread the Spark. With this kind of encouraging, supportive network, nobody can fail. Nobody. So, listen for the marching band and watch out for flying batons, because this SparkBuddy wants to say thanks in a big way.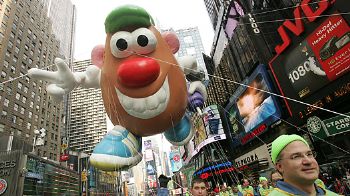 We need a giant, SparkGuy balloon.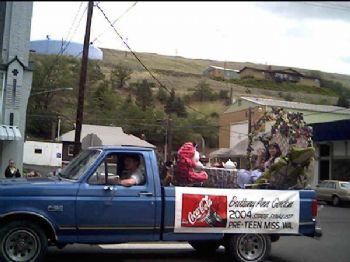 Cup your hand, bend your elbow and wave.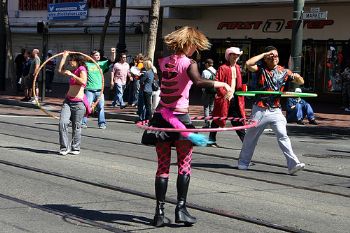 I need to add "hooping in a parade" to my Sparklist...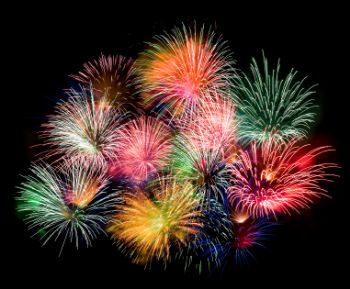 Baby, you're a firework. Come on, show 'em what you're worth!






Friday, January 13, 2012

I put a pot of beans on to cook, pushed the table aside in my tiny, messy kitchen and hooped to my new favorite song. Could be a sign of cabin fever... Winter is hard on hoopers.
The song is "Beans and Cornbread" by Louis Jordan & His Typmany Five. I don't own the rights to this fab song, but I wish I did.






Wednesday, January 11, 2012
You know that I love all things Spark. I do whatever I can to spread the Spark and support the site. But alas, there's one thing I can't do. I don't possess the geek powers to create emoticons. And that's too bad, because the magical IT SparkElves can't possibly have enough time or manpower to keep up with the ever-growing need and demand for the all-important emoticons.
Here are some emoticons I would design, if I possessed the necessary SparkGeek powers (and permissions). Keep in mind, my favorite emoticons are the little smiley face dudes, so that's what most of these are. (Ahem, clearing throat and tapping pointer on the giant SparkChart of Emoticons.)

Hula hoop- The fact that we're missing a hoop emoticon is shocking. The dude with the too big pants almost looks like he's hooping. So does the dude with both arms raised in victory. Close, so very close. I appreciate the hoop goodie; we just need the emoticon to go with it.
Ninja- Um, yes. Incredibly useful.
Superhero w/cape- For those of us using our powers for good and not evil.
Disco ball or smiley with sweet 'fro- We need something to represent "bow chicka bow wow" moments. This is important!
Airplane- For SparkPeeps going on fab trips. I keep thinking there is one, but I don't think so. Feel free to correct me, if I'm missing it. I miss some things, with these multi-focus lenses. You should see me bobbing my head up and down during a 3D movie.
Geek (smiley w/horn-rimmed glasses)- I adore all things geek and I don't think I'm the only one.
Viking (smiley w/Viking helmet and possibly braids)- Some will use this to represent the proverbial "fat lady." I choose to think of it as a SparkPeep on a victorious rampage through the gym or grocery store.
Wizard- Yes, I know the sleepy dude is wearing a wizard looking hat, but he's asleep! We need a wizard who's on top of things.
Smiley w/top hat- For the classy emoticon.
Doctor (smiley w/stethoscope)- For the SparkPeep who needs get well wishes.
Carmen Miranda (smiley with fruit hat)- For my Zumba SparkPeeps. Also can be used to encourage others to eat their freggies.
Bigfoot/Sasquatch- I have no idea if this is possible with a smiley face, but I think it would be entertaining to have Bigfoot sightings on SparkPeople.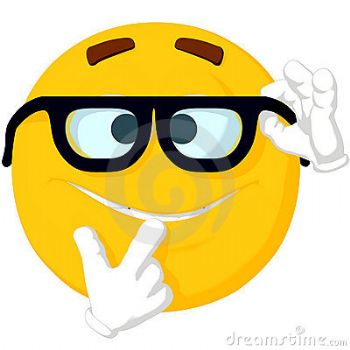 What kind of emoticon would you design?

PS: I should mention that I'm not complaining and I don't actually expect Spark to make any of these (except maybe a hooper...). They have far bigger fish to fry, er, I mean, steam or broil. I'm just using my imagination. I tend to do that from time to time.








Friday, January 06, 2012
If you've read any of my blogs or watched my vlogs, you know I get excited. It's my nature; I'm like a large puppy that way. SparkPeople has made it even worse by amping up my positive meter. Seriously, how many times a day can one woman woohoo? Anyway. I'll refrain from rattling on about how excited I am to be re-learning the ukelele (I'll save that for a vlog) and tell you two big things that have me buzzing right now.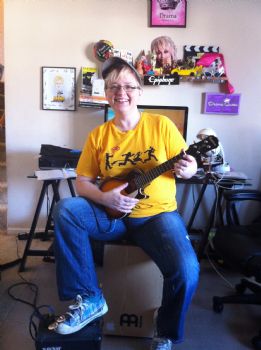 Rock the Uke!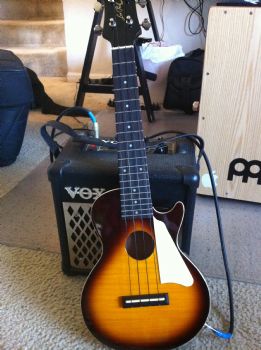 Have you ever seen a cooler ukelele?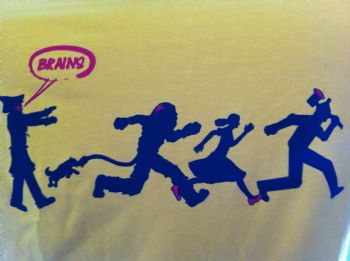 My new fav t-shirt.

Today is Day 278 in my exercise streak. Yes, I'm excited about that. I had a couple of touch and go days over the holidays, but it's all good. And trust me, I'm not going to exercise if it's dangerous or anything, okay? The touch and go days were very light, short sessions. I'm being smart. All or Nothing Girl is nowhere to be found. But I realized that I'm knocking on 300's door. I searched through the calendar to see when Day 300 falls. Holy cow, it's close! If all goes well, Day 300 will be January 28th, year of our Lord, 2012. So the question is, what should I do? 300 is a big deal to me. I feel like I have to mark the occasion somehow. I don't want to do another epic hoopathon like Day 200. It took me three days to recover from 200 consecutive minutes of hooping. LOL. So what, what should I do? I want to think of something, so I can, you know, get EXCITED about it. Hee hee. Thoughts? (Remember, no running, jumping or high-impact allowed--doc's orders.)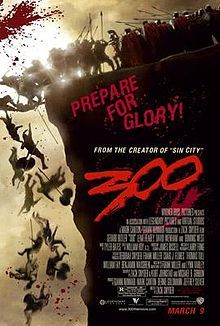 PREPARE FOR GLORY!

The other buzzy item is the new SparkTeam I started. I'm a SparkEvangelist. I carry my SparkCup everywhere, wear the bracelet, sport the tee, gift the books and talk about it all the time. What I've wished for, though, is for my SparkWorld and In-Person World to occasionally collide, in an organized fashion. I have a few, in-person SparkBuddies and I love that! I think it'd be so fun, though, to have a whole team of people you actually spend time with physically, a team you could go to the park with, stuff like that. So, I started a SparkTeam for members and friends at my church. We don't live close to any family, so our church family really is that for us on a daily basis. It's a fun and eclectic group of people. Who better to hang out with, encourage, etc? We're just getting started. It's going to take a while to get everyone plugged in. Remember how overwhelming the site can be at first? I recorded a screencast this morning, showing people around a little more. Hopefully, that will help. Can't wait to get Sparkin' with these folks!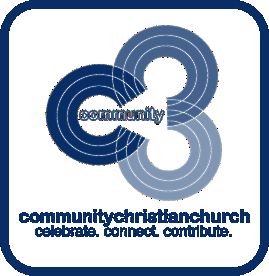 So, what are you excited about today?



First Page
1
2
3
4
5
6
7
8
9
10
11
12
13
14
15
16
17
18
19
20
21
22
23
24
25 26 27 28 29 30 31 32 33 34 35 36 37 Last Page

Get An Email Alert Each Time MOSTMOM1 Posts