| | |
| --- | --- |
| | MOSTMOM1's Recent Blog Entries |



Saturday, December 13, 2014

Just thought I'd give a quick update about my exercise streak. It continues to live on, like its own personal entity. Today is Day 1342 of at least 10-minutes or more. Lately, it's been a lot of 15-minute days, a LOT. But that's okay, because it keeps me going and that's worth something to me.

And check it out, I finally got new shoes! A couple of folks asked me what kind of shoes I got. My initial reply is, "What I found on sale at Famous Footwear." You gotta understand, I don't spring for shoes as often as I should. The last time I bought new shoes was back in the 30,000 Steps to Glory challenge. You can find that here:
www.sparkpeople.com/mypage_public_jo
urnal_individual.asp?blog_id=5452209

I know. I know you're supposed to replace shoes every few months, especially if you're putting a lot of miles on them. Please hold all lectures, unless you're willing to supply me with shoes. Heh heh. Here's what I got, in case anyone is interested. I don't usually buy running shoes, because they're usually too narrow for me and let's face it, Mama don't run. But these were different; I got the Nike Flex 2013. Here's what I like about them: they're really lightweight, very flexible, cushy and they have a wide toe box (a must for me). Plus, they were on sale and I had a $10 coupon—bonus points for me.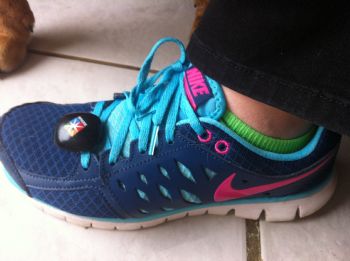 Snazzy

I've also had a couple of people ask about Chubbs and Pudding, how they're doing and all that. They are fine and dandy. Chubbs is slowing down a bit (which is hard to tell, since basically all they do it sit around and eat). He also seems a little hard of hearing, but they're fine. Sadly, they have retired from video blogging, due to the fact that their handler (Audrey) retired from video blogging. I can only do so much with two hands, people. If you missed Chubbs and Pudding's heyday, you'll have to go back and watch. They are cute lil fellas. Their workout video with Coach Nicole is still one of my favorites:
www.sparkpeople.com/mypage_public_jo
urnal_individual.asp?blog_id=4770893

But here they are, safe and sound, gorging on leafy greens.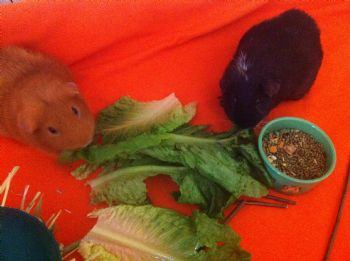 Pigz still rule!

Oh, speaking of things I got for myself, that were on sale-- Check out these super classy stickers I found for my outlets. When I see something like this online for 99 cents, I feel obligated to buy them and spread quirkiness throughout the house.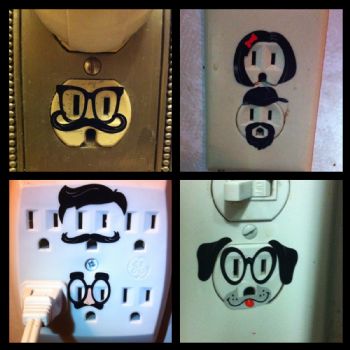 Audrey said she feels like she's gouging out the lil dude's eyes, whenever she plugs in her hair dryer. Not the effect I was going for…

I will leave you with this inspirational picture of our Christmas tree.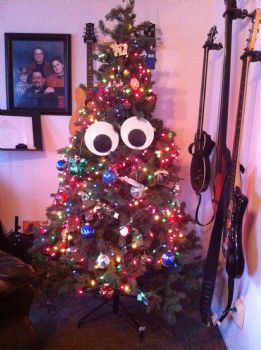 Giant, google eyes—not just for Halloween.

Spark ON, Brave Sparkers, even if it's only for 15 minutes!






Monday, November 24, 2014
Have you had a long Monday? Please, allow me to share this picture of Bubba, trying to catch a snowflake on his tongue (that's what I think he's doing, anyway). He is NOT saying, "Pbpbpbpb" to winter. He likes the snow.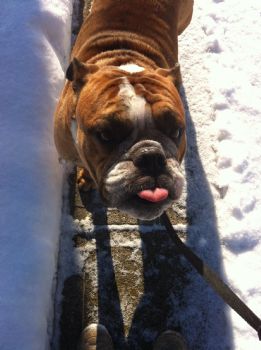 There. Doesn't that make things better?

I meant to blog about this last week, but got slammed at work, so I'm just now getting a chance. You know how I'm a Freezer Meal Fiend, right? Freezer meals have become a staple around here. And you also know how I have a small group of friends called The Crazies, right? Well, we combined both of those things last week. One of the Crazies suffered a family loss, so the rest of us decided to get together and make a bunch of freezer meals for her. Nothing new there. I grew up in the South; this is what we do. But, here's what was different—our dear friend has celiac disease and has to have gluten-free meals. We experienced a brief moment of group panic. None of us wanted to send our friend to the hospital. I was afraid that gluten might be floating in the air at my house! So, we gathered our resources and decided to tackle this as a group project. Here's what we did—

A couple of the girls researched recipes and sent us shopping lists with very specific items. We checked everything against a celiac resource site online. We also checked with a few other friends who are experts with celiac issues. Then, we all met at one house, that had been scrubbed top to bottom. Our host Crazy even made us a gluten-free meal to eat while we were cooking, to avoid any cross contamination. Genius. We felt safer together, making sure that everything was good to go. We wanted to make sure that our friend could check everything we made, so we included a list of exact ingredients with the cooking directions. That way, she knew exactly what she was eating, so she could be worry-free. We had so much food, we had to start storing it outside, on the porch.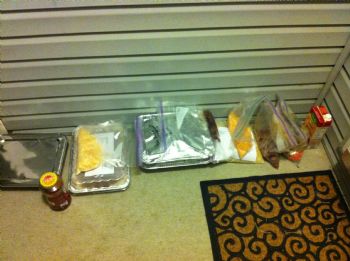 Good thing it was a cold night; porch fridge totally worked.

We were so happy to be able to do this. Honestly, I wouldn't have attempted it on my own. I would've been too worried that I might accidentally give our friend something that would hurt her. But, it totally worked as a group effort. And we had so much fun, all laughing, telling stories, cooking and eating. It totally took the nerves out of the situation. Sometimes, having too many cooks in the kitchen is a GOOD thing. I just thought I might pass it along, in case any of you might want to try something like this. Just because someone has a food allergy or dietary restriction, doesn't mean you can't show them some love with comfort food. It just takes a little extra prep, (a couple of Crazies doesn't hurt either).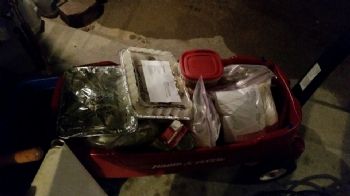 It was delivered to her door, via Lil Red Wagon, when she got home.

Before I chain myself back to my desk to edit video, I have to show you something. We've been working some long days and late nights on our latest set. People tend to get a little slap happy. I couldn't figure out where my set design crew stashed the park bench I needed for rehearsal. I looked for it for two days. Found it in the "Out of Order" stall in the ladies bathroom.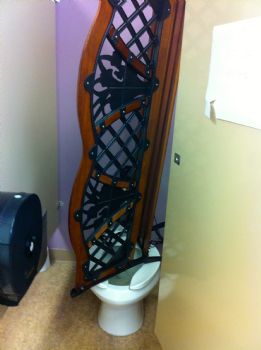 See why I love these people? They keep me on my toes.

And my BFF gave me a new mug. Check it out.


It's Muppetacular!

AND cold weather means it's time to bust out the Fozzie hat!!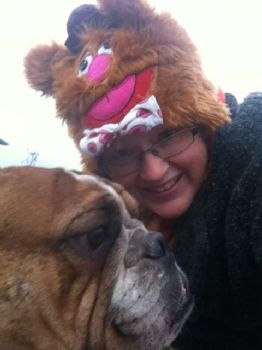 Wocka, wocka, wocka

Spark ON, Brave Sparkers!!!







Sunday, November 09, 2014
Does this short, round, middle-aged woman have any shame? Apparently not. Yet another unedited hOOp vlog, because I had to get away from my desk and you know that I share these things.
CONFESSION TIME
The scale bounced up a couple of pounds over the last two weeks. But it's no mystery; no, it's not. Here are the Terrible Things I Did To Make The Scale Go Up:
—Halloween Candy: I'm not going to lie. I like candy. When I was a kid, I wished I were Charlie Bucket and lived in Willy Wonka's Factory. That hasn't changed. I had more than my share of candy over the last two weeks. I own up to it. It's gone now. All is well.
Speaking of Halloween, Audrey used power tools to carve her pumpkin this year.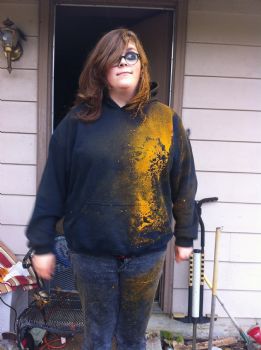 The aftermath of shaving a pumpkin with a Dremel.
Also, a friend gave me some giant, google eyes.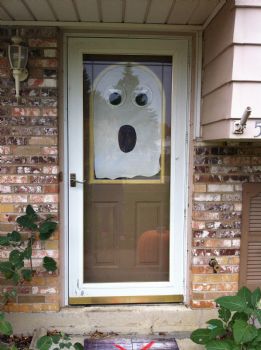 So, of course, I had to put them on my front door.
—Cupcakes: Do you have friends who are professional bakers and make gourmet desserts to share on work nights? I do. I really do. I refuse to apologize for eating said cupcakes. These women are brilliant artists. What they do with frosting and filling is a wonder. I do not regret it. However, I probably didn't need to take the leftovers home…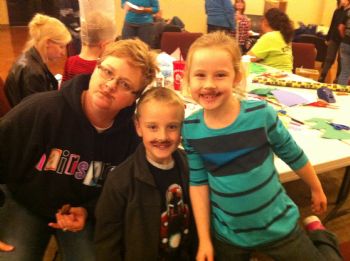 Two of my Jr. Designers, sporting chocolate, frosting mustaches with me. All the cool kids have them.
—Eating Late: Work has been off the rails lately. We're in full-blown, Christmas production and that means some late work nights. I've eaten late dinners way too many times; would've been better off with a light snack instead.
—Not Enough Sleep: Sometimes, I'm too wound up after rehearsals or work nights, to go to sleep right away, so I stay up too late. I'd be better off going to bed and reading a book, instead of tooling around the house, doing stuff.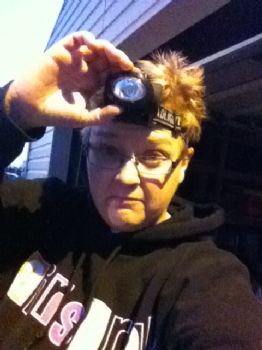 The power in the garage at work is out, so we have to wear headlamps to work out there, when it gets dark!
—Lunch Stash Depleted: My stash at work is gone. I need to replace it. Otherwise, I grab Chick Fil-A, or overeat when I get home. Must. Restock. Stash.
So, I can see exactly where things went askew. It only makes sense that the scale went up. Knowledge is power, right? But boy, oh boy, some of this stuff was fun; I ain't lying. :) I'll leave you with these pictures of a day out I had with some of my besties. We call ourselves the Crazy Art Ladies, or The Crazies, for short. If y'all don't have a tribe of people to run around and do stuff with, you need to get one. I highly recommend it.
If you go to an Art Show with your besties, matching shirts are a must. Also, one of the Crazies couldn't be there, so we made a paper version of her and carried her around all day. See her?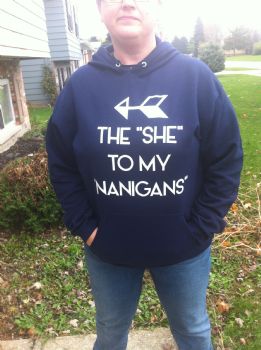 These are the shirts my BFF made for us. Aren't they great? Just stand to my right, please.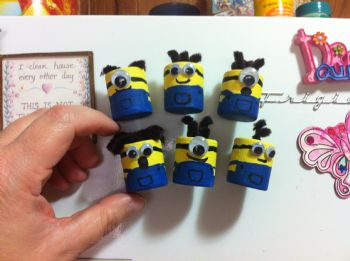 One of the Crazies had a bday. We all made her handmade gifts. She got some beautiful jewelry, scarves and artwork. I gave her these google-eyed, minion magnets. Hey, we all have different talents…
Hope you have a wonderful week; don't go off the rails, shake it off and have FUN.
Spark ON, Brave Sparkers!!
PS: The song is Walk Off the Earth's cover of Taylor Swift's "Shake it Off." They play kazoos and ukuleles in it!!!






Monday, October 27, 2014
Need a little boost to your Monday, something to lighten up the beginning of your work week? This may or may not be it. Who am I to judge? I just know that if someone gives me something called a Nose Flute, I have to share. Is this SparkWorthy? Yes, yes it is. This is how I make my life an adventure, people— trying new things, testing new kazoos. Someone has to do it. And now we all know that the Nose Flute, the ORIGINAL Nose Flute, is a difficult instrument. I tested it for you, so you won't have to. You're welcome.
In other news, I have my big toe in Onederland again. It's having a fine time and hoping the rest of me joins it soon. One thing that has really helped over the last two weeks, was a mini challenge that my 5% team did. We cut out evening snacking. You were allowed to have one, planned, healthy snack, if you needed it; but no grazing. This is nothing new to me. I know this is something I should do, but having the challenge specifically call it out really helped. I know, without a shadow of a doubt, that I did away with a lot of unnecessary calories at the end of the day. I'd be tempted to bust out the popcorn popper, or grab a handful of something, but I stopped myself. After dinner, the kitchen was closed. And guess what? I didn't die. I was perfectly fine. I seemed a little hungry for a bit and then it passed. So, I think maybe I was snacking more from habit than actual hunger. Very helpful to know. Gonna try to keep this up.
I hope you're making interesting discoveries and trying new things this week. I will leave you with this pic of some holiday fusion decor that Bubba and I saw on our walk yesterday.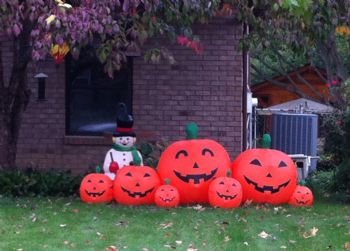 Frosty the Snowman in the Pumpkin Patch. It works; it just works.
Spark ON, Brave Sparkers!!






Monday, October 20, 2014
If we've been friends for a while, you know that meal prep has always been my Achilles heel. I don't enjoy spending time in the kitchen. Cooking is not my forté. Need I remind you of the cookbook I set on fire, while trying to cook and read Harry Potter and the Goblet of Fire simultaneously?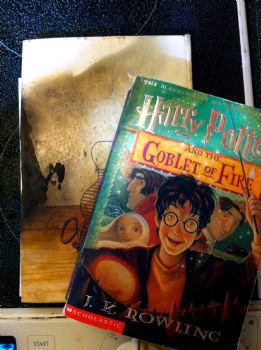 The pages are melted together. I keep it, as a humble reminder that reading and cooking don't mix.

Lately, you know I've made it my mission to work harder on meal prep, with menus, lists, freezer meals, snack stash at work, etc. I'm happy to say that I'm making strides. Do I love it? No. But I'm doing it and learning a lot as I go. I keep tweaking my system and thought I'd share what's working for me right now. Here is my convoluted process:

Schedule Planning/Shopping
I've learned this the hard way. Here's the deal: Randy (DH) and I are both ministers, working at the same church. While we love our jobs, let's just say that we don't do it for the money. Things are tight--always. Meal planning has been a huge help to us, nutritionally and financially. Secret bonus perk. But I have to stay on top of it. If I wait until payday to start making a menu and shopping list, it's too late. I won't have enough time to get it done. And if we don't do our big shopping trip on payday, we waste a couple of days with drive-throughs/takeout and our money and nutrition fly out the window. I need to have that menu and shopping list ready to go by payday. And Randy and I have made The Pact. One of us will go shopping ON payday. If I'm busy, he goes; that's the deal. Between us, I prefer to go myself. Randy's great about going, but has to call me approximately ten times while shopping, which kind of defeats the purpose. So, I put planning days and the shopping day on my planner. This girl does deadlines.




Meal planning goes on the schedule, like a doctor's appointment or meeting for work. It's a thing.

Meal Planning and The List
I schedule about 2-3 days to pull together a menu and shopping list. This is because I'm incredibly slow and I try to add a couple of new recipes each time. I browse through cookbooks, look online, try suggestions from friends. I use an app called Paprika for all my menu planning. I love it. I can type in recipes from my cookbooks, automatically download recipes from websites, rate and categorize them, add them to my meal plan and even generate a shopping list, if I want. I prefer using Paprika on my iPad for menus and the Groceries app on my iPhone for my shopping list. Randy has offered to make The List, but I know it would largely consist of Hamburger Helper and chicken nuggets, so I gracefully decline the offer.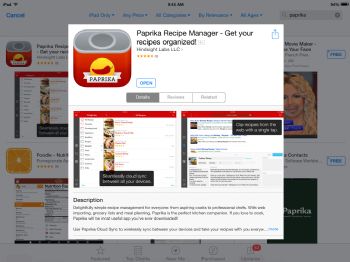 Go, go Gadget Groceries!

Using the apps makes this hated job easier, so there's a little less whining on my part. I start with menu items, then add things like cleaning supplies and stuff. I give all family members a last-call to text me things they want added to The List and do a walk-through of the house, to see if I've missed anything. Then, I take a moment to feel exceptionally proud of myself, for doing something I loathe and despise.

The Dreaded Shopping Trip
I try to eat before I go; shopping while hungry is a rookie mistake. I prefer to go in the morning, when it's less crowded. If I have to go later, Audrey usually goes with me, which is helpful. My app organizes The List into categories, which makes it easier to find things. Before I get out of the car, I check to make sure I have any coupons and my reusable bags. The bags are important; here's why-- I can fit way more groceries per bag, they're easier to carry into the house and they're FUN. I intentionally bought entertaining bags. I figure if I'm doing something I'm not that crazy about, I might as we'll be slightly entertained. Plus, sometimes they cheer up the baggers. When I have everything ready, I take a deep breath, say, "For the Family!" and head into the store.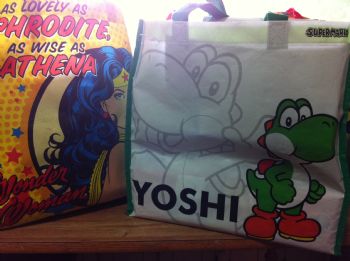 Two of my favorite bags. Gotta love Wonder Woman and Yoshi

My trip last week was a biggie, a month's worth. I had to put the top down on my car, so I could fit everything in my lil bug.



Meal Prep
The first couple of times I tried the freezer meal thing, I did meal prep in one, marathon session. That doesn't always work out for me. Most times now, I do it over a couple of days. I double up on some tried and true recipes, making two batches with one in the fridge and one in the deep freeze. I double-bag stuff, to prevent explosions/leaks and include the instructions on the bag. If she's able, Audrey helps with some of the prep. But we have a very small kitchen, so sometimes it's just better if everybody stays out of my way. Know what I mean? I put Netflix on my iPad and just get it done.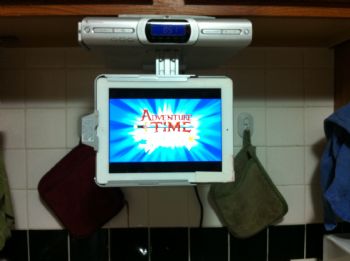 Cooking and binge watching Netflix works much better than reading

Friday night, I did something that made meal prep more fun. My BFF (Shelley with an ey) and I both tried a new recipe at the same time. We were texting each other the whole time and sending pics back and forth. It was nice, knowing someone else was in the same boat and it made cooking more fun. I think we'll try that again.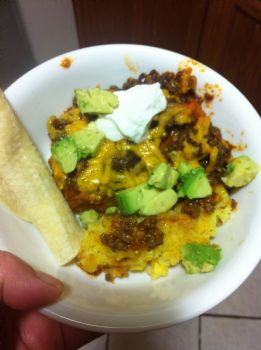 We made Tamale Pie and it was awesome.

Feel Proud
This is an important part of my process, because meal planning/prep is a big, non-scale victory for me. I stop and look in the deep freeze and fridge and I feel proud. Proud that I made myself do something I don't remotely enjoy and that I'm trying to take better care of my family. Plus, I know that Future Shelli will be extremely grateful and I want to make her life a little easier when I can.

So that's my long and convoluted update on my ongoing mission to feed my clan without losing any more of my mind. Hope you're making progress on your own personal missions too!

I will leave you with this pic of Bubba.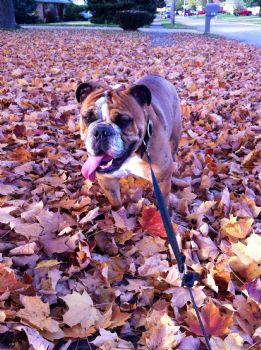 Some of my friends said that this is his camouflage pic. :)

Spark ON, Brave Sparker!



1 2 3 4 5 6 7 8 9 10 11 12 13 14 15 16 17 18 19 20 21 22 23 24 25 26 27 28 29 30 31 32 33 34 35 36 37 38 39 40 41 42 Last Page

Get An Email Alert Each Time MOSTMOM1 Posts