| | |
| --- | --- |
| | MOONMANSON's Recent Blog Entries |


Monday, October 13, 2014
To think, the things that have happened in a year.

First and foremost, of course, the thing that still pangs my heart, still makes me sad, still makes me jealous, bitter...

The lost of what had been our first 'real' pregnancy....god, does it still hurt. I mean, yes, I make it through daily life most of the time without dwelling on it, and days go by without even thinking about it. But then I get doubly upset because something reminds me- like a cousin who 'accidentally' got pregnant is due the same time I would have been and her shower is coming up. First I get sad, then I get bitter, and I don't like that combo. Working on it.

Looking at starting in my Doctorate of Nursing Practice in spring. Yes, that means I will be able to have Dr. in front of my name, but no, it is not nurse practitioner or seeing patients- it is focused on education and moving further into the collegiate atmosphere and further from the day to day floor action. What I would love to do combines both and this shall let me do so.

This is the last day of my 20s!

Am I sad? No.

Do I wish I was in a different place at this age? Mayhap. The past, however, cannot be changed (though according to the movies, next year we should have the option of a flying DeLereon showing up). Could I have been Dr. Lissa by now? Yes. Does it matter in the grand scheme of life? Not really.

Would I have loved to have had a little face look up at me and call me mommy? Yes. Again, not a thing I can do about it but look to the future.

Did I make it through my 20s (knock on wood) without a cardiovascular event? Yes!! Why does this make me happy? Lots of people in my family have had heart attacks in this decade of life.

Sorry for the ramble...

Had a lot on my chest there, not blogging for a year.

Using this day as my New Year's Eve-starting the new decade of life on a good foot. Back to working out. Fertile this week, so fingers crossed.

Look forward to hearing from anyone that reads this.

Lissa...




Monday, September 23, 2013
Yesterday, I worked for 16 hours. Around 11am, the opportunity for an AA (leaving without pay but an authorized absence, coveted by nursing) was presented. Now, we have an AA list (people who want one), but when you're already at work, you're asked if you want to leave.

Well, the 3-11 monitor nurse wanted an AA day. For her to get it, however, a nurse who has been properly trained to watch the monitors must be there and take the assignment.

It could have been my turn to take 3-11 off, but I didn't. The other nurse who could take the assignment is petrified to do so. So I stayed and took the monitor assignment.

Now, I am not trying to be cocky, but it has been my goal lately to do small things to make other peoples' days suck less.

One day, when I picked up my lunch, I grabbed a chocolate bar (yes, I know not a great snack) for a fellow nurse craving chocolate. I've made little maneuvers all around.

But, the biggest deal here is I did a move for myself! Instead of plopping down in the chair in the monitor room, I turned the radio on, and for most of the shift, stood, danced, and did marches in place. Yes, it looked funny, but I managed to get about 5,000 steps while I was there. (Okay, so I had to admit people, and run a ton of strips, but still!).

Trying to realize it's okay to make situations work for me, too






Wednesday, August 14, 2013
I've been on and off this weight loss journey for a while now, and it strikes me how much I still always want to instantly see a difference.

I know, it takes time.

Well my neighbor, who is (my) nurse practitioner, sells It Works products. I have the assumption that it is not...detrimental to my health as she is selling it.

I got wrapped this morning and tried the greens.

Not sure I'm sold on either. Little bit nauseated right now but it's probably from the water I pounded.

Greens...meh, on taste.

Wrap? A difference in the side shot. It's supposed to be most effective in up to 72 hours. We shall see.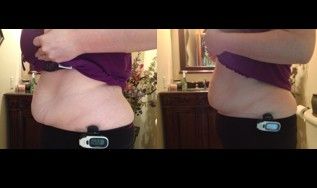 You be the judge. Yes, different, no, not sure if really was 'sucking it in' either time.

If it does anything, I may actually buy more, just as an incentive and as some immediate (ish) physical proof and gratification.

Any one else ever use these?





Thursday, August 08, 2013
How dismaying to realize it has been over a year since we started trying to create our own mini-me.

A year slips by so quietly some times, but trust me...

I remember the first exciting feelings of finishing up the last pack of pills.

Then buying the absurdly expensive CBE digital ovulation tests....

And seeing a smiley face for the first time the day of the Def Leppard concert last summer...(two exciting things in a day, how could I handle myself, and yes, it would have meant something oddly special to me to think I was fertilized while Joe Elliot was watching).

And a few months later stopping the CBE digitals and going with the Wondfo cheapies.

And watching the luteal phase wax and wane like the moon.

Happily (but a twang bitterly) watching the monthly forums fill with messages of BFPs.

Plugging along hopeful every month.

Not minding the extra loving from the husband, but my, that had never been a problem before....

.

And then finally having a vacation where I was off...

And hitting oh, maybe every day where I could have been fertile...

12 days later, 2 lines. My god, 2 lines. And words. And more lines.

4 days later...spotting...and bleeding....and no lines.

That was in May...oh, be assured, it's supposed to be easier to get pregnant if you've been pregnant before, right?

It's August. Starting the however-many-day-luteal phase countdown it will be this cycle...

Always hopeful, but less and less so as the months go by. We've both checked out good...the doc thinks there's less need for an HSG because there was perhaps a pregnancy thereby perhaps proving that at least one tube is clear.

Oh, out the window has gone the thought of..."well, I don't want to be 'really' pregnant in the summer"...."Maybe winter isn't the best time to get pregnant because of the cold and flu season"....and it's turned to..."Whenever? Yeah that'd be good."

Now, other than SparkPeople, a select few people in our 'real lives' know that we are actively trying. And no one IRL knew about the positive, except for the MD office.

What I really want to do is scream from the roof of the hospital I work at about how hard it really is. How it isn't always easy.

Part of me simply wants to curl in a ball and cry every 27 to 29 days when I realize that maybe motherhood isn't (easily) in my future.

I go through cycles of working so hard to lose weight to be healthier as a momma to phases of self loathing, to phases of 'well, if I work too hard right now I might risk not implanting'.

It's a rough road folks.

Thankfully I have a supportive husband and the support of a few good friends on here.

But take a minute here and reflect back on your last year. Time is not always on our sides.







Sunday, April 14, 2013
I am pretty sure I am past general sadness and just a little bit depressed, very minor. I say this because of my propensity to want to stay in bed and my lack of motivation.
It's not that an all consuming sadness has struck me, it's just a feeling of blah.
I am currently trying music therapy, and it's boosting me. Yesterday, however, the couch and I had a long rendezvous with a bunch of movies on TV.
It doesn't help that all the activities I *have* to do outside of work lately are essentially all done sitting down- grading papers, emailing students, planning the clinical day, doing the schedule for my main job, and then, pfft, jump hunting like there's no tomorrow to get out of the full time gig into something else.
This just sucks, is all. I am going to get over it, I can tell, but I'd like to be able to get up in the morning and get stuff done instead of laying in bed ruminating about all the things that are on my plate.
I'll be okay but just needed to get that out there.
It's not (for those of you in the B4B group) all about wanting a baby....it's about wanting out of my job, it's wanting to have my house be completely done to what I want it to be, it's about the fight via text my husband and I had a few weeks ago, and as they say (no pun intended) things that are said can't be unsaid. We are totally fine now, good, great even on some days, but still, I feel a residual hurt.
However, the sun is shining, the music is on, the coffee's in hand....and I will get this schedule done today!!



1 2 3 4 5 6 7 Last Page

Get An Email Alert Each Time MOONMANSON Posts