| | |
| --- | --- |
| | MOONBIRD's Recent Blog Entries |


Monday, July 08, 2013
I haven't posted a blog here for a while, because while we were gone on vacation for almost 2 weeks, I had my blogs set to auto post at my actual blog. I wrote a lot of blogs about our trip also, and there are lots of photos, so be sure to check it out if you're interested. You can get to my blog by visiting my facebook page, From Fat to Fit. I can't post the link here.

Lately my running has been lacking. I have been alternating running with the Jillian workouts, but when we were on vacation I only worked out a few times and then I was sick when we got back. It's also been raining a LOT. Jeff's work schedule has changed over the last month, and with the kids home for summer, I can't run whenever I want to. So, I end up doing other workouts.

I'm not trying to make excuses, just saying what's up. Lately I've been having insomnia issues again. It's very hard to force myself up at 5:30 when I got 4 hours of sleep. Last night before bed I set my alarm to get up early. After tossing and turning a lot and barely sleeping, I forced myself to get up. It was still dark and I got up and dressed, opened the front door, and it was raining. *sigh*

I stood on the front stoop, grumbling and stretched a bit. I watched a hummingbird darting back and forth, and up and down around the gladiolas. It's always fun watching them.

I'm not a wuss, but I don't like to run in the rain. If I didn't wear glasses I'd run in the rain more often. It's very hard to see where I'm going and I have to wipe them off constantly, which is annoying! Even though I didn't want to run in the rain, I decided I would, rather than miss another run. I ran the other evening when it was still 89 degrees, and I thought I'd die, so I didn't want to put it off, and I was just in the mood to run.

The other thing I hate about running in the rain is that I can't bring my phone. I wear it in an armpocket which is water resistant, but I still worry about moisture getting in there and ruining the phone, so I left it behind. Jeff hates for me to run without it, in case something happens, and I usually never leave it, but I figured I just wouldn't go too far from the house.

When I started out, it was just a light rain, not much more than a drizzle. About 3-4 minutes into the run it started to come down harder. I was so aggravated, but there was no way I was going to give in and go home. The temp was actually good, and I think I'd enjoy running in the rain more if I didn't wear glasses. I had to stop several times to wipe them off and at one point I couldn't see well when it really started pouring, and I tripped over a tree root. I didn't fall, but still. That was annoying.

In the summer when it's hot and humid I have a harder time running, and it's discouraging. I just don't breathe as well and so I am much slower. In the winter I could run 3 miles in 30 minutes or under. This morning it took me 31:23. I guess that's not bad, but it's slower than what I've been doing, and I did slow down and stop for a few seconds here and there, too.

When I got home, my kitty greeted me and was screaming for her food. lol Every morning she meows like she hasn't eaten in a week. I took a photo of myself, and I don't look wet in the picture, but I was soaked. My socks were squishy and I could wring water out of my hair like I'd washed it. My clothes were soaked, and I couldn't wait to get in the shower.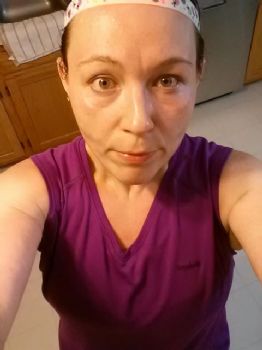 Photo: Ran 3 miles this morning in the rain. I long for perfect running weather. Can it be fall now?

I know I look weird in that picture. :) I was trying not to blink, because I always do that, and when I concentrate I make weird faces. Jeff makes fun of me because I'll stick my tongue out when I concentrate. :D

Once I got showered, I got online for a bit, and everyone was still asleep. Jeff isn't feeling well. He caught the chest cold I had, and he is coughing much worse than I was, and my cough was pretty bad. He sounds like he's going to cough up a lung! It was so quiet, and I was getting my breakfast together when Abby came in the kitchen. She wanted scrambled eggs, but she likes to help make them, so I let her with supervision. :) I had an open-faced egg and cheese sandwich. It's 1 egg with one slice of provolone on ezekial bread, and 1/2 cup of plain greek yogurt with blueberries and some cinnamon.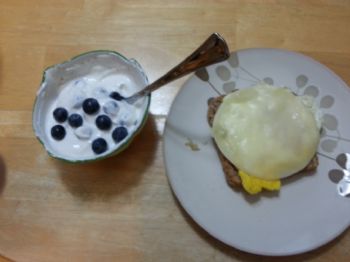 After breakfast I had some coffee and decided to spend some time answering more e-mails. I've gotten a lot more since they featured my success story here yesterday. :)

Sometimes I find it so hard to feel like a success. There are days where I still struggle so much (mainly with the eating) and I still am not at goal weight. I have kept off my weight though, and lost over 150 pounds, which is a success, but I guess I think of people in magazines that always seem to have perfect tight bodies after losing a ton of weight. Mine certainly doesn't look like that.

I'm still up 4 pounds from the last few weeks of vacation and being sick. I am back on track with eating, so hopefully I'll be back to the 160s again soon. It's very frustrating to have a gain. It seems to take forever to lose it back.

Do you ever workout in the rain?





Wednesday, June 12, 2013
I wrote this blog today and on the original at my actual blog, there are some photos. The blog I wrote yesterday is also there, and it's photos of me in my old clothes to show how large they are on me now. It was just too many to upload here and copying it over without the photos is kind of pointless, since the whole point of the blog is the photos. I've been really busy the last couple days, but if you want to check out my other blog, feel free. I can't post the link because of the rules here, but you can find it on my facebook page. I need to do more catching up tomorrow on my e-mails and everything.

Today was Splash Day at my daughter's school. She's in kindergarten, and it's a special day near the end of the year for all of the kindergarten classes (the other grades do field day in May). Jeff and I signed up to help out, so we got there a little after 8 this morning and went to the classroom. There were a lot of parents there helping out. That is one thing I love about my kids' school-most of the parents are involved and willing to help out.

Jeff and I had a group of 11 kids, and our job was to take them from station to station. There were 12 stations set up which were manned by different parents. They are all numbered and every 15 minutes the kids switch to a different station. They were all really fun, and included things like hot potato, hula hoops, getting to wash a truck, relays with water, splashing in pools and "fishing" for the sea animals, a treasure hunt, sidewalk chalk, and then every couple of ones was a snack station with water or an icee pop. A mom in our daughter's class does fake tattoos, and she had a station, which all the kids loved. I even got one as well. :)

It was a lot of fun and the kids were having a blast. We had a some issues with a couple kids not listening, but nothing major. It was super hot out, and by the end of it I had a big headache and was ready to come home. They have a picnic afterward, and you can choose to bring your child home early, so we did. I had to take a shower once we got home because I was so sweaty and gross. I have to douse myself in sunscreen so I don't burn, but then later I can't wait to wash it all off.

Once my son got home from school, we took the kids to Sweet Frog, which is a local frozen yogurt shop. We had enough punches on our card to get a free one, so that was awesome! Then we had to go to the store and get a couple things I forgot the other day, and by the time we got back home I felt SO tired. Being out in the heat for over 4 hours takes a lot out of you.

We'd made plans to eat out, and I was so glad because it was so hot today and I was in no mood to cook. We went to Q bbq and I love that place. The food is so good.

By the time we got the kids in bed I was ready to crash on the couch, but I wanted to wash all the dirty towels from today and do a few other things around the house. Tomorrow is a half day for the kids, and so is Friday, which is their last day of school. We go on vacation next week, and I can't wait.






Monday, June 10, 2013
I was doing a lot of thinking last night about stuff, and I just want to let you all know a few things.

1. I am not going anywhere. I value this site and the people here too much to leave. Unknowingly, I broke the rules (which in reading them I'm still confused a bit, but whatever, I removed my links to my personal blog).
2. I will still post my blogs (copy them over from my personal blog) but I won't always be including the photos if there are a lot of them. It's just too time consuming to upload and copy individual photos (which are mostly taken from my phone) here.
3. If you want to find me on facebook, just search for From Fat to Fit. Quite a few members from here have followed me there and liked my page. I try to post motivational things daily, I will post photos of meal ideas, or just anything else I think is helpful. It's a positive place for the most part and I enjoy having my "fans" to talk to each day.
4. I am also on Pinterest, Twitter, and Instagram if anyone wants to follow me. I'm singingbird80 there.
5. There is a part of me that wants to be really angry that people are constantly trying to find things to pick at me about (I've been e-mailed that my diet is not healthy enough, that my pictures are fake, that I've had plastic surgery, etc), or to get me in trouble, but I am not that kind of person. I get upset for a bit, and I get over it. I have been through a lot in my life, and the reason I have made it through is because I have an unbreakable spirit. You can't beat a person down who refuses to give up.
6. My main concern in life is my family, specifically, my husband and 2 kids. They are the reason I do everything I do. So, if I am not able to be online sometimes, I haven't left, I am just busy. Writing blogs isn't that time consuming unless it's a long one with tons of photos, but it does take time to answer people individually, and lately it's averaging more than 100 messages a week that I'm getting. I don't want to leave anyone hanging, but I'm only human, so if I forget to answer your question, please let me know. You can e mail me at birdnerd80 at gmail dot com.
7. Thank you all for being my friends. I don't always have support in my "real life" so I have depended on all of you more than you know.

Have a wonderful day. I'm spending mine with my husband. I'm feeling a bit better, still coughing, but well enough to run a few errands. We are volunteering at my daughter's school party on Wednesday, so we've got to go out today and pick up the treats and things we are bringing.

I'm working a little project I plan on blogging about sometime in the near future. It's something pretty simple that I think anyone can do/make to help them on their "journey."

Thanks for reading and supporting me.





Sunday, June 02, 2013
I just want to tell you all

I have gotten so many positive and supportive e-mails, messages, and comments from many of you, and I truly appreciate it and have read every single one.

It was my intention to reply to everyone, but that is proving impossible. I have gotten more than 1,000 comments, e-mails and messages just on Sparkpeople, not to mention my on my facebook page, blog and regular e-mail.

If you had a specific question I didn't answer, feel free to send me a sparkmail. I tried to respond to anyone who had a particular question, but I know I probably missed a lot of them. It's been hard to keep up with since in the last week and a half I've gotten 3 popular blog posts. :)

I copy the link from my blogger blog, The Singing Bird, over here when I have a blog with more than 1 or 2 pictures, because it's just less time consuming and the pictures posted here don't come up with the same quality.

Again, thank you. I have read every single message or comment, and I am so grateful to see such kindness. I am so glad if even in some small way I can help or inspire you. You guys taking the time to comment here keeps me going in more ways than you know. There are definitely times I still struggle, and we all need all the support we can get.

I hope you all have a great day, and just remember no matter how much you feel like you're struggling, you can do it. Just don't give up and try to stay positive.

ETA: I was told that I have to remove the link to my blog, because I recently monetized it, and it's against the terms of service to have the link here, which I didn't realize. Thanks for understanding.






Thursday, May 30, 2013
Yesterday I got into the 160s! I wrote a blog about it, complete with photos. Please check it out. :)


ETA: I was told that I have to remove the link to my blogger blog, because I recently monetized it, and it's against the terms of service to have the link here, which I didn't realize. Thanks for understanding. Feel free to follow me on facebook. I'm From Fat to Fit.



First Page
1
2 3 4 5 6 7 8 9 10 11 12 13 14 15 16 17 18 19 20 21 22 23 24 25 26 27 Last Page

Get An Email Alert Each Time MOONBIRD Posts