| | |
| --- | --- |
| | MOONBIRD's Recent Blog Entries |



Wednesday, May 29, 2013
I've been getting a tremendous amount of e-mails/comments lately from people. Most of them are so wonderful, so thank you! A lot of them say something along the lines of, "I wish I could be like you. You make me feel like a failure because I can't get myself in gear and lose this weight. I feel bad I don't eat as well as you. I don't know how to make the food you eat. I can't do the exercise you do. There is no one that can help me."

First of all, stop being so hard on yourself. I was once in a place where I had no idea what or how much I should be eating. I ate way too much (and a lot of unhealthy stuff), and that is why I was morbidly obese. I grew up in a family where we ate a lot of junk, so I've been overweight my whole life, so I know exactly how you feel, and I know that it's overwhelming, especially in the beginning.

You have to start where you are. You can't fast forward through this. There are no shortcuts or secrets. It's a learning process, and it takes time and patience. I'm not posting my meals to make anyone feel bad, so don't feel bad if you don't eat exactly how I eat, because I don't eat perfectly either. Every single one of my meals isn't perfectly balanced. Sometimes when we're running out of things, I try to make due with the food we have. I only started posting my meals on From Fat to Fit because I got so many people asking me what I ate, so I thought it would be the easiest way to show everyone, and that maybe it would give people ideas.

Most of the food I make isn't too complicated or time consuming. If something feels incredibly difficult and you're spending forever to make each meal, you aren't likely to stick with it, are you? So, over the last 3 years I've just gotten practice at putting meals together, so now I have certain staples I always buy at the store. Think of things you like to eat, and make a shopping list based on that. Now that I've been doing this a while, I know the amount of produce to buy that will feed us, so I rarely have stuff go bad. Spend some time when you have it looking up healthy recipes on Sparkpeople or Pinterest, and then take your time at the grocery store and see what meals you can come up with. You don't have to eat what I (or anyone else) eat if you don't like it. Just eat what you want, eat as healthy as you can, and count the calories for it. You can use Sparkpeople, do Weight Watchers or a manual food journal. But, you have to be accountable for what you eat. People don't get overweight unless over time they are consuming more calories than their body needs.

I've read it on numerous weight loss blogs I visit, and it's a notion I completely agree with myself, and it's that you have to make changes that you are willing to do forever. It really does have to be a lifestyle change. You can't eat salad and grilled chicken and vegetables all week and binge eat and drink every weekend and lose weight. You need to find balance, and it is not going to happen overnight.

As far as exercise goes...

I realize that not everyone can run. They might be too out of shape, or have a knee or back issue, or whatever. So, don't run if you don't want to. It's just what I do. It's ok to do exercise that you are comfortable with. I started out walking, because that's about all I could do at the time. I didn't belong to a gym or own a treadmill. So, I walked. And as you do it, you get faster and are able to walk for longer periods of time. Again, fitness can't be rushed. It's a process, and your body has to adjust and you have to keep doing it. People ask me all the time, "How can you run like that?" The answer is, because I run. I started off small, worked my way up to it, and kept doing it.

With all that said, you do need to push yourself. If you are walking and it's too easy, walk faster. You should be a little out of breath and sweating. It's supposed to be challenging to do a workout. Pushing past your comfort zone is what changes you and makes your body stronger. However, you don't need to kill yourself and spend hours a day working out.

Before I started losing this weight 3 years ago, I tried lots of ways to lose weight. I'd lose some weight, but I'd always give up and gain it back. The reason I gave up is because I was trying to do things that were not balanced. I was trying to eat extremely low calories, exercise like crazy, and never allowed myself any junk at all. When you feel deprived, it makes it hard to stay on track. Now that I'm more balanced, I've gradually lost weight, and kept it off.

Losing weight is a mental battle, and it's one you've got to fight every single day. I still struggle all the time, but I don't give up. Just know that you do have it in you. I never believed I did, but when I started telling myself that I would not give up, and I'd keep trying, it made me realize that I did have it there all along.

Stop telling yourself you can't do it. If you repeatedly tell yourself you can't do something, you never will. Start saying, "I will." Even if you can't do certain things yet, keep working toward them. No one just goes out and runs a marathon, they train--for a long time--to be able to do it. And, try not to compare yourself to other people. I know it's hard, because I still find myself doing it from time to time. We all have our own lives and difficulties, and are fighting our own battles. The truth is that some people do have to work harder to lose weight. It's unfair, but it's how it is. It doesn't mean it can't be done though.

Do this for yourself. You can't lose weight to please anyone but yourself. The truth is that you're the only one with the power to change you. You may not have someone to work out with, but you've got people (like me) who will try to help you, and you can't use other people as an excuse to do, or not to do something. Once you start eating better and exercising, you will feel better. You will have energy, and it will transform your whole life. I know, because it happened to me. I am just an ordinary wife and mother who decided she wanted to be healthy. Now that I am, I would not trade it for anything.







Saturday, May 11, 2013
I weighed in yesterday and was up a little over a pound. It's not surprising considering my binges last weekend. Even though I'm up 1.3 pounds (scale said 173.3), it could have been worse, I suppose. All this week I was under my calories each day, actually toward the very low end. Also, I got in several workouts, so the damage wasn't too bad. This week I decided to do more of the Jillian Body Revolution, so I'm on month 2 now. I haven't run this week, but I am going to rotate it with running. I'm feeling pretty sore from the new workouts.

Yesterday I didn't work out because it was just an extremely busy day. My daughter had a field trip at the zoo, and I'd signed up to chaperone. Our son's field day was also that day, and Jeff was signed up to work one of the stations, so we rode to the school together yesterday morning. I was excited to finally get to chaperone a field trip. I'd tried to chaperone at some of my son's field trips, but never got chosen, and when my daughter was younger I had to be at home with her so I couldn't go to any with him.

Each parent got assigned several children to be in charge of during the trip. I had 5 girls, including my girlie. We took a bus to the zoo which is just a few minutes up the road from the school. It was SO loud on that bus. LOL All the kids were very excited and squealing. It was so cute as we were lining up to leave the class and go to the buses, a little boy in my daughter's class said to me, "You're vewy pwitty." I told him he was handsome, and he said, "Really?" :)

Once we got there we had to wait in line while they checked and re-checked to make sure all the kids were there. I am glad they are thorough about that. Once we got in the zoo, we could go off on our own however we wanted to, we just had to be back at the bus at 12:30 to go back to school. I had a bag with the kids' lunches that I would have to carry around, and since their class is used to eating lunch early, I suggested we eat lunch first, and the kids agreed because they were all starting to complain about being hungry. I'd brought a backpack with beach towels, so I laid those out, and we ate quickly. A few kids needed to use the bathroom, so we went and did that.

A couple of the girls' moms met us there, and one ended up staying the whole time, while another had to go to back to work. It made it easier to keep track of the 5 of them. They were all pretty well behaved, but one girl would just keep running ahead and I had to yell out to her to stop and wait for us. We were there looking around a couple hours and it started to feel pretty warm and humid. All the kids were complaining they were hot and thirsty, and for whatever reason there were no water fountains around the zoo. How annoying. The mom who came had some extra juice boxes and water in her bag, so that helped. One girl brought her regular lunch bag, which kind of sucked for me because I had to carry it around the whole time (all kids were supposed to bring lunch in a disposable bag) but it was good because she had an extra drink.

I got a few adorable pictures of the girls, but I didn't feel right posting them since they are not my kids and I don't have a way to really ask each parent if it's ok to post them here, which is public. So here are a couple other photos I took.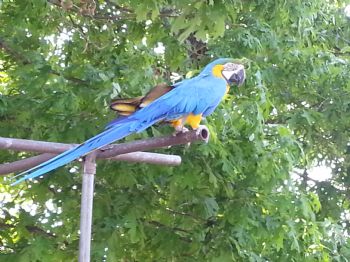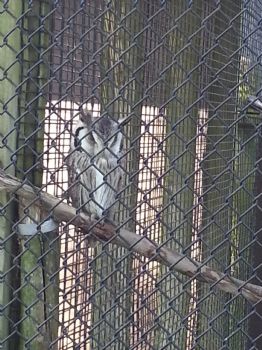 By the time we were headed back, all the kids seemed pretty tired and sweaty. They had a dance party at 1:30 that I was going to stay for, but Jeff was there waiting to pick me up, so we went home with our son, who he'd checked out early after field day.

The rest of the afternoon I tried to get the house cleaned up by scrubbing the bathrooms and mopping the kitchen floor. My daughter wanted me to paint her nails and toes, so I did that. My son was really into a computer game which I had to drag him off in order to do his nightly reading.

I was so exhausted I was falling asleep on the couch before 10:00, so I got up to go shower before bed. I was in bed a little after 11, which is early for me. The kids let me sleep in till 8:30 this morning, so I got a good night's sleep, but I still feel pooped today. It's probably from the 2 nights I got no sleep when my son woke up not feeling well, and the next night when I just couldn't sleep. Also I have terrible cramps today. :/

Today I'm going to do laundry and hopefully I'll feel better later so I can work out. Jeff took the kids to go see his mom and give her a mother's day gift since he works tomorrow afternoon. The weather says it's going to rain, but it's looking sunny and nice right now. I have all the windows open to get some fresh air.

Jeff gave me my mother's day flowers early, so I put them in my favorite vase.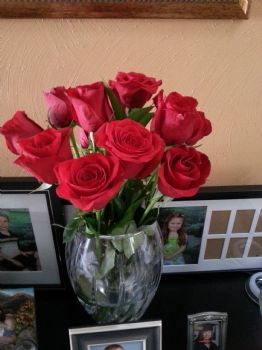 Wednesday, May 08, 2013
Ok. I keep seeing this meme floating all around facebook and pinterest, and I just had to write a blog about it, because it kind of pisses me off, actually. Now, I know the people who are posting it aren't doing it to be jerks or anything (at least I don't think most of them are) but seriously, this is not always true.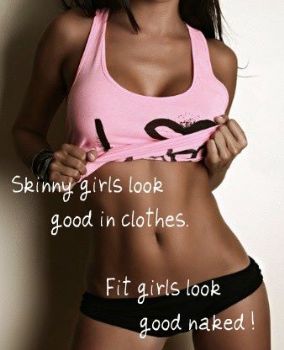 I realize that not all slender women are toned and therefore may not look as good naked, however, if you've been very overweight your whole life and lose a lot of weight (like I have) you are most likely going to have loose skin, so no matter how fit you are, you may not look fit--especially naked. I sag everywhere, and my body looks absolutely terrible. In clothes I feel more confident than I used to, but because of how my body puts on weight (in the middle) I have a lot of hanging skin on my belly, that no matter what I do will hang over my pants.

My stomach will NEVER look like that girl's in the photo. Even with surgery I am sure it will never be as taut and smooth, and I'll have scars. It sucks, but it is what it is, and I can't do anything about it now.

With all this said, I AM fit, and more importantly, healthy. Even though I don't look good naked, I am a fit person. I guarantee you I am more fit than the average woman out there, especially women my size. I am very strong. I can run for miles (I ran a half marathon which is 13.1 miles without stopping once). I can do full on push ups and then one armed side planks. I can push over 200 pounds on the leg press at the gym. There isn't a whole lot I can't do physically, and some things I am still working toward (like pull ups..maybe one day).

So, I am not skinny, and I don't look good naked, but I'm definitely fit and in good shape.

Another thing that bothers me is calling people "skinny girls" or "fat girls" or whatever else. I can't stand when overweight people automatically hate on women because they are thin and call them "skinny bs." I also can't stand when people label all overweight people as lazy or slobs. It bugs the crap out of me. There are women who tend to be thin more naturally and can eat what they want and don't gain weight. And, there are women who work out a lot, eat a healthy diet, but carry some extra weight and are thicker.

It's irritating to me when I see photos like this, so I felt compelled to give my opinion. The truth is that many people who lose weight aren't going to have a body that looks like this chick's. Maybe if they're already pretty thin or don't have much weight to lose they will, but most people who are morbidly obese aren't going to be baring their belly in a photo like that. Every time I see people pinning these workouts on Pinterest that say 3 weeks to toned arms or a flat belly it makes me crazy. If that were all it took, I'd look like the hottest supermodel ever. I have tons of muscle, but in places like my belly, it's not obvious due to piles of loose skin. My arms are toned, but I have skin that hangs down.

Also, I get tired of people telling me that the skin will tighten up. I am sure it will in time, but there is a reason people like me who have lost well over 100 pounds get surgery.

Rant over. :)





Tuesday, May 07, 2013
I woke up today feeling tired and grumpy, even though I got a good amount of sleep. The kids were being crazy this morning, like picking at each other instead of eating their breakfast and just getting on my nerves by one not letting the other in the bathroom to brush their teeth. Once they were off to school, I did my usual morning routine of emptying the dishwasher, washing the dishes, starting laundry, cleaning the cat box and whatever else needs to be done.

After being back on track all day Monday, I decided today would be another good day. I ate on the lower end of my calories since I had so many extra over the weekend. In the morning, Jeff put on episodes of Big Bang Theory which we watched for a while. It was nice to relax for a little bit with him. Normally I don't allow myself to just sit around and watch tv during the day when the kids are at school because I feel like I need to stay busy. Jeff tells me I need to chill out more. I don't know why that is so hard for me to do.

In the afternoon he went out to the store to pick up some vitamins for the kids and I did the next Jillian workout. I showered and by that time the kids were coming home from school. We got homework done and the kids decided they wanted to play outside, which they do whenever the weather is nice. .

My son came running into the house and said, "Mom! There is a turtle in the yard!" It's not unusual for us to find many different critters in our yard. We see rabbits, chipmunks, tons of different birds, snakes, frogs, toads, turtles, and the occasional deer. A bear and foxes have also been spotted in our neighborhood. I figured it was probably an eastern box turtle, and I was right.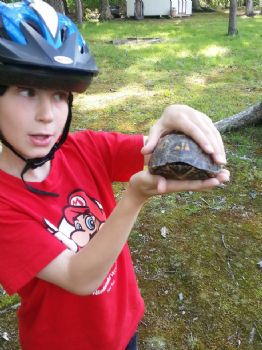 The kids were so upset I wouldn't let them keep the turtle. I tried explaining that he is part of nature and we're not supposed to by law (the numbers of them in the wild are declining). The best thing we can do for turtles, and other wildlife, is to keep our yards as natural as possible without using a lot of chemicals, plant shrubs and native plants and trees, and just be watchful so we don't run them over with lawnmowers and stuff like that. If you ever see a turtle crossing the road, move the turtle to the side of the road he was headed for. We learned that in a class at the nature center.

This evening I babysat my neighbor's 5 children, and that went well. The kids were all really good, and it was only a couple hours. Jeff had to work this evening, so I think I did well considering I had 7 children from the ages of 1.5 to 12 in the house at one time. :) Whenever we have other kids over, my own kids always behave better because they aren't fighting with each other. They went to bed easily after I read to them. I think they were worn out from running around outside so much today and playing with the other kiddos. Overall it was a pleasant evening. Often when I have a bad evening, it makes me want to eat after the kids are in bed.

Tomorrow Jeff and I are volunteering in our daughter's Kindergarten class. It's teacher appreciation week and we are going to take the kids back to the classroom after lunch and read to them so that the teacher can have a longer lunch. Hopefully that will go well.





Monday, May 06, 2013
I woke up today determined that I wouldn't binge or eat in an out of control way. I had a great breakfast of eggs, cantaloupe, and ezekial toast with some peanut butter. When I sat to have some coffee, I planned out my meals and snacks for the day, and I stuck to that.

Even though I woke up today still feeling down, I just kept telling myself it will be ok. My depression and anxiety seems to come and go, and no matter what I do it won't go away till it's ready. I can definitely help it by doing certain things, like eating well, exercising, and trying to get to bed early. My sleep is never usually good, but I've been trying to get in bed earlier and relax. Last night I got around 7 hours and only woke up once briefly, which is good for me.

Jeff and I went to the store and got milk and a few things we were out of, and I planned out a few meas for the next few days. I find that when I plan ahead of time, even if it's only a couple days at a time I feel more in control and less anxious. This afternoon I really had the urge to eat, but I kept busy by reading magazines and I even went to lie down for a few minutes after the kids did their homework. I didn't actually fall asleep, but I was drowsy and just trying to relax.

I was relieved that Jeff said he'd make dinner, because I just felt completely exhausted. We had tacos and I had a salad and it was really good. I cleaned up the dishes and soon after, Jeff left to go to a friend's house to watch a hockey game. The kids were being surprisingly good and my son even offered to read his sister a book after I'd already read them 2. Usually he's never that nice to her. :)

After the kids were in bed, I decided to soak in the tub. When I get stressed I sometimes ache all over, like I am getting the flu. It's partly due to working out, but mostly from the anxiety. I was looking at my toes and realized I needed to re-paint them. I'd had some pink polish on, but it was looking ragged.

I decided on a purple color. Just painting my toes made me feel a little better, even it's just a little something simple I did for myself. :)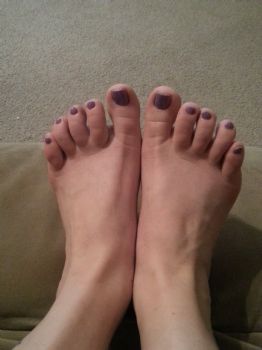 First Page
1
2
3 4 5 6 7 8 9 10 11 12 13 14 15 16 17 18 19 20 21 22 23 24 25 26 27 Last Page

Get An Email Alert Each Time MOONBIRD Posts