| | |
| --- | --- |
| | MOONBIRD's Recent Blog Entries |


Tuesday, March 20, 2012
Yesterday my husband came to the gym with me. Last week I upgraded my membership at Gold's, so that each time I go I can bring a guest with me. My husband isn't that into fitness or health, but he has made changes since I started my own weight loss. He doesn't drink as much soda and is eating more fruit and things like yogurt. Occasionally I'd ask him if he wanted to walk or jog with me, and he would. So, when I asked him if he wanted to go with me after we dropped our daughter at preschool, I was happy he decided to come.

We started off by doing the weight machines. He's of course better at all the arm ones, and I have really strong legs. I ended up trying a few things I hadn't before, because I always felt a little intimidated thinking it might be too hard. He climbed the rope, which I did not want to attempt, but we did the captain's chair. It's basically this thing where your legs hang down and you're suspended on your elbows and you lift your knees up as much as you can to work your core. I was able to do 3 sets of 10! I was shocked, because I'd seen even some smallish ladies doing it and they seemed to struggle with it. We also did a bunch of step ups ( I am feeling that today in my calves!) and he wanted to try the wooden balance boards. At first I thought I couldn't do them because they looked so flimsy and my husband reminded me that I only weigh a few more pounds than him now. Sometimes I forget how much weight I've lost and there is still a slight panic that I can't fit in something or will break something. The balance board was hard, but I plan to do it more and get better at it.

After all the weights and stuff, which we did for about 35 minutes, we decided to do the elliptical. After a few minutes he was saying he only wanted to do 10, and I told him I always do 30 minutes at least of cardio, but that we could split it between machines. After a bit he said it started to feel easier, and we ended up doing 30 minutes and then a 5 minute cool down. I did mine on random level 12, and he was on fat burn, level 5. His heart rate was very high, like 170s (I told him he could slow down some) and I can never get mine that high unless I am running very fast! I think the highest mine got on the elliptical yesterday was 153 or something like that. I guess it's because I am used to doing it. I ended up burning over 400 calories, so that was good.

We came home and stretched, and later that afternoon he ended up taking a nap. Rookie! :) He did a lot for his first day there, so I hope he's not too sore today. While we were there, he really seemed to be enjoying it, and he even ate healthy snacks yesterday. It's nice to have someone to work out with and I think he'll be willing to come with me regularly. He isn't extremely out of shape and really only needs to lose about 15, maybe 20 pounds, but I think it'll be good for him.

It makes me really happy that we're all exercising together. The kids are always active, and I like that they are excited about running. They have both been asking me when we are going to do another race, so I am looking into that. :) It's so exciting. The most important thing we have is our health, and I am feeling so good about us all doing our best to take care of it. I know my son could run 3 miles and do a 5k, which is what he wants to do, but my daughter is ready to stop after a mile, so I might do a 5k with him, or a mile run with him at one of the races. We'll have to see. I have less than 2 weeks before the 10k, and I'm a little nervous, but also excited!





Friday, March 16, 2012
I just want to let you all know that I appreciate your support so much. Every single comment to my blogs and pictures is read, and while I can't respond to every single one, just know that I am grateful you took the time to cheer me on. Your words are so kind, and reading them fills my heart and helps encourage me to stay strong.

We all need a support system when it comes to weight loss, and sparkpeople has been that for me. I truly believe that is why this time I have succeeded. There was always someone to say,

when I was having a hard day. Reading so many positive outcomes on the other sparkpages also gave me hope. What I saw were real life everyday people changing their lives, and one day it just clicked that I could do it too, and that I wouldn't be alone.

If I can inspire even one person to change their life also, that makes me happy. There are times I find myself wanting to tell everyone how I've done this when they notice my weight loss, and make them realize they can do it as well. There is no better feeling than taking control of your health and well-being, because it makes all other parts of your life better.

So,

from the bottom of my heart! I wish you all much success, health, and happiness in your own journeys. Have a great weekend!





Thursday, March 15, 2012
You might be wondering why I would choose such a random number for my next goal. It's not my ultimate goal weight, in fact, I am not even sure what I want that to be yet. I figured I'd play it by ear and see how I feel physically, what the Doctor thinks, and how I feel about how I look. A good weight to me seems like 140, but we shall see.

I think it's good to set small goals and reach them one by one. It gives you a sense of accomplishment, because this does not happen overnight. It's a long process, and you can get discouraged when you look at your ticker, and think, "Crap. I have 170 pounds to lose before I am at my goal." What I've learned is that each goal you reach brings you a sense of achievement, and it fuels you to keep going on to the next.

The other day my 199 goal was reached, so I thought, "Hmm. What should be my next goal on the ticker?" I pulled up a BMI calculator, and my current BMI is 33. In order to get under 30, which would put me in the overweight category instead of obese(sheesh, obese is such an ugly sounding word!) I would need to weigh 177, which would make my BMI 29. So, that is why it's my next goal to reach. As of today, my weight is 197, so that is 20 pounds to lose. I have no idea how long it will take me to get there, but I know I will not give up and work as hard as I can to do it. Before I lost any weight, my BMI was 55, in the super morbidly obese category.

I have to share a conversation I had with my 8 year old son this morning before he went to school.

I came in to the living room and asked him if he liked my new t-shirt. We're having a warm up here, so I am wearing shorts today (that are too big!) and he looked at me and said, "Wow, Mommy! You're exercising so good because look how skinny you are now!" Then he came up and hugged me and said, "I can reach all the way around you now and my hands touch, and I like that because I can hug you better."

That totally melted my heart. He can be so difficult to deal with sometimes because of his ADHD and just how hyper he gets, but he is truly a sweet and thoughtful child.

Today I feel ready to move on to this next phase of my journey. I am hopeful that by the end of this year, or at least by this time next year, that I'll be where I am meant to be and can work toward maintaining my new healthy lifestyle.








Tuesday, March 13, 2012
Today I decided to weigh myself. I had the other day and was up a half a pound, which was discouraging, because other than eating out, there was no explanation for it. I've been very careful about tracking everything I eat, not missing workouts(I never do) and keeping a positive attitude because we all know that our weight can fluctuate a little even when we're doing our best.

This morning I just felt like I HAD to weigh myself. I normally count my weight for the week at the end of the week, but I wanted to peek today, I am glad I did, because this is what I saw!!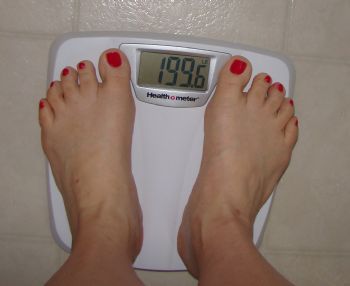 I could not believe it! I am finally under 200, barely, but I am!! My weight has not been under 200 pounds since I was 16 years old. That is 15 years! I am so happy right now. As I sat down to upload this photo, I started to shake, and cry, and smile and cry. It's been almost 2 years since I started changing my life and losing weight. It has been hard, and I've wanted to give up, many times, but I kept going.

There was a time when I believed I'd never be under 200 pounds again, heck, that I'd get under 300. When I look at pictures of myself from before, I feel sad. It saddens me that I was a person who didn't believe in herself. I used to read the stories on here, or other places, and think, "Wow, I'd love for that to be me." Now it is. Even though I am not to my goal weight, I am a success story. I have completely changed my lifestyle, and there is no going back.

If you're struggling, just know you CAN do it, too. Take it one day at a time and don't give up, and you will get there.

Have a great day! I know I will.






Tuesday, January 03, 2012
Hey everyone! I've gotten some concerned messages and e-mails from people, and I am writing this blog to say that I am here! I have not left, or given up or anything like that. The last few weeks were just extremely busy, so I didn't get on the computer much at all. I don't have a smartphone, so if I am not at home by the computer, I am not online.

So, here is what has been going on with me.

The middle of December was busy with Christmas preparation. My son's last day of school was the 16th, and we were to leave the next day for Disney World (the best time ever, and I plan on writing a detailed blog of our trip). I had to get everything done (presents bought and wrapped) before we left because we would be back late the 23rd. The 24th we had plans to go to my inlaws and then come home and I was going to cook for my family. The whole time we were at Disney, I only went online once. My husband brought his laptop, but we were just going going going all day long and then it died when we were there anyway.

While on vacation, my son picked up some kind of stomach virus. He was sick for a day and then my daughter caught it right before we came home. They threw up a few times and felt better after a day. I caught it, and so did my hubby, and I was sick all Christmas night into the next morning. I literally threw up every 15 mins for about 8 hours. Then I had diarrhea really bad. For days I felt horrible and couldn't eat much, and I got a little dehydrated.

So, for a few weeks my workouts were not as frequent. I was sick the week before we went on vacation and didn't do a whole lot. While we were at Disney, I did get up once to run and I met with a friend and we had a short walk. Plus, we were literally walking around the parks for 8-12 hours a day.

I was majorly off with my eating while there, and before xmas. While there I couldn't track and they give you so much food on the dining plan we had! I often could not even finish it, and a lot of the time got salads. I did have some rich dinners, which I thoroughly enjoyed. I almost had a heart attack when I weighed myself xmas eve and saw that in a little over a week I was almost 10 lbs heavier! Well, I don't know if it was just water weight or what, but I am down 6 lbs since we came home, which makes me think that it was the sodium and stuff in that food. I drank mostly water while there and had cereal and fruit for breakfast, some salads, but I had my share of desserts.

My weight loss has not been much lately, and that does suck, but there have been so many parties and things going on, and really I am happy that my weight is up only a couple pounds from where it was before Thanksgiving. Considering my whole schedule was messed up and I was eating out so much, it could have been worse. I know the old me would have seen I'd gained weight and just pigged out and not cared. Since I felt better I've made sure to work out and track my food, we stocked up on healthy snacks and I know I'll get down in weight over the next month or so. T

The weird thing is that before xmas, my weight was hovering within the same couple pounds for a month. I couldn't figure it out, but when I went clothes shopping I realized I'd lost another pant size and could fit into a 16. I just bought 18s in October, so that made me happy!

I could feel down about not progressing to more pounds lost, but I am going to look at the positive and see how far I have come. It's not a race to get to a certain weight, but a plan to change my life, which I have. I felt so good about being able to take time to rest when I felt bad and know that I would get right back into my groove once I felt better. I have not let sickness or vacation completely derail me as I have in the past.

In March I plan on doing a 10k. In November when I did the 8k, I really enjoyed that experience. My goal is to run at least a couple times a week. I haven't much over the last month, but I went out today and did 3.1 miles in 37 mins, so I felt great about that. It's so cold today too, not getting out of the 30s and feels like 24 with the wind chill.

I hope you all have a happy and healthy new year. Thanks for all your holiday and new year wishes. I hope you all had a great holiday season, and that this will be the year you accomplish all you have set out to do!



First Page
1
2
3
4
5
6
7
8
9
10
11
12
13
14
15 16 17 18 19 20 21 22 23 24 25 26 27 Last Page

Get An Email Alert Each Time MOONBIRD Posts