| | |
| --- | --- |
| | MOONBIRD's Recent Blog Entries |


Saturday, November 12, 2011
This morning was the 8k that I signed up for a few months ago. It started at 7am, so last night I was in bed just after nine and slept soundly till around 2. I woke up and could not go back to sleep (nerves), so I got up after a while of tossing and turning and watched tv and then had something to eat (wheat bagel with peanut butter and banana which is my go-to meal before running) and got ready.

We left just before 6am and when we got there it was so crowded downtown and many streets were blocked off. Finally we found a place to park and then we walked over to where the start of the race would be. It was SO cold this morning, in the 30s, and so I jumped up and down and ran in place to warm up. My toes were already numb and my fingers felt frozen even though I had on gloves.

It was pretty annoying at first, because I was in the last corral, which was 4. When I signed up a while back I had no idea how long it would take me, so I guessed an hour and 10 minutes. My times for running at home were usually just over an hour, so I should have been higher up, like in corral 3, but that's ok. The only thing is the walking groups would walk in a line straight across (like groups of 5), and it was hard to get around them. It finally thinned out and I kept a steady pace and it was almost effortless for a while, which really surprised me. I am used to running in my neighborhood where there are a lot of hills, and this was all flat, except for the very end which was downhill and awesome!

Along the way I warmed up fast and my toes finally weren't numb anymore. My hands were SO cold the whole time, but other than that I felt fine. I kept doing my deep breathing and when we got to mile 4 I decided to speed things up because I realized I could finish in under an hour. For the last 3/4 of a mile I ran as hard as I could, and by the end was out of breath. Everyone who crossed the finish line got a little medal, which is really cute, and some water and they had tons of food. I got a bagel and a fruit cup. I felt really good and got my breath back fast (which I think shows just how fit I've gotten, and seriously, I think I could have run another mile) and we walked over to see more people finish, and hung around to see the winners of the half marathon, which started a half hour after the 8k. A guy ran it in like an hour and 3 minutes or something! It was amazing to watch how lightening fast they were.

After a while I started to get chilly, because it was still really cold and my clothes were damp from perspiration, so we decided to head home. I showered and am now writing this blog. :)

I really enjoyed the experience and definitely want to do more races. It was neat how they had bands along the way and how people would cheer. When we hadn't even gone half way yet, we saw through the buildings that people were already on their way back, (the winner finished in 22 minutes!) and a lady beside me laughed and said, "I guess we're not winning that $1000 prize. LOL

My husband got a few photos. There were so many people that he said he almost missed me. Coming in to the finish, the sun was in your face, and I was just trying to get through, so didn't know where he was and hoped he'd see me, which he did.

If you go by the time they had up, it said I finished in 1 hour and 2 minutes. However, they started the clock when the first corrall went through and so us in the back didn't get to the starting threshold until a couple minutes later! That is when I started my garmin and started to run and weave in and out of people. When I clicked my watch after crossing the finish line, it showed my time as 59 minutes, so that is the time I am counting, and not the time they had since for those few minutes we were standing there while the clock ticked away. I was hoping to do it in an hour or under, and I did! I am so excited and proud of myself. Back in March I ran my first mile and it took me like 14 minutes, and now I can run 5 miles without stopping. This is not something I thought I could ever do, or would ever want to attempt to do.

ETA: My official chip time was 58 mins 44 secs! I checked on their website. I can't believe I did this in under an hour.

I feel really happy today and proud of how far I've come.

I worked so hard and it paid off!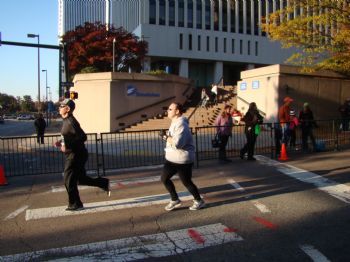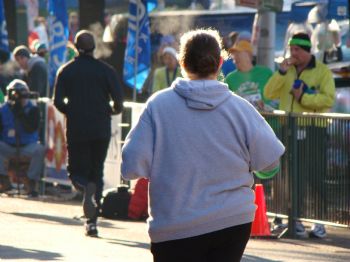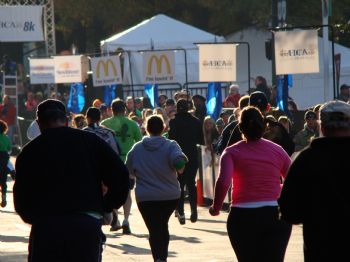 Showing Jeff my medal. I hadn't gotten it around my neck yet, because my fingers were practically numb and it was hard to do that.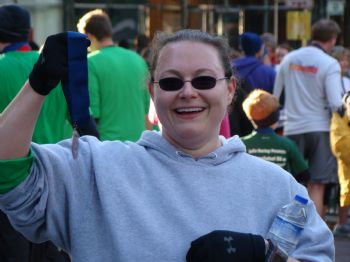 Proud of my medal, even though everyone who finished got one. :)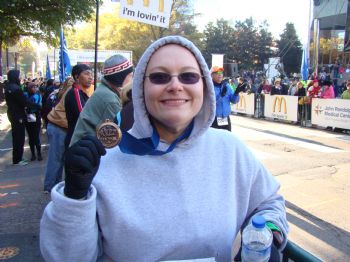 Wednesday, November 09, 2011
Ok, so this blog is going to cover a lot of areas I've been thinking about lately. I feel like I've been so busy lately, so I haven't blogged as much.

I've been training for an 8k for the past couple months and I feel ready. I can run the whole way, although I am not fast. The fastest I've done it is 62 minutes. My neighborhood is very hilly in spots, and I've noticed when I do races that I tend to be a lot faster there, so I am hoping that I can do this race in an hour or under. I guess we'll see! I feel worn out lately from everything that has been going on and the training has been strenuous, but I feel good at the same time. It will be nice to go back to running when I feel like it instead of following a schedule.

The weather here has been just how I like it. Chilly and brisk, but with some sunny days and cool nights. I love the fall and how the air feels, and it has made running so much easier, because I suck at running in the heat. I feel I can breathe better. This past weekend we went to a botanical garden and walked around for a few hours and it was so beautiful, and it just made me happy. I can walk around for hours and not be tired, and my kids are the ones who are now tired before me. :)

I haven't talked about this a whole lot, but I've always had a lot of stress where my son is concerned. He has ADD and had a hard time in school in Kindergarten and 1st grade. The more I learn about it, the more I feel I can help him. I've read a lot of books and he's been in therapy and started medication, which is helping. I was hesitant to put him on medication, and did not make the decision lightly, but his ability to focus is very impaired, so much so that he barely scored on the chart on the tests the psychologists gave him. It was so upsetting because he's a smart child and can do the work, but to him sitting still and finishing a worksheet is so hard. He fidgets and falls out of his chair and stares at things around him. Noises distract him. So, since he started the meds he can actually finish his work in a more timely manner. His grades are so good and his teacher had nothing but good things to say at the conference I had with her the other day. His teacher told me he's very bright, and a deep thinker. She also said he's reading at the level they expect them to be at the end of the year! So, he's ahead. This teacher seems to have a good approach with how she teaches and relates to the kids and he isn't miserable going to school every day, which before would break my heart. So, some stress has been alleviated and I don't feel as worried about him as I was. There are still hard days, but it's much better than it was. We don't feel so lost when it comes to dealing with him and his behaviors. He's still in therapy and I think that is helping too. We all go as a family.

When my cat was sick, I felt very stressed worrying about him all the time. Then when he died, I was very sad. I'd had him for more than 12 years, since he was a kitten, so it was hard to say goodbye. Although I was sad to lose him, I felt a sense of relief that he was no longer sick and I wasn't having to worry about him every day. My son has been taking it pretty hard, as he's a pretty sensitive child, but I think it's getting easier for him.

I don't know what's up with my body lately, but I am not losing like I was a month ago. I gained a pound and over the last week and a half my weight has not budged at all. I have been within my calories every single day, except Halloween, and working out hard. Sometimes the weeks I work out hard, I don't lose. I am not sure why. But, I have the next 2 days off to rest before the race Sat, so maybe that will help since it's a change. I have been adding in more protein, drinking a lot of water, taking my vitamins. I have faith I'll be losing again, but it sometimes annoys me how easily I seem to gain weight and can work so hard and the scale doesn't budge. When this happens I will suddenly sometimes lose like 3 pounds in a week, so we'll see. I am trying not to obsess about it. Yesterday I had a bad moment where I got a little upset. I don't have a winter coat and haven't found one that is affordable, but we were at Costco getting some things and they had some. I was disappointed that the XL, which was the biggest size they had, didn't fit me. I can wear XL in many brands, but these didn't fit. I could get them on and zipped, but it was so tight that I thought I might burst the zipper if I bent down. I felt like crying, because I hate that I STILL can't just buy clothes from wherever I want. My stomach seems to bulge out even more than before, I don't know if it's because of the extra skin or what, but it's annoying. I know I shouldn't get upset over it, and that one day I will be able to buy what I want, but it just really bothered me.

These next few weeks are going to be exciting. My husband and daughter both have birthdays this month, and we have Thanksgiving. Next month when my son is out for vacation we are going to Disneyworld! I can't wait! I have never been on a plane before and haven't really been many places, and this will be our first big vacation. We never had a honeymoon or anything, so I am really looking forward to going for a whole week. We are also going to Universal Studios and I can't wait to ride the Harry Potter ride!

So, that's what's going on with me. I am looking forward to the next couple months and am going to work really hard to stay on track with my eating. That is always the hardest thing for me. I have no problem making sure I get my workouts in, but eating out seems to really affect me even when I am in my calories.

I hope you all are doing great!






Friday, October 14, 2011
This probably sounds crazy to a lot of people who want to lose weight, but I have not gone on a diet. I know that when I used to hear the words, "lifestyle change" I wanted to cringe. To me that was just a fancy, nicer way of saying DIET.

In less than 18 months I have lost 110 pounds. To some that may seem like a lot, and others may wonder why in that time I couldn't lose more. We see shows like The Biggest Loser where contestants drop 10 or more pounds a week. In the real world that is completely unrealistic. Most of us can't spend hours a day working out and would feel like we were suffering on an extremely low calorie DIET.

When I found Sparkpeople, and then read The Spark, something just clicked. Everything I read made sense to me. You see, I, like many other overweight people, had been on many diets. I'd lose some weight, but I'd always gain it back. The reason is all or nothing thinking. You are losing weight, doing well on your plan, and you go out one night and eat too much for dinner. Instead of saying, "So, I had one big meal, I'll work out extra and get right back on track, " we think, "UGH I ate way too much. I have failed and might as well eat whatever I want now." Then you give up. The same thing happens with exercise if you miss a day or take some time off. What you have to remember is that no one gets through their weight loss journey being perfect. Giving up because of one mistake doesn't make any sense.

Another thing that people are surprised about is that I still eat "normal" food, like pizza, cake, ice cream, cookies, whatever. I just don't eat those things ALL the time. Denying yourself completely of anything you like will eventually cause you to binge, and when you deny yourself for a long time, you end up white knuckling it instead of actually changing your lifestyle. When I decided to do this, I decided I was going to eat better, and I changed a lot of what I ate. I choose healthier snacks, and I gave up soda, which was a main reason I was packing on the pounds. Before going to restaurants I look up nutritional info and I will often turn down a lot of things that I don't want to spend my calories on. It's about choice. You are allotted a certain amount of calories, and you choose how to spend them. I set aside calories most days for something sweet, and I never feel deprived, or worse, guilty for eating something. Guilt just keeps causing you to overeat.

I do not eat an extremely low amount of calories, and so I don't lose weight super fast, but that is not what this is about. As soon as you accept that your weight will not come off overnight, it gets easier and you will not give up when the scale refuses to move, which I think happens to everyone at some point. I know people that try to diet and they are eating 1000 calories or less, so they give up, and it's no wonder because they are essentially starving themselves! No one can sustain that for very long. It's ok to eat and enjoy your food within reason. I normally eat 1600-1700 calories a day right now, and when I first started losing weight I was eating close to 2000. I could eat less and lose weight faster, but sometimes I want to take my kids to get frozen yogurt and not have to worry about it.

I've learned that to truly change your lifestyle, you have to make choices that you can consistently stick with. If you can't sustain these things long term, it's not going to work. I see people get all gung ho about losing weight and decide to work out for an hour a day, every single day and eat nothing but salads and fruit and they give up after a week or two.

Everyone has to start somewhere. At first I decided to just start walking a few times a week. That was enough of a work out for me and as I felt like doing more, I did. You start to want to do more and more the stronger you get. The first thing I did as far as my nutrition was to give up soda, which wasn't easy. I used to drink 5 or 6 cokes a day! So, I started drinking water and tracked it on my water tracker and then as the weeks went by I no longer craved soda. Then I just was more mindful about tracking what I ate, which is eye opening when you see how many calories are actually in things. I watched portions and tried ways of making my favorite foods healthier to save on calories and just be healthier in general. If I was really craving something, like ice cream or cookies, I would just budget some calories for them.

It probably sounds too simple, but it really isn't as hard as it seems, and you have to do it gradually. The biggest key in losing weight is getting control of your mind. The part of your brain that tells you that you can't do it. You have to learn to tell yourself positive things and be consistent and committed to get what you want. No one else can do this for you, and you have to be honest with yourself and acknowledge the truth about your bad habits.

Sometimes I get in a mood and can feel resentful of people who can eat like pigs and not gain weight. They can go out and have a huge dinner that would make me gain 2 pounds, and it isn't fair and it sucks, but that's the way it is. I remind myself that just because some people may not look unhealthy, is doesn't mean they aren't. When I choose something that is good for me, I feel good knowing I am taking care of my body and giving it what it needs.

Another thing that surprised me is how you start to really crave healthy foods! I have always liked fruits and veggies, but now I crave them. That's not to say I never crave cake or ice cream, but not nearly as bad as I used to. It's enjoyable for me to go to the store and pick out nice fresh food and come up with something healthy and tasty to eat. This doesn't mean I am perfect. This is another thing I think many people do..they decide they will only eat fresh, organic food and try to be perfect making everything from scratch (again, this is all or nothing thinking!) and then when they don't keep up with it, they feel like a failure and give up. I buy a lot of fresh foods, but I also get things canned or frozen to make life easier on nights I am not up to cooking. In my opinion, there is nothing wrong with this, and it has worked for me, so I will continue to do it. It's preferable to me to make most of what I eat, but I do keep a few lean cuisines on hand, canned soups and some frozen veggies for sides. Most of what I eat is healthy, and for the first time in my life I feel good about food. There isn't this constant guilt associated with eating. Living that way is miserable and then stuffing yourself because you're guilty or ashamed or unhappy only makes it worse. It's a vicious cycle and I know how hard it is to break.

In no way do I think I am perfect or that I have mastered this. I've come to realize that I will have to be careful with how I eat for the rest of my life so I don't gain weight. Sometimes it's a daunting thought, but I know I can and will do it. There are still days I am tempted to overeat, and I still keep certain trigger foods out of the house, but I am light years from where I was. In the past if I made cookies, I'd just keep eating them every time I went in the kitchen. Most of the time now I can have a few and then we have them for a few days instead of one day. Balance can be hard to achieve, but I finally feel like I have found mine. Never in my life have I been more certain of myself and my capabilities, and never have I felt so good and hopeful for the future. I used to hear people say, "If I can do it, anyone can." Well, now I find myself saying that, because I truly did not believe at first that I could, but when you commit yourself to change and start seeing results, that is what will make you want to keep going.





Saturday, October 08, 2011
Well, lately I feel that way a lot!

This morning I was just feeling really happy. My husband and I went to a halloween haunt at a theme park last night, and had a lot of fun. It made me happy that I can ride roller coasters again and walk around for hours and not feel wiped out. My kids are at their grandparent's for the next few hours and it's nice to have some time on my own to think and do what I like, uninterrupted. I'm an introverted person, and I enjoy being by myself a lot, which many people mistake for being anti-social, but I'm not.

As I was folding laundry and having some coffee, I just thought about life, my own in particular. There is so much in my life that I am thankful for. I find myself much happier and able to deal with stress than before. I've always been an anxious person, and often used food to cope, but the realization that I do not NEED to eat to feel better has been so life-changing for me. If there is a problem, I CAN face it instead of trying to forget it by stuffing myself with oreos.

One member commented on my blog that I'd lost 1/3 of my weight, and wow, I just didn't think of it that way. Losing all this weight and changing my life has made me realize that I am capable of more than I ever imagined. Things don't bother me as much as they used to. I've always been a sensitive person and I let things get to me, and now I find myself just able to let it go. Not always, mind you, but I am much better about it. I remember a guidance counselor in elementary school telling us to let our worries roll off our backs like water off a duck. I've never forgotten her, how she smelled, like roses, and how she always had a big smile and was in a cheery mood. I've always tried to do that, and now I feel like I am more able to do that than I ever was before. Perhaps it's that I'm older, or tougher, or just more positive because I've accomplished so much, but I feel ready to take on the challenges that come up. I'm more patient with my kids, my husband, with strangers. I don't find myself getting angry as often, and it's a wonderful feeling. The feeling of peace.

A few years ago, I read a book called A New Earth. Much of what was written in that book resonated with me. I've often found that many people do not live in the moment, and I was guilty of that sometimes, too. Throughout my life I've always tried to find the good in things, even when things seemed so hopeless I didn't know how I'd get out of it. I think that quote, "Stop and smell the roses" is a very powerful one, because we often fail to see the beauty around us, and we ignore the good we have in our lives and focus all our energy on the bad. It's easy to be happy when everything is going well, but I feel like when you can have so many struggles and love life despite them, then you are truly happy. My Dad was like this. He had a hard life, but he always knew how to have a good time and enjoy that time, because whether or not you sat and moped or decided to make the best of things, problems are still there, life goes on.

Sometimes I think people look at me, on here, or facebook, or just anyone who knows me, and they think I must be always positive and upbeat and just one of those people who doesn't worry and is always bubbly. I am not always like that. I've not had an easy life, not that anyone does, but I've gone through a lot in my life, and even though it's been so hard at times, I've always learned from my mistakes and the value of hard work and determination. I will always fight for what I what I believe is right, and I do not care who dislikes me for it. My convictions are strong, and although I have doubted my abilities at times, I have always known who I am, and what my purpose is in life, and that is to love other people. I know that sounds corny, but since I was young child, I always felt that my purpose in life was to take care of things. That is what I am good at. The mistake I made was thinking in order to do that, I had to neglect myself. What I've learned is that in taking better care of myself, I am more able to love everyone else and take better care of them. To me, nurturing my kids, the relationship with my husband, our pets, being there for friends, that is what my purpose is in life.

I read somewhere once that if you can find joy in even the most mundane tasks, you can be happy. This is SO true. I remind myself all the time to enjoy the little things in life. As I fold the laundry and put it away, I try not to think of it as some annoying thing I have to do, but that I can take joy and pride in the fact that we have clean clothes that are always ready when we need them. When I make a dinner, I try to think of how healthy it will be and that I saved money making it. When I have to clean up, I remind myself that when the little things are in order, you can focus more on the big things. People have looked at me like I'm crazy when I say these things, but I believe in them.

Balance in life is often hard to achieve, but I feel like I am getting better and better at it. Even when I am feeling sad, I remind myself that I am still happy. I am allowed to feel my feelings, and it's ok, but a bad thing, or day or week won't kill me. There is still joy inside me no matter how hard life is.

Right now I am sitting on my porch, one of my favorites places, and I'm listening to the birds. My dog is laying on my feet, there is a gentle cool breeze blowing, the sun is shining, and I am happy to be in this moment. No one can take this joy from me. Learn to relish the simple things, and you will have joy. Being out in nature is what calms and centers me. I am constantly reminded that the world is more than me, and if you stop to look you can see beauty almost anywhere.

I hope you're all having a lovely day, and remember, don't worry, be happy.

"Whatever you are, be a good one." Abraham Lincoln

"People are as happy as they make up their minds to be." Abraham Lincoln

"Since you get more joy out of giving joy to others, you should put a good deal of thought into the happiness that you are able to give." -Eleanor Roosevelt.

"Real joy comes not from ease or riches or from the praise of men, but from doing something worthwhile." Pierre Coneille

"I define joy as a sustained sense of well-being and internal peace - a connection to what matters." Oprah Winfrey

They all attain perfection When they find joy in their work.
The Bhagavad Gita









Friday, September 23, 2011
Tomorrow will be 17 months since I joined Sparkpeople. At that time I would think to myself, "If I can just lose 50 pounds it will be a miracle." I never used to believe that it was possible for me to lose 100 pounds. Never would I have believed I could run a mile or a whole 5k, or that I'd be training for an 8k! But, I knew I had to do something. I was approaching 30 and it made me realize how my life was going by and how I wouldn't get to live the life I wanted if I didn't change. I spent so much time worrying about everyone else that I left myself out, and never will I do that again.

I am so incredibly happy because on Monday I turn 31 and I am the healthiest and fittest I've ever been in my entire life! I am at the lowest weight I've ever been as an adult and can do things I never would have dreamed of attempting to do before. There is a confidence in me and a happiness that I didn't used to have. I've said it before that I don't think losing weight is the thing that solves all your problems or will bring you ultimate happiness, but it has made my life better, and for that I am so grateful. I don't worry about my health or how I will be able to do things. My life has changed so much and I've learned even more what is really important. We can have all the friends, money or material possessions in the world, but it all means nothing if you don't have your health.

Losing weight has made me look better, feel better and realize even more what I want out of life. There is a clarity there that I didn't have before. When you set goals and reach those goals, it is an amazing feeling, like nothing else I've ever experienced, because *I* did this. No one else but me. There have been many rough days along the way, and many moments where I've wanted to just give up, but I haven't. I know this will be a lifelong battle, but I know now how to do this and that I will not ever give up.

For anyone reading this, I hope that you will see that this is possible. I am just an ordinary wife and mom. I didn't have a personal trainer, take diet pills, have surgery, or have anyone forcing me to do this. All you have to do is make yourself a priority and stop making excuses, and you will see results.

People ask me all the time how I've done this, and I tell them this: You have to really want it. I got active on this site for motivation and to understand what I needed to do. I tracked my food and started exercising, and in the beginning walking a mile was a workout to me, and now I can run almost 5 miles. We all start somewhere, and no matter how out of shape or out of hope you are, realize that the power to do this lies within you. No one can take it from you or stop you if health is what you want.

I remember back before I started losing weight, I had this eeyore sweatshirt I wore all the time because it was comfy and it fit me. It was a 3x and I remember a time that it was snug on me. I had this in my closet still and decided to put it on to see how big it was on me, and I could not believe the difference! I knew it would be big, but I was amazed. So, I had my husband take a few photos of me this morning. I think you can really see how much of a difference losing 108 pounds has made. For the first time in so many years I am feeling ok with having my picture taken, and that feels great!

This was me before I lost weight, at around 325 lbs.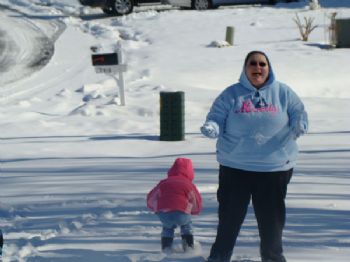 This is me today in that same 3x sweatshirt that I used to fill out. I now weigh 217 pounds!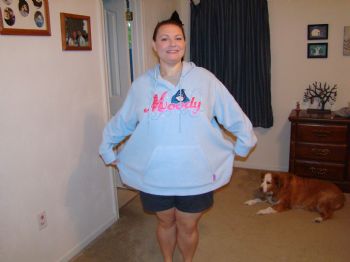 From the side



I could fit another person in here



Me at 217 lbs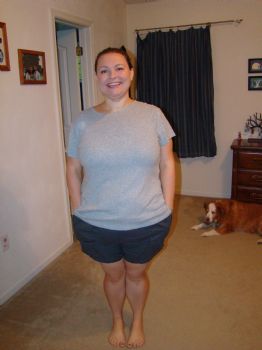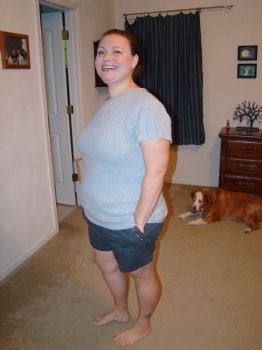 First Page
1
2
3
4
5
6
7
8
9
10
11
12
13
14
15
16 17 18 19 20 21 22 23 24 25 26 27 Last Page

Get An Email Alert Each Time MOONBIRD Posts