| | |
| --- | --- |
| | MOMMA_BEAR_69's Recent Blog Entries |


Sunday, April 18, 2010
The temperature is currently a balmy...no, scratch that...very cold 42*. However because of everything that went on last week, I didn't have time to mow the lawn. So this afternoon, I fired up the lawn mower and mowed the grass...after putting on some very warm clothes. I still never broke a sweat even in my sweatshirts, etc. I actually needed to wear my gloves. I am still trying to get warm. I found it very hard to believe it is so cold out!!!
I am extremely glad that tax season is over. I actually had mine filed and my refund in my account before the end of February. But I was racing against the clock as I did returns for friends and family. I have had to realize that many of my nieces and nephews are all grown and working. Where did the time go...it seems like just yesterday they were starting kindergarten?!! Now they are working and paying taxes.
Ken and I celebrated the end of tax season by taking a lovely drive across Pennsylvania and down through Maryland, West Virginia, and Virginia. I took several books with me in case I got bored. Needless to say, I never opened one of them. I just relaxed and enjoyed the scenery. Among my favorite pictures were these of the American flag waving in the wind...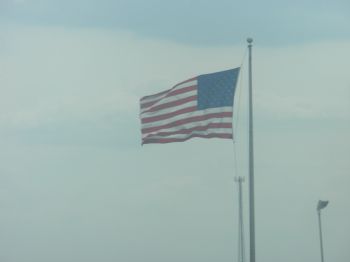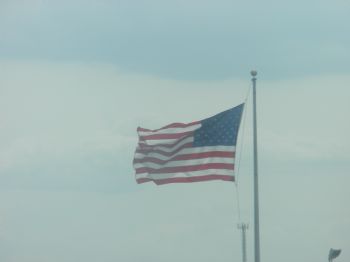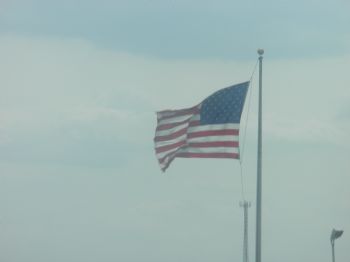 AWESOME!!!
The day was sunny and absolutely beautiful. We spent some time in Winchester, VA...saw the home and grave of Patsy Cline, the beautiful George Washington and all the cherry blossoms. They were gearing up for the Cherry Blossom Festival this weekend and the Apple Blossom Festival in the next week or so. The flowers and trees were absolutely gorgeous!!! You could feel the excitement in the air.
Although Ken and I have been together for fifteen plus years, we have actually been married for two days. We were married outside in a beautiful garden at The George Washington in WInchester, VA on Friday!!!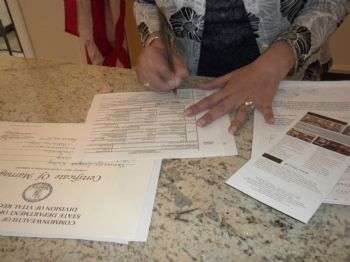 Marriage license being signed making it official. What a great way to celebrate the end of Tax Season, 2010!!!



On the way home, the wind picked up, blowing us all over the road. Then the rains starting pouring down making it difficult to see where we were going. However we made it home safely after meeting Richelle and Joe at Curt's Family Restaurant...near Fort Necessity...and enjoying a delicious dinner. Thank you Richelle and Joe for sharing our special day as you have shared so very many other special occasions with us!!! Sorry you had to work and weren't able to go with us to Winchester. I love you!!!
There was a lot of destruction for the high winds, etc. and people are still without electricity...buildings destroyed, etc. from the 80 mph winds. Praise God for seeing us safely home.
Blessings and hugs,
Helen

POSITIVES:
God, who is with me always
The Wound Care Center...wishing more people knew about them
Ken's leg is getting better...he sees the doctor tomorrow
My family and friends
My Spark family, friends and teams
Marla's Miracle, helping to make it happen for her, Marla needs a kidney!!! Great team!!!
McKenzie who received her report card and couldn't wait to call me with her excellent grades
My home and warm heat today
Fresh vegetables and fruits
Homemade chicken noodle soup yesterday...leftovers today. YUM
My health

Thank you so much for reading my blogs. Sorry that I don't have enough time with everything that is going on to individually thank everyone right now. I do read every comment. May God continue to be with you and bless you!!! I love each of you!!!






Sunday, April 11, 2010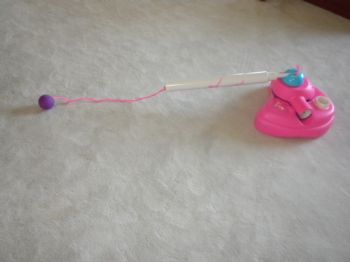 This is one of the latest things in exercising fun that McKenzie and I are doing. She received this "toy" for Easter. It works similar to a jump rope in that you have to jump the rope and ball as it swings around to you. It also moves around the room as it rotates. It can be played by an individual or by several people at once as long as you don't trip over each other. It was a clever person who came up with this idea.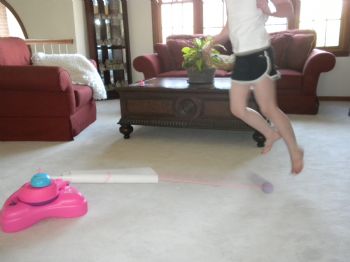 McKenzie and I jump on opposite sides and is a great workout for both of us. It gets really interesting when her mom gets home and joins us. I am not sure how many calories one burns doing this but it definitely gets my heart rate thumping!!! This is not an exercise that we can do continuously but we can do for a while with a few breaks to breathe, laugh and get another drink of water.


McKenzie is enjoying my getting tripped up when I didn't jump in time. We spend a lot of down time laughing as we are learning the best way to jump without messing up. She really enjoyed me doing one foot at a time.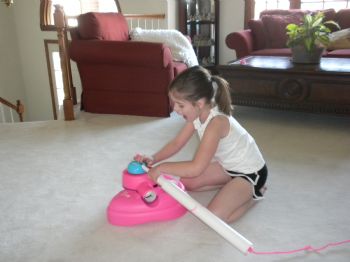 I didn't jump high enough and McKenzie had to put it back together after it got caught on my ankle. Al least it pulls apart very easily when it hits something. lol
This is a great toy but I think you need to be in better physical shape than I am at the moment...maybe by the end of the summer I will be able to do it as long as McKenzie can. Although we are both getting better and have only been doing it for three days. WOOHOO!!
Blessings and hugs,
Helen

POSITIVES:
God, who is with me always
Knowledgeable doctors who are working with us
Ken's leg is getting better...another round of antibiotics
My family and friends
My Spark family, friends and teams
Marla's Miracle, helping to make it happen for her, Marla needs a kidney!!! Great team!!!
McKenzie who amazes me
My home
Fresh vegetables and fruits
Homemade vegetable soup yesterday...leftovers today. YUM
My health

Thank you so much for reading my blogs. Sorry that I don't have enough time with everything that is going on to individually thank everyone right now. I do read every comment. May God continue to be with you and bless you!!! I love each of you!!!!


BTW: This is called a Barbie Dance Jumper.





Monday, April 05, 2010
This story was told to McKenzie Sunday school class today. The children sat so very quietly and listened to the entire beautiful story. Then they were allowed to ask questions and talk about it. I hope you enjoy it also even though it is a little long.


The Great Stone Face
by Nathaniel Hawthorne (Adapted)

One afternoon, when the sun was going down, a mother and her little boy sat at the door of their cottage talking together and watching the great mountains before them, as they changed with the tints of the setting sun, from gold to crimson, and then to deep purple, till finally the afterglow was gone, leaving only the bare mountains standing out in gray relief against the evening sky.
"Mother," said the child, whose name was Ernest, "the Great Stone Face is smiling at us. I wish it could speak, for it looks so very kind that I know its voice is pleasant."
And what was the Great Stone Face?
Off in the distance one great mountain rose far up above the others, and stood like a great giant among its fellows. By some peculiar art the rocks had been thrown together in such a way as to make the mountain look almost exactly like a human face. There was the broad arch of the forehead, a hundred feet in length; the nose, with its long bridge, and the great lips, which, if they could have spoken, would surely have rolled thunder from one end of the valley to the other.
It was a happy lot for children to grow up to manhood or womanhood with the Great Stone Face before their eyes, because all of its features were noble, so that just to look at it made one wish to be better.
This, then, was what Ernest and his mother sat looking at long after the sun had sunk behind those great piles of stones.
"Mother," said Ernest, "if I were to see a man with such a face I know I should love him."
"If an old prophecy comes true," answered his mother, "we may see a man some time or other with exactly such a face as that."
"Oh, tell me about it, mother. Will it really come true?" eagerly inquired Ernest.
Then his mother told him a story which her mother had told to her when she was a child. No one knew who had heard it first. The Indians had known it years before, and they said it had been murmured by the mountain streams and whispered by the wind among the treetops. And the story was this: At some future day - no one knew when - a child would be born in the valley who would grow up to be the noblest and greatest man of his time, and his face would look exactly like the Great Stone Face which had gazed kindly down on the valley for so many years. Many of the people in the valley said this was only a foolish tale, never to come to pass, but a few still watched and waited, hoping for the great man to come, but as yet he had not appeared.
When Ernest heard the story he clapped his hands, and said eagerly: "Oh, mother, dear mother, I do hope I shall live to see him."
The mother smiled, and, putting her hand on the boy's head, said: "Perhaps you may."
Ernest never forgot the story his mother told him. It was always in his mind whenever he looked upon the Great Stone Face. He spent his boyhood days in the humble little cottage, helping his mother with the simple household duties, and, as he grew older, working in the fields to earn their daily bread.
Ernest was a quiet boy, but happy. There was no school in the little village, but a great teacher was there. After the day's toil was over Ernest would sit for hours watching the Great Stone Face, and to him it became the teacher of all that was good and noble. Many times, as the sunset rays tinted the side of the great mountain and lighted up all the features of the wonderful face, Ernest would imagine that it smiled on him, and perhaps it did. Who knows?
Often a great longing would come to Ernest as he watched the Great Face, and he would say again, "Oh, I wish the great man would come."
But the years passed by, and Ernest grew from a happy little child to a quiet, thoughtful boy, and still the great man did not appear.
But one time a rumor went through all the valley that the great man had at last arrived. His early home had been in the quiet valley, but as a young man he had gone into the world to seek his fortune, and truly he had found it, for everything he attempted prospered exceedingly, till it might be said of him, as of Midas in the fable, that whatever his fingers touched changed at once to piles of gold. His name was Mr. Gathergold. All who saw him declared him to be the exact image of the Great Stone Face on the mountain side, and the man so long expected to fulfill the prophecy.
The whole valley was in a state of great excitement, for the wonderful personage was coming back to his native home to spend his last days in peace and quiet. He sent before him a whole army of architects and workmen, who built for him a palace more beautiful and grand than anything the simple village people had ever before seen.
The outside was of pure marble, dazzling white, while the interior was inlaid with solid gold and precious stones.
Ernest watched the great palace grow, and his heart was glad, for finally his hopes were to come true. He waited eagerly for the great man himself to come. He spent more time than usual gazing at the face on the mountain side, that he might know exactly how Mr. Gathergold would look.
Finally the day of the great man's arrival came. The whole village came out to see him. The rumbling of wheels was heard, and a carriage drawn by four horses dashed down the road.
"Here he comes!" cried the people. "Here comes the great Mr. Gathergold!"
As the carriage drew near the people pressed around, and there through the window they saw the great man. He was little and old, with a face as hard and yellow as the piles of gold he had gathered together. He had a low forehead, small, sharp eyes, puckered about with many wrinkles, and very sharp lips.
"The very image of the Great Stone Face!" shouted the people. "Sure enough, the old prophecy is true, and here we have the great man come at last."
By the roadside there chanced to be a poor woman and her two children, who, as the carriage passed, held out their hands and asked for help. A hand was thrust out of the window, and a few pennies were thrown on the ground. Then the carriage rolled on, and the people continued to shout, "He is the very image of the Great Stone Face."
But Ernest stood apart from the crowd, nor did he join in the shout, for his heart was full of sorrow and disappointment. Through an opening in the trees he saw the Great Stone Face looking benignly down upon him, and the great lips seemed to say: "He will come. Fear not, Ernest. The man will come."
The years went on, and Ernest ceased to be a boy. He had grown to be a young man now. He was not much noticed in the valley, for he was still quiet and modest. They saw nothing remarkable about his way of living, save that when the work of the day was done he loved to go apart and gaze upon the Great Stone Face.
They knew not that it had become his greatest teacher, filling his heart and mind with thoughts and hopes far above earthly things.
By this time poor old Mr. Gathergold was dead and buried, and the strange part about the matter was that when his wealth left him, as it did some time before he died, and he became a poor old man, the people seemed to forget that there ever had been a resemblance to the Great Stone Face. Indeed, they said it was all a mistake, and the great man was yet to come.
Suddenly through the valley there ran another rumor. Years before a young man had left the valley, had gone into the world as a warrior, and finally had become a great commander. Such had been his character and life that the illustrious man was called by the name of Old Blood-and-Thunder. This old general, being worn out with warfare, decided to return to his native valley and spend his last days in peace. But the most wonderful thing about Old Blood-and-Thunder was the fact that all who knew him said that he was the man so long hoped for in the valley, for he looked exactly like the Great Stone Face.
Great preparations, therefore, were made to receive the General - a banquet was to be given and speeches made in his honor. On the day of the festival Ernest, with all the others of the village, left their work and went to the woods, where the banquet was held. A great crowd surrounded the tables, so that Ernest at first could not see the great man for whom he had waited and hoped so long, so he contented himself with looking at the great face on the mountain side, which he could see plainly through the trees. Meanwhile he could hear those around him talking about Old Blood-and-Thunder and the Great Stone Face.
"'Tis the same face, to a hair," cried one man, clapping his hands for joy.
"Wonderfully like, that's a fact," said another.
"Like! Why, I call it Old Blood-and-Thunder himself, in a monstrous looking-glass," cried a third.
Just then a silence fell on the crowd, for the General rose to speak, and as he did so Ernest for the first time saw the hero. There he stood, head and shoulders above the crowd, with the golden epaulets glittering on his uniform. Long and eagerly Ernest gazed on his face, and then beyond, to the one on the mountain side. Were they, indeed, alike? Ernest saw in the warrior's face only cruelty and hardness, with none of the tender sympathy he knew so well in the other face.
"This is not the man," sighed Ernest, as he turned sadly away. "Must we wait longer yet?"
But as the great mountain rose before him, once again the lips seemed to say: "Fear not, Ernest; fear not. He will come."
The years sped swiftly by. Ernest still lived in the valley, a quiet and gentle man, doing his work as best he knew. But gradually the people of the village had come to know and feel that Ernest knew more than they. Not a day passed by that the world was not better because this man, humble as he was, had lived. He would always help a neighbor in need, and the people had learned to know where to come for aid. His thoughts were of things good and noble, and so his deeds and words were always good.
By this time the people had seen their mistake in thinking Old Blood-and-Thunder was the great man of prophecy; but now again there were reports saying that without doubt the great man had at last appeared. He, like Mr. Gathergold and Old Blood-and-Thunder, was a native of the valley, but had left it as a young man, and had now become a great man. He had not the rich man's wealth, nor the honor of the General, but he had a tongue which could speak more beautiful words than the world had ever heard before. Great crowds flocked to hear him from all parts of the country.
The people of the village were proud to think that they could claim the great man, for it was said he bore an exact likeness to the Great Stone Face - so much so that they called him "Old Stony Phiz."
And now the illustrious man was once more coming to visit his native land, and great preparations were made to receive him.
With great eagerness and hope Ernest waited for his coming, and on the day appointed went with the crowd to meet him. The air was filled with music and the shouts of the people, for now they felt that surely the old prophecy was to be fulfilled.
Then the great man's carriage came in view. There he sat, smiling and bowing to the people, while they threw up their hats in wild excitement and enthusiasm, and shouted: "Hoorah for Old Stony Phiz. The great man has come at last."
Ernest looked long at the man as he sat in his carriage, but finally turned away sadly and slowly, and said: "The features are alike, but he has not the heart nor the love and sympathy which make a face beautiful. He is not the man, but he might have been, had he lived the best he knew."
Then again he turned to his great teacher on the mountain side, and, as the late afternoon sun tinted all its features, it seemed to smile on Ernest, and once more the lips seemed to speak:
"Lo, here I am, Ernest. I have waited longer than thou, and am not yet weary. Fear not. The man will come."
The years hurried onward, and now they began to bring white hairs and scatter them over the head of Ernest. They made wrinkles across his forehead and furrows in his cheeks. He was an old man; but more than the white hairs on his head were the beautiful thoughts in his mind, and the loving words from his lips, and the kindly deeds from his hands. He was no longer unknown. Great men from far and near came to see and talk with him, and as they went away their hearts were better for having been with him. He had become a preacher, and often, just as the sun set, he would stand on a little knoll and talk with the people who crowded to hear the words he spoke.
One evening, as Ernest sat at his doorstep, a friend came to talk with him. He was a poet, and wrote of things which God had made, in language so beautiful that one wished always to hear it. Ernest loved to read his words, and this evening, as they sat together, he looked long and earnestly at the poet and then up at the Great Stone Face, which seemed to be smiling down upon them. Then he sighed and shook his head sadly.
"Why are you sad?" asked the poet.
Then Ernest told him of the prophecy which he had longed all his life to see fulfilled. "And," he said, "when I read your beautiful words, I think surely you are worthy to be the man I have longed to see, and yet I see no likeness."
The poet sadly shook his head, and said: "No, Ernest. I am not worthy. My words, indeed, may be beautiful, but my life has not been so great and good as the words I write."
Then, as sunset drew near, the two walked to the little knoll where Ernest was to talk to the people.
He stood in a little niche, with the mountains above him, and the glory of the evening sun shone around his silvered hair. At a distance could be seen the Great Stone Pace, surrounded by a golden light.
As Ernest talked his face glowed with the depth of his feeling, and suddenly the poet threw his arms above his head and shouted:
"Behold! Behold! Ernest is himself the likeness of the Great Stone Face!"
Then all the people looked and saw that what the poet had said was true. The prophecy was fulfilled. The Great Man had come at last.

Praise the Lord for all his prophecies were and are fulfilled!!! I thank God for He is with me and my family through any and all trials that may come our way. I thank Him for the bad as well as the good...without the bad, I would know how truly good the good is.
Blessings and hugs,
Helen

POSITIVES:
God, who is with me always
Easter
God sent His Son so that we might live
Knowledgeable doctors who are working with us
My family and friends
My Spark family, friends and teams
Marla's Miracle, helping to make it happen for her, Marla needs a kidney!!! Great team!!!
McKenzie who amazes me with her knowledge and insight
My home
Fresh vegetables and fruits
Homemade vegetable soup again today
My health

Thank you so much for reading my blogs. Sorry that I don't have enough time with everything that is going on to individually thank everyone right now. I do read every comment. May God continue to be with you and bless you!!! I love each of you!!






Monday, April 05, 2010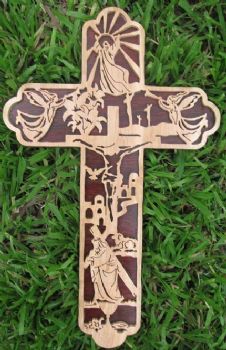 Description
This beautiful cross was hand cut on a scroll saw using Birch Plywood. The cross depicts the entire Easter story, from Jesus' promise of the first communion, to his death, resurrection and ascension into heaven. It would make a great Easter gift, or a visual example for a Sunday school class.

The cross measures 16 inches by 10 inches by ˝ inch thick, and is finished with a durable coat of polyurethane.

Original pattern by Sue Mey

Following is the link where I found this beautiful cross.
www.etsy.com/view_listing.php?listin
g_id=42422581
This blog was copied from this page but it is to beautiful not to share.





Saturday, April 03, 2010
The Blessing Of Thorns


Sandra felt as low as the heels of her shoes as she pushed
against a November gust and the florist shop door. Her life had
been easy, like a spring breeze. Then in the fourth month of
her second pregnancy, a minor automobile accident stole her
ease.

During this Thanksgiving week she would have delivered a son.
She grieved over her loss. As if that weren't enough, her
husband's company threatened a transfer. Then her sister, whose
annual holiday visit she coveted, called saying she could not
come.

What's worse, Sandra's friend infuriated her by suggesting her
grief was a God-given path to maturity that would allow her to
empathize with others who suffer. "She has no idea what I'm
feeling," thought Sandra with a shudder.

"Thanksgiving? Thankful for what?" she wondered aloud. For a
careless driver whose truck was hardly scratched when he rear-
ended her? For an airbag that saved her life but took that of
her child?

"Good afternoon, can I help you?"

The shop clerk's approach startled her.

"I....I need an arrangement, "stammered Sandra. "For
Thanksgiving?

Do you want beautiful but ordinary, or would you like to
challenge the day with a customer favorite I call the
Thanksgiving Special?" asked the shop clerk.

"I'm convinced that flowers tell stories," she continued.

"Are you looking for something that conveys 'gratitude' this
Thanksgiving?

"Not exactly!" Sandra blurted out. "In the last five months,
everything that could go wrong has gone wrong. " Sandra
regretted her outburst, and was surprised when the shop clerk
said, "I have the perfect arrangement for you."

Then the door's small bell rang, and the shop clerk said, "Hi
Barbara...let me get your order." She politely excused herself
and walked toward a small workroom, then quickly reappeared,
carrying an arrangement of greenery, bows, and long-stemmed
thorny roses.

Except the ends of the rose stems were neatly snipped...there
were no flowers.

"Want this in a box?" asked the clerk.

Sandra watched for the customer's response. Was this a joke?
Who would want rose stems with no flowers!?! She waited for
laughter, but neither woman laughed. "Yes, please," Barbara
replied with an appreciative smile.

"You'd think after three years of getting the special, I
wouldn't be so moved by its significance, but I can feel it
right here, all over again," she said as she gently tapped her
chest.

"Uhh," stammered Sandra, "that lady just left with, uhh... she
just left with no flowers!"

"Right...I cut off the flowers. That's the Special... I call
it the Thanksgiving Thorns Bouquet.

"Oh, come on, you can't tell me someone is willing to pay for
that?" exclaimed Sandra.

"Barbara came into the shop three years ago feeling very much
like you feel today," explained the clerk. "She thought she had
very little to be thankful for. She had lost her father to
cancer, the family business was failing, her son was into drugs,
and she was facing major surgery."

"That same year I had lost my husband, "continued the clerk,"
and for the first time in my life, I had to spend the holidays
alone. I had no children, no husband, no family nearby, and too
great a debt to allow any travel.


"So what did you do?" asked Sandra. "I learned to be thankful
for thorns," answered the clerk quietly. "I've always thanked
God for good things in life and never thought to ask Him why
those good things happened to me, but when bad stuff hit, did I
ever ask! It took time for me to learn that dark times are
important.

I always enjoyed the 'flowers' of life, but it took
thorns to show me the beauty of God's comfort. You know, the
Bible says that God comforts us when we're afflicted, and from
His consolation we learn to comfort others.

"Sandra sucked in her breath as she thought about the very thing
her friend had tried to tell her. "I guess the truth is I don't
want comfort.

I've lost a baby and I'm angry with God."

Just then someone else walked in the shop.

"Hey, Phil!" shouted the clerk to the balding, rotund man.

"My wife sent me in to get our usual Thanksgiving arrangement
....twelve thorny, long-stemmed stems!" laughed Phil as the
clerk handed him a tissue-wrapped arrangement from the
refrigerator.

"Those are for your wife?" asked Sandra incredulously. "Do you
mind me asking why she wants something that looks like that?

"No...I'm glad you asked," Phil replied. "Four years ago my
wife and I nearly divorced. After forty years, we were in a
real mess, but with the Lord's grace and guidance, we slogged
through problem after problem.

He rescued our marriage. Jenny here (the clerk) told me she
kept a vase of rose stems to remind her of what she learned from
"thorny" times, and that was good enough for me. I took home
some of those stems. My wife and I decided to label each one
for a specific "problem" and give thanks to Him for what that
problem taught us."

As Phil paid the clerk, he said to Sandra, "I highly recommend
the Special!"

"I don't know if I can be thankful for the thorns in my life."
Sandra said to the clerk. "It's all too... fresh."

"Well," the clerk replied carefully, "my experience has shown me
that thorns make roses more precious. We treasure God's
providential care more during trouble than at any other time.

Remember, it was a crown of thorns that Jesus wore so we might
know His love. Don't resent the thorns."

Tears rolled down Sandra's cheeks. For the first time since the
accident, she loosened her grip on resentment. "I'll take those
twelve long-stemmed thorns, please," she managed to choke out.

"I hoped you would," said the clerk gently. "I'll have them
ready in a minute."

"Thank you. What do I owe you?" asked Sandra.

"Nothing." said the clerk.

"Nothing but a promise to allow God to heal your heart. The
first year's arrangement is always on me. "The clerk smiled and
handed a card to Sandra.

"I'll attach this card to your arrangement, but maybe you'd like
to read it first."

It read:

"Dear God, I have never thanked you for my thorns. I have
thanked you a thousand times for my roses, but never once for my
thorns. Teach me the glory of the cross I bear; teach me the
value of my thorns. Show me that I have climbed closer to you
along the path of pain.

Show me that, through my tears, the colors of your rainbow look
much more brilliant."

~Author Unknown~
From an email I received from MountainWings.....A MountainWings Moment #1332




First Page
1
2
3
4
5
6
7
8
9
10
11
12
13
14
15
16
17
18
19
20
21
22
23
24
25
26
27
28
29
30
31
32
33
34
35
36
37
38
39
40
41
42
43
44
45
46
47
48
49
50
51
52
53
54
55
56
57
58
59
60
61
62
63
64
65
66
67
68
69
70
71
72
73
74
75
76
77
78
79 80 81 82 83 84 85 86 87 88 89 90 91 92 93 94 95 96 97 98 99 100 101 102 103 104 105 106 107 108 109 110 111 112 113 114 115 116 117 118 119 120 121 122 123 124 125 126 127 128 129 130 131 132 133 134 135 Last Page

Get An Email Alert Each Time MOMMA_BEAR_69 Posts