| | |
| --- | --- |
| | MOM2ACAT's Recent Blog Entries |


Saturday, June 20, 2009
We did not get all the rain last night that they said we going to get; I checked my rain gauge and there was less than 1/2 an inch in it. I checked my flowers outside and some look like they still need water, so I will have to water tonight when it gets a little cooler.

I had a good day yesterday without much pain, but today it's hurting again some. I think the humidity today has something with that.

I slept in again this morning, and after breakfast, I got the casserole ready to take out to my mom and dad's, it will just need to be reheated in the microwave. My mom now has 4 more weeks before she gets the cast off of her hand.

I made a strawberry lemon pie for dessert. I found a recipe on the Kraft Foods website. The calorie count wasn't bad, and I used lite Cool Whip and low fat cream cheese. I wish I could have used sugar free pudding mix too, but since I can't eat Nutrasweet, I had to make it with regular. I have the berries sliced to put on top and I will add those when I get ready to go. I also have a salad to mix up, but I have everything pretty much ready to just toss that together when it's time to get ready to leave. I also cut up a cantaloupe.

I did my stability ball exercises. I am hoping to get a walk in this evening too, if it's not too hot outside. I will see how it is around 8pm.

Looks like tomorrow I will need to mow the lawn again.




Friday, June 19, 2009
Not much rain here yet, but they say it's coming. In the wee hours of the morning, we had a little light rain, and some thunder. Not a storm, just some gentle rumbling, actually it was nice to hear, lulled me back to sleep.

I never did make it to the farmer's market today. I slept in too late, and by the time I would have gotten myself ready to go, it would have been almost noon, right at the time where the traffic would be getting busy again, something I didn't feel like dealing with today.

I did get out for a 12 minute walk around 11:30am. It was getting a little humid then, but the temps were still in the 70's, and since I wasn't walking that fast anyway, it really wasn't too uncomfortable feeling. When I got back home, I did my workout on my stability ball.

Did some laundry today, and a couple of times went outside to check on the flowers and pull a few weeds. I really haven't had too much of the hip and knee pain today, and haven't had to take any pain pills either. This is probably the best I have felt in a few months, so I think the PT and the exercises I have to do at home are working.

We may end up with up to 3 inches of rain overnight, but the way my grass is growing, I'll probably have to mow again by Monday, even with just a little bit of rain. We are also at a slight risk for severe storms, but I really don't think it got warm enough today to trigger much of anything.

I am making another dinner to take out to my mom and dad tomorrow. I already cut up the veggies for the casserole tonight, so everything will be quick and easy to put together.




Thursday, June 18, 2009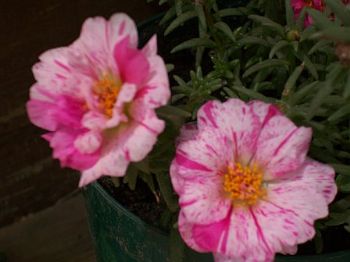 I love the moss roses in this color, the pink and white flowers. I always look for some in this color every spring.

I took my walk around 11am this morning, just a short one, about 10 minutes. It was starting to get humid, and I was afraid if I waited til later in the day, it would be too hot, or raining. but now it looks like the rain will hold off til much later tonight.

Had another physical therapy session today, learned some more exercises to do on the stability ball. This morning, I received the email from Walmart.com that my ball was delivered to the store, so I picked up after my PT session today. So with what I have learned so far in PT, I have a nice little routine to do over the next few days til my next session on Tuesday.

I also stopped at Menards before coming home, to pick up my dad's Father's Day gift. Had to look at the plants too; bought 4 more little perennials, and I also bought a couple of geraniums marked down to 50 cents each. I just had to get those because they were such a pretty salmon color.

Almost as soon as I got home, I took my stability ball out of the box and got it blown up (it came with a hand pump for that). It's sitting in my living room, and every time I go in there, I just have to sit on it and bounce a little, lol. Since I had my PT today, I'll start my home workouts on it tomorrow.

After some time to sit and rest a bit, I went out and planted the flowers I bought today. It didn't feel to bad doing that bending and squatting since I was still "warmed up" from PT. But since we are supposed to be getting rain tonight and tomorrow, I didn't want to wait too long to get them into the ground. I had some difficulty getting them out of the pots anyway, you could tell they had been in those containers in the store for quite some time. Poor little roots needed to spread out and breath.

We have some rain coming for tomorrow, that will probably last all day, and a possibility of severe weather. Not sure I'll be able to get to the Farmer's Market in the morning, but if the weather is severe, I'm sure it will be canceled anyway.
I will just wait and see. I won't be disappointed if I can't go, I have some cleaning I need to do any way, if it's rainy all day tomorrow, I still have something to do. If I can't go this week, I can go next Friday.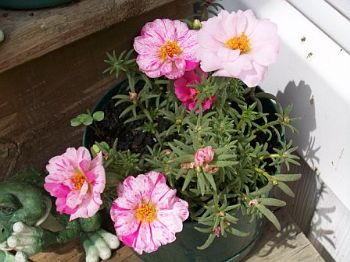 Wednesday, June 17, 2009
I fell asleep around 1am last night, only to wake up at 5am, and couldn't get back to sleep. I briefly considered just getting up and making an early trip to the store for my groceries, (the place I was going is a 24 hour store), but I decided on only 4 hours of sleep, I'd probably be tired again before I got there, so I decided to read for awhile instead. Around 6am, I started getting sleepy again. I had planned on getting up by 8:30am to have plenty of time for breakfast and getting ready to still make it out the door by 10am, but I was so sleepy. By then it, it had started a steady rain, which lulled me right back to sleep. I didn't get up until almost 10am.

Even then, it still took me awhile to wake up. My thoughts at that time was that it was going to be a really crappy day. It was still raining when I left.

The store was already getting busy by the time I got there. It seemed like in every other aisle there was somebody standing there and just gawking at the shelves, and in the meantime, leaving their cart right in the middle of the aisle so other people with carts couldn't get on either side of them. So aggravating!
But I managed to get out of there with everything I had on my list, and my sanity, lol! Still raining when I left the store to go home too. But at least it wasn't a cold, chilly rain, so I didn't mind it all that much. In fact, it was nice not to have to worry about watering everything outside today.

The rain slowed down to a light drizzle late in the afternoon, and then stopped around 6pm. I got out for a short 14 minute walk. Several yards in my area have lilac bushes, and they smelled so nice today. I decided that the day really wasn't so crappy after all.

Doing ok with the pain today. I didn't take any pain pills yesterday, but I did have to take one when I got home from my shopping trip. I think it's a little aggravated by the weather today.






Tuesday, June 16, 2009
I snapped this pic yesterday, even squirrels sometime stop to smell the flowers, lol.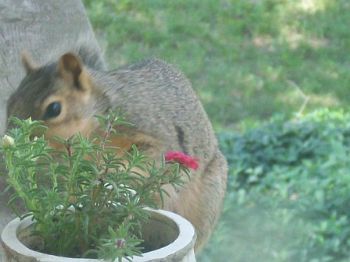 I had my usual once per month appointment this morning to get my blood drawn for my labs at my oncologist's office. I brought along my copy of my bone scan report. I didn't see my doctor today (that will be next week) but I asked the oncology nurse who drew my blood. She talked to the doctor, then got back with me. It sounds like unless my tumor markers start going up again, it's nothing to worry about. He wants to wait and see what they are on the lab work I had done today. I'm sure there is a lot more he can tell me about it, but I feel assured enough to wait til next week without worrying about it.

I had my PT again this afternoon. I learned a few more exercises on the stability ball. I can't wait til I get mine, but it will probably be another week before it arrives. I have 9 more sessions to go, but every time I have gone so far, I've learned things that I will put to use to take better care of myself for the rest of my life.

I decided to start walking again, since my therapist gave me the ok. I am starting out slow though. I went out and walked for 10 minutes after dinner tonight. So far, not having a lot of pain. In fact, it's almost 8pm, and so far I have not even taken a pain pill today.



First Page
1
2
3
4
5
6
7
8
9
10
11
12
13
14
15
16
17
18
19
20
21
22
23
24
25
26
27
28
29
30
31
32
33
34
35
36
37
38
39
40
41
42
43
44
45
46
47
48
49
50
51
52
53
54
55
56
57
58
59
60
61
62
63
64
65
66
67
68
69
70
71
72
73
74
75
76
77
78
79
80
81
82
83
84
85
86
87
88
89
90
91
92
93
94
95
96
97
98
99
100
101
102
103
104
105
106
107
108
109
110
111
112
113
114
115
116
117
118
119
120
121
122
123
124
125
126
127
128
129
130
131
132
133
134
135
136
137
138
139
140
141
142
143
144
145
146
147
148
149
150
151
152
153
154
155
156
157
158
159
160
161
162
163
164
165
166
167
168
169
170
171
172
173
174
175
176
177
178
179
180
181
182
183
184
185
186
187
188
189
190
191
192
193
194
195
196
197
198
199
200
201
202
203
204
205
206
207
208
209
210
211
212
213
214
215
216
217
218
219
220
221
222
223
224
225
226
227
228
229
230
231
232
233
234
235
236
237
238
239
240
241
242
243
244
245
246
247
248
249
250
251
252
253
254
255
256
257
258
259
260
261
262
263
264
265
266
267
268
269
270
271
272 273 274 275 276 277 278 279 280 281 282 283 284 285 286 287 288 289 290 291 292 293 294 295 296 297 298 299 300 301 302 303 304 305 306 307 308 309 310 311 312 313 314 315 316 317 318 319 320 321 322 323 324 325 326 327 328 329 330 331 332 333 334 335 336 337 338 339 340 341 342 343 344 345 346 347 348 349 350 Last Page

Get An Email Alert Each Time MOM2ACAT Posts