Thursday, July 24, 2008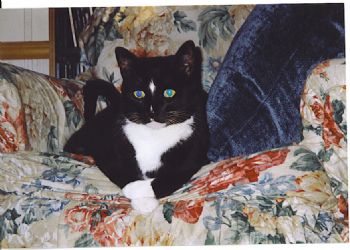 I stayed up too late again last night, couldn't sleep in this morning, had to get up to get Timmy to the vet for his check up and shots. I had to drop him off for a few hours because he was checking urine and blood work too.

Went to Walgreens after that, then stopped at a small market to buy some chicken which I will need for Saturday, my mom and dad are coming over for dinner.

Tomorrow my mom, my sister and a family friend are going to see my Aunt Elinor at the nursing home and bring lunch to have with her. It's a belated birthday celebration. My sister was away on a camping trip on her birthday, that's why it's a bit late. My aunt had a stroke 5 years ago and is unable to live on her own. She gets very tired towards evening, and we found that when we get together for a celebration, lunchtime works much better for her. Anyway, I am bringing egg salad for sandwiches, (my aunt's favorite) so I mixed that up today, and also baked a batch of the Caramel Pumpkin Pudding cup cakes from the Hungry Girl cook book.

My dad also came over so we could use his truck to take all the things to Goodwill I have been wanting to donate. I had my couch full of stuff since I started sorting the clutter out of my spare bedroom a week ago, it's nice to see the couch again, lol!

I tried to stay busy all afternoon til I go pick Timmy up at 3:30pm. I knew he was in good hands, but I still couldn't really relax, things just don't feel right when everybody is not home. I even did the dreaded chore of balancing my checkbook I have been putting off.

At last it was time to bring Timmy home, everything was great! He could stand to lose a little bit of weight, but he's very healthy otherwise. Come October, it will be Kallie's turn at the vet.

It cooled off nicely tonight, so I was able to get out for a 35 minute walk tonight.