Sunday, March 02, 2014

This week we have been asked to take pictures of our creative area and to write about it including information concerning what makes is special or useful.

The den in our home came with a built in Murphy bed. Since we rarely have company that stays overnight, we converted the second bedroom into a craftroom / studio for me.


This is a view looking into my craft room / studio from the door. I love the neutral wall color as I can display my creations without worrying about colors clashing with the walls. Sometimes this wall is packed with my creations, but usually I only display some of them. I love the drawers and shelves on this unit. At the far end is a table for my sewing machine. Although I now have space to leave it out, I still don't use it. The machine is an oldie but goodie Dressmaker from the 1970's.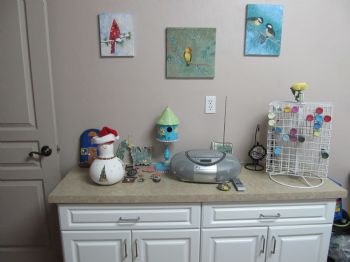 This is the front view of the above picture. I enjoy having the radio / CD player available if I want to listen to music as I paint or plan projects. Most of the items seen here are things I have made. One of the things I love about this room is the amount of storage, drawers, shelves, and some vertical storage for canvases. The spinner is handy for holding paints being used on current project(s).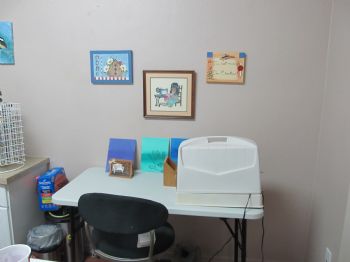 Close up of the sewing machine area I painted the right and left pictures. The middle one is a cross stitch project I made for my mother-in-law who was an excellent seamstress. I think of her often when I see this.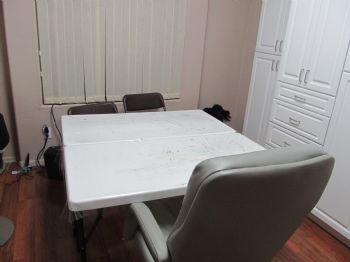 This is my work area The tables are covered with clear plastic to somewhat protect them. Often I add old newspapers and sometimes wax paper, depending what project is is progress. I have plenty of space to spread out and I can leave things out and simply close the door! I can work alone or have one or two friends over and we can work on projects together. The lighting is fabulous in here; a friend put in a great light source.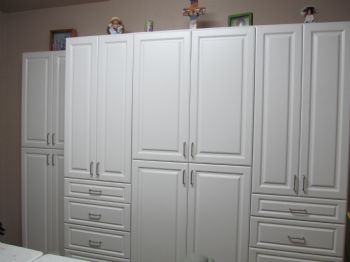 Photo of large storage cabinet area The unit on the far left is for paints; it's tall and not very deep. The rest has drawers, shelves, and even some vertical storage for canvases, masonite boards, etc. On top are pieces that I like, some of which I made others I purchased.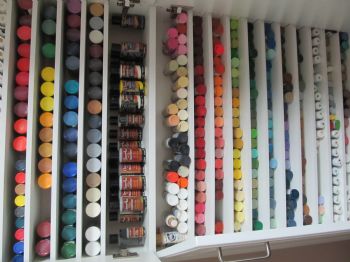 The paint storage unit opened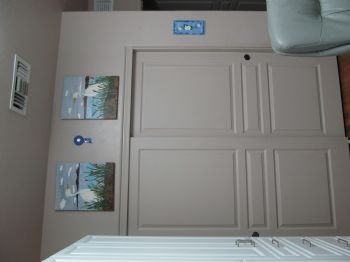 I painted the pictures above the closet and to the right



Close-up of painting to the right of the closet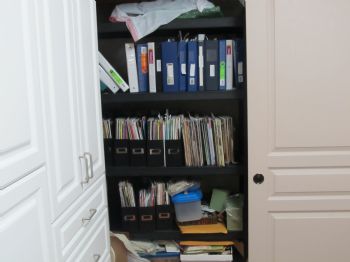 We added shelves in the closet for genealogy materials, painting magazines, cross stitch and crochet pattern books, etc.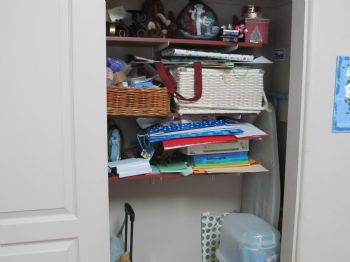 Different type of shelving added to the right side of the closet

My craft room / studio is a haven. I really enjoy having my materials in one room instead of having to go to various rooms to gather everything needed. Also, I can leave my project in place until completed with no worries; just close the door.

Over the years I have done many types of crafts including crochet (afghans), cross stitch, card making, and I've made different kinds of ornaments and some Zentangle. I made a fabric painted tied quilt once. Currently I mainly focus on decorative painting. This year I'm taking an online mixed media art class.