Tuesday, September 04, 2012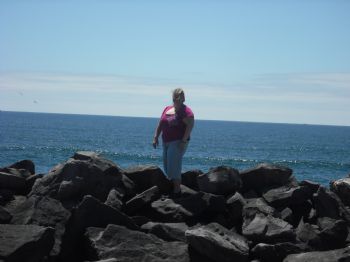 The photo above is me in 2010 before I regained most of the weight that I had lost (on an unhealthy diet plan). But I love this picture because I was feeling good about myself and willing to try physical challenges, including climbing rocks at the beach.

I know that food choices and calories are important. But as I have reflected over the times in my life that I have felt the best about myself, it has been when I have been physically active.

Yesterday I walked across town to the post office. Now, I could have waited until today to drop the bills in the mail as I drove past the post office to work, but I wouldn't have the satisfaction of having accomplished one of my goals. I know know that my typical Saturday morning errands (library, post office, etc.) are IN WALKING DISTANCE! I have the ability to walk to where I need to go and know that I can make it back.

This is not another diet, another weight loss plan. This is my new life. This is my new mantra:

I AM healthy, fit and strong!

Blessings!