| | |
| --- | --- |
| | MISSG818's Recent Blog Entries |


Tuesday, November 22, 2011
This is the time most of us indulge. My plan is to indulge with Happy Snacks. My family will be visiting and I plan to make all the dressings of a Goodman's Thanksgiving Feast (i.e. fried shrimp, bbq ribs, pork sausage, macaroni and cheese, sweet potato pies, german chocolate cake, rice and peas, beef patties, kales and turnips, etc.). No, we do not want a big baked turkey. On the other hand, I will make myself Happy Snacks (i.e. huge romaine salad with cucumber, green beans, kales and turnips, toasted Ezekial Bread with homemade peanut butter and bananas, grilled chicken breast, grilled shrimp, pistachios, and baked sweet potatoes with Fage yogurt). What are you cooking??? Do you plan to indulge????






Monday, August 08, 2011
Saturday morning I approached the scale knowing I hit my goal weight, 130.8 (hoorrayyy!!). I finally made it. It feels great!!!! I must continue to push. My birthday is 10 days away. The big 4-3 is right around the corner. My new goal is 125. I hope to be down to 128 pounds by my birthday because I intend to eat 1 piece of cake, enjoy a small calamari, have a little peanut butter and enjoy my cheat meal on August 19th. Yes, I am enjoying some sweets, but I deserve it. After this indulgence, I will immediately get back on my journey (August20) and have an hour of intense cardio on Saturday (August 21st) morning.

The flat stomach was created by eating clean, strength training and cardio.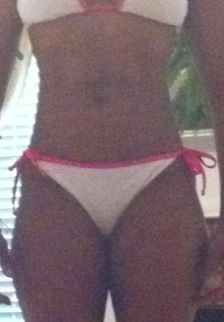 If you are on your journey, stay true to yourself. You know will make your goals too...





Friday, July 29, 2011
This month my goal was to reach 130 pounds. Unfortunately, I am 131.4. I did not reach my goal, but I am proud of myself because I am still pushing. I have been on a journey to keep my weight below 140 since 2005. Yes, it is a long time. I do not want to revisit 225 pounds. At 225 pounds, it was sedentary, tired, out of shape and ashamed of how much weight I gained over three years. Although some women carry their weight in all the right places, I did not!!! I had wide hips, a flat tush and a flabby stomach. At 131.4, I feel better about what I represent on the outside. Weight loss has been the hardest journey I have ever encountered. Those who are having difficulty, keep pushing!!! It is easier to surround yourself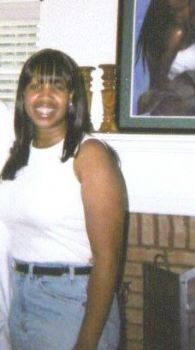 with people who live a healthy lifestyle, then those who just talk about it...

I will keep pushing... You should too!!!!





Wednesday, April 06, 2011
http://yourlife.usatoday.com/fitness-food/
diet-nutrition/story/2011/04/-Honeymoo
n-with-fitness-isnt-over-for-slimmer-b
ride-/45803480/1

Yes, I am glad they published our wonderful website, "Sparkpeople.com."





Tuesday, April 05, 2011
I had the pleasure of speaking to Nancy Hellmich, an editor for USA Today. She featured me in March 30, 2009 issue when I reached my goal weight.

http://www.usatoday.com/news/health/weig
htloss/2009-03-29-dieting-dime-multime
dia_N.htm

She decided to follow up to see if I had maintained my weight loss goal. I did. In light of that, I will be featured in tomorrow's (4/6/2011) USA Today Issue. Grab a copy.

FYI, I did acknowledge Sparkpeople.com. This website was instrumental in helping me track my nutrition and fitness.



1 2 3 4 Last Page

Get An Email Alert Each Time MISSG818 Posts