| | |
| --- | --- |
| | MISSDAISY23's Recent Blog Entries |


Saturday, June 23, 2012
PSALM 23
A psalm of David
Confidence in Godís grace
THE LORD is my shepherd;
I shall not want.
He maketh me to lie down in green pastures:
he leadeth me beside the still waters.
He restoreth my soul: he leadeth me in the paths
of righteousness for his nameís sake.
Yea, though I walk through the valley of the shadow
of death, I will fear no evil: for thou art with me;
thy rod and thy staff they comfort me.
Thou preparest a table before me in the presence
of mine enemies: thou anointest my head with oil;
my cup runneth over.
Surely goodness and mercy shall follow me all the
days of my life: and I will dwell in the house of the
LORD for ever.






Friday, June 22, 2012
I first had chest pains with high blood pressure on January 2011 and then again on April 2011. My doctor at that time, diagnosed it to be stress and anxiety related to work. At the same time, I was experiencing other symptoms like intense headaches, dizziness, very fast pulse rate. It felt like I was going to have a heart attack! Aside from these, my period was getting lighter, and I do have other peri-menopause symptoms. After not working for five months, I still had chest pains. I did some research and found out that my stress and anxiety issue is related to my menopause. Not only my estrogen and progesterone hormones are upset, so are my thyroid hormones. So, I have good days and not so good days up till early this year.

My hair stylist was the first person to ask me if I believe in God. She asked me if I had cable or satellite at home. If I do, tune in to Joseph Prince sermons. Well, I kind of forgot all about it until another friend brought Joseph Prince up again. Then, I was curious. So, I tune in. In my opinion, his sermons is not boring. This is when I strengthen my relationship with God. Along with my daily 30 minutes walk, taking my soy extracts & vitamin D, watching what I eat (recording what I eat in SP helps), getting 7 to 8 hours of sleep, I am able to control my symptoms from flaring up too much.

By the way, if anyone is interested, you can check out www.JosephPrince.org for cable or satellite viewing times and channels.





Thursday, June 21, 2012
Your Loving Presence, Lord
Your Healing Presence, Lord
Your Calming Presence, Lord
Your Conscious Presence, Lord
Thank You, Jesus Christ!
Amen





Wednesday, June 20, 2012
John 3:16
For God so loved the world,
that he gave his only begotten Son,
that whosoever believeth in him should not perish,
but have everlasting life.





Sunday, June 17, 2012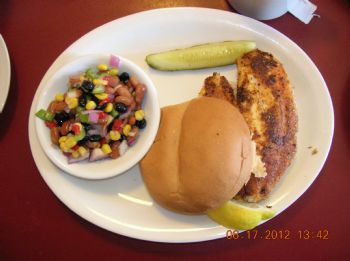 My Lunch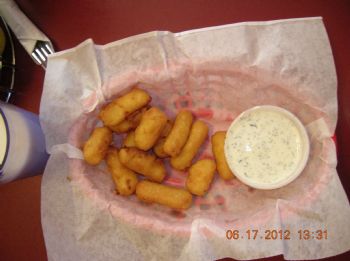 Fried Cheese Curds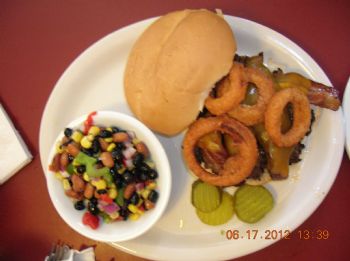 Hubby's Lunch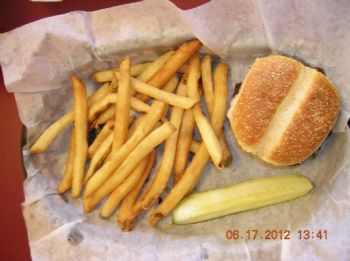 Daughter's Lunch

We went to Tofflers Pub & Grill, New Glarus, WISCONSIN for Father's Day lunch. It was my husband's request. They have good food. Wisconsin has the best dairy products such as cheese, milk, ice cream! For appetizer, we ordered the Fried Cheese Curds. My husband order was bean salad and cowboy burger. My daughter had cheese burger with fries. I had bean salad and Blackened Grilled Tilapia. We love the food there so much that we did not mind driving about three hours both ways.

After lunch, we went to pick up four types of fudge (chocolate, dark chocolate, milk chocolate & chocolate mint) for our daughter. They are good!

On our way back home, we stopped by Maple Leaf Cheese Store, Juda, WISCONSIN. My daughter and I got to enjoyed some ice cream. By the way, my husband is diabetic so he could not have any ice cream. We prefer to buy some good Wisconsin cheese here because the prices at this store is factory outlet prices. We bought (3) Buffalo Wing Jack, (1) Salami Cheese and (1) Co-Lace (Colby and Lacy Swiss blend.)



First Page
1
2
3
4
5
6
7
8
9
10
11
12
13
14
15
16
17
18
19
20
21
22
23
24
25
26
27
28
29
30
31
32
33
34
35
36
37
38
39
40
41
42
43
44
45
46
47
48
49
50
51
52
53
54
55
56
57
58
59
60
61
62
63
64 65 Last Page

Get An Email Alert Each Time MISSDAISY23 Posts