Monday, January 18, 2010
I've been sick with a low grade cold for almost a week now and haven't been doing my runs. Plus I was out of town for the last few days of last week, so I've been off track. Tomorrow I'm going to do some low impact cardio, probably the elliptical, to get back into things. Also in keeping with getting back into things here's my lunch for tomorrow: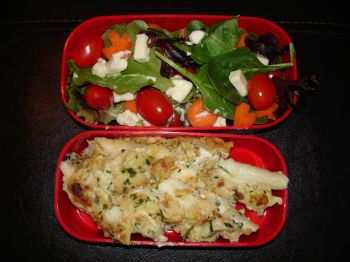 It's left over very high end Mac and Cheese from my lunch out last week (truffles and prosciutto, so very very yummy, not diet food though) and to balance that I have a lovely salad with Laughing Cow Light Swiss in lieu of dressing.