| | |
| --- | --- |
| | MINNESOTAMAG's Recent Blog Entries |


Friday, May 10, 2013
Non-Fitness Challenge: Recap! How have you been doing? Have you met the goals you were wanting to accomplish? Were there things you didnít reach? What would you change? Write a blog on how you did this challenge and what you want to accomplish in the future...how will you do it?

Since I came back to Spark in late February, I have made some major changes in my lifestyle. I have made it a priority to exercise several times each week, and I have made a big effort to learn new healthy cooking techniques and use them on a regular basis. Thanks in part to the challenge. I also tried a lot of new exercises. In my personal and professional life, I challenged myself to do new things as well.

The results of choosing a healthier lifestyle are becoming evident. Exercises that started out being hard are no longer an adequate work out most of the time. I am now back to being able to run more than three miles about three times per week. I am able to fit into smaller clothing. My weight has gone down 28 pounds.

Over the course of the challenge, I really liked trying new things, but I admit that the somewhat rigid structure of some of the challenges was frustrating to me. Overall, I found success, but certainly there were struggles as well.

Presently, I am facing a challenge knowing that I will be done with the challenge soon and back to making my own plan. I know I can do it, but there was certainly extra accountability when I was not just a team member, but actually a team captain or leader. I plan to get more serious about running again as that is something I like to do when I am fit. My dog has been an advocate for me as he loves to go with! As I move into the future, I also plan to continue to explore new foods, shopping at our farmers market, and exploring more places to be active outdoors this summer as that is what I like best when it is nice out.

I have really enjoyed being a daffodil, and I hope we all stay in touch! Good work, everyone!




Sunday, April 28, 2013
Yesterday I faced a new challenge. This was not a challenge for health or for fitness, but it is something I literally had to MAKE myself do. I had signed up to be part of a walking team from my work for a local event: Crazylegs Classic. It is right in the middle of downtown, and the roads there are (in my opinion) really screwy. I never drive there (there isn't really ever a need for me to) and in addition, things were going to be nuts because of Farmer's Market, the race, and a convention that was in town. In past years, I have carpooled to the race so I don't have to drive, but this year, no such luck! I debated with myself long and hard about going because the thought of driving there under the conditions I listed had me seriously stressed out! Instead of allowing myself to be a quitter, I put on my big girl panties, got directions, looked at maps, got up extra early, and made extensive plans. I made it there safe and early and home again too. As I read over what I just typed, I imagine you all might be thinking, "So what? Anyone with half a brain can get directions and get places!," but really, for whatever reason it was a big deal for me and I didn't let it get the better of me, so I'm proud.

For the walk (and the trip back to my car afterwards), I got over 10,000 steps in 70 minutes. I also substituted fruits and veggies for almost everything I normally eat for breakfast and lunch. That is the only way I could make my 7 servings fit that day. I felt full enough, but I didn't really enjoy it. I'm thinking I may not do very well on the fruits and veggies challenge this week because I just don't like not eating other things at all so I can eat veggies and fruits and still stay in range. Another thing Chef Meg makes look easy, but I haven't learned how to fit correctly in just yet.

In the evening, the hubby and I had some errands to run back in Madison (not in downtown) and we decided to go somewhere new for dinner. The place had no calorie charts or nutrition facts. I know the meal I chose was not particularly healthy, but I set half aside right from the start and still didn't drink pop (my personal challenge). The food was super fried . . . and super good. I haven't had burgers or fries, or anything like that for months. As I was eating, I was thinking how many of my Spark friends say that eating poorly makes them feel physically sick. I was almost hoping I'd feel that way too, but it just tasted good - no bad feeings. I still feel fine today.

On the way home, I thought about it a lot. Spark always says you don't have to be perfect and that each better choice counts (for instance setting part aside). They say you can't beat yourself up when you choose the not so awesome choice (like eating something fried) and that you can have all things in moderation (like only eating the correct serving size as I did). They say you can adjust calories over the week and food quality to help (like eating only fruit and veggie based things all day before that!!) I think I'm not going to beat myself up over that food because as I pointed out, that is the first time in over 3 months that I ate anything resembling a burger and fries and I made plenty of other good choices.

When I got home, I made the mistake of starting a project at like 8:30pm. I thought it was going to be a snap. Wrong! I love technology, but it wasn't working for me the way I wanted it to, so at 10:00 when I went to bed, I was SUPER FIRED UP and could not sleep. Good news is, this morning I got to sleep in a bit.

Well, I'm off to teach children's church music! Have a great day, everyone!





Thursday, April 25, 2013
Leaping Daffodils Challenge Week 6: Create and post a motivational poster.

I don't know why mine is showing up in black and white - it is actually quite colorful, but oh, well.

I wanted to choose images of people doing the things I want to do in the places I want to do them. I think I will have this be a work in progress and keep adding to it and changing it over time.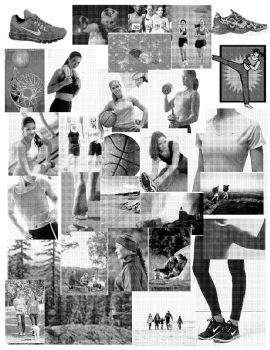 Tuesday, April 16, 2013
Leaping Daffodils Non-Fitness Challenge:

Accountability report!

Are you reaching your goals?
Yes. My goals were all related to continuing to make positive steps towards a healthy lifestyle, and I have been meeting them. The expected outcomes like lower weight, smaller measurements, and increase in fitness are all improving steadily.

Are you making changes in your lifestyle?
For sure!!! Since we started, I have learned how to make 15 new healthy recipes to add to my bag of tricks, and we eat them at least three days per week. I am regularly measuring my food and tracking exercises. I spend a lot of my free time learning from other sparkers and the web site. I am making more time to work on what will make me healthy, and I think before I act more in relation to food and fitness.

Are you logging your nutrition and fitness and getting enough sleep and water?
I am tracking food and fitness every single day without fail. My water intake is always at least 8 glasses. My sleep is ALMOST always on track too.

So far, woohoo!





Sunday, April 07, 2013
Ok, so good things first: I have two almost identical black skirts in my closet. The only measurable difference (no pun intended) is the size. One is a size 14/16 and one is a size 12. Today, I had a special event I wanted to wear a black skirt for. I was in a hurry and just grabbed one, put it on, and left. It wasn't until I got home that I saw the tag . . . I had been comfortably wearing the 12! Yes!!!

Now, on to the uncertainty: This week my team challenge involves doing Spark's 20 minute Yogilates video. Keep in mind, I am NOT experienced in either Yoga or Pilates. (I took about 3 months worth of yoga roughly 4 years ago and the only pilates things I have done have been hybrid activities from Coach Nicole's videos.) I am also VERY MUCH NOT FLEXIBLE. I have been doing the yogilates video daily since Friday.

My question is, do you think it is supposed to be a workout? I am finding that it feels more like lots of stretching (which is difficult for me, but not in terms of raising the heart rate or feeling muscle fatigue like I often do when I strength train). Is that an expected result? Is it just me? Thoughts???



1 2 3 4 5 Last Page

Get An Email Alert Each Time MINNESOTAMAG Posts