Saturday, July 25, 2009
Yesterday morning several SacValley California Native Plant Society folks (myself included) met with Kathy Brown, Acting Preserve Manager, at the Cosumnes River Preserve to get tour of the three native plant gardens at the preserve and offer suggestions for updated native plant selection for fall garden improvements.

I am so glad that I took the time to drive down to the preserve. Not only did I meet up with some wonderful, talented and thoughtful people that morning, I was also able to take in a beautiful walk at the preserve. After the walk we finished up at the canoe/raft launch along Middle Slough, sat down, dangled our feet in the water and watched the butterflies, birds (including a harrier!) and squirrels do their thing along this slow moving slough.

I truly regret not bringing my digital camera with me. BUT I've decided I'm going to schedule a walk out there w/my Spark Peeps this August -and you bet I'm bringing a camera to get some photos of us enjoying ourselves.

Below is some additional info about the preserve. Be sure and stay tuned for announcement about walk at the preserve in August.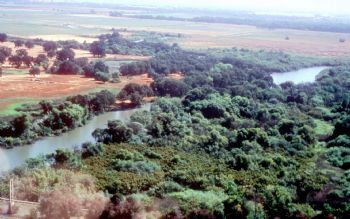 COSUMNES RIVER PRESERVE WALKING & HIKING TRAILS

Lost Slough Wetlands Walk

A one+ mile, universally accessible trail offers visitors an up-close experience into lush marshes, wetland plants, water birds, insects, and amphibians. There is also a wooden boardwalk, open from 10 a.m. to 4 p.m. daily, which can be accessed along the Wetlands Walk. The boardwalk meanders into the restored marshes of Lost Slough (located across Franklin Blvd. from the Visitor Center) and was built during the winter of 1994.

Cosumnes River Walk Trail

The Cosumnes River Walk trail is a 3-mile round-trip trail, accessible from the bridge just north of the Visitor Center.

The Nature Conservancy first opened the trail to the public in 1987. It is located primarily on raised levees that wind through a variety of habitats, including buttonbush thickets, native grasslands, valley oak riparian forest along the Cosumnes River, cottonwood/willow riparian forest, tule marsh, valley oak savannah and several restoration projects – including the oldest riparian restoration planting (planted winter '87-'88) and about 30 acres of restored seasonal marsh.

Due to the rough nature of the terrain, the trail is not universally accessible. In addition, during the winter months, the natural flood cycle often results in complete inundation of the trail by floodwaters. However, most of the year the trail is open, from sunrise to sunset, to anyone who cares to use it.

The Cosumnes River Preserve's Trail Brochure is available online
(www.cosumnes.org/recreation/Trail%20Bro
chure.pdf),
or you may pick up a copy at the Visitor Center.

For more info about the Cosumnes River Preserve visit: www.cosumnes.org