| | |
| --- | --- |
| | MIMULUSBUG's Recent Blog Entries |


Saturday, July 04, 2009


Yesterday's walk at Wm. Land Park was great. The delta breezes were kicking in and yellow swallowtail butterflies and humming birds were flitting around and just adding to the beauty of our walk. When we ended the walk, we all decided that we wanted to have a picnic after our walk next Friday to relax, get to know each other a little better and to enjoy the park. Then we decided to post an invite to all on the SacSparkles & Official Sacramento Team sites! Funny how this ball gets rolling eh?

Below is general announcement I worked up. Please let me know if it needs clarification, if you can make the walk and/or picnic, or if you love the park too.

Hope to see you there next Friday!




------------------------------------
SACRAMENTO SPARKLES
Land Park Walk & Picnic
------------------------------------

Come join Sacramento Sparkles team Friday July 10, 2009 for family walk at 5PM and/or picnic in lovely William Land Park at 6:PM.

For family walk please wear comfortable shoes and bring a smile and water for sipping. For family picnic, please bring enough for you/your family and 2 quests plus anything else that will help you relax, get comfortable and have fun at the park (i.e. blankets, lawn chairs, frisbees, etc.) Iced bottled water at the picnic will be provided by the SacSparkles team.

The walk will begin at the entrance of the Sacramento Zoo in William Land Park, 3930 Land Park Drive and end at the picnic tables on west side of Land Park Drive, southeast of the softball fields. (We recommend parking cars/bikes on side roads and area to south of softball fields.) Come at:

4PM if you can hep MIMULUSBUG with picnic area set up & company;
5PM to begin family walk in the park with K-GECKO & EVASOMA;
6PM to join Sacramento Sparkles-Peeps for family picnic & fun

Hope to see you there!

MIMULUSBUG, K-GECKO & EVASOMA






Thursday, July 02, 2009

Well I made it to Southside Park today at 11am. I had my garden hat on and a red ribbon tied to my laces. I waited about 10 more minutes, but no one else made it so I headed out. It was another great day to go for a walk. The only downer was traffic from the elevated freeway (US50/Bus80; aka the WX Freeway) was super noisy, so it was a bit distracting when I walked along W Street. Still a lot of butterflies (mostly yellow w/Black & pale-creamy colored ones).

Sad to report that I was not able to stop by at 5pm today, incase others stopped by. I had hoped to make walks in park twice a day to get things rolling- but other commitments and family currently need me more than I realized.





SOUTHSIDE PARK PHOTOS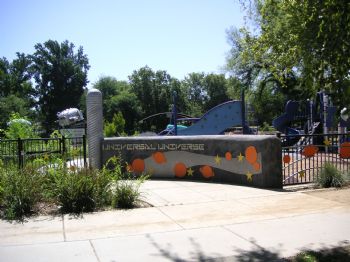 Southside Park meet up spot at "Universal Universe" adventure area (a space age playground complete with Buck Rogers-style spaceship sculpture).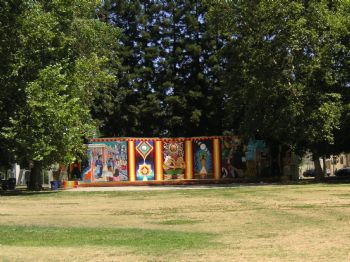 Brilliant mural backdrop at the park amphitheater, a must see!

(FYI: The aphitheater mural was painted by members of the Royal Chicano Air Force, a long-time Sacramento group of Chicano artists/activists.)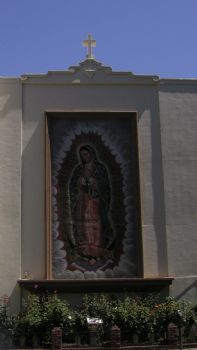 Lovely mosiac on exterior south wall of Our Lady of Guadalupe Church.

(Historical FYI: Cesar Chavez's historic United Farm Workers march from Delano to Sacramento in 1966 came to Southside Park and Our Lady of Guadalupe Church.)



I love this colorful mosaic located on outside of the pool building.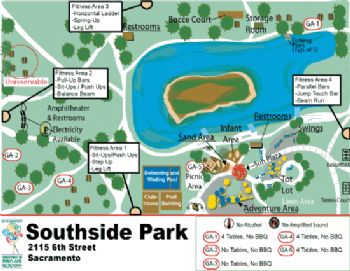 This is tiny graphic of Southside Park.

For more park info park visit following City web site:
http://www.cityofsacramento.org/parksand
recreation/parks/sites/southside_plan.htm








Monday, June 29, 2009
Another beautiful day at McKinley park! I got there in front of the library with time to spare and a red ribbon on my shoe laces. Alas, no fellow Sparkies showed up, so I headed out about 11:10am. Man was the park busy with kids! I think I counted 4 groups of 20+ kids each (elementary school age, boys and girls) scattered around the park. They were laughing and having so much fun, it just kept a smile on my face listening to them laugh and giggle and yell at each other. The pond turtles were all out on the middle rocky spots sunning themselves and the ducks were chowing down on goodies being handed out by a mom and her preschooler. The yoga ladies were at their same shady location, stretching and sipping water; and the tennis court was BUSY. Parking around the park was pretty good, but there were a lot more folks at the park this Monday than last.

Well I'm off for grocery run, see ya!







Saturday, June 27, 2009

I got off to late start leaving the house, so made it out to Land Park at 5pm across from zoo entrance and met up with K-GECKO (aka:Kate), EVASOMA (aka:Nanette) and her peeps, which included her partner Susan, daughter Courtney & friend Christine. As a side note, according to my brother and his wife the Sacramento Zoo is best little zoo in the whole USA (they should know cuz they visit zoos everywhere they go!).

It was obvious to all of us that Friday afternoons in Land Park is the perfect time for a walk. There was hardly any traffic, plus plenty of parking around the park and of course it was another gorgeous Sacramento evening, sunny & warm when you walked out from under the huge heritage oaks, with a delicious delta breeze just starting to come in; perfect afternoon walking!

We all thoroughly enjoyed connecting and walking (the loop is about 1/2 hour). We hope others will be able to join us on future Fridays at 5pm. But on Friday July 10 5pm, we hope more folks (+family, friends & pets) will be able to join us for a walk, followed by a picnic in the park!

Ciao for now!

WILLIAM LAND PARK* PHOTOS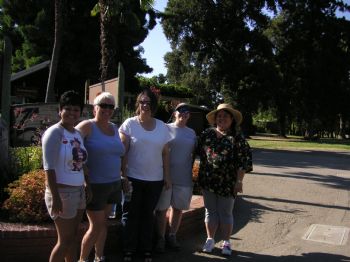 SacSparkies in front of Zoo sign, getting ready to walk at Wm Land Park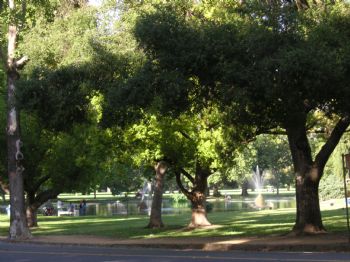 View of Wm Land Park Pond

--------------------------------
*William Land Park, frequently referred to as simply "Land Park" is a major city park in Sacramento, California. The park is located between Interstate 5 and State Route 160.

William Land was a pioneer who build the Western Hotel at the NE corner of 2nd and K St in 1875. Land Park comprises 166 acres, not counting the golf course, which was donated to the city by William Land in 1926. More than 500 trees dot the landscaping in William Land Park. Originally, city founders questioned whether trees, much less any type of vegetation, would grow in this swamp land. Today, it is a magnificent park, encompassing a 9-hole golf course, among other attractions, such as the Land Park Zoo, which is situated on more than 14 acres and presents more than 350 animals.

(SparkDitty: K-GECKO works at the Zoo Reptile House!)







Friday, June 26, 2009

I made it out to South Side Park at 11AM Wednesday, with a red ribbon in my tennis shoe & my gardening hat on.



I was hopeful there would be 2 others there, but if they were -I somehow missed them. (I started fretting: maybe my ribbon wasn't big enough, maybe I should spray paint my shoes red? I hope I didn't bug the lady with the red shirt on too much, when I asked her if she was a "Sacramento Sparkle"???)



Undaunted, I decided to just enjoy the walk and congratulate myself for getting my big-ol-bootie moving around the park. AND what a great park it is, such an interestingly-diverse neighborhood, with more churches around it than I could count. This place is definitely a wonderful kid hang out with the pool, outer-space playground, fishin-in-the-city spots and basketball court. Special treats included watching a blue heron taking a lunch break in the lake and butterfles everywhere (not sure what was up about that). The biggest treat (for me) was watching a mother hawk bringing squirrel to her squawking little ones in a huge nest at the top of a large cedar tree across from Sacramento's beautiful 'Our Lady of Guadalupe' Church.

I took photos, so intend to post on my SparkPage blog soon (like as soon as i can find the dang cord that connects the silly camera to my computer. Don't hold your breath too long cuz this could take a while, I have destroyed 3 digital cameras over the years and each has their own 'special made cord" -ARGGGGGGGGGG!!!!!!!).

I'm hoping other team members start going for walks in their own neighborhood parks and blogging about it.



OK-CONFESSION TIME


I am a cherry, melon, fig, Starbucks-frapaccino-blueberry-scone, Jamba-Juice-smoothie eating sparkie piglet this week. It was all delicious and its only Thursday. May the Sparkie Spirits not kick my bootie too much at my next weigh in. I feel like Flip Wilson's Geraldine:
THE DEVIL MADE ME DO IT!!! LOL!!!




First Page
1
2
3
4
5
6
7
8
9
10
11
12
13
14
15
16
17
18
19
20
21
22
23
24
25
26
27
28
29
30
31
32
33
34
35 36 37 38 39 40 41 42 Last Page

Get An Email Alert Each Time MIMULUSBUG Posts