| | |
| --- | --- |
| | MICHIGANLORI's Recent Blog Entries |


Saturday, June 08, 2013


Here are my top three S.M.A.R.T Goals (Specific, Measurable, Attainable, Relevent, Time-Bound) for the BLC 22 challenge.




S-pecific ~ I will reduce my maximum heart rate during a 1.5 mile run
M-easurable ~ I will reduce maximum heart rate by 10 points.
A-ttainable ~ I will research ways of reducing my heart rate during runs by following a different training plan if necessary, improving breathing and running technique.
R-elevant ~ Iím concerned that my maximum heart rate is a little too high during runs, so I plan to monitor and record it. I also plan to review the results at my next physical with my doctor.
T-imely ~ My maximum HR will be reduced on my final fitness run test.




S-pecific ~ I will NOT make any excuses for not eating healthy or exercising
M-easurable ~ My SPY peeps are my measurable. I want my team to Ďcall me outí when I make an excuse on the SPY chat thread. The only excuse allowed for me would be illness or injury related.
A-ttainable ~ If I keep a positive attitude this is very attainable.
R-elevant ~ Iím tired of excuses.
T-imely ~ No excuses for me for during the next 12 weeks.




S-pecific ~ I will hit my goal weight and start maintenance.
M-easureable ~ If I lose .9lbs a week, I will hit my FINAL goal weight.
A-ttainable ~ If I consistently track my food and exercise this is attainable. Tracking is the key for me!
R-elevant ~ It is time to become a MOM (Master of Maintenance)
T-imely ~ I will be making an announcement on August 28th.



and BLC!







Monday, April 29, 2013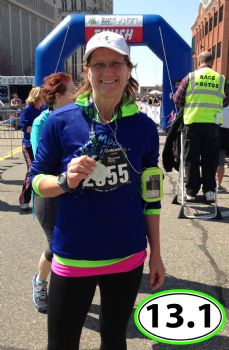 I crossed the finish line at my very first half marathon at the young age of 50. Two years ago if someone had told me I would become a runner, I would have laughed and said "I will only run if being chased by a bear (a big bear)".

At the beginning of the week I wasn't sure if I was going to do it. I had a very difficult month with losing a family member and the Boston Marathon tragedy just knocked the wind out of me.

I decided the day before the race that I needed to be strong and just do it.





On my lonely drive to the event I was nervous. I was uncomfortable with doing my first race all by myself. I kept thinking in the car "Why am I doing this?" Well, the answer came to me on a sign. I looked up and saw a billboard advertising a concert which I will be seeing. It's the Bon Jovi "Because We Can" tour. "BECAUSE WE CAN" was in bright hot pink. That was my sign! At that moment I felt energized.




"Because We Can" is my new motto.

It was cold at the starting line. When I left home it was in the upper 30s so I dressed warm (four layers). Other racers where wearing shorts and tanks. I'm sure everyone could tell I was a newbie.

I spotted the pacers, the last one was the 2:45 pacer. I kept looking for the 3:00 and 3:15 pacers. HmmmÖnow I was a little more uncomfortable since the last time I walked 13 miles (in November on a treadmill) it took me close to 3 hours and 40 minutes

Starting Line:
The starting gun sounded and everyone started running except for me and a couple of others. It was my plan to start off with my fast-paced walk. Right off the gate, both of my shins were cramping which I've never experienced before. Yikes!

Mile 2:
At mile 2 my shin pain went away. Whew! I noticed at this time that I was walking faster than some of the runners, which was a great feeling. I decided just to keep the pace going.

Mile 3:
At mile 3 the 2:45 pacer was in sight. I made a decision to try and keep up with her to the half way point so I picked up my pace and started to run. The cat and mouse game began.

Mile 5:
I passed my pacer and told her that I just wanted to pass her just once. She laughed and said I would be passing her multiple times. At this time I was getting really warm. The stripping began and my race lessons started (dress lighter next time).

Mile 6.5:
I hit my goal by keeping up with my pacer. At this moment I realized that if continued to keep up with her to the finish line I could beat my daughter's time from last year. I had a new goal. Iím such a mean mom.



Mile 9:
At mile nine I passed my pacer at least 4 times. I was now doing a run/walk interval. The one thing I noticed is that I felt better running. When I stopped to walk my legs started cramping.

Mile 10:
I was feeling really good at mile 10 and thought I would attempt to run the rest of the way.

Mile 11.5:


still ahead of my pacer but I started to get worried since my heart was racing. I took a break to walk a little and she passed me up again. Grrrr! She told me I could do this and started cheering me on.

Mile 12.5:
I hit the wall close to the finish line. It felt like I was going to pass out and vomit which had me really scared. I looked behind me and there she was breathing down my neck. It was mind over body at this point.

Mile 13.1:


I crossed the finish line just before my pacer. We high-fived at the finish line.




Letís Move Race Results:

Time 2:44:20 (beat my daughterís time)
Placed 17th out of 25 in my age group (not bad for a newbie)
Placed 647 out of 717

Detroit Free Press International Half is next unless I find another one before it.



And once again thank you my spark friends for all your support.






Monday, February 11, 2013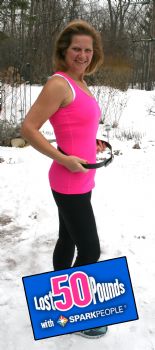 When I look down at the scale and instead of thinking "it's never going to happen"; Iím thinking "holy cow, itís right there in front of me". And truth be told, I never in a million years expected to be looking down at the scale and be seeing a 50 pound loss.

I hit my 50 pounds and still canít believe it. I was happy when I hit 20, elated when I hit 30, shocked when I hit 40 and thrilled when I hit 45. Now Iím just doing the happy dance ~ gangnam style.

I didn't lose 50 pounds over night; it has taken me 19 months of hard work. During this time I've hit some major setbacks but I never gave up. I have to admit there were days I didn't want to weigh in, didn't want to exercise, didn't want to weigh and measure, didn't want to participate in challenges, but I just kept going. If I gave up I would never be where Iím at today.

So here are 15 reasons why I love my Spark Journey:

BEFORE SP: High cholesterol
TODAY: Cholesterol is at a normal level (without medication)

BEFORE SP: Blood pressure was elevated
TODAY: Blood pressure is normal

BEFORE SP: Visited chiropractor at least twice a month
TODAY: Visit once a quarter for a routine tune-up

BEFORE SP: Could not walk a mile without feet or hip pain
TODAY: Iím training to walk my first half-marathon in April

BEFORE SP: I would just say NO to lunges, squats, military push-ups and chair dips
TODAY: I say bring them onÖthe more the better

BEFORE SP: Was only comfortable doing gentle yoga
TODAY: Loving my power yoga!!

BEFORE SP: Would only run if being chased by a bear
TODAY: Working on interval running

BEFORE SP: Lost my inner athlete
TODAY: My inner athlete is back and stronger than ever

BEFORE SP: Size 14 pair of jeans
TODAY: Comfortably wearing size 8 and Iím gunning for size 6

BEFORE SP: Would avoid all mirrors
TODAY: I stop and check out my booty and legs in the mirror (just like my daughters do)

BEFORE SP: Didn't know what kale looked like
TODAY: Kale is a staple in my refrigerator

BEFORE SP: Low energy
TODAY: There are days I feel like the energizer bunny

BEFORE SP: Liked staying in my comfort zone
TODAY: Doing whatever I can to step out of it

BEFORE SP: 3 person support system (husband and 2 daughters)
TODAY: Over 300+ spark buddies! I could not ask for a better support system

BEFORE SP: Dreaded turning 50
TODAY: I embrace being 50!!!!!

So was 19 months of hard work worth itÖ.ABSOLUTELY. Sure there are things I still need to work on and challenges ahead, however I have the tools and support I need to continue on my wonderful Spark Journey.

If I can do this. You can too!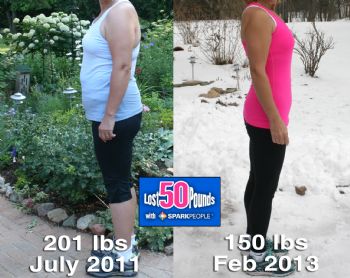 Monday, January 07, 2013
I love the saying: ďSTOP talking about it and just DO IT!Ē I give this advice to others all the time. Now itís time for me to stop talkingÖ.

Last year I kept mentioning to my DD that I wanted to walk a half-marathon. Iíve cheered her on running her half-marathons and Iím ready get off the sideline.

I just registered for my first half-marathon!!!!!


Detroit Free Press International Half Marathon Ė October 20, 2013
www.freepmarathon.com/

This marathon you traverse both downtown Detroit and Window, Ontario, crossing the border at both the Ambassador Bridge and Detroit-Windsor Tunnel. I plan to walk most of it but will be running like crazy through the Windsor Tunnel. I hate tunnels.

My only goal is to stay ahead of the 4 hour pacer.

Training begins NOW!






Friday, January 04, 2013



OMG....I'm doing the happy dance right now (gangnam style). I just received the following email:

Subject: You Are A Motivational Member

The SparkPeople Community thinks you are a motivation to others!

SparkPeople Members can vote for SparkPages that are motivational, based on Community involvement, personal accomplishments and more. You have received enough votes to become a "SparkPeople Motivator." Congratulations! For recognition, your SparkPage now has a special "SparkPeople Motivator" icon, and your SparkPage will be featured more prominently on the main SparkPages section of the site.

Thank you for inspiring other members through your own hard work and dedication!

Sincerely,

The SparkPeople Team




My spark buddies you made my day! I'm so excited to be given an award for doing something that I love.



and my Spark peeps!



First Page
1
2
3 4 5 6 7 8 9 10 11 12 Last Page

Get An Email Alert Each Time MICHIGANLORI Posts