| | |
| --- | --- |
| | MICHCLEARY's Recent Blog Entries |


Friday, September 02, 2011

Hey Spark Teams and any Sparkers who come across this blog, it's time for my weekly challenge blog.

Our quote for the week: You may never know what results come from your action, but if you do nothing, there will be no results. Gandhi

Our song of the week: One you can spin, run, jog, or dance to - Cobra Starship - You Make Me Feel Good
www.youtube.com/watch?v=5UQgcSwDyLc

Use it to workout and make your body feel good this week!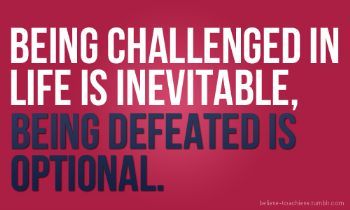 Remember this week that being challenged will always happen. What you do with that challenge will either build you up or tear you down.

Our challenge for the week: Measure your food. It's amazing how much we can underestimate how much we are eating. Many of you will be eating out for the labor day holiday. Be aware of what you're putting on your plate. Measure and stay on track.

Make it a great week sparkers!






Tuesday, August 30, 2011
I started SparkPeople on August 31, 2009, and that was one year after I really began in earnest to lose weight and get healthy. SP has literally changed my life, and I'm sharing a picture now that is difficult to share, because I want you to know that your life can be changed too.

I can't really talk about my spark journey without mentioning my BFF who is my running buddy (susiewhite1109) and spark comrade in arms. We've been friends for 25 years and have seen many sizes and weights in those years. The picture below was on a trip we took in around 2002 and neither one of know how much we weighed.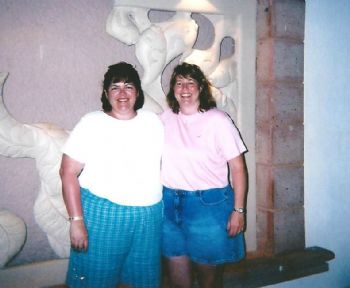 Here is a picture from when I started a biggest loser competition three years ago:





Now here is a picture of Susie and me at a race in May where we were crossing the finish line of a race and we were laughing our heads off because for the first time in all our races we were both actually trying to beat the other one.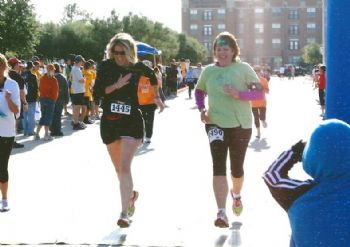 The timing chip said she beat me by about 3/100's of a second. I think I was robbed!

Anyway back to the point of my spark story. I've lost 95 lbs and Susie has lost 85 lbs. I like to jokingly say we have each lost about as much as an average Hollywood actress.

We both ran a 5k in November of 2009 for the first time in about 20 years. In 2010 we ran 3 of them. So far this year we have run 7 races together. I have also completed my first half marathon ever, and a relay that I ran this summer. Here are a few of our racing pictures: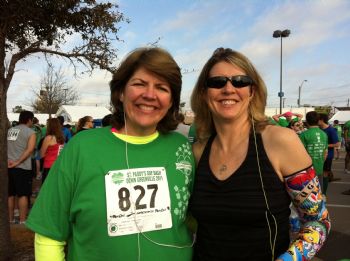 Dash Down Greenville - March 2011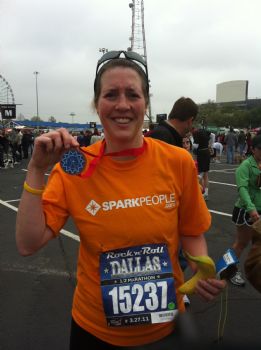 My first racing medal for my first half-marathon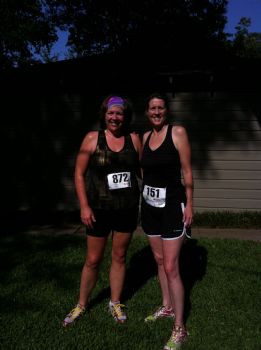 Independence Day 5k July 2011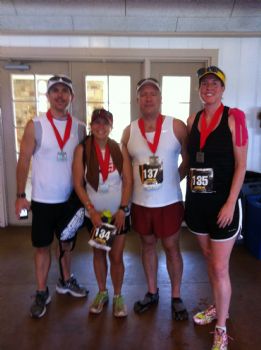 Lady of the Lake Relay team: Jmerlau, spark coach Nancy, Brian Cooper, and me.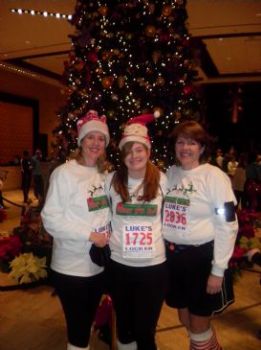 And one thing that makes me very happy - my youngest daughter runs with us sometimes - here at the Jingle Bell Run in December 2010.

Here are my top twenty tips I've learned along the way that I want to share with you:

1. If your diet is poor your progress will be slow. Eat healthy.
2. Can't is a state of mind that I won't entertain...and neither should you.
3. You get out of it what you put into it - don't do it halfway.
4. The two words that I say have impacted my journey the most - honesty and ownership. Stop blaming others and be honest about what you are eating and whether or not you are working out.
5. You're going to have ups and downs during your journey and that is not a license to quit, whine, or complain.
6. There is no license to quit.
7. Don't tie your success to any one person. If your friends or family quit - you keep going.
8. Don't be afraid to go against the grain and bring your own food to an event.
9. Overcome the setbacks - we all have them because no one's journey is perfect. Focusing on the setback doesn't help you progress.
10. Negativity isn't an asset, and will slow your progress. Let that go.
11. Being embarrassed about your size or lack of knowledge at the gym is a waste of time. You have just as much right to be at the gym as thin people and your have a great opportunity to learn.
12. Whining wastes oxygen. Trust me I know - I've wasted plenty.
13. Make it fun - when my trainer scheduled me for an appointment one week before Christmas, I wore Grinch pajamas to my training. :)
14. Shortcuts only put you farther behind. There are no short cuts on a journey worth taking.
15. Spot reduction doesn't exist in our time space continuum.
16. Failure is simply the opportunity to begin again, this time more intelligently. Henry Ford.
17. Saying I don't have time is the same thing as saying I don't want to.
18. Change is a good thing - vary your routine on a regular basis.
19. Incorporate flexibility into your thinking and lose the all or nothing mentality.
20. If you fall off the wagon, get on the horse - quickly and ride for help!

I want to thank Spark Guy Chris, all my spark friends, my spark teams, my BFF, and my family. Everyone has played a role of some sort in helping me change my life. SparkPeople has helped make me into a new woman.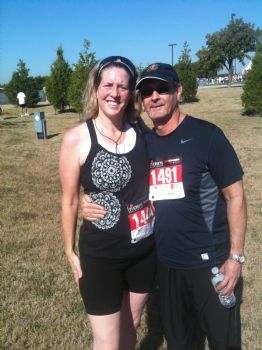 Shout out to my husband who puts up with me running all over the place!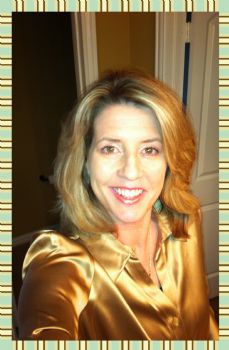 If you're reading this and want the solution...there is no magic pill. All of this came through Clean Eating, working out, and using Spark People day in and day out with an emphasis on not quitting when the going got tough. You can do this. One step at a time with all the tools and support on this site.

So where are you in your journey? Have you got a tip you can share with me? Has this story motivated you? If so, share it with others. Share your favorite workout song with me...I need some new ones for my playlist!






Monday, August 29, 2011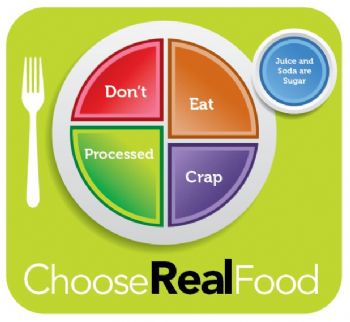 I saw this picture recently and it made me laugh out loud so I wanted to share it. It's smart to eat real food with real ingredients that you can pronounce and understand where they come from.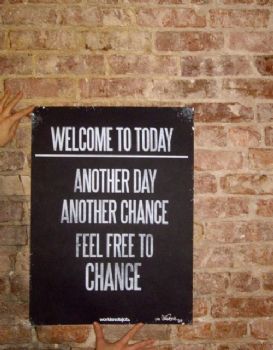 I stole this picture from YOOVIE's sparkpage. I love the "feel free to change" part. If something's not working for you, feel free to change it.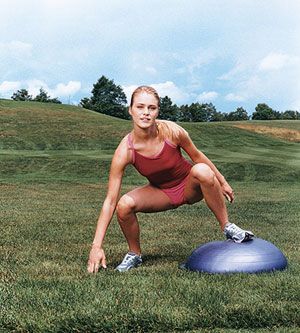 I saw this exercise and plan on trying it (slowly) so you start in this position, then stand on the ball, shift to the other side and squat touch. You could do this with no bosu ball, with a step, etc.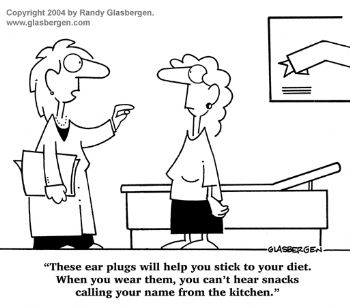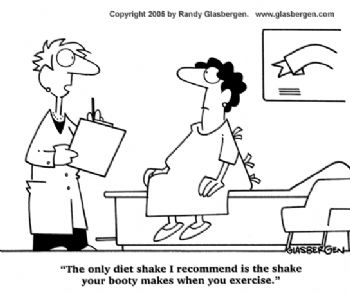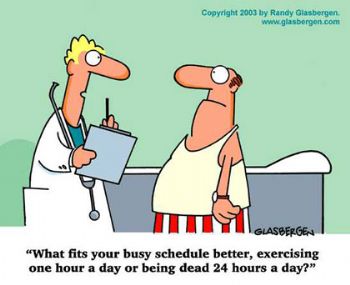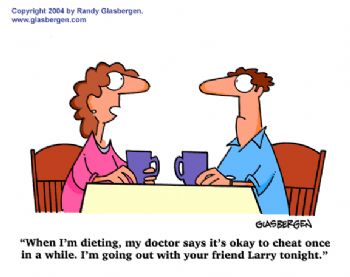 So just a few cartoons - but in the end all a good message - eat well, exercise, and make the changes today that you need to make to reach your healthy lifestyle goals.







Friday, August 26, 2011
I've missed a few days photo blogging my food. Can you tell it's been the first week of school? I can..my week has been somewhat psycho.

I tried a new breakfast...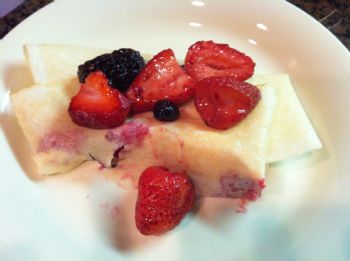 About every 4 or 5 months I pick up a package of crepes. They are 50 calories each. I filled one with 2 oz plain greek yogurt mixed with organic maple syrup. I sauteed 1/2 a banana with 1/2 cup frozen mixed berries and 1 tsp organic cane sugar. I put that in the crepe on top of the yogurt and rolled it up.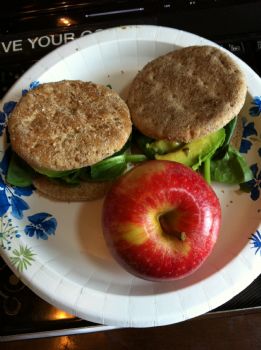 I found out that Orowheat now makes mini sandwich thins that are only 50 calories each. One day this week I got my son some Jalepeno cheeseburger sliders and I ate two myself with spinach and avocado - side small apple.




Jack and Heather asleep on my desk.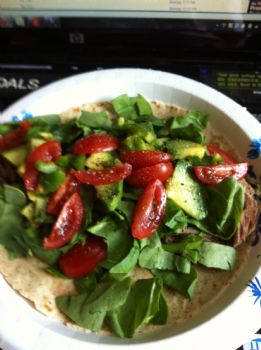 here is one of my tips for saving money and eating well. There is an upscale market near where I live and they have a small section of meat that is reduced for quick sale. I've figured out that they load that up in the mornings. I went there this week after dropping one of my daughters at school and it had just been stocked. I got a nice Tri Tip roast for 60% off. I cooked that with salt and pepper on low in the oven for several hours then shredded it. It showed up in the lunch pictured above on a whole wheat tortilla with spinach, avocado, tomatoes, and fresh jalepeno. It's making about six individual servings and that is less than $2 a piece. Do you have a grocery store around that does that? I also nabbed two packages of organic ground beef, and two packages of the sliders. The sliders ended up being .44 cents a piece.




A shout out to my Team Edward buddies on the Twilight Challenge team...can you see my Rob calendar on my screensaver? I continue to love Muscle Milk cake batter flavor. This shake had that mixed with water, 1/2 cup frozen peaches and raspberries and then topped with some lime zest - served in the margarita glass of course. The beads hanging on my lamp are from my Mardi Gras 5k this year.



some more of my Tri Tip for lunch today with Green Giant veggies - quick microwave of everything and a nice meal.

In case you didn't get a chance to read the article I wrote for The Daily Spark that came out last week, here is the link:

www.dailyspark.com/blog.asp?post=you
r_words_weights_or_wings

I also want to share a link to a blog called The Gracious Pantry:

www.thegraciouspantry.com/planning-h
ealthy-meals/
For those of you who have expressed a concern for the price of the Clean Eating magazine not fitting in your budget, here is a website that you can get plenty of tips and meal ideas from at no charge. She had a great article today about tips for making a conversion to cleaner eating.

I weighed in this morning and have that pesky 1 lb to lose post surgery. Not complaining because this has been a long hard road and to pretty much gain 7, lose 6, and maintain is a positive!

New this week...I went to Pilates on Monday for the first time in 4 months. Nice but very sore the next couple of days. I got farther along in PT yesterday - but very sore afterwards.

Okay sparkers...share something with me. What tips have you got?

PS 83 days till Bella shows Emmett who is the boss.





Tuesday, August 23, 2011

It's 86 days until Breaking Dawn and it's fall in love with freggies week in our speed challenge. Thanks MovieWoman for coming up with that challenge.

I'm back in the track my food and photo blog it mode so here goes:

Breakfast - no picture - 1 whole wheat english muffin, 1 egg, 1 slice turkey bacon, 1 slice sargento reduced fat spicy pepper jack cheese and one orange. Black coffee.
Around 344 calories.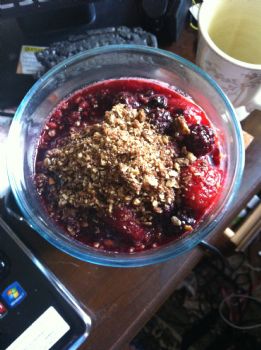 Mid-morning snack - 4oz plain greek yogurt, 1 cup frozen mixed berries, 1 tsp organic cane juice, 1 crushed nature valley dark chocolate and oats bar. 211 Calories. I put the berries, sugar, and 1 tsp of water in a bowl and microwaved it for 2 minutes.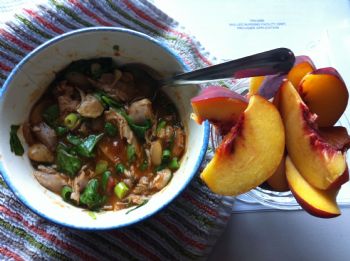 Lunch - still finishing up the Turkey and Butter Bean Cassoulet from Clean Eating that I made on Sunday. I added 2 T chopped scallion and 1/2 cup chopped spinach to it and finished with a peach. About 368 calories.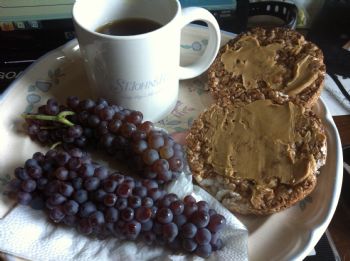 Afternoon snack - champagne grapes, Quaker chocolate Rice cakes with 1 T natural peanut butter. 275 calories.




Dinner - cantelope and my version of Mexican Salad - romaine, butter, and radicchio lettuces, cherry tomatoes, avocado, cilantro, red onion, beef, salsa, newman's own balsalmic vinagrette. For desert, I'm eating one of my blueberry and greek yogurt freeze pops that I blogged about yesterday. Roughly 330 calories.

So I've still got a couple hundred calories to go for later to get into my range. Lately my night snack has been 1% milk, special K strawberry cereal and 1/2 small banana.




Today is a rest day for me. I have been doing some random yoga stretches throughout the day and I'll be doing my PT exercises for my shoulder after this blog. Instead of a trip to the gym, I enjoyed a hot bath and some reading time.

So what is your favorite fruit or veggie and how do you like to fix it? Have you ever photo blogged your food?



First Page
1
2
3
4
5
6
7
8
9
10
11
12
13
14
15
16
17
18
19
20
21
22
23
24
25
26
27
28
29
30
31
32
33
34
35
36
37
38 39 40 41 42 43 44 45 46 47 48 49 50 51 52 53 54 55 56 57 58 59 60 61 62 63 64 65 66 67 68 69 70 71 72 73 74 75 76 77 78 79 80 81 82 83 84 85 86 87 88 89 90 91 92 93 94 95 96 97 98 99 100 101 102 103 104 105 106 107 108 109 110 111 112 113 114 115 116 117 118 119 120 121 122 123 Last Page

Get An Email Alert Each Time MICHCLEARY Posts