Wednesday, May 12, 2010
I will be working both jobs today and then tomorrow I will be satellite cook as well as cooking for the seniors. My day will begin at 5 am to work by six and then off at one thirty.. Then three thirty at church make coffee, prep salad. off at nine. Just too busy to get anything done. I just wish I could sit down a get myself a resume. I need one job with enough hours and all year.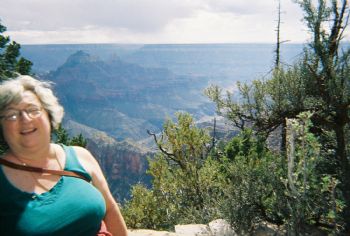 I do not have the energy to do more than just work. I am not walking as much or with such zest. I want to get back into the spirit but right now i cannot sleep at night and am catching up on it during the day.
When I am too sleepy I do not function well.

The picture is me at the Grand Canyon in 2007. I want to go there and make out resumes and walk in the beauty of God's creation.
But maybe I can settle for the beauty of creation here at the corner park.