| | |
| --- | --- |
| | MELINDAHOW's Recent Blog Entries |




Sunday, April 04, 2010
April is usually a fun month.
If you live in Iowa like I do- it means your weather is unpredictable and usually at the extreme sides. (At least in my opinion) This last week was Spring Break for my kids. My pre-schooler technically didn't have a break, but I kept him home for the week so we could spend it together as a family. (and so I could sleep in until 8am everyday, hehe :)

I have managed to keep up with my exercise routine for the most part. I had some interruptions in March, with the stomach flu, the dentist, a sinus infection and some rain that prohibited me from jogging with the baby and her runny nose. Aside from those obstacles, I've done okay. I thought Spring Break would be a hard one to work around with 4 little kids to have to tote around, but since the weather played nice, We spent hours everyday outside playing in the yard or at the park. Turns out 2 hours jumping on the trampoline with the kids, an hour playing tag in the back yard and 2 hours kicking a soccer ball with my 8 year old at the park is a good work out. My muscles hurt in places I didn't know I had muscles and this surprised me honestly. We did this everyday for at least 6 days, and the best part was that my kids thought this was the best spring break ever even though we stayed home. That's rewarding.

April is Autism Awareness month. Having two sons on the spectrum this is something very important to our family. We have just started a journal taking notes of their daily lives, highlighting meltdowns, possible reasons, eating habits, and sleeping habits along with daily activities and sensory triggers. This has been very eye opening and honestly puts more emphasis for me to stay healthy. I am their example and if I am fat and lazy and a poor eater- they will be too. I can't leave that legacy with them, they have enough to deal with.

So- HERE's to a Fantastic April with no more Tornado sirens and a lot more nice weathered days in the 70's perfect for running :)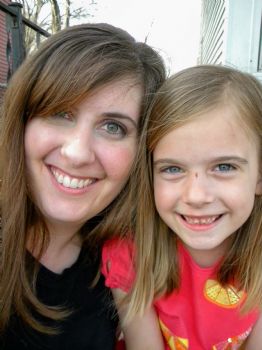 Friday, March 12, 2010
My last blog entry was 10 days ago. I was falling off the wagon and feeling a little defeated.

Today, not so much.

I am down a complete pant size. NO LONGER an average 14. WAHOO!!
I still wear one of my favorite pants because they are SOOO comfy and stylish, but when I find those babies in a size 12- The other ones are going to Goodwill!

I took the advice given to me 10 days ago and instead of trying to do everything at once with nutrition tracking, exercise tracking, calorie intake- and the rest of my crazy life. I started over. I exercise and I sort of watch what I eat. I'm not counting my calories, but I am still conscious of what is going in my mouth. I still have a treat now and then, but I think I am setting myself up for failure if I ban them all together. I have to have a splurge item when I'm feeling so great.

I have always told my friends and family that although I am 31, I feel like I am 25. Except when I would look in the mirror, I would totally see 35.
Today, I saw 28. I'm not where I want to be yet- but progress is being made!!

I have been running/jogging with my baby in the jogger stroller 3 X's a week rain or shine, for 3 miles, half up hill. I LOVE IT!!! I am more excited that the weather here isn't stuck at 30 degrees or below. It's 60 BABY!!! and March isn't even half over!

I have put a priority to the things going on in my life and I am proud to say that I am no longer on the back burner. I am Priority #1. It's all about me, myself and well, Me.

I still take care of my kids needs, but depending on how urgent the need is- I do what I want to do first. Life is good and my kids are happier too. Even better- other people are noticing. A lot of other people. I can even tell when someone wants to say something, but they just aren't sure how or what to say. They can see it- not necessarily the weight loss, but the change in perception of life, the happy attitude and the smile I carry on my face. Sometimes the unspoken compliment is the most rewarding.

Who is this woman? I Don't know, but I sure do like her a lot better.







Tuesday, March 02, 2010
So, we just finished our little mini vacay with the family and now I am struggling to eat right. It is so easy to just eat for no reason and to continue to splurge on one treat, then another and well, you get the idea. I'm here for a reason and it wasn't because my diet was full of fruits, vegi's and plenty of water.

The healthy wagon has left the station and I totally missed it. I need to get right back with it, but I am struggling to find the motivation to do so. I feel as though I have gained back everything I have lost. So frustrating.

Our little family getaway wasn't entirely just that, it was more of "find a new house, cause we're moving out of state" mini vacay and honestly more stressful than I really want.
Why don't diets and exercise go well with stress. Donuts and Soda go together so much easier and tend to be my comfort food. No wonder the equation works so well for me and so very much against me.

How can I become stronger against this weakness? I need to re-group and honestly, I thought of you first. If there is anyone that can pick me up right now - it's gonna be here. My brain is having trouble thinking of anything good because of sugar overload.

Packing a 3 story house with 4 little kids is already stressful, then throw in other real life drama and the desire to change your health life and it becomes even more than I think I am equipped for.

At least the weather here has warmed up to 40 degrees. That's practically tropical here in March- maybe this will help with the motivation part......




1 2 3 Last Page

Get An Email Alert Each Time MELINDAHOW Posts