| | |
| --- | --- |
| | MDOUGE's Recent Blog Entries |


Thursday, May 26, 2011
Just this last week I started exercising again. I couldn't for a really long time. I was just too sick. And even in the last two months, I've been recovering from major surgery. Back in August I went with three friends to go hiking. It was just going to be a simple day, nothing too complicated or intense. I got 1/2 a mile in before losing my lunch. I felt bad. My friends kind of lost a day of more fun. Two weeks later I was diagnosed with stage 4 cancer, so I understand why I was so sick.

My left arm still hasn't been working quite right since the surgery. It is hard to push, pull, or lift really anything like 4 pounds or more. But I have physical therapy starting this Friday, so hopefully they can help me with gaining strength there.

With all of my new goals, exercising regularly was definitely in the plan. I mapped out that the route from my front door, to the park, around three times, and back equals just under 2 miles. I started walking that. I don't want to do too much at first or to get too discouraged. But I've already begun adding sprints and a bit of jogging in the mix. Just the other day I managed to create the perfect analogy to my experience. There I was, walking along the path, doing all that I was supposed to do. All the sudden, blocking my path, was a bloody dead snake. It creeped me out. I stared at it, stopping. As soon as I did so, it started to move!! It was still alive! That made it all the worse. I decided to stop staring at it and to continue on my way, not letting it take me away from the task at hand. This can be applied so nicely to goals and accomplishment in life. Sometimes when we're doing the right thing and heading down a new path, things, the snake, crosses our path. What we need to do is identify what they are, but continue, keep going. Don't get distracted focusing on the snake and what the snake might present to us.

I have a new cell phone that can hold quite a bit of music on it, and so I use it as my MP3 player while out "Wogging" (as my friend put it.) Whether it is fast music or just a song I really like, having that to listen to gives me the motivation to keep on going. I believe it is important to find those little things, those "tricks" that can help you stay excited about the exercising you're doing. The more exciting something is, the more motivated you can be to do that. Walking/running isn't for everyone, so find that niche that you enjoy and polish it to keep it exciting.

The weather was a bit poor today, so I didn't go down to the park. Instead, I decided to pop in my Biggest Loser Cardio DVD.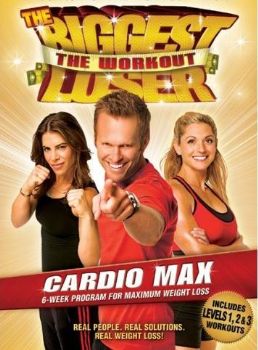 The idea of workout DVD's seemed stupid and silly to me at first. I had seen countless roommates use a plethora of different styles, yoga, dancing, etc. I got this one for Christmas a few years ago. It is perfect! I really like it. It takes you through a warm-up, cardio, and a cool down, all within 35 minutes. There is lots of stretching and yoga like stuff, but weights and a variety of exercises are used. Except for one 2 minute part, I can do all the poses and exercises easily and still work up a sweat. Everything is used.

As I was going through the motions earlier, I felt I was starting to wane, to lose a bit of focus. Then Bob had us do some boxing. Right in front of my face happened to be my Vlad ball.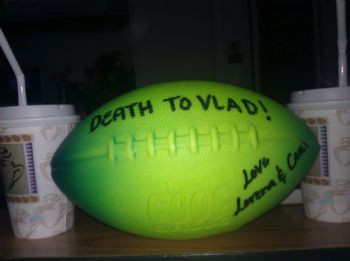 This ball my aunt Lorena and uncle Carl gave to me when I was in the hospital recovering from my cancer surgery. Vlad was the name I gave my tumor, and he just happened to be the size of a football (even bigger than the one here, because this isn't NFL regulation sized.) When I came back home after recovery, this ball was put up on my television set. I wanted to display it. It's a constant reminder to me of what I went through and just how blessed I am. SO here I was, losing spirit while exercising, and I saw my ball on top of the TV. Guess what I did? I pretended I was punching the friggin' lights out of Vlad. My boxing became intense and pointed. My juices were up and I was ready to fight. A few minutes later, we did kicking--to which I once again took aim at my target.

If you feel like your passion and drive for exercising is waning, find a motivational piece that can get you up and moving again, just like I have with my Vlad ball. For the future, I intend to take this with me to keep my spirits up. Never again will something like Vlad take away my freedom and months of my life, and to make sure of that, I am going to continue to fight and exercise.




Monday, May 23, 2011
I have had quite a doozy when it comes to my body and health during my life. To lay out a quick overview for you, I'll rattle off some facts. When I was born, nature was already against me. My DNA is not the finest of the crop. If this were the world of Gattaca, I'd be destined to scrub toilets the rest of my life. Both sides of my family have history of Diabetes. Poor eye sight and arthritis as well. I also have possible genetic coding to Alzheimer's, Factor 5 (blood clotting disease), Alcoholism, and Kidney Cancer.

Luckily, most of my life I've stayed healthy. The only downside would be I was overweight, and through the course of time, obese. It wasn't anything I'd really taken much thought to. I always assumed my fate. ALL my family was overweight. The definite minority was in the health range. But, given all the other things going on, even most of them aren't healthy, giving way to cigarettes and alcohol.

Things became a little clearer when I was 18 and my older sister died. She was obese and had Factor 5. Just one blood clot took her. If she had maintained a healthy weight, it might not have been so. So, I took action. I had my blood tested and to my relief found out I did not have Factor 5. No predisposition for clots.

Only time will tell if I get Diabetes or Alzheimer's, and my experience, observation and Faith have kept me from going down a path toward Alcoholism (and cigarettes!). What no one did expect was the Kidney Cancer. I had an aunt and an uncle who had it, but it wasn't really something I was aware of. That is, until September 2010, when I was diagnosed with Renal Cell Carcinoma (Kidney Cancer). At age 25, it came as quite a shock to everyone. Not just me and my family, but to doctors and medical personnel. I was a fairly healthy young woman! This usually happens to old men. Well, I went through treatments, chemo, shots, scans, urinalyses, blood tests, and eventually MAJOR surgery to eradicate the cancer. Read about Vlad and all his ugliness here: http://discovermallory.blogspot.com

It has now been a little over 2 months since I had my surgery. I've done a lot of thinking and reworking of my life. I mean, it wasn't bad before, but I need to hone in on some stuff to make myself even more awesome. I've started by coming to realize all of the amazing things that I enjoy doing. I swear, I have an idea for a new project/adventure multiple times a day. When will I ever find the time to accomplish them all? One thing is blogging. I have at least 3 blogs I would like to revamp and update. This blog being one of them. I have different ideas and themes for each blog.

For this blog, I have decided to share my ideas, experience and philosophy on diet, exercise and overall wellness. The plan is to include information received from my nutritionist, and other resources. I'll add any recipes I find that I enjoy or would like to try. I am going to start physical therapy soon and perhaps information I get from there will be of some use as well. I am a member of Spark People and they have TONS of great advice and information.

I understand that to live a happy and balanced life, I need to take care of my body, my health. In order to take care of others, I have to make sure I'm well taken care of. Just like they ask of you on airplanes, put the mask on yourself first before helping other passengers. :) Basic rules about physical health are summarized nicely in the For the Strength of Youth Pamphlet. Also, I read a great article, "The Sanctity of the Body," Ensign, Ensign 2005. It is very good in presenting the appropriate explanation for bodies and how they should be treated. While a good portion focuses more on morality, there is quite a bit mentioned how we should treat our bodies physically.

Our bodies are temples and should be treated as such. Sometimes forces outside of our walls influence our health and appearance. Natural disasters occur. We need to have the faith and the strength in place to rebuild, to sculpt into an appropriate representation of who we are and what we stand for.

I stand for health. I stand for free will. As I take on this new beginning, I will use all resources given to me to make sure cancer recurrence is not a viable option, to make sure diabetes in any type doesn't course through my veins, to make sure my mind and body are ready to fight at any given sign of Alzheimer's and Arthritis. This is my testament and I am ready and willing to move forward.

Come on my journey and reap from the knowledge I have gathered along the way.





Saturday, February 19, 2011
Since I have plenty of time to do whatever I want, I decided it would be perfect to really buckle down and plot out my diet. I have a plan in mind and think that it is really smart and am excited to implement it. I definitely encourage others to follow suit if they have the right desire and motivation to accept such a change in their own life.

My Plan

I'm first going to start off by making a list of foods I enjoy eating and that I like. Then, I will make a list of foods I don't really mind. The hard part comes when I research all the different recipes out there involved with these ingredients. I'm going to do the old fashioned thing of making note cards with recipes on them. On the cards I will include calorie info, fat content, and protein content. (Protein content because once I'm down to one Kidney, I'll need to watch that intake.) I will use colored sticky tabs which are assigned certain ingredients and place them on the cards. This way, when I need to cook a meal, I can say "Hey I have chicken and broccoli. What can I make?" Then all I have to do is find those two colors and choose a meal!

Another key part to this diet is management. A lot of people eat crap, like fast food, because it's so much less work. It's not necessarily about the time, although that plays a part. What will help is after I've made my grocery list and have arrived back home with it all, I'll take the time as I'm putting the groceries away to wash fruits and veggies, cut them up and store them in freshness keeping containers. I will also, if needed, sort any meat products in serving sizes and put them in the freezer in a more manageable fashion. I can already see this saving me tons of money because I won't be throwing away unused and gone bad food.

I've never really been one to binge or gorge on snacky type foods, but I think this plan will still help in that department. If I am planning well enough before going grocery shopping, and having my weekly meals plotted out, there really isn't any room or thought for the crap. Occasionally I'll probably get a craving for something, like ice cream, but that's ok. I do not see myself succeeding by completely and forever cutting out pleasurable foods. It won't work. Limiting them to an appropriate portion size and amount, in addition to exercise, it's fine! Being aware of how often and how much is the key point there.

I'm sure there are plenty of other things I can implement into my dietary plan, and I'll find those as I continue. I'm excited to just be conscious of what I'm eating in a more controlled, planned out way.

Any tips or suggestions you have, or anything you've done that has helped? leave a comment with your thoughts. :)





Wednesday, October 15, 2008
I've decided to make a list of the things people take for granted that I would like to someday enjoy the pleasure of taking for granted. Mini goals that I have with my weight loss is 1.) have a wide variety of clothing to choose from when shopping 2.) being able to be comfortable while using a normal sized and not handicapped stall in public restrooms 3.) not having my thighs rub together--shortening my pants' life 4.) be able to jump without getting winded super fast and having my knees hurt 5.) increasing the availability of suitable people to date and I'm sure there are others but those are it for now. Anyone wish to have these things?




Friday, July 25, 2008
So, I was doing great in Utah. I was swimming, taking walks and working out in the gym everyday. (All three things, every day!) However, since I've come home to Washington to do EFY and...work at Sears...it has been crap! I never exercise and my dieting is definitely not up to scratch at all. I tried this last week to only drink water and to pretty much cut out any sweets. It worked for a while and I'm sure I can continue to do it in spurts, but with other people buying my food and temptation on every side, it's nearly impossibly. Although I must say I am doing fairly well at drinking more water. While at EFY I also do pretty well at eating three balanced meals a day (with the exception of Wednesdays when I have four meals, pizza night). I have lots of motivation right now to lose the weight, and to gain self control (which I feel that is what this whole trial is for me). Things are so much easier when you have a partner to do it all with who won't let you give in and when there aren't people around saying what you're doing is stupid. Yes, not eating sugar or drinking things high sugar is really stupid... uh huh.

Have any tips or pointers?


1 2 Last Page

Get An Email Alert Each Time MDOUGE Posts