| | |
| --- | --- |
| | MCSNYDER1's Recent Blog Entries |



Tuesday, December 14, 2010
Before God ever created man, He provided all we need to maintain good health! I found this information to be absolutely fascinating!


A sliced carrot looks like the human eye. The pupil, iris, and radiating lines are seen in the carrot...and, YES, science shows carrots greatly enhance blood flow to and function of the eyes.



A tomato has four chambers and is red. The heart has four chambers and is red. Research shows tomatoes are loaded with lycopene and are indeed pure heart and blood food.



Grapes hang in a cluster that has the shape of the heart. Each grape looks like a blood cell. Research shows grapes are heart and blood vitalizing food.



A walnut looks like a little brain, a left and right hemisphere, upper cerebrums and lower cerebellums. Even the wrinkles or folds on the nut look like the neo-cortex. Walnuts help develop more than 3 dozen neuron-transmitters for brain function.



Kidney Beans actually heal and help maintain kidney function and yes, they look like human kidneys.



Celery, bok choy, and rhubarb look a little bit like bones. These foods specifically target bone strength. Bones are 23% sodium and these foods are 23% sodium. If you don't have enough sodium in your diet, the body pulls it from the bones, thus making them weak. These foods replenish the skeletal needs of the body.


Avocadoes, eggplant and pears target the health and function of the womb and cervix of the female --- they look just like these organs. Today's research shows that when a woman eats one avocado a week, it balances hormones, sheds unwanted birth weight, and prevents cervical cancers. And how profound is this? It takes exactly 9 months to grow an avocado from blossom to ripened fruit. There are over 14,000 photolytic chemical constituents of nutrition in each one of these foods (modern science has only studied and named about 141 of them).


Figs are full of seeds and hang in twos when they grow. Figs increase the mobility of male sperm as well as increase the number of sperm .



Sweet potatoes look like the pancreas and actually balance the glycemic index.


Olives assist the health and function of the ovaries . Guess what they look like?


Oranges, grapefruits, and other citrus fruits look just like the mammary glands of the female and actually assist the health of the breasts and the movement of lymph in and out of the breasts.



Onions look like the body's cells. Today's research shows onions help clear waste materials from all of the body's cells. They even produce tears which wash the epithelial layers of the eyes. Garlic, also helps eliminate waste materials and dangerous free radicals from the body

God took care of all our needs before He even created us! Thank you, God!






Friday, November 26, 2010
Let me begin by saying thank you! When my "Fairy Tale" blog received a Popular Blog Post Award , I was overwhelmed! I cannot express my gratitude strongly enough or tell you how deeply I feel that Spark is home to me--a place where I am accepted and loved just as I am--a place where I belong!

There have been a couple questions concerning the use of the term obese in my tale. My weight ticker says that I weighed 117 when I started Spark in June, 2010. That is not obese--even at my height of only 4'9.5", although it IS overweight. You see, the tale did not actually begin at 117 pounds!

And now………..

Fairy Tales Aren't Real--The Prequel

Let's go back in time just a bit, shall we? I'm sure you all remember the chubby little girl. Remember-- she grew into a fat teenager who grew into an obese woman? Oh, good! I thought you would remember!! If you have no idea what I am talking about, click on this link:

http://www.sparkpeople.com/mypage_public
_journal_individual.asp?blog_id=3797288

Now, what you don't know about is all the life that happened in between her being a short, chubby girl and becoming the beautiful woman she is today.

In my first tale, there was the mention of a nerdy, geeky guy who carried a briefcase instead of a backpack. Many of you have asked to know more about that part of the story!! The nerdy, geeky guy was tall--6' 1" tall to be exact! He swept the short, fat teenager off her feet while they were still in high school! The unlikely pair were married when they were only 19!

Life for the two was happy and busy! Degrees were earned. The short, fat wife was hired as a teacher while her tall husband ran the family business . A home was purchased, a baby was born, a bigger home was purchased. The three laughed and played and traveled!!


The short, overweight young woman in our story was happy! She took an extended leave from school to stay home and raise her son. She was living a real-life fairy tale!!! All the while, she ate and ate and ate and ate!

Her husband's job required that she entertain several times a year. She hired caterers who came to their home and served scrumptious appetizers, soups, main courses, and sinfully delicious desserts on silver platters! ( I told you she was living a fairy tale!) She ate and ate and ate and ate some more!

Our young heroine was getting so fat, she didn't want to take walks with her young son. It was hard for her to keep up. She would break out in a sweat when it was 65*! Her fat thighs would rub together!

This all made her very sad indeed, so she ate and ate and ate and ate some more. She thought that would make her feel better, but it didn't.

She had become obese! She weighed 160 pounds. Remember how petite she was? This is what she looked like in 1994: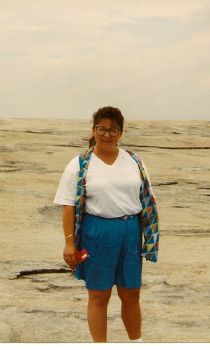 Then, as sometimes happens in fairly tales, a horrible tragedy struck! In 1995, the tall, handsome husband in our tale passed away very, very suddenly. The obese woman and her 13 year old son were left alone. She was so very, very sad that she did not eat. She ate so little over the next months that she lost almost half her body weight! Yes, it's true!

She weighed less than 90 pounds. She looked emaciated. Her family and friends were worried! She was taken to doctors, tests were run. She was literally dying of a broken heart. The doctors gave her medicines to make her feel better.

Slowly, but surely, she healed. Oh, it took years before she felt like her old self again. Feeling better brought back some very, very bad habits. She gained weight steadily until she found herself becoming bigger and bigger.

In 2007, the heroine of our story met another sweet, wonderful man who made her smile and laugh! The happier she became, the more weight she put on. It was for this man that she was searching the internet for ground beef recipes when, if you recall, she stumbled upon that strange land called Spark People!

This is what she looks like today, thanks to Spark: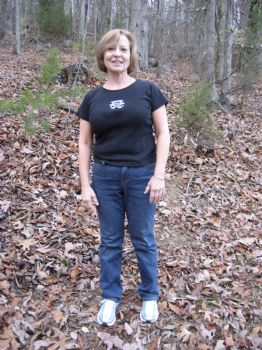 This beautiful, fit woman married the sweet, wonderful man whom she met in 2007! In fact, their 2nd anniversary is this New Year's Eve!! This hangs in her home today: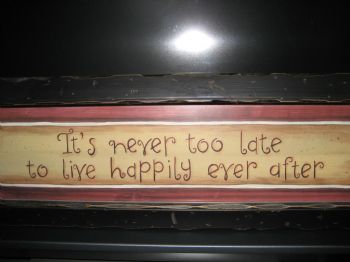 And now, you know the rest of the story!






Sunday, November 21, 2010
Once upon a time there was a chubby little girl who was the shortest person in her class. Everyone liked her. She was a great friend to others and had a terrific sense of humor.

Time passed. The little girl grew into a chubby, short teenager, as often happens with chubby little girls. Her childhood friends had grown into taller, slimmer young teenagers who lived lives of partying, dating, being homecoming queens, cheerleaders, and class officers.
Oh, the chubby, short teenager had her share of parties, dates, and accolades. But something was changing….

The short, chubby teenager seemed different somehow. She had fewer smiles, less funny stories, and instead of being in the center of activities with her "friends", she just stayed off to the side. Still part of the "popular crowd", she was invited to fewer parties, left out of after-game trips to the pizza parlor, went shopping less and less with her girl friends. Her phone rang less often. Friday and Saturday date nights still occurred, but more often she went out on only one of those nights…not both.

The short, chubby teenager was sad. Was something wrong with her? Did she smell funny? No..she sniffed to be sure. She smelled just fine! Did she have bad breath? Just to make sure, she used mouth-wash and carried gum or mints everywhere she went.

Time passed. The short, chubby teenager grew into a short, fat young woman. She graduated from college. She didn't live in the dorm like the other girls. She still lived at home so no one would have to see her in the shower.

She HAD found love. She married the nerdy, geeky guy who carried a briefcase instead of a backpack, but that's another tale for another time.

The short, fat woman continued to be the shortest person in her class..only this time, she was the teacher! Other teachers would fuss at her to "get back in class". They were embarrassed when they realized she wasn't a student. She got fatter and fatter.

She had a baby. More fat. She was a fabulous hostess. More fat. She felt ugly. She felt worthless. She was lonely. She was miserable. She was obese.

Time passed. In the spring of 2010, the short obese woman was doing an internet search for "ground beef" recipes when she accidentally stumbled upon this strange place from another world--Spark People!!!

What is this? There were more fat, obese, lonely, miserable people out there in the world? She was not alone? There were steps she could take to eat better, learn to exercise, and there were actually people who would help her along the way??

Well, this she had to see! She had to join this amazing, free site. So she did. At first, she spent hours and hours on her computer joining teams, making friends, setting goals. Oh, yes! This was the place to be! At Spark People everyone liked the short, unhappy, obese woman! She belonged here! She got fatter!

What??? She got fatter? But this was where she was supposed to magically turn into a tall, slim young woman!! Oh, that only happens in fairy tales, doesn't it? This was the real world. A world where there is no Fairy Godmother with a magic wand. A world where Prince Charming could not save her----not even from herself!

So, the short, unhappy, obese woman quit some of her teams. She made commitments--real commitments to just a couple teams. She set some real goals. Little ones. She bought a treadmill and actually used it for something other than a place to store stuff that didn't have anywhere else to go! She stocked her kitchen with good, clean, healthy food! She read articles! Boy, did she read articles!!! She talked to other people on Spark who were just like her! She learned about calories, fat, carbs, protein, fiber, and more! She walked, and walked. She even ran, a little, but mostly she walked! She did yoga, strength training, she stretched, she worked out with Coach Nicole's dvds!

She smiled more and more and more and more! She quickly moved from obese to overweight to normal weight! Remember, she is very petite---so she could do that with as little as 5 pounds. Remember, though, she can move back to overweight and obese just as quickly! She is not only petite---she is "petite-petite"!! Yes, all you normal-height folks--that is a REAL category!!!

Well, the short, chubby girl who had grown into a short, chubby teenager, who grew into a fat, overweight, obese adult woke up one Sunday morning, hopped on the scale, and there it was! She had FINALLY met her goal weight!!! (It was tough the last few weeks, but she eliminated all processed foods, which eliminated a ton of salt!)

The short, healthy, energetic, active woman is pleased with herself! She is smiling at this very second! She knows that maintaining this new weight will require a lot of hard work and a lifelong commitment.

She is not afraid because she is not alone. She has an entire world out there..this land called Spark People!!!! She will continue to set goals, stay active on her teams, and be a great friend to others.

Thank you, Chris Downie, for changing the lives of so many people! Thank you, MIH, for believing in me, inspiring me, and challenging me! I must end my story now. The outside beckons me to get out and walk!!!





Monday, October 18, 2010

I love Fall!
The sight of leaves changing colors, squirrels "squirreling" away their supply of food for the winter, displays of pumpkins, cornstalks, and gourds in yards!

Yesterday, dear hubby and I slipped on our leathers and hopped on the motorcycle for a gorgeous drive to the Smoky Mountains. We are very blessed to live in an area called "The Land Between the Lakes" and is also home to the Great Smoky Mountains! Too often, we don't take the time to really appreciate what is literally in both our front and back doors!

Within 5 minutes of the cool air in my face, I felt like a new person! My journey on SparkPeople is very young, only 4 months, but I have already seen a remarkable change in my body. Not only do my clothes fit better, but I can breathe!!!!! So, yesterday, my soul took a long, cleansing breath!!! I just want to share some of what I saw with you!!

Enjoy!


A waterfall caused by a man-made dam.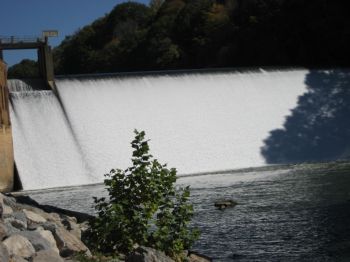 I love getting up high and seeing all the farmland!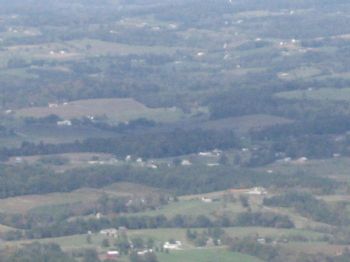 They're called the "Smokies" for a reason!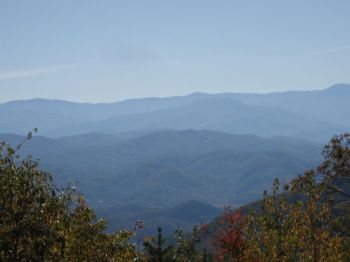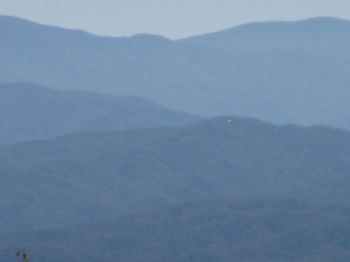 Thursday, October 07, 2010
A huge HI!!!! to all my SparkFriends!

Seventeen Magazine has posted this remarkable Body Peace Treaty. It is aimed at young girls in an effort to build self-esteem concerning their bodies. I believe we could all use these reminders, no matter what our age or gender!

I VOW TO:

**Remember that the sun will still rise tomorrow even if I had one too many slices of pizza or an extra scoop of ice cream tonight.
**Never blame my body for the bad day I'm having.
**Stop joining in when my friends compare and trash their own bodies.
**Never allow a dirty look from someone else to influence how I feel about my appearance.
**Quit judging a person solely by how his or her body looks — even if it seems harmless — because I'd never want anyone to do that to me.
**Notice all the amazing things my body is doing for me every moment I walk, talk, think, breathe...
**Quiet that negative little voice in my head when it starts to say mean things about my body that I'd never tolerate anyone else saying about me.
**Remind myself that what you see isn't always what you get on TV and in ads — it takes a lot of airbrushing, dieting, money, and work to look like that.
**Remember that even the girl who I'd swap bodies with in a minute has something about her looks that she hates.
**Respect my body by feeding it well, working up a sweat when it needs it, and knowing when to give it a break.
**Realize that the mirror can reflect only what's on the surface of me, not who I am inside.
**Know that I'm already beautiful just the way I am.

Go to this link to add your signature to the Treaty!

http://www.seventeen.com/health/tips/bod
y-peace-pledge

Have a great day!!!
M.



1 2 3 4 Last Page

Get An Email Alert Each Time MCSNYDER1 Posts