| | |
| --- | --- |
| | MASRITE's Recent Blog Entries |


Friday, September 09, 2011
Ok, this is my third time trying to type this blog. Is someone trying to tell me something? I've joined another challenge and wanted to share my starting line:


Find your official starting line

Crunches completed in 1 minute: 50
Push ups completed in 1 minute: 36
How long (up to one minute) can you hold a plank? 1 minute
Squats completed in 1 minute: 50
Lunges completed in 1 minute: 14 alternating each leg

2. What equipment will you be using in this challenge?
A. Free weights and dumbbells at home & hopefully at gym
B. Gym equipment when I can get there
C. Own body weight

3. What dumbbells weight/resistance level are you starting at?
Anywhere from 5 - 50 lbs depending on the exercise/machine

4. Why do you feel the burning desire to grow stronger, to change shape, to prove yourself?
To prove to myself that even though I'm turning 45 in January, I can do anything I put my mind to. And, it doesn't hurt when people are shocked when they find out how old I really am and that I have kids that old (and that I have 4!!)

5. Create a tracking space
I have a hand made calendar page that I track everything on, plus, I use the SP tracker to keep track of all the exercises I do.

6. Your dreaded before pictures
I took them on my own (at 5:15am). Ugh, that was awful. I did try to upload them into our team photos. I got one up and I couldn't get the others. It kept on saying error. I'll try again. *Edit: I've uploaded the pics. Please check them out on my page. Can't do it here. Keeps on freezing up my blogs.

7. Starting line measurements (again, I did this by myself at 5:15am. Did my best!)

Bust 34 1/2"
Chest 29"
Waist 27 1/2"
Hips 35 1/2"
Thigh 21 1/2" Right
21 1/4" Left
Calf 14" Right
13 1/2" Left
Upper arm 10 1/2" both
Forearm 9 1/2" both
Neck 12 1/2"
Starting weight: 121 lbs.

Now that I've done this blog, I'm hoping to get back into it and share. I love sharing!!!

Hope you all have a wonderful weekend.

Until next time-
~Chana~





Wednesday, July 13, 2011
Woke up early again, but decided to read in bed. Wasn't ready to get up just yet!! Took a shower and got ready to leave for Sedona. We took a beautiful ride. On our way, we found a hike that my DH had read about. So, out we went. It was a gorgeous 6 mile hike (3 hour round trip) along the stream. At one point, my son decided to go across the stream to take a picture and my princess decided to follow. Well, let's just say that it was a bit slippery and she fell in. It would have been ok, but she tried to get up and slipped some more. I thought she was going to go sliding down the stream. She caught herself and all was well. I did think she had hit her head, but it was the camelback that I heard. Thank goodness. That would not have been fun.

After our hike, we got back in the car and made our way into town. It was so beautiful. As we're driving, the forest turns into the Redwoods. How stunning!! We were all so hungry that we decided on some Mexican food. I had a Carne Asada salad with no cheese or tortilla strips and dressing on the side. I did treat myself to some nachos, but not many. Let me just say that I didn't eat breakfast. Not a good idea when you're taking a 3 hour hike. Won't be doing that again. After lunch, we went across the street to the Fudge store. Oh how cruel! I did get a sample of the peanut butter fudge. Heaven!! Walked around a bit, bought the princess the cutest t-shirt and then went back home. Had to stop off at the bike shop because I needed a camelback. Thought we brought me one, but didn't. Now, I have a nice, new one (yellow, my favorite color!).

Relaxed a bit and then, went across the street to watch an All Star Little League baseball game. Just can't stay away from the sports. Came back home and made dinner. Then, we all played a game of Balderdash. That is one fun game. Now, I'm going to relax and figure out what's on tap for tomorrow.

Until then-
~Chana~





Tuesday, July 12, 2011
Yesterday, we got in the car at 6:00 and we were off to Flagstaff, Arizona. My DH drove the first leg and after a pit stop, I drove the rest. Well, after lunch, he drove my sons car, so my DH only got a little break. Oh well!! We got to the house at about 1:30ish. It is gorgeous. Haven't taken pictures yes, but I will do soon and post. We emptied out the cars (ok, the kids did that!) and then, DH and I went shopping. Wasn't as bad as last year since we have less people. My oldest stayed home to make money for his fraternity dues & 2 friends didn't come this year. A little quieter. Dinner was whatever. Tired and didn't want to cook. The kids had pizza and I had some salads.

This morning, I was up early as usual. Out of bed by 6:00. What the heck? It's vacation. Oh well. I got my workout clothes and was out the door to do some exploring. I did a run/walk (trying to get used to the elevation) for 50 mins. Came home, got on the computer for a bit, hopped into the shower and then, we all went out for breakfast. I was so proud of myself: 3 egg white omelet with spinach, mushrooms and onions. No oil, butter. I had a bite of pancake and that was it. Did some shopping and came back to house. DH, my little princess and I got on our bikes and went riding for a bit. We were out for about 30 minutes, so, I got to add that to my tracker. Wasn't much, but it was something. DH and I went for drive to find me places to ride my bike. Found a few routes, so I'm looking forward to that. After we got back, we were all hungry. Never ate lunch. So, we went to have LINER (lunch/dinner). Went to a Mexican place which was very good. I had a chicken salad which was really good. A few tortilla chips, but nothing bad.

Now, I'm home and relaxing. Going to sit on the couch and read. Not sure what's on tap for tomorrow, but, I'm hoping hiking is involved.

Until then-
~Chana~

Edit here: totally forgot to mention that I got on the scale this morning (I weigh in every Tuesday morning) and I'm down .2. I know, it's not much, but, it was a bad weekend, so I'm good with that!





Saturday, July 02, 2011
For my new challenge, I'm supposed to take before pictures and measurements. I don't have to post them, but, I figured, why not? Oy vay!! I was going to wear workout clothes, but my daughter (who is 8 and taking my pics for me) said that I should just wear my bikini. So, here are the pics: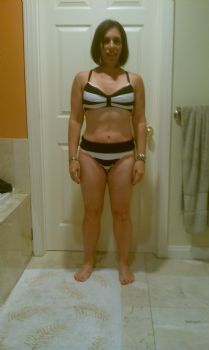 Front view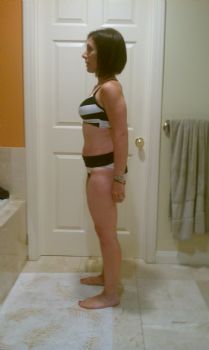 Side view. Yup, that's a stomach of birthing 4 children! They each contributed.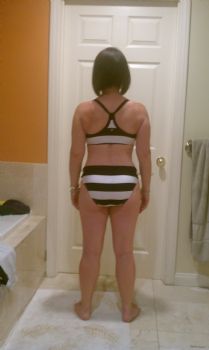 Back view

My daughter did a very good job!!

I took my measurements by myself, so I don't know how accurate it is. But something then nothing, right?

Biceps: 11 1/2 inches
Bust: 34 1/2 inches
Thigh: 21 inches
High waist: 28 inches
Low waist: 30 1/2 inches
Hips: 34 1/2 inches

I think I got it all. Am I missing anything? How bad is this? I don't even know. I don't know if I want to know. I'm hoping to see results by the end of this challenge. Wish me luck!!

Until next time-
~Chana~





Saturday, July 02, 2011
Hey everyone. I know, it's been too long. Hopefully, now that summer is here and school is over, I'll have more time, especially while on vacation. I joined a new challenge and I had to fill out the entry form. Here it is:

DIY Challenge Entry Form

Challenge Name: Muffin Top Be Gone

My Starting Weight: 121.4

Four Other things I will be measuring during this challenge and their current stats:
1. BMI 27.6%
2. Improving my running mile time/ mileage: 12 min mile/ up to 3miles
3. Blogging at least 3 times a week
4. Eating on plan every day so the number on the scales go down. Want to be under 120 lbs!!



If I am going to be 100% honest with myself, the reason I am doing this challenge is because:
I am tired of feeling fat and bloated. I want my old body back and I am so ready to do it!

I feel like the reason that I have not been progressing as well as I hoped I would be is because:
I've been cheating! Therem I said it. Exercise is not my problem, it's the eating that gets me. The grazing and picking.

this time, I commit to finishing my challenge because I know that:
I have done it before and I can it again. Also, I don't want to disappoint all my team mates doing this challenge with me!

I'm scared of:
Failing and being disappointed with myself again.

I want to:
Feel great in my own body again!

But, I have faith in:
Myself!! I CAN DO THIS!!!

And THIS TIME, I will NOT quit because THIS TIME:
I want it really bad!!

My top five non-health related motivations right now are:
1. My family (4 kids and husband)
2. Feel great in my bikini
3. Have my husband look at me and be proud.
4. Train for an upcoming half marathon
5. Flatter stomach (without a tummy tuck! Want one so badly)

The best way to motivate me is to:
Check up on me and tell me I'm doing great.

The best way I can motivate myself is to:
Keep on exercising, eating healthy and enjoying it every step of the way

My name is ~CHANA~ and I will ~get rid of this baby weight and love my body again~! (Shhh, don't tell anyone, my baby is 8 years old!!)

I also need to DECLARE MY INDEPENDENCE!!!!

Ok, so here it goes:




I'm declaring my independence from:
Saying I can't run a half marathon, my knees hurt! Yeah, I can do this. I'll start out slow and I
work my way up to 13 miles!

Saying, oh, I can eat that, just this once! Nope, you don't need those mini chocolate chips or small slice of banana cake. Every small bite or handful of whatever add up!

Overeating on vacation! Yeah, it's vacation, but not from eating. With all the hiking, biking, walking, etc we'll be doing, why sabotage myself. I'm going to enjoy being with my family, not eating!!

I'm tired of feeling disgusted with my bloated body. I'm tired of looking in the mirror and not liking what I see. This is it. I am DECLARING MY INDEPENDENCE!!!!









First Page
1
2
3
4
5
6
7 8 9 10 11 12 13 14 15 16 17 18 19 20 21 22 Last Page

Get An Email Alert Each Time MASRITE Posts