| | |
| --- | --- |
| | MARTINIGAL413's Recent Blog Entries |


Wednesday, October 23, 2013
I was shocked and moved to tears when I found out my blog yesterday had been voted a "Popular Blog Post"! Never had I received such an outpouring of support from people who do not even know me. But THAT is the exact reason I joined this site; and THAT is the reason it is so successful – the group of people found on SparkPeople is such an awesome support network. Even when I have fallen down and clearly failed at my own goals, I am surrounded by amazing people willing to cheer me on as I stand back up again. So to anyone who happens by my blog today – THANK YOU! Every time you stop by someone's blog and make your presence known, those people – whether they tell you or not – they are thankful you took a moment to listen. So – from the bottom of my heart: Thank you for listening to a stranger's thoughts and letting me know someone "out there" is listening, cheering me on, and hoping for the best. After all, we're all in this together! Together – we can do this!








Tuesday, October 22, 2013
It's odd to think that when I sat down to create my goals this morning, I wrote down "lose 10 pounds". But when I actually did the math, I need to lose 18 pounds to hit my goal weight. It's so strange to me how we lie to ourselves. And we do it so often! From the few crackers you neglect to track … to the martini that "will be OK" to the "Oh, it's ok – I'll just workout tomorrow" … it's all me just lying to myself assuming that the now 18 pounds I managed to find and carry around with me will just magically fall off as though they just magically appeared one day. I think part of the denial is that I've always been somewhat successful in accomplishing my goals – and lucky – and skinny. So this extra 18 pounds just seems like a silly problem that could easily go away if I really put my mind to it. (Ok – so that last part's truth – but the lie is that it's a "silly" problem and that it's "easy".) But the whole truth of the matter is- it's hard to lose these 18 pounds! I've been at least half-heartedly trying for the last few years … and ironically, I've only managed to FIND more pounds instead of losing them.

In spite of the fact I've "recommitted" to this goal weight several times in the past 3 years or so, I'm going to do it again. (What's that proverb? Fall down 7 times, get up 8?) I've lost count at what effort we're at, now. This time, I'm doing it to be a role model to the people I care about most: my husband, my stepson, and my best friend. Perhaps doing it just for me isn't enough for me anymore. Perhaps I need the external motivation to be "all in". Those three people have expressed their desire to become healthier – but none of them have truly made steps to get there. I'll take the first step for them. I hope they'll follow me.









Monday, June 10, 2013
I'm a huge Pinterest fan … I love browsing through the thousands of ideas. And I love trying the ideas as I can. Not all of them are winners, but I've had enough successes that I'm willing to keep exploring. Today's big success is cinnamon apple infused water. I honestly didn't have high hopes. But let me tell you folks, I hardly ever get all my water into me each day, and once I tasted this combo, I had downed nearly 32 oz in about 45 minutes. NOT NORMAL for me at all.

Here's what I did: One Apple, two cinnamon sticks, and two 32 oz. water bottles. I cut my apple in half and then sliced each half as thinly as I could. I then shoved in one half the apple and a cinnamon stick into each water bottle. Chill for a bit (one hour is ideal). Drink up!! Simply delicious. I have no doubt I'll be drinking all of my water PLUS more today!

PS: You are supposed to be able to reuse the apple and cinnamon stick about 3 times before they stop releasing enough flavor to be effective. I'll be testing that very soon! The "Spa Water" sites also claim this mix is supposed to boost metabolism and therefore promote weight loss. Regardless of that last claim, the increased water consumption is enough to make me call this Pinterest find a HUGE winner!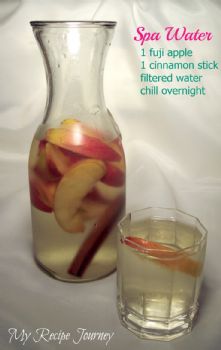 Tuesday, April 30, 2013
I'm going to brag here for a minute because I don't have anywhere else to do this. Not only that, I fear that by bragging about my accomplishments over the last couple days will pale in comparison to others. So instead of feeling good about myself, I'll get comments like "Sounds like my day everyday!" But the truth is, I'm rocking out the productivity at home lately, and I want to brag about it for a minute – so brag, I shall.

Yesterday, after putting in a full 9+ hours at work without an actual lunch break (ate at my desk), I then drove to the pharmacy to pick up scripts for my sick hubby. Then I got home around 6:45, and immediately started cooking (after getting the meds into said sick hubby). While cooking, I managed to put away the dishes and start a new load, clean the counter tops, clean the table, set the table and get dinner on the table. Once we'd eaten dinner, I immediately started cooking TONIGHT's dinner so it would be ready to finish up in the oven when I got home tonight. While that was baking, I put away the newly cleaned dishes and started another new load (I'd been a load of dishes behind all weekend…), cleaned the counters, cleaned the table, and scanned facebook for anything interesting. As soon as dinner was out of the oven (after 20 minutes), I grabbed the dog and we ran to the pet store to pick up dog food, since the poor baby was completely out. When I got home from that, I fed the dog and then ran outside to mow half the front yard – at 9 PM, in knee high heeled boots and a skirt (I have an old fashioned man-powered mower – so it didn't disturb the neighbors). When I finished the one side of the lawn (I would have done more, but it was too dark to see), I came inside to put away tonight's dinner, start a load of laundry, and jump in the shower. After the shower, I straightened up the bathroom, got myself some Emergen-C to drink, fed the cats and freshened their water, and then went into the basement to check on my napping husband. I woke him up, had him take more pills, and then sent him to bed. I finally laid down at about 11 PM.

This morning I got up at 6 AM, let the dog out, fed the dog, put away the clean load of dishes, put the few extra dishes into the now empty dishwasher (finally caught up!), got a bowl of cereal, made coffee, checked to see where the county clerk's office was, got ready for work, packed my lunch, hung up the load of laundry I'd started last night, started a new load of laundry, woke up my husband to get him to take his medicine, drove to the county clerk's office to renew my car tags, and made it back to work with a few minutes to spare.

To the women/men who do this kind of ridiculous rat race every day, I applaud you! Me, on the other hand, I'm about ready to collapse!







Monday, April 22, 2013
There's a great feeling to getting sleep. It is amazing. If you don't get enough, I highly recommend figuring out ways to get it. I actually got some quality sleep this weekend, and I feel like it's making all the difference in my attitude today.

Today, I feel powerful! It is awesome, and I hope it sticks.

Here's my plan for the week in trying to regain my healthiness:
* Morning: 2 glasses of water w/ACV and lemon juice
* Driving to work: Coffee (not gonna give that up)
* Mid-morning: Greek yogurt snack with added probiotics
* Lunch with multi-vitamin
* After work: 2 glasses of water with tart cherry juice
* Before bed: Melatonin and probiotics

I'm going to try this for 2 weeks and see how I feel. I'm even adding it to my calendar so I can keep track. I figure as long as I combine it with exercise, healthy food, and 4 cups of water throughout the day, I should feel

!

PS: I'm "this close" to that new trophy .... so excited!




1 2 3 4 5 6 7 8 9 10 11 12 13 14 15 16 17 18 19 20 21 22 23 24 25 26 27 28 29 30 31 32 33 34 35 36 37 38 39 40 41 42 43 44 45 46 47 48 49 50 51 52 53 54 55 56 57 Last Page

Get An Email Alert Each Time MARTINIGAL413 Posts