| | |
| --- | --- |
| | MARMAERT's Recent Blog Entries |




Saturday, August 02, 2014
We had to wake up early (again - is this really a vacation?) and ate very well at the hotel's breakfast buffet. since we don't know if or when our next meal will happen, we have learned to get what we can, when we can!
Our hostess for Anchorage met us in the lobby and told us she was at our disposal until 12 noon. So we got into her car and drove around Anchorage.
Since DH is a volunteer firefighter, he had to stop at the firehouse to exchange patches. We had a nice visit with the firemen and they took DH on a tour of the inside of the firehouse, where they live for 2 days at a time. Then she dropped us off at the Anchorage Museum and we toured that for awhile.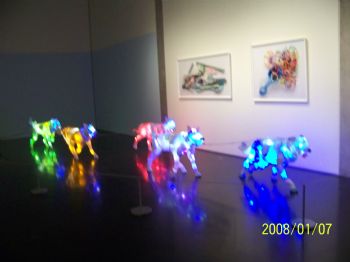 There were many interactive stops, but I got in trouble for taking flash photos. It was difficult to get my camera NOT to flash!
We left the Useum (Gallagher would know this) and began walking...and walking. We went to 2nd Avenue and hit all the stores there. Many tourist-y shops, but a few had Real Alaskan Goods. By then it was 2 PM and we were hungry, so we stopped at a place where there was a children's play happening in the park and we got Reindeer sausages from a cart. They were very good, kind of like Hillshire Farms smoked beef sausages. Then we found a homemade ice cream shop and had a wonderful time talking with the very Russian proprieters. They let us sample a couple of flavors and we selected Alaskan blueberry cream, raspberry chocolate, Hawaiian coconut, and fireweed honey. Very excellent ice cream and DH is a conissiuer of ice cream and he was thrilled!
We continued walking, refreshed and ready for the teeny, tiny log cabin Visitor's Center.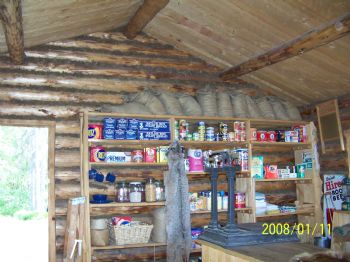 Then we kept going to the Coastal Trail and walked about a mile down that. By this time, we were pooped and our feet were on fire, so we trudged back the 3 miles to our hotel and crashed for a couple of hours.
Dinnertime and we were debating on 2 restaurants. I wanted to go to Humpy's just because of the name, but someone else wanted to go to the Glacier Beer House, so I gave in. Well, am I glad I lost! Best. root. beer. ever! They brew their own root beer with real sasparilla and vanilla - and their own cream soda, too. And, oh yeah, they craft and brew 8 kinds of beer. We had a great meal in the bar area and for a Monday, it was packed! Nice conversation with 3 Australians and good food and drink. Then we wandered around to gawk at the local homes. (I don't know what happened to our pics of Anchorage - they seem to have disappeared! sorry...)
Back to our hotel to bed for another early day. The van picks us up at 6:45AM to head to the train station and Denali Park next!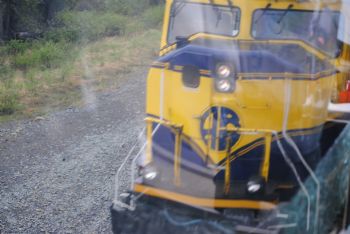 BTW - Dh's phone logged our miles today and we walked 14.67 miles in Anchorage!






Saturday, August 02, 2014
Get ready quickly - race through breakfast - run back to the cabin to pack the last few things - race off the ship by 7:30AM. We are in Seward today!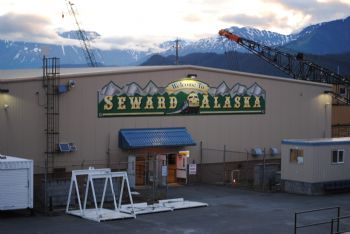 Our luggage will go before us to the Hospitality Center in Anchorage, but first we are taking our final cruise excursion on the Kenai Fjords Tour.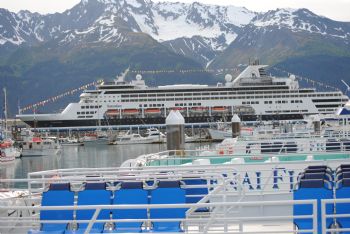 I read about this in my e-book on the Alaska Traveler magazine articles and thought it sounded interesting. So off we went in a much smaller boat
We went all the way out to the Prince William Sound and it got pretty rough on the open sea. Lucky I had my Sea-Bands on! No problems with nausea.
What beautiful country! I know - I keep saying this - but everywhere we go is the unmistakable stamp of the Creator on every mountain and craggy inlet here.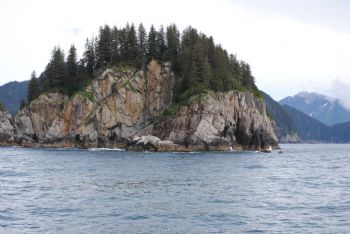 there were plenty of fat, lazy sea lion hanging on each rock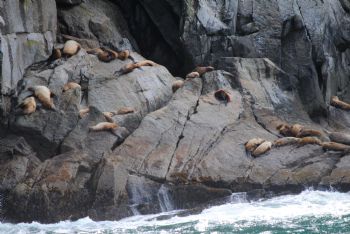 and so many different kinds of birds!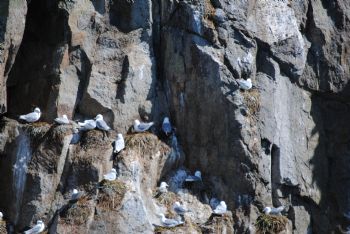 There are caves and coves all over and the mountains drop right into the water.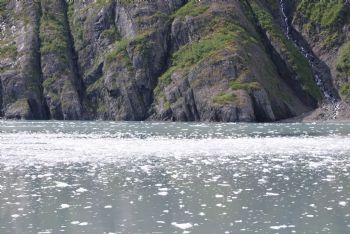 There were a couple of whales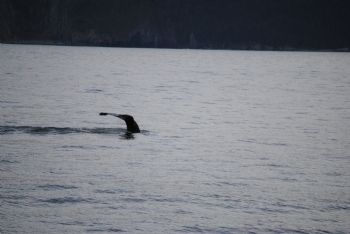 and some really adorable, show-off sea otters.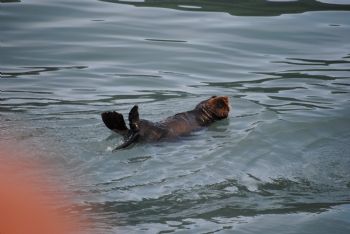 Then lunch - a chicken salad wrap, a small bag of baby carrots, and water. Well, I got one bite of the wrap and started to work on a carrot and a piece of the carrot got lodged in my windpipe and the choking began. A lot of coughing and phlegm (sorry) and finally race to the outside bathroom and upchucked it all. Very embarrassing! Never had that happen before. So that was the end of lunch for me. Our friends from the cruise actually moved outside! But they came back later to check if all was well. Well enough to eat a freshly baked chocolate chip cookie for sure!
Our boat headed back to Seward and we boarded a bus for the ride to Anchorage - about 3 hours. Many jokes about "the 3-hour tour"! I guess the cruise line didn't know how to handle tourists who weren't leaving Alaska, but weren't traveling with their own Land-Tour. They had our luggage at the Center, but no transportation to the hotel, about 4 miles away. So the nice lady bus driver said the bus would be passing the hotel and she would drop us off. Thank you, nice lady!
So we were dropped off, hungry and tired - especially tired - and hauled our luggage in and got to our room. Very nice with 2 flat screen TV's, a living area, two beds and a much bigger bathroom than on the cruise!
We found a Benihana Steakhouse right in front of our hotel and we went there for dinner. Okay food, but terrible service! The woman right next to us received all her courses and accompaniments, but we got only half of the stuff that came with the meal. We gave up asking for things and left no tip. By then, we were too tired to care (it was 9:30PM by then) and we left for our hotel and comfy beds!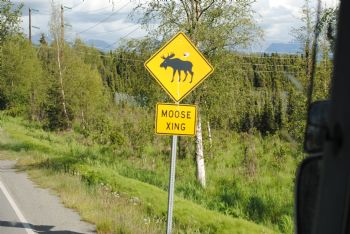 Sunday, July 27, 2014
"AT SEA" to say the least, is exactly how we felt today. It is cold, rainy, windy, and, once again, choppy. No pictures of this day, either. But still, for me it was a good day. Why? Because I got to do things on board the ship that I didn't normally have time for - shopping, people-watching, and reading. I had my Sea-Bands on again and they really helped. So today was purchasing a few item for gifts, for scrapbooking this trip, and for myself. Got a really nice sweatshirt and a packet of Alaska scrapping materials - on sale!
Then we moved to the library and computer room. Because this was our last full day on the cruise, internet was on sale - a measly $4.50 for 15 minutes! Forget it! Wireless it is again today. I did read a good mystery and indulged in a rich chocolate drink at the cafe in the library and watched the ocean go by out the windows. Then we went for a cooking demonstration and I got the recipe for some really good seared scallops that we had eaten on our first day. We decided to host a party for some of our cruise mates and we found out that one couple was going to the fancy restaurant when we were, so we made a date to eat together after the drinks party. We got dressed nicely again and headed to the bar for the party. Lots of fun with 6 others and the trivia game. Then off to dinner and lots of good conversation. Then off to our cabin to pack and have the suitcasses and bags ready outside our door for the stewards to take off the ship and whisk them away for the land portion of the trip. That begins at 5:30AM tomorrow! Better get some shut-eye! Good night!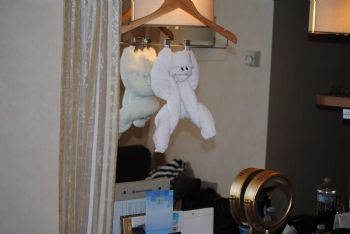 1 2 3 4 5 6 7 8 9 10 11 Last Page

Get An Email Alert Each Time MARMAERT Posts