| | |
| --- | --- |
| | MANLEYSANDY's Recent Blog Entries |




Thursday, March 31, 2011
I have this strange habit of seeing, hearing or feeling something in the present and then connecting it to a bad experience in my past. I once read in a book about self esteem that people with low self esteem do that because they do not value their worth and only focus on the negative to keep themselves in that negative place....Kind of makes sense doesn't it?

That really got me thinking about where I spend my time. I once heard or read somewhere that most people spend time thinking about the past or the future but never really spend time in the present, today, right now, right in this moment. Most of us can appreciate the "when I lose the weight".... I can do lots of things, or my life will be so much better. Sound familiar to anyone? Spending time in the future, because it will be so much better when....

I have made many attempts at losing weight, and have lost it, only to gain it right back. So, when I started this journey AGAIN I asked myself an important question, "Where you happy when you were thinner"? After some honest reflection, I said to myself, no, I was not. Now sure, it has great benefits, but in the end, when the triggers to my unhappiness occurred, I was thinner but still unhappy, and still unable to cope with how to change. I wanted what I thought "thinner" would bring, but it never came. It never came because I was spending time in the past....

I was spending time thinking about who other people wanted me to be.... Spending time reeling over what other people said I wasn't... Spending time focusing on what I had not done.... Spending time trying to live up to someone's expectations when I would never reach them no matter how hard I tried.... Spending time focusing on the mistakes I made and how I would never be good enough because of them. Spending time in unhappiness. I feed that unhappiness with whatever I could get my hands on, food, alcohol, stuff....and most if not all of the time that just led to more unhappiness.

So why do I spend so much time in the past, why do I focus on what is not instead of what is? Many, many reasons, that until the last few years, I was unable to get my head around. Until one day not to long ago I was laying on the couch looking around my hubble little abode that I own, with my furry friends by my side, with a job, plenty of food in my cupboards, a car to drive, clothes to wear, wonderful friends, a beautiful son, and it hit me. Why exactly are you unhappy? You have it so much to be grateful for and you have it better then so many people. You are truly blessed.

That is when I knew, I had to change where I was spending my time. I had to embrace the here and now, I had to embrace what I have done, I have to rejoice in what I have accomplished, what I am lucky to have. I have to spend time in my present. Because this is where my life is happening. I lived my past, and my future is exactly that, my future.

The words are easy to write, the sentiments are nice, truly putting it into place, that is tough for me. The path has been and will be bumpy, but I know that as I learn to let go, be me, the me that I WANT to be, not the me that other people want me to be, the rest will just start to get easier.

I am spending time in today....where are you spending your time?





Monday, March 28, 2011
Pretending....I am really famous for pretending.

Pretend reminds me of how I occupied my time as a child. This line from a John Mayer song..."I was born in the arms of imaginary friends"...sums up my life as a child...spending time with my imaginary friends. I always talked to my imaginary friends. Pretend was something I played for hours in my room. I spent a lot of time alone in my room. I occupied my time with my imaginary friends, or in the imaginary lives of others through reading or watching television. We pretended a lot as a family too. We pretended that there was happiness....when there wasn't. We pretended that living in a beautiful house, with a pool and manicured landscaping would make everything better, until it didn't. Pretending that I was fine because it was easier on my mom who could not deal with the fact that everything else wasn't. While my mom and dad spent hours with doctors and special schools for my brother I put on the brave face, brave smile and said I am fine! When my parent's got divorced, I said I am fine. When my dad told me he did not want to be a dad anymore, or be married to my mother, I said I am fine. When my mom told me I did not deserve to have a nice wedding because I was pregnant, I said ok, that is fine....That is what I always did, said I am fine....but by saying I was fine I never really learned how to cope with the fact that I wasn't.

Yesterday was no different. I was talking about how lucky I was not to be tied down to a man when my mom and a friend were talking about the toils of marriage....My life is fine! Then I got home and this feeling overwhelmed me, I have felt it before, but I never know it is coming until I am in the midst of it. Because, you know, I am fine....I am so fine that eating an entire box of macaroni and cheese is somehow going to make it fine. In the moment I am not thinking of the scale, or I start justifying it, by saying it is just today, tomorrow you will be back at it. Which is fine, you know because you are fine. Then you do something you should not losing further control, and the guilt is overwhelming. But because I always say, I am fine, I never know what is truly wrong. Until I go to sleep. My dreams are so telling, if I want to know what is bothering me, sleep is where I should look for the answers. My dreams will always tell me what is wrong. Last night, I dreamed a dream I have had many times before. I am in a relationship, but not the good kind, the kind I have always settled for, the emotional unavailable or attached man, who can't give me what I want. When I wake up I can still feel how good it was to be with that someone no matter how unavailable he was, and I realize I truly miss it...I am not fine, I am lonely, that I want to be in love and be loved...

There you have it, that is what I am famous for; burying my feelings in the pretend world of "I am fine"...Pretending to be strong because that is all I have ever known. Pretending because it is too hard to admit that you need someone, that your not perfect, that having the perfect job, perfect house or the perfect body is the magic answer to being fine. I get so bogged down in trying to be fine I forget that I don't have to be....

So right now, today I am ready to say I am not fine...I am a sad, lonely and overwhelmed by school and my future unemployment.

Not fine is ok...dealing with not being fine the old way is not ok...dealing with it here getting it out in the open is the only way to stop pretending, and be born into the arms of something real...





Friday, March 25, 2011
I moved to Arizona from San Diego 4 1/2 years ago. It has been a major adjustment for me but I am finally starting to call it home. When I moved to AZ I bought what I like to refer to as a "Chabby Chich" mobile type home. It is a perfect home owner situation for me. I have always rented in the past, so I thought I would start small to see if I could handle the responsibility. It has been a slow go, but I am finally beginning to embrace my home. With the exception of a few minor indoor projects painting the outside of my house was the biggest project I have undertaken for sure. It was a lot of fun and it was special time shared by my mother and I as she helped me with the painting and color choices. Here are the before and after's...I really love it!

BEFORE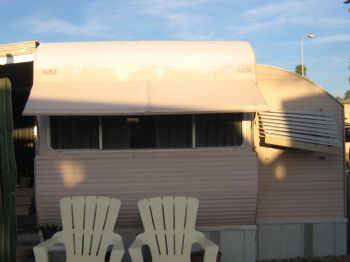 Front view of the house - notice the lovely pink color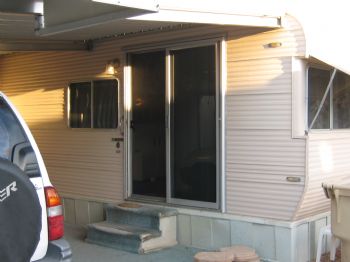 Another front view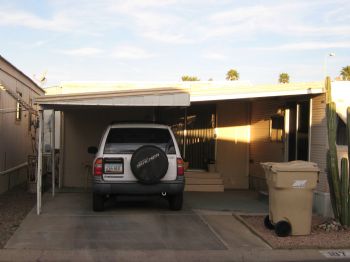 Carport Area

AFTER:


Front View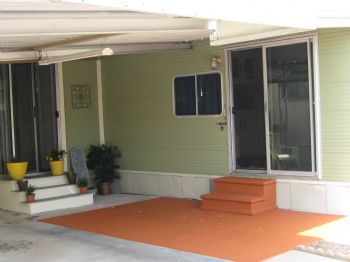 Front Area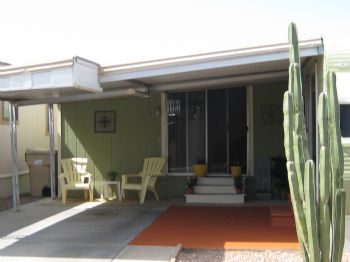 Carport

This project is also important to me in my efforts to live my life to the fulliest and love myself and my surroundings.

I making baby steps but it feels good!







First Page
1
2
3
4
5
6
7
8 9 10 11 12 Last Page

Get An Email Alert Each Time MANLEYSANDY Posts