| | |
| --- | --- |
| | MANLEYSANDY's Recent Blog Entries |





Friday, October 15, 2010
We all get obsessed with the numbers right?!! The numbers on the scale, the number of calories eaten, the number of calories burned, the number on the clothing labels, the number of year lived! It is enough to drive you crazy!

But, I am happy to blog that I had some happiness in the numbers this past week.

First, I had to buy some new pants, none of my old ones fit anymore (tehe). I went to the store and grabbed the size I thought I would be, 14, seemed logical to me, but when I tried them on, I was not a 14 at all. To my complete delight I had to go back for the size 12!! I was beaming from ear to ear!

Second, today was my weigh in day....and I did not have the best month....I have been lacking on my gym attendance, and letting those few extra calories tag on to several days the last month. So, I set my goal this month at .7, that was it, because I wanted to see 169.9 on the scale....Again, to my complete delight, as I got on the scale this morning, camera in hand I saw this number!!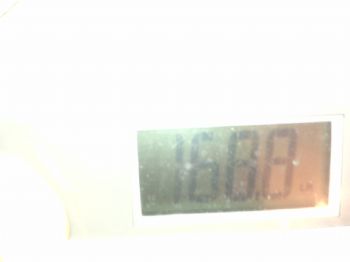 YIPPEEEEE, I yelled....(cat's running for cover from my volume)!!!

So, here we are, another number that is a sight to be hold, only 1.8 pounds away from goal, and as I have said many times before, this is just the first leg of my journey, because once that weight is gone, the real journey for me begins...keeping it off!

I am looking foward to what is uncharted territory for me...maintenance, and more of the same happiness in numbers!!!







Wednesday, August 18, 2010
I thought I would summarize my last month or so of my journey, you know, just to get some of my thoughts out in the open...and to take a look at the outcome of the goals I posted on one of my blogs..

GOALS
1. Stay within in my calorie range until 9/15/10 no excuses, no backing down

Ok...that this did not happen, and I am ok with that. Part of the reason I am here is to change my life style, and I need to live my life, and not always be down on myself about food...you know the drill. The up side though, is as of the date I wrote the original blog up until my last weigh in on 8/15/10 I did stay within my calorie range 25 of the 37 days...not bad!!

2. Hang up my skinny jeans and a little black dress in my living room to remind me of my goal

I did do this...it helps to have the reminders of your goals front and center

3. Enter all my calories in my tracker before I leave work so I know exactly what I can eat when I get home from work

This lasted about two days....mostly because I would just forget, but also because if I was low on groceries, I was not sure what I was going to eat...So, good idea in theory...

4. When I want to mindlessly eat get up and do something else (clean, read, do a crossword anything else that does not involve eating)

I did do this....I started a few home projects, started a book and dug harder into my crosswords!!!

5. Have more veggie related snacks available when you do want to mindlessly eat and eat them!!

I did do this too! I ate a lot of celery, tomatoes and cucumbers and I really enjoyed them!

So, all and all not bad.


MOVING FORWARD...
I had targeted 9/15/10 to be at my goal weight, which leaves me 8 pounds to lose. Now, is this doable, totally. However, given my weight loss progress thus far...I just don't think it is going to happen. One because I have yet to lose that much weight in a month, and two, I start back to school next week. That means three evenings a week at school plus my full time job is going to be hard to keep up with my current 4 days a week exercing. Is it possible, yes, is it possible for me...probably not, and I am ok with that because I have to accept my limitations. Exercise and I are just not simpatico! Again, I know that, and I am trying to change that....but I have to be realistic. It just is what it is....I will keep my calories in check....I am determined more then ever there, since I know I am not going to be putting in as much gym time....I am going to try, but again, it is me we are talking about!

I have been feeling a lot of aprehension about starting school and losing the rest of the weight, but I am up for the challenge, because in the past I would have given up, and I am just not going to do that this time!!!

I will weigh in on 9/15/10 and see where the scale lands....it could land at my goal, it could not but I am going to give it 110%!!





First Page
1
2
3
4
5
6
7
8
9
10 11 12 Last Page

Get An Email Alert Each Time MANLEYSANDY Posts