| | |
| --- | --- |
| | MAMISHELI53's Recent Blog Entries |


Friday, February 01, 2013
One of my favorite forms of cardio is my stationary bike. I can get a good workout without the stress of my weight on my knees and hip. And the low impact enables me to keep those joints mobile. When I went to the orthopedic doctor for the knee and then the hip, he was surprised at my range of motion, considering the loss of cartilage. I know itís from keeping up with the exercise.
I was a bit lax yesterday though. I just walked to school Ė and was going to walk home too, but my son-in-law stopped for me on his way back from getting my granddaughter. It was cold and windy, so I accepted the ride.
And I didnít get on this morning either Ė and while I was ready to walk, my son-in-law was up so he drove me. Again, in the cold and snow, I was glad for the ride. I DID do my leg-strengthening exercises, though, while I was in the student cafeteria. I figured, there werenít many students, I was in an alcove, and they had no interest in watching some crazy T.A. working out.
But I also didnít worry about biking because I know that this afternoon my daughter and I are going to be preparing the walls Ė taking off old tape thatís held party streamers, and sanding down spackled areas, and washing the walls. HEAVY CLEANING. And tomorrow weíll be PAINTING the walls!
This hasnít been done since my son was in high school and, in a fit of desperate anger, threw the TV against the wall. Besides totally smashing the TV, it left a big wound in the poor old plaster-lath.(It was because his father spent so many hours glued to the TV and son was hurting for interaction.) I filled in the gash, and painted the room.
Then in 2008, Son and his brother-in-law thought they were going to paint the room, and took down all the paintings and photos, pulled out nails and screws, and filled the holes with spackle. And thatís it. Didnít even sand it down. And thatís how itís been. SoÖitís time for a fresh paint job.
Cardio change up!





Wednesday, January 30, 2013
www.youtube.com/watch?v=tmAtbWkXkZc
This song came to mind in the midst of everything.
I've made some pretty serious mistakes in my time.
But that's why I needed Christ - why I STLL need Him. Because (surprise surprise) I'm not PERFECT like y'all! (ha!)
"The Lord makes firm the steps of the one who delights in him; though he may stumble, he will not fall, for the Lord upholds him with his hand."(Psalm 37:23, 24)
www.youtube.com/watch?v=WPSw1VPSOCQ
One can apply this to our bodies, how we eat. Just because I mess up one meal or one day does not mean I am done for. One meal does not make a lifetime of bondage to obesity.
I thank God I can also apply this to every area of my life. I can confess, repent, and press on.
After all, I DO delight in Him. And He IS upholding me.





Tuesday, January 29, 2013
A Ggroup called LMFAO made a very popular and funny video, "I'm Sexyand I Know It"
www.youtube.com/watch?v=ISsRm1c676M
which has had a number of equally funny parodies, from Elmo of Sesame Street
www.youtube.com/watch?v=RWF86D_UNxc
to Nerds...
www.youtube.com/watch?v=lskNTCzdLNE
to being in a family way...
www.youtube.com/watch?v=VyKMGipbevE
to being Jewish
www.youtube.com/watch?v=1szNwh3UYec
I was just filling in for a coworker since I didn't get my permanent assignment yet for this semester, and there was a girl there who did not like the fact that I wasn't her regular TA. She wanted to know where her M-F'ing s**t was and made it clear that I needed to get out of her M-F'ing classroom and I was getting on her M-F'ing nerves, and no she didn't NEED no M-F'ing pencil because she already HAD her M-F'ing pencil... you get the idea . The teacher wasn't with us yet, and since I was just filling in, I figured it wasn't worth it to have her thrown out, if under her teacher she settled down to work. (I DID inform the teacher of her mouth)
Well, she did settle down, and somehow the subject came up that she went to CHURCH.


Well, granted, she went with her GRANDMA, who'd been wanting her to go. Okay, so she's going. And you can't clean a fish until it's caught. But I thought, Lord, I sure hope she doesn't say she's a CHRISTIAn for a GOOD long while!
Anyway, this morning I'd been thinking there ought to be another parody, such as the title of this blog.
Can anyone come up with some good lyrics?





Monday, January 28, 2013
Levi has some nieces and nephews with whom I converse occasionally on Facebook, two nieces especially, in Pucallpa. It was harder to break up with Levi because I'd come to know and love so many family members, not the least these two. Well, yesterday i asked if they'd heard the news, and they hadn't. They were both saddened, and wondered why. I didn't go into detail. But I did tell them how much I loved them, and asked if I could still call them "sobrina" (niece) to which they each responded with a hearty yes, and affirmed that their families loved me, and I would always be welcome in Pucallpa. It was a comfort.

Leidi and me, 2011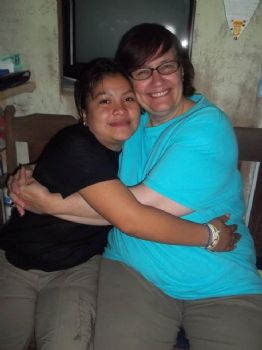 Tutty 2011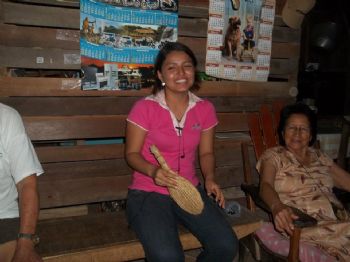 Leidi is Levi's sister Marita's daughter, and Tutty is his brother Victor's. They both told me, "What happens with Levi has nothing to do with us - we still love you!"





Sunday, January 27, 2013
I am so glad that God is in control, and that He works all things together for my good - because I DO love Him, and I AM called according to His purpose.

He uses our errors and our weaknesses too.

I had a good time in Pucallpa last year, especially with Levi's father, refreshing my spirit and soul in the word with him.

But while I was willing to endure a lot with Levi, for all the things he began to go through and is still going through, after much prayer and (Daniel) fasting, and God's intervention through exhortations of some loving sisters in the Lord, I decided to break up with Levi.

It was not easy. I love him. But I love the Lord more, and this relationship was becoming a distraction from the ministry to which God had already called me. I was also misled in some things - not malisciously or with intent, I am sure.

I have not broken up with anyone since college, when I booted a guy out of his OWN DORM ROOM when we'd been passionately making out and I just suddenly needed to pray and realized I couldn't commit to a guy who didn't love the Lord as I did (he was an unbeliever.) It sucks. I love his family as well. I hope and pray we can still remain friends - after all, we ARE brethren in the Lord.

So, I will re-adjust to the idea of being single. And I will let Christ be the lover of my soul, and let my Maker be my Husband. And I will rejoice in this valley, knowing He is purifying my faith.

ďDo not be afraid; you will not be put to shame.Do not fear disgrace; you will not be humiliated.
You will forget the shame of your youth and remember no more the reproach of your widowhood. For your Maker is your husbandó the Lord Almighty is his nameóthe Holy One of Israel is your Redeemer; he is called the God of all the earth.The Lord will call you back
as if you were a wife deserted and distressed in spiritóa wife who married young,only to be rejected,Ē says your God. (Isaiah 54:4-6)



First Page
1
2
3
4
5
6
7
8
9
10
11
12
13
14
15
16
17
18
19
20
21
22
23
24
25
26
27
28
29
30
31
32
33
34
35
36
37
38
39
40
41
42
43
44
45
46
47
48
49
50
51
52
53
54 55 56 57 58 59 60 61 62 63 64 65 66 67 68 69 70 71 72 73 74 75 76 77 78 79 80 81 82 83 84 85 86 87 88 89 90 91 92 93 94 95 96 97 98 99 100 101 102 103 104 105 106 107 108 109 110 111 112 113 114 115 116 117 118 119 120 121 122 123 124 Last Page

Get An Email Alert Each Time MAMISHELI53 Posts