| | |
| --- | --- |
| | MAMISHELI53's Recent Blog Entries |


Tuesday, December 04, 2012
JONAH 1

I usually read more than one chapter at a time, but this one made me pause and think. God asked - no, TOLD Jonah to do something, and he purposefully disobeyed, heading in the opposite direction. His disobedience not only brought consequences to himself, but to innocent bystanders, his shipmates, who faced the possibility of shipwreck and drowning.

In his favor, he DID confess to them that he was the reason the storm had risen up. But he still preferred himself to be thrown overboard and drowned rather than obey God.
But God had other plans.
And recall how Jesus said that Jonah was a sign - the three days and three nights in the belly of the fish.
Jonah was there because of his own sin and disobedience. Jesus was in the belly of the earth for OUR sin and disobedience.

But it made me think how our actions affect not only ourselves, but those around us. Sometimes we argue that we're not hurting anyone else, but it just ain't so. We are connected. Even in the matter of overeating - if I put on so much weight that I can't perform my normal activities - someone has to take up the slack. And if it affects my health - someone pays for it.

"If one member suffers, all the members suffer with it" (I Cor. 12:26) This is true in the sense of the body, and the Body of Christ; but also in a much broader sense. We need to rise up out of our self-centered selfishness. We need to be more like Christ.






Monday, December 03, 2012
I was reading in Obadiah today - just a one-chapter book. Verse 15 says, "The day of the Lord is near for all nations. As you have done, it will be done to you; your deeds will return upon your own head."
It brings to mind other related scriptures:
2 Cor 9:6 Whoever sows sparingly will also reap sparingly, and whoever sows generously will also reap generously.
Gal. 6:7 Do not be deceived: God cannot be mocked. A man reaps what he sows.
8 Whoever sows to please their flesh, from the flesh will reap destruction;
9a whoever sows to please the Spirit, from the Spirit will reap eternal life. This principal can be found in nature.

And since this is my SPARK blog, let's apply it to a healthy lifestyle. If we continue to make good, healthy choices, we will reap the fruit of a healthier "me." I choose LESS junk, MORE exercise, BETTER foods.

Applied to life in general...There are "haters" in the world...complainers...I can choose to listen to them - be as soil to take in what they are "sowing" and in me they will have a harvest of the same. Or I can let it go, not receive their "seed", and continue to plant in my own life that which I know is good - seed from the fruits of the Spirit: love, joy, peace, forbearance, kindness, goodness, faithfulness, gentleness and self-control (Galatians 5:22,23) - I'll see that multiplied in my life. If I scatter this "seed" into others' lives, in my particular sphere of influence, I will also see fruit in those in whom I "sow". For instance: I have built good relationships with troublesome students (even been "friended" by some on Facebook!)
It's important to be a positive influence in any situation.

So...Galatians 6:9b - Let us not become weary in doing good, for at the proper time we will reap a harvest if we do not give up.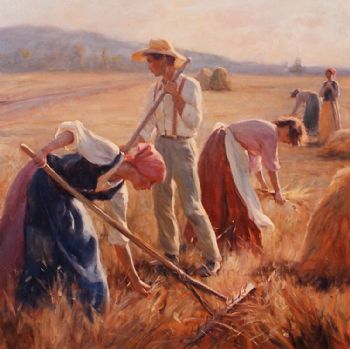 Sunday, December 02, 2012
Mornings are my best time to work on my ceramics. So of course my work days are out of the question. Then Saturday I was also out and about. However, I got another order - wanted in time for Christmas of course. I usually tell people who ask for special orders to try to let me know by Thanksgiving - which is when I try to MAKE the pieces, and then try to get them painted up. Well, I had everyone else's orders MADE. So I decided to make this one dog last night, and quick-dry it in the oven so I could fire it with the other things. Then this morning after coloring my hair (another paint job, HA!) and doing other stuff, I sat myself down to work on the special orders, as well as some stock pieces, just in case there was room in the kiln. I ended up staying home from church, something I don't like to do, but I had to get these things done. I am grateful for being able to listen to sermons online!

It's sedentary work. So I used the online timer every 30-35 minutes to make sure I got up and moved around. That and drinking cups of water, till I felt cold then switched over to hot tea (no sugar). Made sure I went upstairs to the bathroom!

So, the special orders are in the kiln. Now I can catch up on my sparking.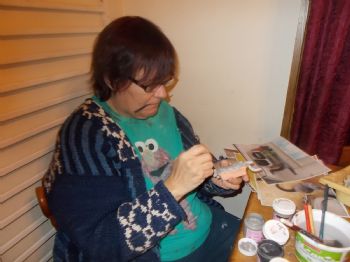 Saturday, December 01, 2012
This semester I'm working in a computer lab. With my arthritic knees and hip I can't do a lot of standing or walking around, but it doesn't help to be seated all day either. Thanks to Spark I found ways to avoid stiffness and burn a few calories.

First I set up my online timer - timer.onlineclock.net/off.html for 30 minutes. When it goes off I do one of these before re-setting it for another 30 minutes.

desk stretch www.sparkpeople.com/resource/videos-
detail.asp?video=22

9-minute arm and shoulder workout (weights optional) www.sparkpeople.com/resource/videos-
detail.asp?video=39

11 minute cardio workout
www.sparkpeople.com/resource/videos-
detail.asp?video=38

12 minute core workout
www.sparkpeople.com/resource/videos-
detail.asp?video=42

I also keep a travel cup or water bottle by me which I get up and walk about to refill (and drinking regularly, I also have to make trips to the restroom!) so by the time I finish my day I've drunk my 8 cups, and avoided the stiffness that used to settle in.





Friday, November 30, 2012
This school year is a bit harder than the last. Not that my assignment is harder. They just changed the hours - I have to be there at 7 instead of last term's 8. The hour doesn't bother me. I'm a morning person. I get up at 5 so I can do my workout and shower and have my time with the Lord before I go to work. So why is it harder?

Levi, my new love, lives in Pucallpa, Peru. Jungle. They have seasons: hot, very hot, rainy and very hot, and very rainy and very hot. With an occasional dip in the temps. The house is simple. There is no air conditioning. It gets a little cooler - comfortable - in the wee hours of the morning. Levi is a hard worker, putting in a lot of hours. When he comes home he likes to relax with a bit of tv - a movie, maybe, or some sport. It's hard to fall asleep in the heat, plus he has aches and pains. He has to be at work at 8 in the morning, and he tries to get as much sleep as possible before the sun fires things up.

Last term I would call him at 7 or 7:30 - it would be 6 or 6:30 am HIS time when we were on Daylight Savings Time. We'd spend time reading scriptures and praying, and talking about our days or other things. But this term, I wasn't able to call him at 7 - I had to be at work. And I couldn't call him at 6 - it would be 5 there, and he needed his sleep. Even when we changed back - calling him at 6 is just too early for him any more in the heat. So I try to call when I get home from work, when he'll be home for lunch - but it's hotter inside the house under the corrugated steel roof which soaks up that sun and makes it like an oven. They don't have a cordless phone. And he prefers to relax on the hammock in the shade out front, where he can maybe catch a little breeze. So I try calling at night when he's home from work, around 8:30 or 9. Of course, during Daylight Savings Time, that would be 9;30 or 10 for ME - and I'd have been up since 5! And sometimes he doesn't go directly home.He might stop at his sister marita, or his niece Erika who's a nurse and can give him an "ampolla", some kind of treatment to alleviate his pains. Or to watch sports and visit with his nephews. So this term I'm simply not getting to spend as much time on the phone with him.

So, last night I called him around 9, and we actually had a nice long talk, almost an hour (although I still haven't consumed anywhere NEAR the thousand minutes of my phone plan like I did LAST term) It was delightful - he was in a talkative mood, and besides work and health, we talked about missions and church and God's will and different forms of ministry..."spiritual" stuff...and it just reminded me why I love the man so much!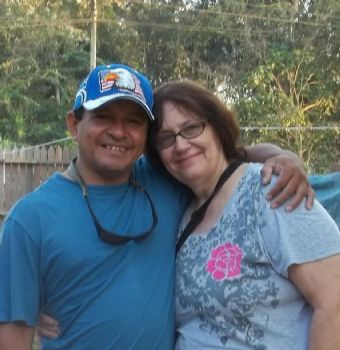 First Page
1
2
3
4
5
6
7
8
9
10
11
12
13
14
15
16
17
18
19
20
21
22
23
24
25
26
27
28
29
30
31
32
33
34
35
36
37
38
39
40
41
42
43
44
45
46
47
48
49
50
51
52
53
54
55
56
57
58
59
60
61
62
63
64
65 66 67 68 69 70 71 72 73 74 75 76 77 78 79 80 81 82 83 84 85 86 87 88 89 90 91 92 93 94 95 96 97 98 99 100 101 102 103 104 105 106 107 108 109 110 111 112 113 114 115 116 117 118 119 120 121 122 123 124 Last Page

Get An Email Alert Each Time MAMISHELI53 Posts