| | |
| --- | --- |
| | MAMISHELI53's Recent Blog Entries |


Saturday, June 07, 2008
I leave in 19 days; and on the one hand it feels like such a long time to wait to see my loved ones, and on the other hand due to work it feels like not enough time to get ready! I have ordered some t-shirts for my Soldiers (AND me) , 2 each - one to wear, one to wash. When they arrive I'll put one on to model for my page; and I'll also wear one when I travel. I also bought stars-n-stripes bandanas to top things off.
I have to buy another plastic box to load stuff into. I have set aside a lot of "peluchitos", little stuffed animals to give to children at the jungle churches we'll visit. Esli says he has been developing something to minister to the small fry. It's such a blessing to see how the Lord has pulled HIS team together, and I look forward to recounting what He does at each stage.
I have not been very successful at tracking calories,although I have for the most part tried to maintain good habits. And my weight has been fairly stable. Since the funds I've raised pretty much cover travel and not much else, I should probably lose weight, depending on the hospitality of my hosts!
I am eager to load fresh photos, but there's naught to add just yet. Abel has bought a cable to download directly from the camera, so I can probably do so from the internet cafe. Well...watch this space!




Monday, May 19, 2008
I would do better to track my calories...I'm hoping when my kids are employed I can ease off some of my work hours so I can get back into exercise. Weight has crept back up on me. On the positive side, I know that while in Peru I shall walk more, and snack less, and will eat plenty of fish especially in Iquitos. I've put in a few different photos today, some pastor friends, and Dany whom I'll visit in Colombia.
Sabina, in the picture feeding me fruit, is my main coordinator for Lima (where she lives) and Chiclayo (where her family lives). Johel is my main coordinator for Iquitos (where he lives) and the river (where he goes often to minister) . When I realized that, unless funds come in so I can bring Eunice and Yuri with me to Iquitos, I wouldn't have a female companion while traveling the river, I asked Johel to see if his wife Beti would be willing. Not that I mind being with all men - Abel, Esli, Alex, Joe, and Johel. But when it comes to squatting in the bushes, I prefer another woman with me! Happily, she accepted the invitation, and I look forward to having an opportunity to know this prayer warrior and sweet singer better.
I will be in Lima in about 37 days!





Friday, May 16, 2008
My kids have all moved back home - My eldest DD and her 2 kids, my DGD and DGS, have been here, but now there is my younger DD and DSIL, and my DS and DDIL and THEIR baby girl. I'm delighted, to say the least - not that I see much of them, working 70 hours a week, plus travel. But still, it's better than it was, and I am so glad to have them all here. Yes, they are LIVING here. The menfolk are working to fix up the old house...all are seeking employment...and eventually when they are working and contributing to household expenses, we shall all be able to rise our of our debt and they can assume the mortgage when I'm ready to pack up and move permanently to Peru. Of course, I'll still have to return stateside to see the family here...it'll just be opposite the present situation.
But in the midst of all this, especially because of work schedule, I am not tracking very well, hence the "full tummy" in the title. But this too shall pass. I will probably be walking a lot while in Peru.





Monday, May 12, 2008
I have been very lax, not tracking my calories, but I have tried at least to eat responsibly, with occasional forays into chocolate...

My exercise has dropped off because I have had to work extra hours. I can no longer set my alarm for 5:30 to exercise because I need the rest. But if I DO get up early enough, I'll exercise. And when i don't get distracted by other things I have to do during my lunch break, I'll try to squeeze in exercises then. But a regular regimen, while not out of the question, is certainly not very likely.
As a result, not surprisingly, I put some of the weight back on...but I have been maintaining. I expect when I am in Peru I may be able to drop some of it again - for one thing, their chocolate isn't as good! And it is much more difficult to snack.
And speaking of Peru, that is where the "count down" comes in. As of today as I write this, there are 46 days before I arrive in Lima. I leave here on June 26 in the afternoon. My "son" Abel at the very least will be there to greet me at the "butt-crack" of dawn on the 27th - and Esli has said he plans to be there too.
Meanwhile, my DSIL and younger DD gave me their computer, and I am just learning to load pix from it, which accounts for why I have not changed my gallery until today!





Friday, March 28, 2008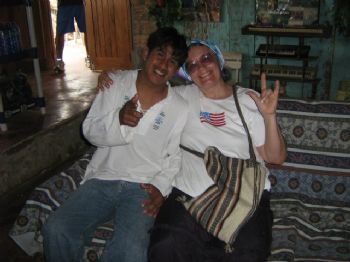 I was chatting online with one of my Peruvian "sons" Dany (above at his mom's house in Iquitos, Peru) who is presently a missionary in Colombia. I'm going through some stuff here, and he wanted to encourage and comfort me. "Mom, I'll tell you, I learned some things about you. I hope when I am your age I have as much energy and passion for the Lord as you do."
A couple of days ago, I was talking online with a newer spiritual daughter in Lima, Peru, whom I haven't yet met face-to-face, but will when I return there this summer. She told me that she knows one of my spiritual sons, Jhon, and he had told her that when I hug him, he feels the love of God. And just today I went to Western Union to pick up money FROM one of my spiritual sons who is working in Brazil. He said, when he told me he was going to send it, that I have the Father's heart. His gift is the equivalent of a month's wages.
Their testimonies of love touch me, and encourage me, and make me want to press on to stay fit and continue to serve.


First Page
1
2
3
4
5
6
7
8
9
10
11
12
13
14
15
16
17
18
19
20
21
22
23
24
25
26
27
28
29
30
31
32
33
34
35
36
37
38
39
40
41
42
43
44
45
46
47
48
49
50
51
52
53
54
55
56
57
58
59
60
61
62
63
64
65
66
67
68
69
70
71
72
73
74
75
76
77
78
79
80
81
82
83
84
85
86
87
88 89 90 91 92 93 94 95 96 97 98 99 100 101 102 103 104 105 106 107 108 109 110 111 112 113 114 115 116 117 118 119 120 121 122 123 124 Last Page

Get An Email Alert Each Time MAMISHELI53 Posts