| | |
| --- | --- |
| | MAMADWARF's Recent Blog Entries |


Monday, January 09, 2012
I wish I had enough time in the day to tell you how much you mean to me. Your comments and cheerleading bring so much joy to my life. You are always there when I have something happy or sad. You understand and you cheer me on. You have become so dear to me. I wish i had time to answer each of you or thank each one of you personally. You make me happier than cookies. And you know how much they mean to me. So for now, thank you, I love you and if you need me, I will be there for you, too.





Sunday, January 08, 2012
1. When we were down in the dunes, I got a call from Kady's dr. SHe had an endoscopyt before Christmas and while he thought everything looked great, he did some biopsies of some small areas of inflammation. Anyway, he called and the spots are general inflammation, not CROHN's so here we are, 11 months after removal of her colon with NO CROHN'S disease (active)..... That is the best, best news!! It means what treatments she is on now is working. So relieved.

2. When we were down in the dunes, we had so much fun riding up these massive hills and playing and having fun. Then we went up a tiny little hill and this happened....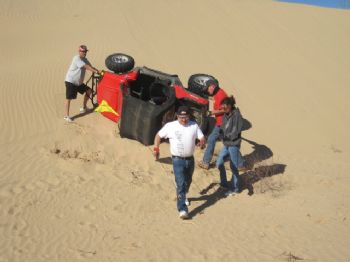 Frank was driving and it was the slowest tip over I could have ever imagined but I did kind of freak out. I was hanging sideways and Frank was cracking up so I unhooked my belt and just started stepping and clamboring everywhere I could to get out as fast as possible... Then I laughed. I might have stepped on his face, Im not sure. lol.

3.This is me driving: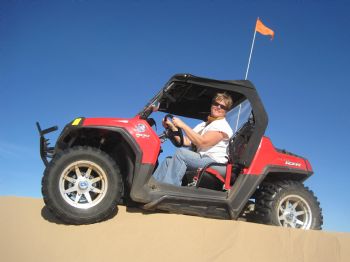 4. And because I havent show you pictures of Cortez lately, he is now 8 months old and 60 pounds!!!! Him and Stitchy are very good friends now and love to play together. We call him "Bubs" which started out as Chubby Wubba and just ended up being Bubs. It fits him. He is a riot.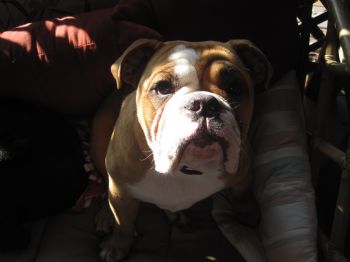 That's all for now, just a few things that I have wanted to tell you that I am just getting around to. Have a great night!








Saturday, January 07, 2012
oh.my.god. I have crawled back to my computer to update on what just happened. I did all the video except for the 30 minute all over body thing. I just could not do it. Well, I mean I COULD have done it if I had to or there was a prize involved but the rest of the dvd is really good.

THere are modifications available but there were things I simply was unable to do because I can not be on my knees so I just made stuff up and kind of crunched or used my hand weight portion or generally flailed about. I wish there were more modifications for those of us with bad knees.

Oh yea, I also found out I apparantly have really weak wrists too (as in putting all my weight on them).

I think the video will be good for me to do the 28 day thing where you just do one part or another or if I can pick and choose a certain workout instead of trying to do all of it. You know, like it was INTENDED to be done, not like I decided I was gonna be super Jan or something and do all of it.

I am going to log my fitness stuff, take a shower (definatly necessary at this point) and spend the day staying away from cookies.

I hope you guys have a great saturday. Do something different today, laugh at yourself, write a blog, try a recipe or call a friend. Dont waste today.





Saturday, January 07, 2012
So I got this little email from spark asking if I would be interested in their new 28 day Bootcamp dvd and if so, they would send it to me to review. Well, free and me go way back so of course I said yes.

I was really excited to get a package in the mail on thursday (I had forgotten all about it) and there was the dvd with cutie Coach Nicole on the cover.

This morning was the first chance I have had to look it over so I popped it in my laptop and have looked through the various options. There is a 28 day program which is really cool or you can make your own work outs from the various options available. There is also a bonus section with some tips etc.

My review needs to be up by January 31 so I wont have time to do the entire 28 day program but I am going to do the entire 84 minute workout in a few minutes and on Monday, will start the 28 day program.

This is huge for me because I normally do a 10 minute workout and pat myself on the back then walk my dog with hubby for an hour in the evenings while I think about cookies. Oh yea, I am a calorie burning MACHINE!

I will do the 28 day deal for a few weeks and give some periodic reviews or whimpering as the case may be and then I will do a final review.

Spark is offering a $3.00 coupon on the site and you can also buy the dvd at Target if you are interested in trying it along with me.

If you know me at all, you know I am going to be honest about my opinion on the dvd but just by looking at it, I think it is going to be a winner.

Stay tuned as the torture begins. Guess I better take my slippers off and get a bra on so I can get my groove on without injury. Wish me luck!






Thursday, January 05, 2012
All you do is talk, talk, talk. You NEVER SHUT UP!

Stop calling me, don't come over, don't talk to me, don't talk ABOUT me, Don't even THINK ABOUT ME.

I am DONE with you.

I am DONE thinking about you and suffering because of you.


You make me feel weak and fat and stupid and I am over it.

Friggin' cookies.



First Page
1
2
3
4
5
6
7
8
9
10
11
12
13
14
15
16
17
18
19
20
21
22
23
24
25
26
27
28
29
30
31
32
33
34
35
36
37
38
39
40
41
42
43
44
45
46
47 48 49 50 51 52 53 54 55 56 57 58 59 60 61 62 63 64 65 66 67 68 69 70 71 72 73 74 75 76 77 78 79 80 81 82 83 84 85 86 87 88 89 90 91 92 93 94 95 96 97 98 99 100 101 102 103 104 105 106 107 108 109 110 111 Last Page

Get An Email Alert Each Time MAMADWARF Posts