| | |
| --- | --- |
| | MAMADWARF's Recent Blog Entries |


Monday, July 11, 2011
I got my results from my Doctor and I am not DIABETIC anymore!
I can stop taking Metformin and recheck my blood in 3 months.

I cant tell you how happy I am over this. I realize how profoundly that has impacted my health and I am thrilled.

MY other things are greatly improved as well since in August 2008, my cholesterol was 242. Today it is 179.
Tryglicerides were 152 now, it is 109
LDL 162 then, now 95
My blood pressure is perfect 116/65

So basically, I am healthy as a horse and now I dont look like one either although I may occassionally act like the back side of one.

Talk about Non Scale Victory. This was a complete knock out and yea, I am burning some calories patting myself on the back.

To know that I have truly changed the course of my life is mind boggling. I set out to get healthier and I know I am truly accomplishing it. SO yea, I am bragging and celebrating and yea, I still gotta cook dinner and walk with Frank and Stitchy tonight. (I may be skipping a little bit).





Monday, July 11, 2011
Today we went to the Lake with a whole bunch of kids! Neices and Nephews and a few friends kids too.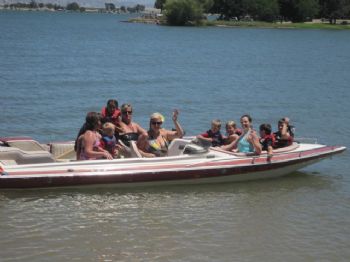 And of course, the ultimate kid, the grand-dog Stitchy, who swam and then rolled in the dirt (of course).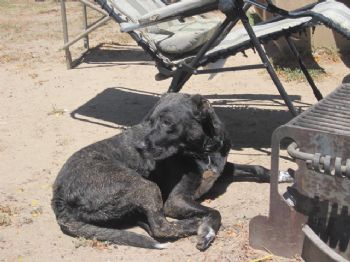 It was a great day. We bbq'ed Carne asada and hot dogs. I ate well today and had a really good time. It was a blast.

Hope you had a great weekend too!





Saturday, July 09, 2011
This is my 16 month anniversary here on sparkpeople. I have lost 70 pounds (and 83 from all time highest weight, recently discovered). Looking back, I have accomplished so much but what still surprises me is how amazing I feel!

From someone who has 2 bulged discs in my back, a knee replacement and needs another one, I am constantly surprised by what my body can do because I TRY.


I track my food and excercise because I dont TRY. I just DO it.

I walk because I LIKE TO. Sometimes I dont want to but I do it because I said I would.

I dont LIE to myself anymore.

I WANT something more than cookies. I want to be healthy and fit. (Sometimes, I still want cookies too but there is room in my life for that).

Every step makes it EASIER to make the next step.

I have all the SUPPORT I could ever need with sparkpeople and the friends I have made.

I GIVE encouragement because it helps and someone did it for me.

What makes me so special? NOTHING. We all started in the same boat and our level of success will depend on each day, making a choice. Each meal is a choice. Each chance to move your body is a choice. I am no different than you.

I want to lose 41 more pounds. That was my original goal. I will reasses when I get to that point.

If you want it, you can do it. That's it. Just take it day by day, ask for help and have a little faith in your self. You will be stunned with what you can do.
Just TRY, DO, GIVE.





Thursday, July 07, 2011
www.sparkpeople.com/mypage_public_jo
urnal_individual.asp?blog_id=4347635

This is a link to my friend's blog. She has been through a lot but if you read all the way to the end, you will get the message on why SP is a good place.

Sometimes, you dont realize who you are helping when you talk about your life, your concerns, your hurt or your worry. Or your dreams, success and aspirations for that matter.

I read once that "God never wastes a hurt" . To me that means that everything you have gone through can be used to help someone else who is going through it, too. We all have pain. We all have had things happen to us or those we love. But doesnt it make it better to know that we can then turn around and help someone else who is going through it? Isnt that humanity, after all?

Spark is such a unique place for refreshing honesty. I am so grateful for all of you. Even if we havent met yet. Jan





Wednesday, July 06, 2011
Yesterday after lunch, we took the dog and the boat and went to the Lake.Sorry I forgot my camera). It has been soo hot here and my A/C unit is struggling to keep up. It was 85 in my house! GAH! (A/C guy coming today)

So when we got there, I immediatly walked into the Lake. The water was perfect, not too cold and very refreshing.

While Frank and Stitchy went for a boat ride, I swam. Did a few laps and I was trying to figure out why it seemed so hard and then I realized.

I have to actually SWIM now. I used to be very floaty! In fact, I used to joke about it and make everyone laugh because I could just stand in the water (not touching the bottom)and I would float with my head and shoulders above water. If I took a deep breathe, I would bob up about 6". Great fat girl party trick.

I have to tread water now. I mean, feet and arms moving so I dont sink! I was trying to remember how long it has been since I swam and it had to be like last summer so at least 30 pounds ago and I dont know how much fat percentage but alot apparantly! Enough so that I had to swim not to sink.

That was so weird to me because it was so unexpected. I never thought about it.

It was obviously easier to swim before I lost 70 pounds. It is a strange thing that when you lose weight some things are harder, isnt it? But that is a good thing. I will swim, I will not sink. I will keep going and it will get harder to swim but it will be more proof that I am closer to a healthier body and a smaller size. I'll take it.



First Page
1
2
3
4
5
6
7
8
9
10
11
12
13
14
15
16
17
18
19
20
21
22
23
24
25
26
27
28
29
30
31
32
33
34
35
36
37
38
39
40
41
42
43
44
45
46
47
48
49
50
51
52
53
54
55
56
57
58
59
60
61 62 63 64 65 66 67 68 69 70 71 72 73 74 75 76 77 78 79 80 81 82 83 84 85 86 87 88 89 90 91 92 93 94 95 96 97 98 99 100 101 102 103 104 105 106 107 108 109 110 Last Page

Get An Email Alert Each Time MAMADWARF Posts