| | |
| --- | --- |
| | MAMADWARF's Recent Blog Entries |


Monday, November 01, 2010
So I woke up feeling crummy from my cold. I have had it for a few days but had been feeling ok until today. Came out to my office and the phone calls began and the stuff that needed to be done just kept getting higher and higher. Couple that with a 30 minute wait time to my health care company who then promptly disconnected me during a transfer sent me into the house for some chips. I ate a small bag (150 calories). Came back out to tackle more frustrating stuff and it has become a day of getting nowhere slowly!

Text from daughter 1 crying at work cause people were rude to her, daughter 2 stomping out to loudly complain about daughter 1, (sent packing back into the house with instructions to "get over it"), cat fight in the yard (Yes, real cats not the girls. One of mine and someone else's).

Finally I went in for lunch. Heated up some soup and a grilled cheese which normally I would have had one or the other but said screw it, am having both! Intended to eat both cups of soup but could only eat half... couldnt even BINGE right today! (of course is binging on soup really binging?)
Then ate a 80 calorie sugar free cookie even though I was full.

You know what? I tried to go back to my old ways today. I really did. What it proved to me is I am not the same, I do not react the same, and the things I found comforting before are not the same.

The only thing that is working is crossing things off my list. With each check mark, the stress is lifting and that feels better than cookies do. Boy, I never thought I would say that.

Maybe I will really go wild tonight and eat a bunch of fruit or something! Maybe even a fat free pudding! Hey, dont try to stop me... I am wild! Untamed! Unstoppable! Just you move out of my way and watch me go... Yeah, probably for a walk. And not to a bar either.

Pshhhhh what the heck happened to me?





Sunday, October 31, 2010
This is what 54 pounds in 7.5 months looks like on me.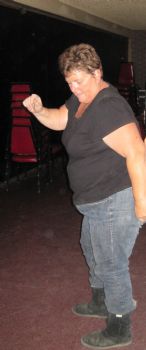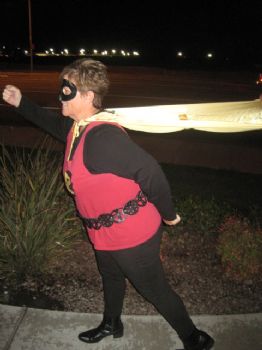 Friday, October 29, 2010
Batman and Robin are getting ready to go to dinner with the family!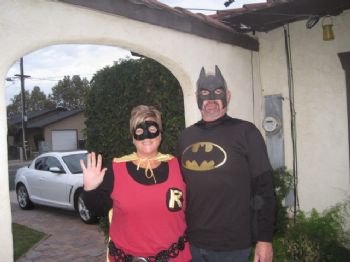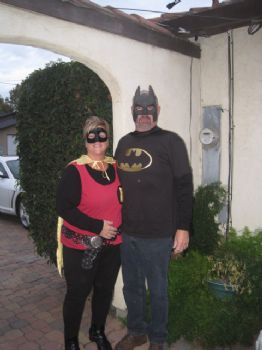 Robin had obviously been very bad today...lol.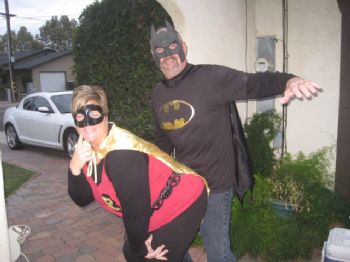 Thursday, October 28, 2010
I began with a Mamogram. Yep, sure did. I hope you will consider getting yours, too, ladies! They left the pix on the screen and of course, I looked through them. Not that I am a tech but I didnt see anything unusual so I assume all is well. You cannot leave me alone in a medical office. I get into all kinds of things!

While I was waiting, a lady was talking about going to a candy shop in the next town for caramel apples so I told her where to go in our town instead and we started talking. She said her and her daughter started weight watchers last week (um door opening WIDE for me to pipe in) so I told her about spark (I never did make those damn cards I talked about) and she was really intersted and excited. The apple is her treat for getting mamogram.

SO I came home and worked in office which involved a 1 hour call to quick books tech support (I realize I never would have figured it out by myself) and got the windsheild replaced in my truck. (Several items now crossed off the big to do list).

Then I went to Macys which just opened but I didnt see anything so I went to Torrid to look for Jeans (again). I didnt buy any cause they were all toooo much money and way too long. What the heck is with that? BUT (and this is a big BUT, not a big BUTT!) I did try on a size 20 and they fit although they were too long so I guess it is official now. Another size bites the dust!!!

I also did not get a pretzel or coookies or corn dogs or orange chicken. I got a water...lol. Partly because my throat is doing a weird tickle thing that is making me cough and I have to keep drinking something.

I realized something about my husband today. He does not just ask random questions. There is always something behind them.
He called to see what I was doing, was on his way home, blah blah and then he asked where the kids were so I told him they were gone here and there. I was thinking after I hung up, "Why does he care where the kids are? Thats weird". Then he calls me back and tells me he is coming home (uh, hello, you already said that!) and he goes, "especially if the kids are gone". At first I was thinking, well thats not very nice. what? you dont want to come home it the girls are here and then it hit me..... It was like he was doing the nudge nudge wink wink with his voice and I started laughing and was like "OH REALLY NOW" Oh Ok, I get it.

It has been a good day. The kind of day you could just kinda forget ever happened, an ordinary day where things just go along but you know what? I appreciate days like that. I really do. I hope you have an ordinary to extraordinary day, too.





Wednesday, October 27, 2010
Ok so this is what is going on. As some of you may know, my 20 year old daughter, Kady, has Crohn's disease. It is a debilitating auto immune disease that affects the intestinal tract. The symptoms are weight loss, malnutrition, severe diarrhea and other issues. She was diagnosed when she was 15 and has had a pretty severe case, although not as bad as some. Over the years, we have tried just about every option, some were pretty scary.

She is on a few medications but is doing really well on a infusion therapy called Remicade (also used to Rhuematoid arthritis). She goes into the hospital for about 5 hours every 8 weeks for treatment. She is a trooper, a warrior, unstoppable. She has turned her pain into hope. For herself and for others. She was named the Sacramento Honored Hero for her campaining and fundraising and awareness for the disease. Yes. I am proud of her.

Now, she is facing surgery. She has a stricture in her rectum that is closing. This is from the scarring from the inflammation. They are going to do a Balloon surgery (like when they do angioplasty in heart arteries). If it works, then she may have to do it again periodically which is we could live with.

There is a chance of perforation, infection or worse, it wont work. The option then? There is only 1. A permanant colostomy bag.
Because of where the stricture is located, there is no bypass available. There is no stint that can be placed. Just removal of her colon and having a bag.

Now I realize that this is not the worst thing that can happen. People live with Ostomies and do great. Hell, some people do BETTER.

But this is my baby. This is my little girl. Her biggest worry is that she will go in for the simple surgery and wake up with her life and body completly changed.

I know that no matter how this turns out, now or later, she will deal. She will find a way to make it work for her. As long as she is alive, I will be ok.

I am trying not to worry about what may or may not happen. Either on November 8th or in her future. But yea, it is there.

If anyone would like to send up a prayer or good thoughts or whatever else you use to send good postive energy into the universe, we would surely appreciate it.

Now that I have written this out, I do feel like I can breathe a bit better, so thank you for reading (and Cleva, I dont know how you knew but you did and I love you for it).

I will keep my head up, stay postive for my girl, and keep you all posted.
Here is a picture from the Crohn's walk with daughter Kelly, niece Sami, Kady and cousin,Desi.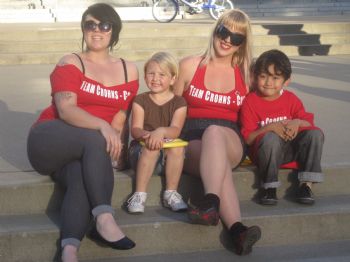 First Page
1
2
3
4
5
6
7
8
9
10
11
12
13
14
15
16
17
18
19
20
21
22
23
24
25
26
27
28
29
30
31
32
33
34
35
36
37
38
39
40
41
42
43
44
45
46
47
48
49
50
51
52
53
54
55
56
57
58
59
60
61
62
63
64
65
66
67
68
69
70
71
72
73
74
75
76
77
78
79
80
81
82
83
84
85
86
87 88 89 90 91 92 93 94 95 96 97 98 99 100 101 102 103 104 105 106 107 108 Last Page

Get An Email Alert Each Time MAMADWARF Posts