| | |
| --- | --- |
| | MAMADWARF's Recent Blog Entries |


Tuesday, October 26, 2010
I was starving. I mean, seriously hungry! I was eating what I usually eat but wanted to snack all day, eat a bunch of food in one sitting, cant get enuf food-hungry!
Yesterday was torture!

I drank my water, had breakfast, had a SOBE 0 calorie drink, ate an applesauce cup, distracted myself, had lunch at noon, (still hungry), had a granola bar, cooked dinner early because I was going to my nephews 9th birthday party(with PIZZA and a cake that has been torturing me for 2 days since my daughter made it). I cooked fish, broccoli, potatoes so I wouldn't be tempted.

When I got there, I was pleased to see a veggie tray and a fruit tray so I had some of that. Then there was a bean dip but I only ate a few chips with that. (still hungry). I brought a bottle of water with me and drank that. The kids were playing a dance game so I joined in where you have to freeze when the music stops (good distraction and a bit of excercise). Then the pizza.

I had a peice of cheese pizza (it was only ok but after not having it for so long, it tasted fantastic and I wanted the whole pizza to myself) and then ate half of a half of a peice of pepperoni (shared with my sister, TEXWIFE). Drank some water.

Then the pinata. Full of candy. I ate a tiny box of milk duds. And wanted the huge movie box size. Drank my water.

Then the cake. I had a small peice, about equal to a cupcake. It was only ok too, but I wanted the rest of it. Drank my water.

I dont usually get like that and if I do, I can control it by filling up with water.

I really hope today isnt like that although I just had a Luna Bar which is a staple breakfast item and I am still hungry! I do not know what is going on. It is not TOM (it friggin better not be!!) so I am just gonna grit my teeth and get through today.

I will be in the car today taking samples to my customer so will take an apple (and water) with me and will not get anything with french fries for lunch. I promise. I also promise to make a healthy dinner and walk Stitchy and Frank tonight.

I really hope this passes cause I do not have any more tricks up my sleeve. What are your tips/tricks for getting through days like this?





Sunday, October 24, 2010
First I want to thank everyone for the POPULAR BLOG AWARD! What an awesome thing to come home too! That was soo great and of course, Frank thinks it was due to him cause the blog featured his selfishness...rofl.

Had a good weekend at the races altho we got rained out but I talked to some people I dont know very well and found out that a girl I know had lost over 100 pounds 3 years ago. I never would have known that which was so cool so we had lots to talk about as you can imagine. She did it herself, just like we are. It was really cool learning that about her.

Another cool thing was I won a 16 gb IPOD Nano in the raffle so I am excited about learning how to download music etc. ( I am going to make Mezzoangel sing every song I like! Have you HEARD her sing!!??Holy crap!! She is amazing!)

Um and I found out two things that do not mix: Miralax and McDonalds. Just saying. You do NOT want to do that. Beleive me.

Hope you guys had a great weekend and didnt miss me too much!! Jan





Friday, October 22, 2010



4 Places you have lived:
Pacific Grove, California
Livermore, California
Manteca, California
Tracy, California
(haven't gone far have I?)

Movies you have watched more than once?
Gone with the wind
Oklahoma
Night at the Roxbury
Blazing Saddles

4 Jobs you have had:
Cook/waitress in coffee shop
Baker/cake decorator
Office work for a recycling center
Office work for our Roofing company

4 Places you have been that your remember vividly:
Hospital with people I love
Punk rock shows with my girls
Vernal, Utah (many times)
Pacific Grove (many times)

4 favorite foods:
Home made cookies
Bacon cheeseburgers
Fresh french bread with butter
Lasagna

4 favorite foods since sparking:
Basa fish filets
Luna Bars
Fresh fruit salad
Organic chicken

4 Unique things others may not know about you:
I am a fantastic puppeteer
I survived being widowed at age 19
I am hilarious (and also my own best friend)
My husband is the first man I ever slept with

4 Lessons that were hard for you to learn:
That because I thought about something, I did not make it happen
That as hard as I want to save someone, I dont have the power
That my kids will not always need me like they did
That life is not all about me

4 favorite TV shows:
Glee
The office
True Blood
Weeds

4 places you would love to be right now:
Vernal, Utah
Pacific Grove, California
Maui, Hawaii
Europe


4 things you hope to accomplish in the next 4 months:
Lose 20 more pounds (minimum)
financial stability
Peace
Ability to help my kids in the next few months.

Share your answers with me if you have time. I am always interested in learning more about you! (thanks Robin!)











Wednesday, October 20, 2010
(Please look up the word: sarcasm before beginning this blog)

He is really a bastard. So selfish. I mean, all he can think of is himself.

Like how my weight loss benefits him. As an example, because I have lost 50 pounds, he gets to go Kayaking. Because I am smaller, HE had more room in the double bed we slept on in Utah. Because of MY healthier choices, he gets to eat better.
Because of my needing to walk, HE gets to come and be healthier too, then gets to spend time TALKING to me and connecting and unwinding instead of being met with a cranky, shut down wife.

Because I feel better, sex is better. I have more energy to go do stuff and feel more positive which benefits him since we work together. Then to top it off, I look better so people think he is lucky. I save him money when we go out cause I dont get the huge tub of popcorn at the movies or the expensive dinner with appetizer.

I will even get to live longer which is a huge benefit to him because come on, he will need caring for so now I will have to do it. And he is soo happy about all of this stuff, so proud cause it benefits him!

Cant believe I married such a man. Here I am struggling and working so hard. And what do I get? Him. Life. Health. Adventure. Man, that really sucks.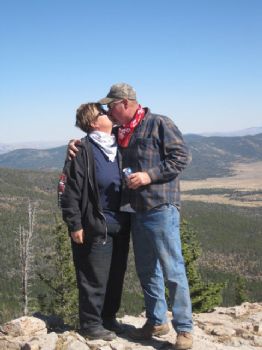 Wednesday, October 20, 2010
Yesterday, I was soo bad! I had a bunch of work stuff to do and my house needs attention and I just couldnt pull it together. I would work for awhile, then hit facebook or sparkpeople and I didnt get the stuff done that I needed to do.

So, at the end of the day, I made a master list of things that I need to do by the end of October which includes serious things like quarterly reports and mundane things that I NEVER do such as dentist appts and scheduling to have my tv repaired and my carpet cleaned.

I feel much more prepared to get things done now so I can cross them off and have that list completed. Now, instead of just thinking about all the things I need to do, I have concrete visualizations and I can make progress. Im sure I will have to add things to the list as I think of them but I fully intend to do be done with all of it, on time.

What have you been putting off doing? Big or small?



First Page
1
2
3
4
5
6
7
8
9
10
11
12
13
14
15
16
17
18
19
20
21
22
23
24
25
26
27
28
29
30
31
32
33
34
35
36
37
38
39
40
41
42
43
44
45
46
47
48
49
50
51
52
53
54
55
56
57
58
59
60
61
62
63
64
65
66
67
68
69
70
71
72
73
74
75
76
77
78
79
80
81
82
83
84
85
86
87
88
89
90 91 92 93 94 95 96 97 98 99 100 101 102 103 104 105 106 107 108 109 110 Last Page

Get An Email Alert Each Time MAMADWARF Posts