| | |
| --- | --- |
| | MALEXANDER4's Recent Blog Entries |



Tuesday, October 29, 2013
I have been on such a roller coaster with my weight loss or lack there of that I have totally forgotten how to just relax and enjoy my life. So I have decided to clean out the muck and prepare for my future. So in keeping with that I have decided that a walk at lunch is a good thing once again.

Sport: Walking
Distance: 1.08 mi
Duration: 22 minutes 55 seconds
At: 28.10.13 13:44

Not only do I get a bit of movement in for the day, but it helps to de-stress me for the rest of the afternoon. So weather permitting I hope to continue that of which I have pushed to the wayside. I have also been planning and packing my meals and snacks for the day. I had allowed that to get easy and also just pick something up. Well we all know that picking something up usually means quick and quick means junk. So on to the planning. I'm doing dinner, at least the last two nights. Now for the plan to work I will have to come up with quick and healthy evening meals. Sorry but at 6:30 I don't want to be over the stove all day and there is only so much in the crockpot my hubby will eat.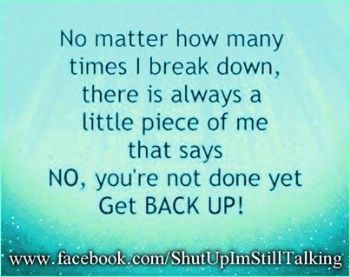 Yup i'm getting back up and the time to be honest with myself is here.

Michelle.






Monday, October 28, 2013
Take perfection and throw it out the window. There's always something you can make better or do differently — strive to IMPROVE, not attain the impossible.


Remember you will not always win.
Some days, the most resourceful individual will taste defeat.
But there is, in this case, always tomorrow -
after you have done your best to achieve success today.
- Maxwell Maltz

Funny yesterday I was so upset with myself and my journey. This morning as i'm checking my email's all this comes at me. It was like someone upstairs was saying "don't give up on you" So i'm not going to. I will find my happy place in this journey. It may not be today or this week but I will succeed at this one day. I only can take this one step, meal, day at a time. It is up to me whether I succeed or fail.


I think i'm going to do just that.

Michelle.






Sunday, October 27, 2013
Instead of thinking of your body as the enemy, think of it as your best friend.

— Denise

Easier said most days than others. Today I feel like it is the enemy. Though I know I did great this week and moved more, I don't want to hear it is muscle. I have so far to go and as of yet i'm not getting anywhere with this weight loss thing. Call it what you will healthy lifestyle, diet, stress....it all adds up to the same thing in my world right now. Work and work and see no loss just gains and more gains. I try, lord knows I do, I eat right and I've bought the Spark activity counter. I even have walked two days at lunch this week along with the normal routine. Did it help??? Can't prove it by me by the scales. I know I'm not suppose to only use the scales so I measure each month also. The numbers changed here and there but ultimately the total stayed the same. So what does that mean? Means the fat just shifted. Nothing exciting about that. So hum what will I do about this? Work harder, eat less, scream? Mostly cry because hell I already can't fit into my clothes, so what is one more downer.



I'm sorry I don't want to bring any of you down. I'm just feeling at a loss right now and don't really know what to do about it. I could keep going, or I could quit. Really those are the options. So now I need to take time and decide what it is I want out of this journey. Because to be honest i'm not finding it and i'm just getting more and more upset with my body. I already don't like myself much and here it is just fighting me every step of the way.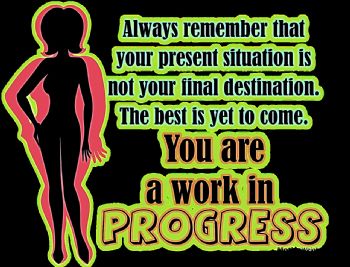 I guess this is my answer. I have to not give up on myself.

Michelle.






Wednesday, October 23, 2013
Aim to do three things that you're proud of each day, and congratulate yourself on each small victory. You can do it!

— Denise

With the new spark start page I can do just this and keep track. But this morning as I was getting to do my blog I couldn't find the spot to get to the blogs. Took me a moment but after much searching it was right there in my face. Kinda like reaching your goals. The answer to all that you seek is right there in front of your eyes.

I've had three great days. I've stayed in my calorie range and that is awesome. I've eaten my freggies and got in my waters. Wow what changes. But you know what? I just plain feel better even after just three days. I guess the old saying "you are what you eat" is true. If you eat junk you feel like junk. If you eat wonderful and clean you feel wonderful and clean. Hum must remember this for the long haul. Why so excited about three days you may wonder? Because for me just getting over the first day was a tough. I couldn't seem to get my mind and my body on the same page. I was craving everything in sight and my sugar was bottoming out all the time. So I ate. But you know what? While eating better my sugar has stayed calm, my cravings are almost over with, (they just whisper now instead of scream at me) and i'm sleeping better also. Hey maybe there is something to healthy living after all. lol.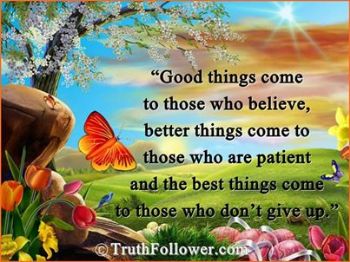 I for one am not giving up. I've even been getting in my walks again during my lunch. 15 minutes may not seem like a lot but when you take that time out of sitting and doing nothing it amounts to AWESOME.

Michelle.






Monday, October 21, 2013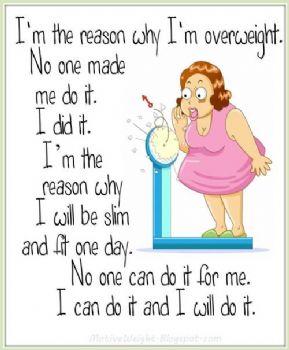 I have been riding this roller coaster now for some time. I have started and stopped more times than I can count. But as of Saturday night with tears in my eyes as I tried on yet another pair of jeans that didn't fit to go out with friends, I decided that I was tired of being tired and overweight. I have allowed myself to keep gaining, wear stretch pants, and just be uncomfortable within myself, long enough. If there is to be change it much come from me. I can't keep hiding behind the sweats and big t-shirts. It is time to take back my life.

Yesterday I got up and from that moment on I was working on change. I had a good breakfast, all accounted for on Spark, even paid 3.99 to have it on my phone so I can keep up with my foods and such. Headed into town for a few healthy things, stuck to my list and came home and prepped my veggies for salads and such this week. Even cooked cabbage in advance so I can have that. Something new and different. Then I had a healthy lunch, no snacks....it was wonderful. I did have some popcorn later and then dinner, cabbage....I was full and that was that. No snacking at night. I finished the day under my range.

Nope no exercise yesterday, I have worked out so much this past week and burned over 2000 calories that I took a day off. But my activity tracker is ready and waiting for today. I plan on a walk at lunch.

Ok, time to go. I have to get ready for work. My first day back after a week off. Ready? Actually I am. I don't do well just sitting around.

Michelle.




First Page
1
2
3
4
5
6
7
8
9
10
11
12
13
14
15 16 17 18 19 20 21 22 23 24 25 26 27 28 29 30 31 32 33 34 35 36 37 38 39 40 41 42 43 44 45 46 47 48 49 50 51 52 53 54 55 56 57 58 59 60 61 62 63 64 65 66 67 68 69 70 71 72 73 74 75 76 77 78 79 80 81 82 83 84 85 86 87 88 89 90 91 92 93 94 95 96 97 98 99 100 101 102 103 104 105 106 107 108 109 110 111 112 113 114 115 116 117 118 119 120 121 122 123 124 125 126 127 128 129 130 131 132 133 134 135 136 137 138 139 140 141 142 143 144 145 146 147 148 149 150 151 152 153 154 155 156 157 158 159 160 Last Page

Get An Email Alert Each Time MALEXANDER4 Posts