| | |
| --- | --- |
| | MAKINACHANGE4ME's Recent Blog Entries |


Tuesday, January 15, 2013
So we've started this crazy new project at work. It's one of those projects -- you know, lots of people (but somehow not enough), huge budget (that we'll manage to blow with customizations), and an impossible timeline. Unfortunately, that seems to be every project I work on these days, so nothing new.

What has me in a funk for this one right now is we're in the Requirements Definition phase. It's only Tuesday and I've already worked 24 hours this week. And most of it has been stuck in a conference room and will be for most of the next six weeks. It's terrible.

I've whined about it enough and am trying to make the most of the situation. On a positive note, I have not touched any of the junk food they've brought in. Granted, the fact that everything there either has gluten or nuts makes it a lot easier to resist. However, today I was told they brought me some snacks. I still didn't touch them so I was proud of that.

I'm not getting as many steps in my day as I'd like. It's really hard to sneak away for my 2 mi walk when I'm having to be there to answer questions or explain. I may not have hit my 10,000 steps each day this work week, but I have tried to make the most of it. My thought is if I can't get out for my walk, I'm making the most of walking around the office as much as I can on whatever limited breaks we have. We've all learned that short bursts of exercise are better than no exercise. Not only to I physically feel better when I do this, but it helps mentally as we dig in to the weeds on this project. I can't tell you how many walking meetings I've had. Heh...who knows maybe I'll get the whole group to do it. Wouldn't that be great for all of us!




Sunday, January 06, 2013

For whatever reason, I feel the need to sign up for 1 event each year that not only allows me to do some form of exercise, but also fundraise. Past events include a Half Marathon (with Team in Training) and the Susan G. Komen 3-Day for the Cure.

This year, I'm on the fence. I'm really interested in doing the Nike Women's Half Marathon in DC in May with Team in Training. I'm also trying to decide if I want to walk the 3-day again here in Atlanta, or maybe the Avon Breast Cancer Walk in either Charlotte or DC.

I've had personal connections with each of these organization. My Mother-in-Law died from Leukemia. My best friend had breast cancer. I'm glad I did these things. I'm just not certain if those are events I want to do again, or if I want to try to find another option.

There's the Tour de Cure for the American Diabetes Association. Many of my dad's health complications were caused by his diabetes. I may just add this as another event. The fundraising minimum is only $200. My bigger challenge would be my fear of riding with all those other people. For whatever reason, the idea falling off a bike in a crowd freaks me out.

I really wish there was more with the American Cancer Society. Their determiNation part of their website doesn't look current. There's always Relay For Life, but again, that's another I can just do. It doesn't have quite the same time or fundraising commitment that makes me feel like I'm really committed. (Sounds weird I know, but donation amounts are smaller.) This organization is more personal for me.

I was diagnosed with cancer when I was 25. I remember when I hit my 5 year mark, I was so excited. I'd gone quite a bit of time since then, but the past few months have run into a couple more scares. Starting in September, I had stuff going on in 3 different systems of my body. In October, I had precancerous polyps removed. Because of my lovely family medical history, I have some increased risk there. In November, my urologist, fortunately, ruled out bladder cancer after some concerns there. I go back to my other doctor in Feb for something else we're currently watching. Last time I went things weren't worse, but they weren't better. Because of everything else I had going on, he wanted to give my body a chance to rest. While I'm not freaked out, I'm a little concerned because of my past.

Anyway, I want to raise money for an organization that doesn't just focus on one type of cancer, or disease. I think all of them are worth causes -- I'm just trying to figure out which organization I'm going to commit to this year.





Tuesday, January 01, 2013
Our family lives in the South. We may the only ones that I know who didn't cook ham hocks, black eyed peas and collard greens. I'm sure my hubby is a little disappointed we didn't go to his sister's house to eat them. Personally, I don't love them (even if they are supposed to bring you good luck).

Instead of the typical black eyed peas and collards, we tried a new recipe from Cooking Light for dinner. We made the Chicken BLT Salad recipe from Jan/Feb issue that has Chicken 25 Ways.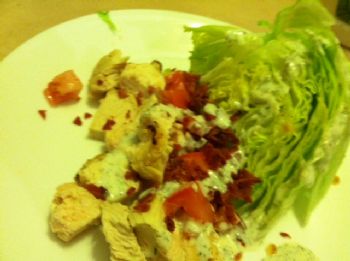 We made a few changes to the recipe. We didn't have any Gluten Free panko, so I attempted to substitute with homemade GF breadcrumbs. Pretty much, they ended up barely sticking to the chicken. I think it's because I hadn't toasted them enough. I also had to make my own buttermilk substitute. We used turkey bacon. Also, hubby couldn't find any crumbled blue cheese at the store. Probably just as well.

Next time I make this, I'll probably use a combo of romaine and iceberg lettuce. The kids looked at me like I had 3 heads when I gave them each a wedge of iceberg on their plates. Guess they aren't used to salad that doesn't come in a bag, huh? :-)

I have to calculate the nutritional info with my changes. The fat total in the original seems high to me for a meal, but I'm still within my daily limit, so it's ok. And I'll still take it over the Black Eyed Peas and Collards any day!

Chicken BLT Salad -- Cooking Light, Jan/Feb 2013 issue

Ingredients:
1 cup fat-free buttermilk, divided
1 large egg white, lightly beaten
3/4 cup panko (Japanese breadcrumbs)
4 (6-ounce) skinless, boneless chicken breast halves
3/4 teaspoon black pepper, divided
1/4 teaspoon kosher salt, divided
3 tablespoons canola oil
1/3 cup canola mayonnaise
1 tablespoon chopped fresh dill
1 tablespoon chopped fresh chives
2 teaspoons white vinegar
1 teaspoon minced garlic
1 medium head iceberg lettuce, cored and cut into 6 wedges
2 cups chopped plum tomato
2 ounces crumbled blue cheese (1/2 cup)
3 slices bacon, cooked and crumbled


Preparation:
1. Preheat oven to 425°.
2. Combine 1/2 cup buttermilk and egg white in a shallow dish. Place panko in a shallow dish. Dip chicken in egg white mixture; dredge in panko. Sprinkle with 1/4 teaspoon pepper and 1/8 teaspoon salt.
3. Heat an ovenproof skillet over medium heat. Add oil; swirl to coat. Add chicken. Cook 4 minutes; turn over. Bake at 425° for 14 minutes or until done. Let chicken stand 10 minutes; slice crosswise.
4. Combine 1/2 cup buttermilk, 1/2 teaspoon pepper, mayonnaise, dill, chives, and vinegar. Place garlic on a cutting board; sprinkle with 1/8 teaspoon salt. Chop until a paste forms, scraping with the flat side of knife to mash. Add garlic to dressing.
5. Place 1 lettuce wedge on each of 6 plates. Top each serving with chicken, 1/3 cup tomato, and 2 1/2 tablespoons dressing. Sprinkle with cheese and crumbled bacon.




Monday, December 31, 2012
Over the years, I've had New Years Resolutions that have ranged from big lists to only one goal. This year's list is short and sweet.

I will work less hours at work so I can have better work/life balance and spend more time with my family.

I will take the Alaska trip with my mom in May.

I will save for some form of family vacation this year.

I will find 5 things to be happy about every day.

I will participate in another non-profit charity endurance event.

I will lose 15 lbs by the end of April.


There's probably other things that could be, or even should be on this list, but this is it.






Friday, December 28, 2012
There's only one way to put it...yuck. Yesterday I tested positive for the flu and also was told I have an ear infection. Definitely have felt better, but already feeling so much better than yesterday. Laying low -- I really don't have the energy to do anything else. Hoping this goes away quickly so I'll be able to enjoy what's left of my time off.




1 2 3 4 5 6 7 8 9 10 11 12 13 14 15 Last Page

Get An Email Alert Each Time MAKINACHANGE4ME Posts