| | |
| --- | --- |
| | MAGISTRANANCY's Recent Blog Entries |




Tuesday, July 03, 2012
Today's lesson from Faithfully Fit is really timely for me. I'm doing well, but of course I want it to go faster. Here's a quote from the book:

"The Lord gives us this day our daily bread. Accept it gratefully. Put aside tomorrow and the next day and the next. Stop hurrying. Relax into this moment. Experience it. Breathe deeply and learn to trust God in the now."




Thursday, June 28, 2012
I've been back from living in Italy for a while and this is the first blog post. And at some point, I may blog about our time there, but I'm not ready yet. I'm not sure why; maybe I just miss it a little too much still and need to wait for a little more time to pass.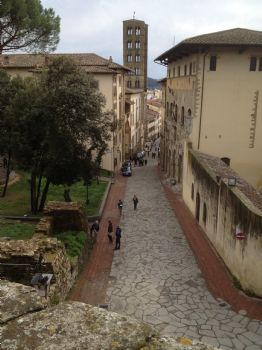 But here's what's going on now. I gained about half the weight I had lost while I was there. I'm afraid I just sort of enjoyed the wonderful Italian food and didn't think too much about weight gain. I knew I wasn't doing well, but I had other things on my plate and just let it go. I came home and saw the number on the scale, but just looked on the bright side. I'm not starting from scratch!

I am, however, now committed to lose the weight I've gained and to losing more and reaching my goal! I'm back to doing the things I was doing before when I lost all the weight in anticipation of living in Italy. Now I don't have that motivation, but I have other motivation (which I mentioned on my updated introduction on my Sparkpage).





I'm working through the Beck Diet Solution again. I think the principles in that book have really made a difference for me. I'm also doing a weight loss devotional book called "Faithfully Fit," that has a lot of good insights and is really helping me focus on letting God help me, because I know I can't do it on my own. I'm tracking my food; in fact, I plan my food out in the morning on the tracker and use it as a roadmap for my day. That really helps me stay on track and helps me plan a day with balanced nutrition, as well. I'm exercising again, starting slowly to build up to where I was before. I did a lot of walking in Italy, of course, since we didn't have a car, but I got really lazy as soon as we got home, so I feel pretty out of shape and need to work back into it. (I've also had some physical problems that have made exercise difficult--I know; excuses, excuses.) I'm also spending time here on Sparkpeople every day, getting support and encouragement and ideas and tips and information and recipes.





Things are going well; I've lost a bit of weight, but I'm losing slowly on purpose this time, because I know that's the best way for me to do it.

I'm going to try to write blog entries more often, maybe sharing some of the insights I'm learning (and relearning!) from some of the books I'm reading. After all, if they help me, maybe they can be a help to others as well. For instance, this is from Faithfully Fit, by Claire Cloninger and Laura Barr, pp. 83-84:

"For centuries Christians have known that surrendering to Christ in times of quiet, prayerful solitude is the way of healing and wholeness. And for as many centuries, Christians have strained against the simple discipline of solitude because everything in the world seems to go contrary to our efforts to be still."

This really struck me strongly today, that for all my efforts, just sitting and listening to the Lord is one of the most important things I can do on my way to being healthy. I really needed that message today.





Monday, September 05, 2011
I took a walk this morning. Outside. At 10:30. To appreciate what a big deal this is, you have to understand what the weather has been like here in Central Oklahoma. For the past couple of months it has been horribly, miserably hot. Weíve not just broken records for consecutive triple digit temperatures, we shot right past them and kept going. And my Scandinavian genes find this especially unbearable. All of my cardio lately has been in the gym with great air-conditioning and lots of enormous fans or in my house with great air-conditioning and one small fan, turned up as high as it will go. So when I say I took a walk this morning, outside, in the middle of the morning, itís a big deal.
I was able to do this because our weather suddenly changed. It was perfect. Sunny, and windy, but not too windy. Just the right amount of breeze. Almost chilly. I donít know what the temperature actually was, but it was wonderful for walking. My husband went out for his walk at his usual time early in the morning, and had to wear a jacket. He came up to me pointing at it with a big smile before he left. And kissed me as soon as he got home so I could feel how cold his nose was. We are pretty excited here about this weather.
I thought about going to the gym this morning anyway, so that I could do all of my strength-training there on the machines. But itís a holiday, and I figured that there would be lots of people there who wouldnít normally go because they were working. (I am lucky enough to be able to go in the middle of the morning and avoid the crowds.)
We live in a neighborhood with lakes. There is one very large lake, and a couple of smaller ones. I chose to go to the medium sized lake and just walk around it a couple of times. Iím so glad I did. Oddly enough, even though there were plenty of people taking advantage of the perfect weather and walking or jogging around the neighborhood, no one else was on the sidewalk around this lake, so I had it all to myself.
I donít think Iíve ever enjoyed a walk more, and not just because of the perfect weather. At first I was a little disappointed because our usual contingent of water fowl seemed to be absent, enjoying the other lakes this morning maybe. But there was an enormous red hawk, doing exactly what it was supposed to be doing here, ďmaking lazy circles in the sky.Ē Beautiful.
On the far end of the lake there are a bunch of bushes, blowing in the wind and making so much lovely noise that I could hear it over the iTunes in my ears. Close to the bushes I saw several dragonflies, with bright yellow and black striped wings. A couple of them were darting around each other right in front of me for a little while.
I was enjoying myself so much that I decided to walk around the lake a third time. This time, as I was walking around I saw a snake race across the sidewalk just a couple of feet in front of me. It was a small snake, obviously harmless, with pretty stripes. I donít think Iíve ever seen a snake move that fast before. I watched it go across the sidewalk, then down a stony bank toward the water, all in about three seconds. It was just cool.
The only jarring note of the walk was that at the end, on the way up the large hill to where the houses are, my right knee started hurting. It was fine once I got to the top and walked on flat ground, so Iím not worried about it.
It was a wonderful walk and reminds me again of the beauty and wonder of Godís creation and I am grateful.



1 2 3 4 Last Page

Get An Email Alert Each Time MAGISTRANANCY Posts