| | |
| --- | --- |
| | MAGGS14's Recent Blog Entries |


Monday, June 09, 2008


I don't know about you but i've never been one for working out in a Gym & this is dedicated to everyone who ever attempted to get into a regular workout routine.... It may make you smile.




Dear Diary,

For my birthday this year, my niece (the dear) purchased a week of personal training at the local health club for me.
Although I am still in great shape since being a high school
cheerleader 33 years ago, I decided it would be a good idea to go ahead and give it a try.

I called the club and made my reservations with a personal trainer named Brad, who identified himself as a 26-year-old aerobics instructor and model for athletic clothing and swim wear.

My niece seemed pleased with my enthusiasm to get started! The club encouraged me to keep a diary to chart my progress.


MONDAY:

Started my day at 6:00 a.m. Tough to get out of bed, but found it was well worth it when I arrived at the health club to find Brad waiting for me. He is something of a Greek god - with blond hair, dancing eyes and a dazzling white smile. Woo Hoo!! Brad gave me a tour and showed me the machines. I enjoyed watching the skilful way in which he conducted his aerobics class after my workout today. Very inspiring!

Brad was encouraging as I did my sit-ups, although my gut was already aching from holding it in the whole time he was around. This is going to be a FANTASTIC week-!!


TUESDAY:

I drank a whole pot of coffee, but I finally made it out the door.

Brad made me lie on my back and push a heavy iron bar into the air then he put weights on it! My legs were a little wobbly on the treadmill, but I made the full mile. Brad's rewarding smile made it all worthwhile. I feel GREAT-!! It's a whole new life for me.


WEDNESDAY:

The only way I can brush my teeth is by laying the toothbrush on the counter and moving my mouth back and forth over it. I believe I have a hernia in both pectorals. Driving was OK as long as I didn't try to steer or stop.

Brad was impatient with me, insisting that my screams bothered other club members. His voice is a little too perky for early in the morning and when he scolds, he gets this nasally whine that is VERY annoying.
My chest hurt when I got on the treadmill, so Brad put me on the stair monster. Why the hell would anyone invent a machine to simulate an activity rendered obsolete by elevators? Brad told me it would help me get in shape and enjoy life!


THURSDAY:

Brad was waiting for me with his vampire-like teeth exposed as his thin, cruel lips were pulled back in a full snarl. I couldn't help being a half an hour late; it took me that long to tie my shoes.

Brad took me to work out with dumbbells. When he was not looking, I ran and hid in the restroom. He sent some skinny model to find me.

Then, as punishment, he put me on the rowing machine --- which I sank !


FRIDAY:

I hate that Brad more than any human being has ever hated any other human being in the history of the world.

Brad wanted me to work on my triceps. I don't have any triceps! And if you don't want dents in the floor, don't hand me the damn barbells or anything that weighs more than a sandwich.
Even the treadmill flung me off and I landed on a health and nutrition teacher.

Why couldn't it have been someone softer, like the drama coach or the personal trainer?


SATURDAY:

Brad left a message on my answering machine in his grating, shrilly voice wondering why I did not show up today. Just hearing him made me want to smash the machine with my planner. However, I lacked the strength to even use the TV remote and ended up catching eleven straight hours of the Weather Channel.


SUNDAY:

I'm having the Church van pick me up for services today so I can go and thank GOD that this week is over. I will also pray that next year my niece (the darling!) will choose a gift for me that is fun -- like a root canal or a hysterectomy.

I still say if God had wanted me to bend over, he would have sprinkled the floor with diamonds !!!!!







Wednesday, May 28, 2008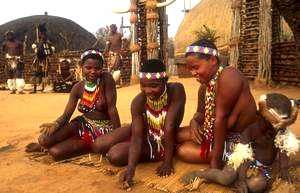 Well here we are back home from our recent trip to South Africa.
The main reason for our visit was to attend the wedding of our Niece and we then incorporated a holiday around that.
My sister & her family moved back to south africa 5 years ago so it was nice seeing them all again, and it was great to see our 2 Great Niece's for the first time, who are 18month's old & so "Cute"!

The wedding went off without a hitch, it was held at an idyllic country venue called "The Moon & Sixpence" which is situated in the countryside north of a place called Muldersdrift, it had magnificent Pine Oak trees, cool garden rooms, open rolling lawns, beds of country flowers, and trickling water features.
Our Niece looked beautiful on the day & our new Nephew-in-law looked pretty "Dapper" himself, in his kilt! ....Yes he's a Scot, so we also had the pleasure of scottish pipers & drummers to blast us all out when we left the church. It was a wonderful day and certainly one to remember !

Our second week was spent at a bushveld game resort called Dikhololo, which was a tranquil world on it's own. Needless to say whilst there we took a game drive and were very lucky to get the chance to see antelopes, giraffe, zebra, blue wildebeest and other species of game.
We spent our last week there having days out to places like Sun City, the wonder caves, an african market & basically just chilling out round the pool.....ooooh what bliss !!!

It was a great holiday & we can't wait to book the next !!!!!





Friday, April 11, 2008
How many of us have suffered with A.A.A.D.D. -
Age Activated Attention Deficit Disorder.

This is how it manifests:



I decide to water my garden.

As I turn on the hose in the driveway,
I look over at my car and decide it needs washing.


As I start toward the garage,
I notice mail on the porch table that
I brought up from the mail box earlier.

I decide to go through the mail before I wash the car.

I lay my car keys on the table,
Put the junk mail in the garbage can under the table,
And notice that the can is full.


So, I decide to put the bills back
On the table and take out the garbage first.

But then I think,
Since I'm going to be near the mailbox
When I take out the garbage,
I may as well pay the bills first.


I take my cheque book off the table,
And see that there is only one cheque left.

My extra cheques are in my desk in the study,
So I go inside the house to my desk where
I find the can of Coke I'd been drinking.

I'm going to look for my cheques,
But first I need to push the Coke aside
So that I don't accidentally knock it over.


The Coke is getting warm,
And I decide to put it in the refrigerator to keep it cold.

As I head toward the kitchen with the Coke,
A vase of flowers on the counter
Catches my eye---they need water.


I put the Coke on the counter and
Discover my reading glasses that
I've been searching for all morning.

I decide I better put them back on my desk,
But first I'm going to water the flowers.


I set the glasses back down on the counter,
Fill a container with water and suddenly spot the TV remote,
Someone left it on the kitchen table.


I realise that tonight when we go to watch TV,
I'll be looking for the remote,
But I won't remember that it's on the kitchen table,
So I decide to put it back where it belongs,
But first I'll water the flowers.


I pour some water in the flowers,
But quite a bit of it spills on the floor.

So, I set the remote back on the table,
Get some towels and wipe up the spill.

Then, I head down the hall trying to
Remember what I was planning to do.

At the end of the day:


The car isn't washed


The bills aren't paid


There is a warm can of Coke sitting on the counter


The flowers don't have enough water,


There is still only 1 cheque in my cheque book,


I can't find the remote,


I can't find my glasses,


And I don't remember what I did with the car keys.


Then, when I try to figure out why nothing got done today,

I'm really baffled because I know I was busy all damn day,

And I'm really tired !!!







Monday, March 17, 2008

God ! What a day i've had.

I've been on SP for 3 weeks now and as i've never been one for drinking water (Boring!) I thought i'd get the extra motivation by entering a team water challenge which i did last week & surprisingly enough I have been coping quite well with the intake of 8 glasses a day ....The extra bathroom trips have been a problem though !
Along with that I have also been getting to grips with my meal planning after entering "another " team challenge on nutrition so last night after giving myself the usual 5 min pep talk i was all psyched up ready to tackle my 4th week on SP with a vengence.
But then this morning "Wham" it all went to pot !

Firsly i got up....LATE.... so had to skip breakfast.... not a good thing for me as i've never been a morning person, i'm even worse without having at least one cup of tea.
Anyhow arrived at work (yep on time!) only to find there must of been an Epidemic that had swept through the country in the middle of the night as practicly half the staff were off sick!

Never mind "We'll cope"...phuuuurp famous last words !!!

Orders were coming through the door like exercet missiles,
tea break came & went, so did the "bacon butty's", the next thing we knew it was luchtime, this i just had to stop for as my blood sugar level had hit rock bottom...same place as my mood !

The afternoon was of equal "delight" as some bright spark got a palette wedged through the store door & with a force 9 gale sweeping through we spent the whole time freezing our "wotsits off " that coupled with a selection of mechanical breakdowns....surely this day couldn't get any worse.

Hooray it was 5pm & hometime !

I was thoroughly enjoying the drive home sat at a junction thinking over the day that i'd had, thankful that i would soon be home to catch up on my calories,then I went to pull away and "Twang".......the clutch cable broke !

Words failed me at that point..apart from a one or two !!!

I was pleased that the breakdown patrol man was quick in attending and he seemed a very nice chap untill he remarked that I was looking a little bit... stressed!!!

Great he got me on my way and soon it was "Home sweet Home.

I dumped my gear in the hall, kicked off my shoes, put the kettle on & started to cook the evening meal.
I was realy looking forward to my chicken & veg dinner & I don't know how I did it, but i did it, the veg had cooked & i'd moved the pan to one side but on turning my elbow must of caught the handle when "Crash" the whole lot landed on the floor...upside down!

Words didn't fail me at all this time !

As today is St Patrick's Day I think i'll go & drown myself in a Vat of Guinness !

Remember : STRESSED SPELLED BACKWARDS IS DESSERTS !



1

Get An Email Alert Each Time MAGGS14 Posts