| | |
| --- | --- |
| | MADMARE's Recent Blog Entries |


Saturday, November 10, 2012
Just returned yesterday from a three week trip to France, a river cruise tour through Grand Circle/Overseas Adventure Travel. We flew in to Nice, spent the next day then bussed to Arles to board the boat. The next day we spent in Arles, beautiful in its own right, it is famous through the many paintings Van Gogh did of the town when he lived there. Next day we were in Avignon. Had a walking tour and visited the former Pope's palace. Walking around town was made "interesting" by the Mistral winds that made it seem colder than the 50 degrees it was. That afternoon we went on an optional trip to a mountain villiage that has only 12 residents left. It was gradually abandoned due to the difficulty of getting water before modern plumbing. The rest of the main street is lined with tourist shops and art galleries. Near the village is a closed limestone quarry that has been turned into a sound and light show. It is entirely underground, the show is paintings by Van Gogh and Gaugain, with multipl projectors sliding pictures along the uneven walls, the ceiling and the floor, like being inside the paintings. Overwhelming an disorienting but AWESOME. The winds were so strong the boat could not leave as scheduled. We were supposed to sail under the ruins of the famous Pont d'Avignon, but another boat was stuck uner the bridge, blown against the pilings by the fierce winds. The lock upriver on our route was also blocked by a stuck ship, so we stayed put till the winds lessened after midnight. Day 6 we docked at Viviers, took a walking tour and shopped. while sailing on to our nrxt stop at Tournons we had an elementary French lesson, cause our next adventure was dinner in the home of a local family,




Wednesday, April 25, 2012
I had a day off work yesterday for a dentist appt. About 7 AM I was drinking my coffee and watching the news when someone knocked on my door. It was an older lady who drove by on her schoolbus route and stopped to let me know my horse had broken the fence. This nice lady wanted to let me know before Katie got out and into the road. She stayed and kept watch while I threw on the first available jacket, grabbed a halter off the hook by the door, then ran back to get carrots to entice the horse. When she saw me come out and put the halter on she waved and drove off. An Earth Angel who'd done her good deed for the day. I locked Katie in the small paddock where she can get into the barn and dragged a spare fence post out to the damaged spot. The old post, about 20 years old had rotted off at ground level, the rails the attached to it were old and weak. I salvaged the 2 best of them to reuse and gathered tools to dig up the stub of the post. The post and rail fence is made with 8 foot posts, three feet of which is underground to stabilize the fence, so digging one up is a major job. I spent 2 hours digging in the morning, showered and ran to the dentist,had lunch then two more hours digging before I got it out. Then went to a nearby fence company to buy rails. I asked the guy to choose the strongest ones from the pile. I told him "think a thousand pound animal who can run 20 miles an hour." Parked the pickup near the broken spot and hauled out the heavy rails. Plugged in the replacement post (Yay!) went to put in the rails and found the adjacent post was weak too.. I tried to make to work but it had only been standing up cause it was leaning on a tree. Had to dig that one up too. This one is more trouble cause the tree grew so close to it that the roots were up against the post on 2 sides. This means I don't have room to use a shovel, I have to dig it up using a garden trowel. so far on this one I'm down to my elbow, loosening the dirt and taking it out one handful at atime. I know I won't reach the bottom of the post untill I am reaching the depth of my armpit, still a long way to go. Alton promised to help me this evening so we will probably finish the job. When I let Katie out after being confined in a small turnout for two days she is likely to gallop around and kick up her heels for a few minutes, showing off her skills as a former racehorse.





Thursday, April 19, 2012
Yesterday at work we had our annual Diversity Day party. FOOD FOOD FOOD. Everyone brought their traditional family favorite foods from Cape Verdean Munchupa and Jagacida to lasagne and Jamaican Jerk Chicken. A high calorie feast. Of course I had to try some of everyone's offering, and when I thought I'd had enough, new dishes appeared. I ate way more than I should have but enjoyed it immensely, with people sharing stories about the grandma or auntie who taught them how to cook these family heirloom recipes.







Thursday, April 05, 2012
I spent much of Sat and part of Monday doing my taxes with Turbo tax, finally finished and e-filed on Tuesday. My printer was out of ink, so I just trusted its accuracy. Got a cartridge and printed my returns, only to find TT had DOUBLED some of my income. Aargh! The return was e filed but not acknowledged by IRS. Now I must amend the federal return but can't amend till they say it was received. Luckily(?) I was going to file my TT-prepared state tax by mail. The same error was on the state forms, so I reprinted blanks off the state tax website and had to re-do two of them by hand. Lucky I did, cause I found another major error. TT had not allowed a credit for my retirement contribution. Doing this was a pain in the neck, but I increased my state refund by about $400. The income error may have been my fault by choosing the wrong name from their list, but no edit for two identical amounts being counted for the same type of income. The retirement error was TT, they got my W2 by my employer's tax ID. After all that, I decided to check last year's return, and sure enough, the income error is there too, I have not yet checked my 2010 state return, but the income mistake was carried over to the state taxes this year, so probably both mistakes are on last year's as well. It is very annoying to pay $80. for a tax program that guarantees accuracy, only to have to re-do half of your taxes by hand, Now I have to amend both my State and Federal taxes for 2010. It appears I can do that through TT, but I don't know how user-friendly the process will be. Not how I planned to spend my weekend. Wish me luck!






Monday, March 26, 2012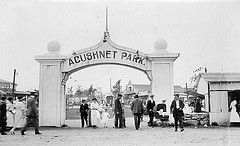 Talking with Joanna, a friend at work. She mentioned she once lived in the south end of New Bedford Mass, the city where I grew up. I asked her where, she said East Rodney French Boulevard, across from the beach, facing the Butler's Flats Lighthouse. As I pictured the location it reminded me of the 1954 hurricaine which caused major damage to the coast. With that thought came an image of a seaside restarant, Dan's Pavillion smashed and tilted onto the beach. This reminded me that, as a child of 4 or five years old my parents had stopped at a dilapidated amusement park across the road and bought tickets for my brother and me to go on the two functioning rides remaining, a merry-go-round and a ride with rusty antique looking cars. I tried to remember the name of the park, but couldn't dredge it up. I told Joanna about it but she said she had never heard of its existance.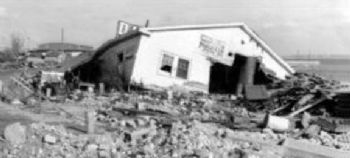 There is an online slide show of old photographs posted by "Spinner Magazine"

The park began as a Trolley Park, built at the end of the line to entice people to ride the trolley on the weekends. The tracks extended from Clark's Point at the far south end of NB toward the city of Fall River, and midway between the two cities was another amusement park, Lincoln Park. Now in ruins, it was active all through my childhood and dating years. Acushnet Park, was built near the end of Clark's Point. A local history site says it opened about 1916. Back then the point was rural. At its tip was Fort Taber, a Civil War fort, still in use then by the Army, and the city Poor Farm (the former pest house, where people with contagious illness were confined.) The park was popular and added new attractions through the years. The restaurant I remember as Dan's Pavillion was built as the park's Shore Dinner Hall. There was a dance hall, roller rink, game booths, and several rides. It was heavily damaged in the terrible 1938 hurricaine but rebuilt. The 1954 hurricaine finally destroyed it. Into the mid 1960's the crumbling frame of the huge old roller coaster still stood, stretching across the entire point from beach to beach. The land was sold for development, and its 20 acres are now filled with streets of modest ranch houses, whose residents are probably unaware of the history of the place they live.


1 2 3 4 5 6 7 8 Last Page

Get An Email Alert Each Time MADMARE Posts