| | |
| --- | --- |
| | MADAMEAJA's Recent Blog Entries |




Tuesday, June 29, 2010

My coach, two of my running group and me before the start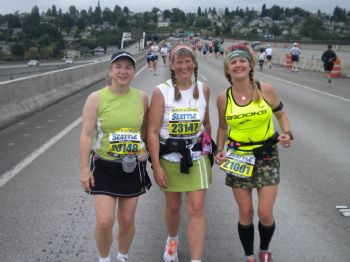 Running on 1-90



water cop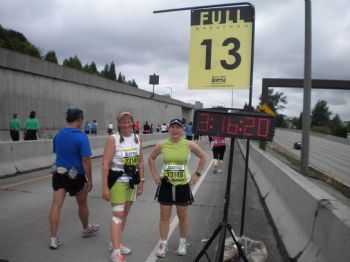 halfway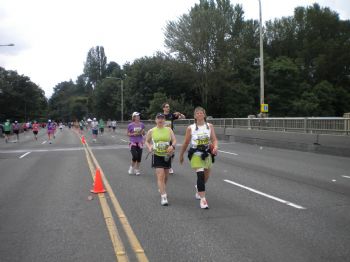 walking the last 10 miles took FOREVER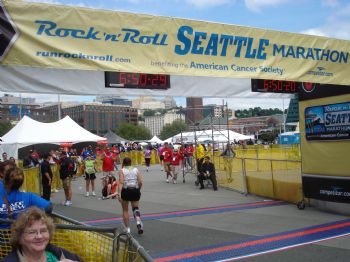 finish line . . . I had tape and a compression sleeve over me knee and also an ice pack held on with plastic wrap . . . sigh

Yeah, that's how crazy my life has been the past few weeks. I was preparing to run the rock and roll marathon, just three weeks after running the green river marathon in early June. I was nursing a few tweaky reminders that 26.2 miles is a long way to go only to have one of them flare up and bite me hard during the rock and roll last Saturday. OK. So I walked nearly half the race. OK. So I'm still icing three days later. But I know that the body is a wonder and I'll recover and run again. Even marathons. The body is a wonder.

My mother in law had a stroke almost two weeks ago. I've put in many bedside hours and am pretty tired of the anxiety and boredom that seem to vie for my attention during these vigils. But watching her make connections to muscles that were not working at all a week ago is something else. And seeing a bit of the spark of the woman who I've known and admired for 30 years makes me hopeful. The brain is a wonder too.

The fact that in the past 20 years she has refused to take medication or make lifestyle changes to battle her high blood pressure has me a little angry too. Catastrophic events like strokes are not usually random, but a build up of unhealthy choices that lead to weaknesses over a long period of time.

I've been thinking about her illness and what it's purpose might be in the grand scheme of things. For me, it's a huge reminder that healthy diet and exercise is key, and not just as a means to and end (a healthy long life), but a means to feeling content every day. My plan right now is simple:
Eat Well
Exercise
Laugh (and cry)
Make connections with people
Meditate

Without the goal of attaining a certain weight, or running a certain distance, or counting calories or fitness minutes, but with the goal that this minute is the most precious because it's the one I'm in right now.

And what's more, being more aware of the present, I'll kiss my husband when he comes home, and I'll stop to pet the dog, check on the flowers I just planted, touch leaves on the trees while I run by, look up at the stars, hug my kids and tell them they're awesome, enjoy the warm breeze and the cool lake, really taste lifes pleasures. Because the obvious just hit me between the eyes last week when MIL had her stroke. We've only got this moment to get it right.





Sunday, June 06, 2010
My marathon training group was using this venue for our longest run yet, 22 miles. But in my head, I really wanted to finish it up because looking over the course map, the best part was the last 4 miles or so, running along Alki in West Seattle.

The race began by running on the Interurban Trail in Kent, first heading south for two miles and then retracing our steps to run north towards Renton. We followed this trail until it met up with the Green River Trail and that took us through South Seattle and into West Seattle. Much of the trail was gorgeous greenspace, along the green river, the duwamish and eventually to puget sound, finishing up running along Alki Beach. Weather was spectacular, sunny and 70s and I did have trouble being overheated until I took off my hat and ran without it. I needed the breeze on my head to remain cool enough, I guess.

The race was well enough supported and we also had frequent appearances by our own support team of husbands and friends.

We started out as a pretty large group, about 8 of us running together for the first 5 miles or so. At a bathroom stop, several ran on and then as we continued running, we started to spread out a bit from each other, breaking up into smaller groups of 3-4 and that felt better. One of the ladies in our group was running 5/1s (five minutes running, 1 walking) and we stayed with her for a while, but eventually bumped up to 10/1s (10 running, 1 walking) because we were feeling fine and the walk breaks were coming too soon. I think I actually like to run straight through when I'm by myself, but I do like the fact that when we break every mile for a minute to walk, it gives me a minute to take a drink and eat if I need to so I keep hydrated and fueled up better.

At mile 18, there were three of us together, one my running partner and the other my good friend from high school and college. My running partner knew she was going to be done at mile 22, as her previous longest run was 18 miles, so we encouraged her through that and she was glad to be finished.

My old friend was open to whatever I wanted (which was still to finish, even if walking) and we kept going. The last few miles were a struggle with being overheated and overtired and I had us walking many times, but the breeze came up and there was so much to look at that my mind was well-occupied. At this point in the race, it's ALL about your mental place because you're kind of numb physically. My friend was so patient with me, and stopped whenever I needed to, even if only for a second. I was having to drink about every 3-4 minutes and some I did on the run, others I did during walk breaks.

Our husbands were cute and popped up along the race many times to give us water and treats. I didn't want to eat their offerings, but was really glad to see them and it encouraged me on in the later miles, knowing they were waiting for us just another mile up the road. At mile 25, they met us and pointed out the end which I was SOOO grateful for because I was ready to be done and needed a point of focus.

Overall, it was a great first experience for marathoning. A totally casual race with only 200 participants total! I enjoyed the conversations and relied on the encouragements along the way and that is really what it's all about, right? Plus, now I know how to get from Kent to West Seattle without having to cross any freeways. And I also know that I can run a marathon, which feels pretty great too!

I'd love to include pictures, but my camera battery died at the start! Oh well . . .





Thursday, May 27, 2010
I've been doing a lot of reading lately and given myself much "food for thought" to digest. Mostly it has been to do with self-awareness, goal-setting and living to my highest potential. I've also been meditating daily for the past several months and this has really been an eye-opener for me. With all of this contemplation, I've come to a few conclusions:

First and foremost, each of us needs to love and cherish our spirits and our bodies and treat them with the utmost respect. This has been making me wonder just how healthy my interest in distance running is. I have to figure out if this is really good for me or excessive. It's also reaffirmed my love of healthy, organic eating. What better gift can I give my body?

Secondly, we must single out those things that ignite our passions in this world. Whatever they are, in sharing them, we will find our happiness. Some passions I can point to are my family (great husband, 3 young adult sons I'm very proud of, pets and wonderful extended family), creativity (I'm a graphic designer, quilt artist and construction diva), working out (love running, hiking, pilates and kickboxing workouts) and nutrition (eating!)

And finally and most importantly to me, we are connected spiritually with every other living thing (man, beast and plant) and need to strive to live in harmony and peace in our homes, our towns, our country and on this earth.

That's about it.



1 2 3 4 5 6 7 8 9 10 11 12 13 14 Last Page

Get An Email Alert Each Time MADAMEAJA Posts