| | |
| --- | --- |
| | MAD-RUNNER-CHIC's Recent Blog Entries |


Wednesday, October 31, 2012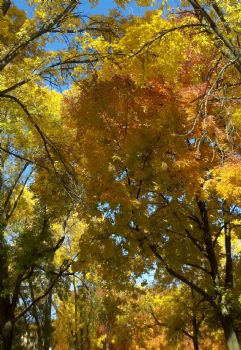 (Pictures in this entry were taken during some of my October bike rides!)

October just flew by! I've been busy this month so here is my October in review:

* October habit: Prepare and only eat tupperware meals from home
I read this great article ( zenhabits.net/fitguide/ ) from the website Zen habits this October. It gave a suggestion to focus on one and only one habit per month. I really liked the idea so I chose to focus on a diet-related habit this month. Preparing healthy meals and storing them in tupperware made it much easier to stay on track of my diet this October.

* Total October fitness minutes: 1,694.
My fitness minute goal was set at 1,200. I not only met my goal but hit it out of the park! Outdoor cycling made up the majority of my fitness minutes this month. I kept up with running and lifting on a weekly basis as well.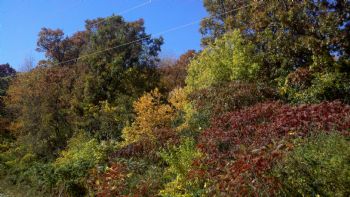 *October Sparkpeople status: "Hard work mixed with self love and kindness will make October positive, productive, and fun!"
I think I did a great job at focusing on being positive and productive this October. I've been busy working my new job as a gym attendant. This month has been a lot of fun mixed with hard work. October is one of my favorite months and celebrating the autumn weather, colors and Halloween was enjoyable. I had the most fun going on some beautiful October runs and bike rides in the arboretum.

* October weight loss: -11.5lbs. (Start weight: 124, End weight: 113.5)
I'm not too concerned about scale numbers. It's just one measure of progress on the journey to better health and fitness. But it is a nice feeling to see the numbers going down, regardless.

Overall, October was a wonderful month for me. I spent time with friends and family, enjoyed the beautiful autumn colors and weather, ran, biked, lifted, and worked on improving my diet. I am grateful for the opportunities that I have, every day, to live life to my fullest potential. I am moving into November with a positive attitude and excitement!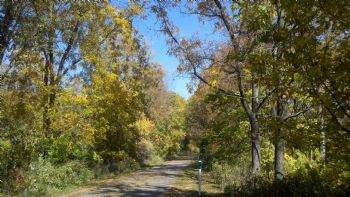 Tuesday, October 02, 2012
Monday, October 01

Today was a wonderful, beautiful day that I am so thankful for. I got to spend more time with my best friend, Trish, this morning. Driving around Madison this time of year is a treat in itself. All of the leaves are changing color and it makes for breathtaking runs. Not to mention, the weather is getting cooler which I enjoy.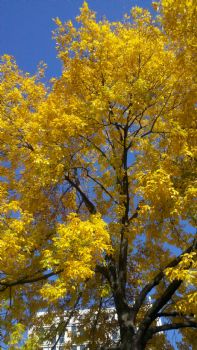 I walked approximately four miles to Movin' Shoes to join the Monday run group. The weather was super cool, perfect! Amber, Morgan, Carol, Page, Kat, Sam, and a new member (Chris) ran today. We did a 3.5 mile out and back in the arboretum. The group split into varied paces. I started running with Carol, Page, and Amber at 10min/m.

The group joined together at the 1.5 mile "mailbox marker." We ran together through one of the arboretum off-road trails. This particular short loop starts past a gate on the right-hand side of the road (shortly after the mailbox marker). The trail gets narrow with plenty of tree roots, leads over a wooden plank section, then spreads out into a wide dirt trail in the forest. The trees are so thick in this part of the arb that it creates a canopy. We usually make the loop short by taking the first left on the dirt path. The forest canopy was just gorgeous--almost every tree was a bright yellow. We saw a group of wild turkeys on the forest trail as well!

When we got back on the road, Morgan and I split off from the group and ran at 7.5-8min/m for a while. We looped around to join the group again. As we were all running back out of the arb, the sun was setting directly over the lake. We all stopped to enjoy the view for a while. Talk about a real treat. Being out in nature is my favorite part of running. Getting to mix exercise with socializing and the beauty of nature is a perfect recipe for fun.

It was also Amber, our group leader's, last night with Movin' Shoes tonight. She got a new job so she'll be busy with work for the next few months. Morgan is taking over as Monday night group leader. I will miss Amber as a friend and a great group leader. But hopefully she'll be back soon.

I also walked my dog, Oliver, for a good two miles this evening. The weather was so nice that I decided to make it a long walk. I like to use evening dog walks for "me" time and to collect my thoughts from the day. Walking can be very therapeutic.

This Monday was a great start to what will, hopefully, be a great week! Not to mention a great month! Happy October 1st, everyone! I am feeling completely recovered from my food poisoning sickness that I had last week. And I'm very much looking forward to getting back to my regular running and exercise.





Sunday, September 30, 2012
Date: Friday, September 28, 2012
Theme: Birthday Pirate ride

My best friend, Trish, returned from her 2 1/2 week trip to Brazil this week. We celebrated her return by going out to tea at Dobra and attending Mad FBC's September ride.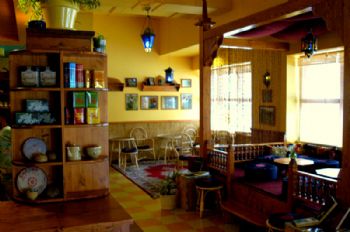 Dobra Tea on State Street is probably the best teahouse in all of Madison. It has a cozy, charming atmosphere, soothing music, and a friendly and knowledgeable staff. Most importantly, Dobra has an extensive collection of tea leaves gathered directly from their country of origin. The tea leaves they cary and the methods they use to prepare tea are unbeatable. Not to mention, they offer small portions of healthy snacks and food such as black sesame squares, crystallized ginger, mixed nuts, fruit, couscous salad, and hummus. If anyone is visiting Madison and looking for a fantastic tea house, Dobra is the place to go!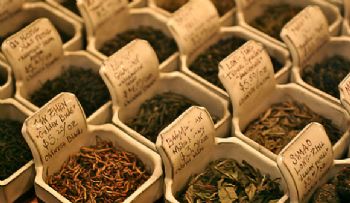 Tea is both a healthy treat and an indulgent experience--its a lovely idea for any fitness buff looking for a social outing. Visiting Dobra and sharing tea over good talk is one of my favorite social activities. Whenever I visit a teahouse, I can feel good knowing that I'll be able to socialize with my friends while still adhering to my healthy lifestyle principles. Not to mention, drinking tea regularly provides antioxidants and other health benefits.




After Trish and I shared a pot of green tea at Dobra, we biked out to "The Corner" for Madison Full moon Bike Club's 5th Birthday and Pirate Ride. The Mad FBC meets every full moon for an evening of night biking and socializing. I didn't dress up as a pirate but I joked that I "brought the booty." Nothing wrong with having a little self confidence and pride in a hard-earned cyclist's tush, right? ;)

The ride was a lot of fun--plenty of riders dressed up as pirates. At one point during the ride, our route took us downtown through Cap square and State Street. I always feel great when I'm able to mix social events with exercise. Mad FBC is a great chance for people to get active while having some fun.





Friday, September 28, 2012
Date: Monday, September 24, 2012

I ran 3.5 miles on Monday with Movin' Shoes. 9 min pace. The route was a loop around the bay. We were treated to perfect Fall weather: 70F, sunny and windy. Morgan, our new group leader, planned and lead the route.

I haven't been able to do much else this week. I came down with a bad case of food poisoning on Monday evening after eating at a local restaurant. This week, I've been resting and trying to keep food/water down. I'm finally feeling better this evening so hopefully I'll be able to return to running and lifting this weekend. The weather has been beautiful and I'd love to be able to get out and enjoy it.




Thursday, September 20, 2012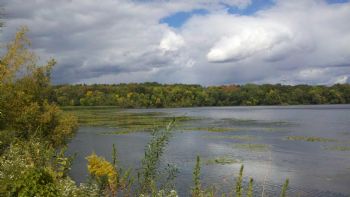 Date: Tuesday, September 18, 2012

This Tuesday I did a 6 mile out-and-back on the lakeshore trail. Ran at a 9:30 pace. The weather was 55F, windy, and a mix of sun and isolated showers. I started my run on State Street and ran to Picnic Point and back. The weather was absolutely gorgeous. At some points, the sun would be out and other times it would be light rain. The leaves are starting to change colors which made the lakeshore trail beautiful.



1 2 3 4 Last Page

Get An Email Alert Each Time MAD-RUNNER-CHIC Posts