Friday, February 10, 2012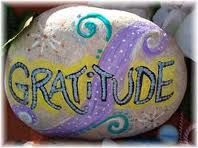 Instead of moaning about my weight and troubles, I thought I'f list a few things for which I'm grateful. I obtained this idea from another blogger and thought he had made some good points about not forgetting the blessings in one's life.

1. I am very happy with my husband. He has been with me through rough and tough times and I very much appreciate his support. He knows how to dole out the empathetic and tough love as the situations calls for. I am grateful for our 16 year marriage.

2. This one may sound bizarre. But when I resigned my job two years ago, it was an ugly parting between a former friend of a co-worker and my boss and I. I was in a deep depression for a long time and spent too much time writing harassing e-mails to them which they seemed to read and take in stride, amazingly. Sometimes I kick myself for what I did as I likely botched my job references. But here's the kicker: I acquired a lot of wisdom from this situation. l learned the value of work ethic and plowing through the day even if you're not up to it. I learned what behaviors of mine could have changed the situation. I learned that the work place is not a place for fuzzy relationships among other things. I learned a lot about myself. For all the wisdom and self-awareness I acquired, it was all worth it.

3. Having my shelter and plenty to eat despite being unemployed. My husband, John, is not rich but earns enough to keep us in vittles and our house is paid off so we won't ever be homeless. I am grateful for this blessing because others are living a lot more vicariously.

4. I am grateful to my family who have always been there for me. There might have been some periods of estrangement but those never lasted long. So many friends have come and gone in my life and I am grateful for my family's stalwart support.

5. I am even grateful for my weight gain because, through this program, I will learn the value of self-discipline and how to take control over my weight loss through the various trackers. If I can manage the wherewithall to lose 50 lbs the healthy way, there is nothing that could ever stand in m way.

6. I am grateful for all my hobbies to keep me from becoming bored such as Facebook, Sparkpeople, journaling and reading. I am an avid reader and, so long as I remain so, I will never be bored.

7. This is petty but I am grateful for the Investigation Discovery channel which showcases crime shows 24/7. True crime is my favorite genre and I am glad to have found this gem.

8. I am so grateful for the opportunity for having seen most of the world, including Great Britain, France, Italy, Spain, Amsterdam, Austria, Germany, Lebanon as well as many places in the US. My only dream has been to see the world and I'm well on my way to accomplishing that dream.

9. I am grateful for my intelligence and my open mind. Sometimes when people argue religion or politics, they only do so to prove they are right and those things can get heated. However, I debate or argue, not to win, but to learn and expand my horizons. There have been many a time my mind has been changed because I am willing to think outside of the box.

10. I am grateful for all the interviews for jobs I've been getting. Sure, they haven't led to employment but, considering the number of applicants for each job, I still consider it an honor when I'm chosen for an interview.